Where Is the Ravens' Ozzie Newsome Now?
Every decade brings with it a wave of up-and-coming Hall of Fame players. Concurrently, fans regard no more than a handful of active coaches as true living legends. Even rarer: an executive with this status, like Ozzie Newsome.
Newsome has a new role and a new outlook on life. He stepped down from his legendary perch atop the Ravens organization. The former Cleveland Browns player and executive has an admirable career from top to bottom, but it is in Baltimore where he etched his name in history.
Let's break down his career, insane aptitude for evaluating talent, and what he's up to today.
Ozzie Newsome's journey to the NFL
Newsome started all four years of his NCAA career with the University of Alabama. He was an All-SEC tight end in 1976 and 1977. Then, in 1978, he was a unanimous All-American receiver. Newsome was the standout talent of a strong class. Alabama went 42-6 and won three conference championships during his time there.
The Muscle Shoals, Alabama, native personally contributed 102 receptions for 2,070 receiving yards and notched 16 touchdowns, reports the Encyclopedia of Alabama. But he wouldn't remain a Crimson Tide legend for long. Enter the 1978 NFL draft.
Ozzie's years with the Browns
With a first-round draft pick, the Cleveland Browns were in the market for a tight end. Without hesitation, they picked Newsome No. 28 overall. It wasn't a controversial choice. By the end of Newsome's 13 seasons, he proved Cleveland right in their vote of confidence.
At the end of his run, Newsome took on more passes than any tight end in NFL history. It was a transformative moment for tight ends that still echoes through the NFL to this day. When Newsome entered the league, the position was essentially pure blocking, with only occasional receiver work.
By his retirement in 1990, the position evolved alongside Newsome's example. It's a position that keeps defensive lines on their toes. Will the TE go pure blocking and open up space? Will they pull in to block, baiting the line, then turn on the heat and switch to receiver mode instead?
How great instincts and learned craft made Newsome a legendary GM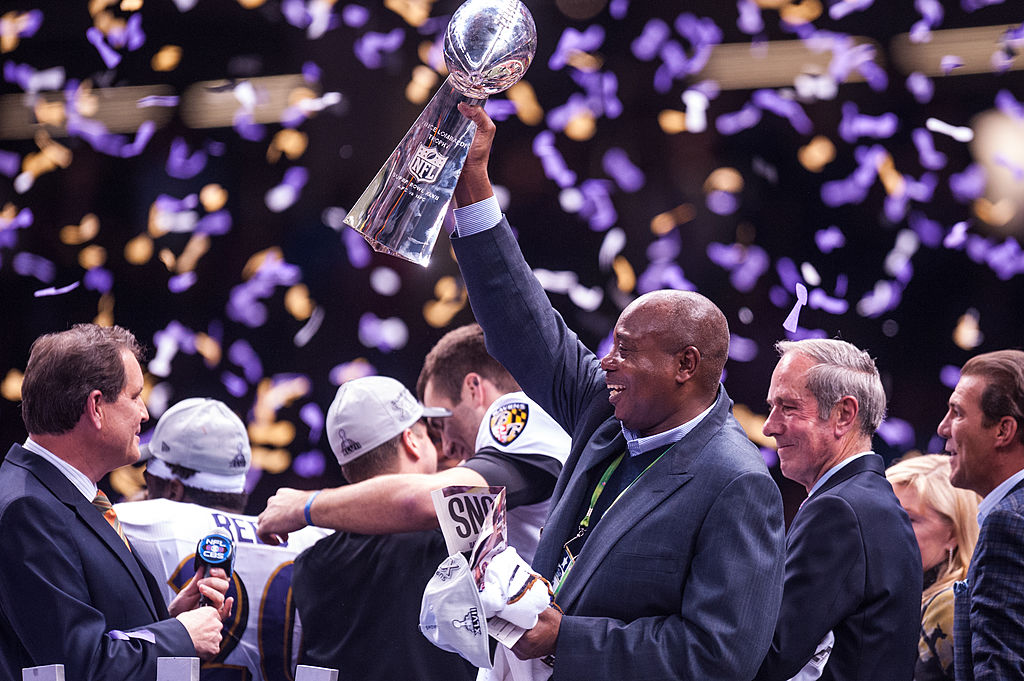 Newsome's cerebral take on the TE role may explain why the next phase of his career went so well. After making his mark as a Brown, he took on an executive role in Cleveland in 1991. He mainly worked in player personnel during this difficult time for the organization.
Owner Art Modell increasingly clashed with local Cleveland politicians and repeatedly threatened to leave the city. In 1996, he made good on his word. The Cleveland Browns were now the Baltimore Ravens, while a technically new team would inherit the Browns name and records back in Cleveland.
Modell's Browns wrapped their final season, with a 5-11 record and the now legendary Bill Belichick as head coach. Belichick was sent packing, along with many front-office positions, as The Undefeated reports. Newsome stayed on and excelled with a blank slate in front of him.
By 2002, he became the first African-American general manager in NFL history. Newsome had two first-round picks — and it was time to make his mark. First, he selected offensive tackle Jonathan Ogden. Ogden entered the Hall of Fame in 2013. Then, he went with linebacker Ray Lewis, who entered the Hall of Fame in 2018. Not a bad start.
The Ravens won their first Super Bowl in 2002, with Newsome heavily involved in player development. As a GM himself, he won the organization a second ring in 2013. Baltimore continued to be a fearsome presence in the AFC North through Newsome's retirement in 2018.
Where is Newsome today?
After over 50 years of playing or working in football, the 63-year-old stepped down as GM. But is Newsome able to stay away from the game? Apparently not, as he simply moved his Baltimore office down the hall, according to the Ravens organization.
The role has no title or defined purpose. Newsome, it seems, is being paid by the Ravens to provide whatever advice and support he deems necessary. His longtime understudy Eric DeCosta, now the full GM, regularly seeks his advice. Newsome continues to watch tape, keep tabs on new players, and come into work every day.
He just isn't compelled to do so anymore. And maybe this choice is all it takes for an immensely talented executive and notoriously hard worker to feel comfortable in retirement.
Follow more updates from Sportscasting on our Facebook page.