Where Is Tua Tagovailoa From?
Where is Miami Dolphins quarterback Tua Tagovailoa from?
2021 is going to be a crucial season for Tua Tagovailoa.
The young quarterback is entering his second season in the NFL and first as the Miami Dolphins full-time starting QB. Pressure is intense, especially when considering how often the Dolphins have been connected to disgruntled Houston Texans QB Deshaun Watson.
Most everyone knows Tagovailoa went to college in Alabama due to his elite performances there. However, many still find themselves asking where exactly the Dolphins QB grew up.
Tua Tagovailoa was born and raised in Ewa Beach, Hawaii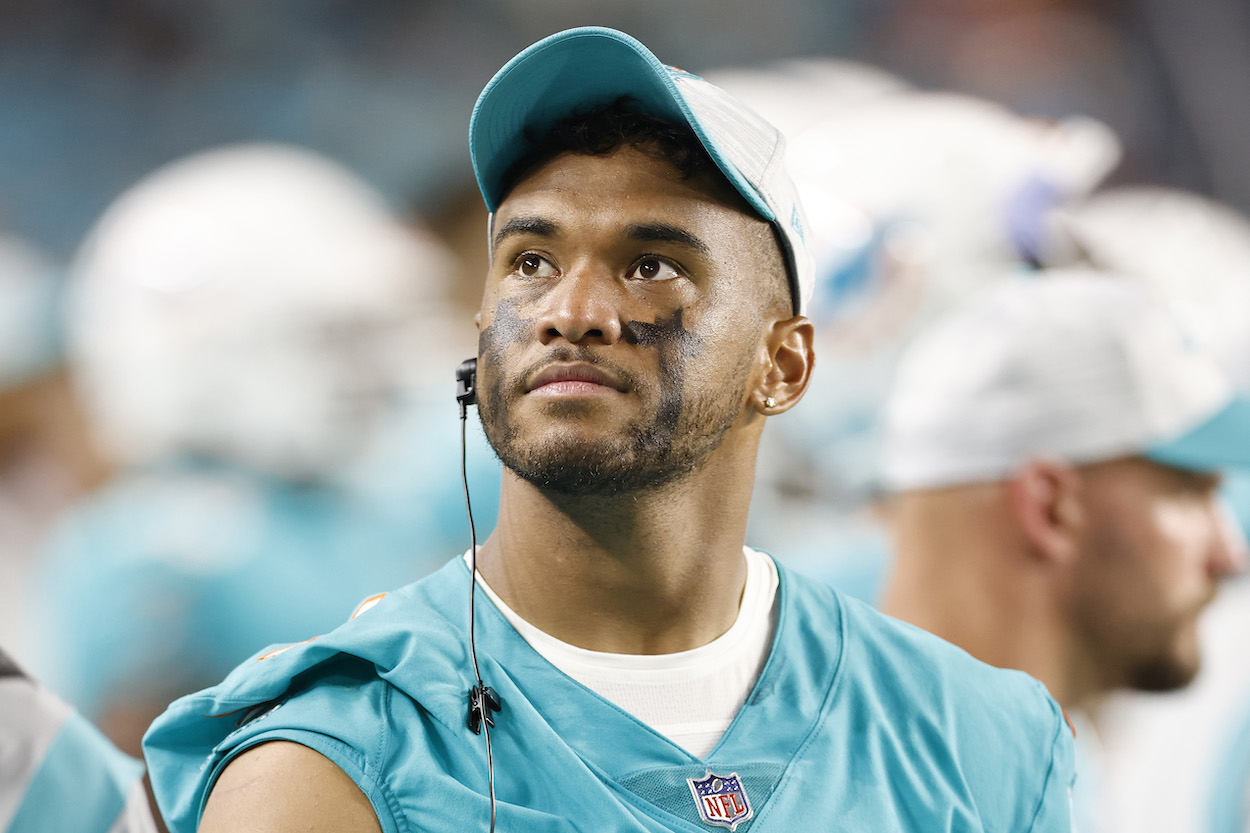 Born to parents Galu and Diane Tagovailoa, the Dolphins QB is a native of Ewa Beach, Hawaii. His parents claim that Tagovailoa grew up loving football and would even sleep with a ball under his arm. They also say he was throwing the ball as far as 30-yards by the time he was eight years old, compared to his peers who were struggling to complete a 10-yard pass.
It's also worth highlighting that Tagovailoa and his family are Samoans. They have a strong presence on the Hawaii islands.
After waltzing his way through local Pop Warner leagues, Tagovailoa attended Saint Louis High School in Hawaii's capital of Honolulu. Believe it or not, Saint Louis High produced another top college football recruit in Marcus Mariota just a few years earlier. The current Las Vegas Raiders backup helped mentor Tagovailoa when working his way up the national recruiting ranks.
How did Tua Tagovailoa make his way to Alabama?
So how exactly did a local kid from Hawaii work his way to being the starting quarterback at the most esteemed college program in the United States? For starters, he dominated the varsity football scene.
Tagovailoa threw 33 touchdowns in his first varsity season compared to just three interceptions. He participated in the All-American Bowl in 2016 and was named MVP of the Elite 11 roster, which is made up of the top high school recruits in the nation.
Tagovailoa finished high school with 17 college football scholarship offers, including one from the University of Alabama. From there, the rest is history. Tagovailoa coasted his way to first-round status in the 2020 NFL Draft, despite suffering a season-ending injury during his final collegiate season.
What to expect from the Miami Dolphins in 2021
While most Dolphins fans were over the moon when the name "Tagovailoa" flashed up on the draft board in 2020, it hasn't exactly been smooth sailing for the Hawaii native since.
Tagovailoa spent the first half of his rookie season on the bench behind Ryan Fitzpatrick and then struggled to find a groove upon being named the starter. Dolphins head coach Brian Flores even benched Tagovailoa for a game during the second half of the season.
Now the unquestioned starter, the pressure is on Tagovailoa to prove he's still capable of being that elite prospect he was coming out of high school. The Dolphins grabbed former Alabama teammate Jaylen Waddle during the 2021 NFL Draft, giving Tagovailoa a familiar face at wide receiver.
Tagovailoa needs to impress this year. If he doesn't, the Dolphins may very well pivot away from the Hawaii-born QB and look elsewhere at the position.
Like Sportscasting on Facebook. Follow us on Twitter @sportscasting19.