Where Will Kobe and Dirk Finish on the NBA's All-Time Scoring List?
Dallas Mavericks star Dirk Nowitzki made history Tuesday night, passing Hakeem Olajuwon for most career points scored by an international player in NBA history. Nowitzki, who now has 26,953 points in his career, also moves into ninth place on the overall list. Dirk is one of two current NBA players in the top 10, with Kobe Bryant well out in front of him at 31,887, good for fourth all-time.
Here is a look at the top 10 scorers in NBA history as of November 12, from Basketball-Reference.com:
1. Kareem Abdul-Jabbar (38,387 points)
2. Karl Malone (36,928)
3. Michael Jordan (32,292)
4. Kobe Bryant (31,887)
5. Wilt Chamberlain (31,419)
6. Shaquille O"Neal (28,596)
7. Moses Malone (27,409)
8. Elvin Hayes (27,313)
9. Dirk Nowitzki (26,953)
10. Hakeem Olajuwon (26,946)
Where will the two active superstars finish on the all-time list when they have finally laced up their sneakers for the last time? Nowitzki, who has only ever played for the Mavericks, is under contract through 2017. Bryant, a lifetime Laker, is signed through 2016. While neither player is definitively retiring at that point (although Dirk will be 39 when he enters free agency and Kobe nearly 38), the end of each star's current contract at least gives us a starting point from which to calculate where (barring significant injury) they could ultimately rank among the best scorers ever when they retire.
Over the course of his legendary career, Bryant has averaged 69 games played per season and scored 25.5 points per game. As for Nowitzki, while his average is slightly less (22.5 ppg), he has participated in 74 contests per year since joining the NBA. If we assume that both stars can reach those averages for the duration of their current contracts (which seems unlikely since, as it's often been said, Father Time remains undefeated), rounding down instead of up, the numbers look like this.
Bryant would have 62 games left this season and 69 next season for a total of 131. Multiply that by 25 points per game, and Kobe could still score up to 3,275 points more by the time he becomes a free agent. That would take his career total to 35,162.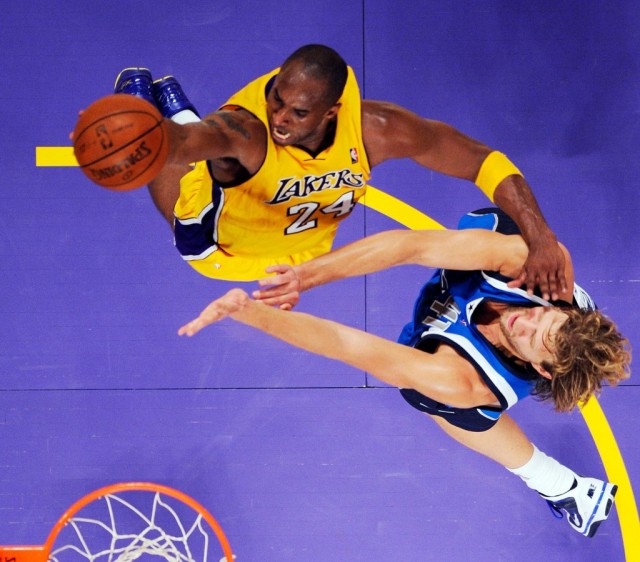 If Nowitzki scored 22 points a night over his remaining 66 games in 2014-2015, and then 74 more contests each of the next two seasons, he could still pour in 4,708 points before free agency rolls around in 2017. That would lift Nowitzki's all-time points scored mark to 31,661, or nearly what Kobe has right now.
Assuming neither star would re-sign, Kobe's career point total is almost certain to fall between Karl Malone (at No. 2 on the list) and Michael Jordan (currently No. 3). If Bryant stays healthy for the length of his current deal, would he be willing to keep playing if it meant edging Malone? Nobody knows. Still, it's safe to say that Kobe is a longshot, at best, to catch Kareem for No. 1 : He still trails the Captain by 6,500 points, or 260 games (more than three full seasons) at 25 points a night.
Can Dirk climb into the top five all-time? He'll almost certainly pass Shaq, Moses Malone, and Elvin Hayes, if his body holds up through 2017. The next big question is if he can maintain that career average (or close to it) for the whole time. If so, the estimate of 31,661 would be good enough to surpass current No.5 Wilt Chamberlain's 31,419. Even M.J. might be attainable if Nowitzki decides he wants to extend his career into his 40s, but the odds are that Dirk can't catch Kobe by the time the Mamba's done climbing the charts.
The good news is that NBA fans get to watch the brilliance of both stars night in and night out, hopefully for several more years to come. And, if statistics hold true and injuries don't get in the way, who knows? Assuming all goes well, maybe the "top scorers in NBA history" list will look like this in 2017:
Kareem Abdul-Jabbar
Karl Malone
Kobe Bryant
Michael Jordan
Dirk Nowitzki.
Only time will tell.