Where Will Rex Ryan be Employed in 2015?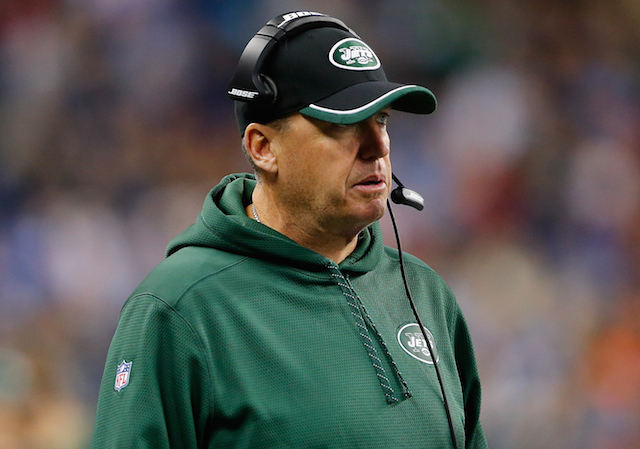 Following the New York Jets' 16-13 loss to the Miami Dolphins on Monday night, Jets head coach Rex Ryan looked noticeably dejected. During Ryan's postgame press conference, the normally-animated coach looked like he had just had the life sucked out of him. Ryan struggled to come up with answers for the Jets' latest collapse, which included several untimely special teams miscues, and went on to say that the loss made him "feel sick." Furthermore, Ryan had this to say about his team's 2014 season. "I can't believe we're 2-10. It's a joke."
Ryan was already a long-shot to return as the head coach of the Jets in 2015, but his press conference on Monday night made it clear that the Rex Ryan-era in New York will be coming to an end sometime in the next four weeks. When the inevitable day of his firing does come, Ryan should have multiple job opportunities presented to him in only a matter of days. Some will be to continue his coaching career and others will be in analyst or television personality roles. Here is a look at the potential landing spots for Rex Ryan if (when) he is fired by the New York Jets.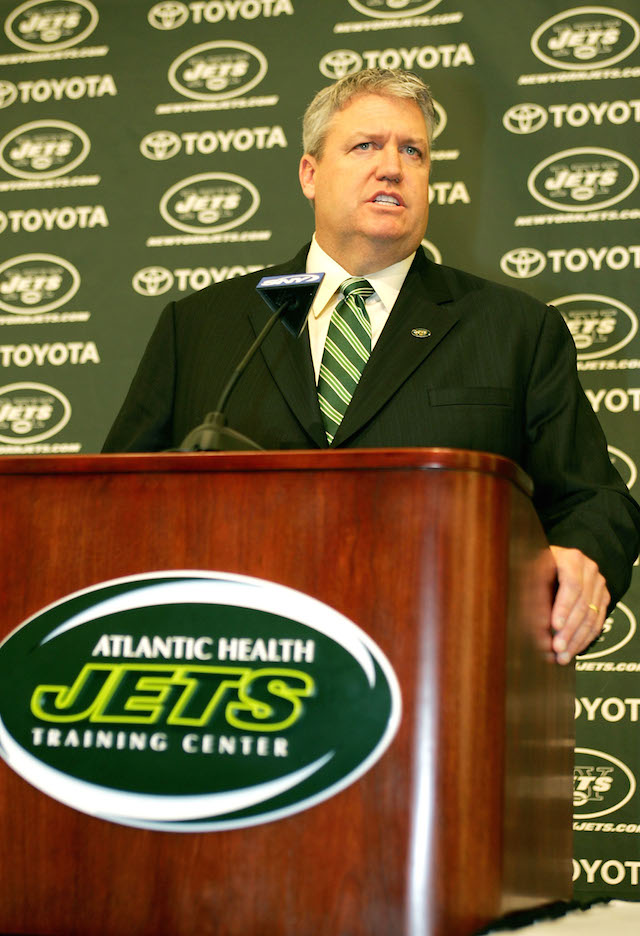 1.  As the head coach of another NFL team
Likelihood: There is a chance, but it is unlikely to happen
There could be as many as eight NFL head coaches fired this offseason, meaning that there will be some interest in Ryan around the league. However, given his recent record in New York – he hasn't had a winning season or playoff berth since 2010 – it would be hard to imagine another franchise going out of their way to hire him.
One team that could be an interesting fit is the Atlanta Falcons. If they choose to fire their current head coach, Mike Smith, which all signs point toward, they may look to bring in a top-notch defensive mind to help fix one of the worst defenses in the league. What makes this an even more intriguing pairing is that the Falcons already have a lot of firepower in place on the offensive side of the ball; something Ryan has never had in New York. If Ryan could work some more of his defensive magic, the Falcons could be legitimate Super Bowl contenders under his guidance.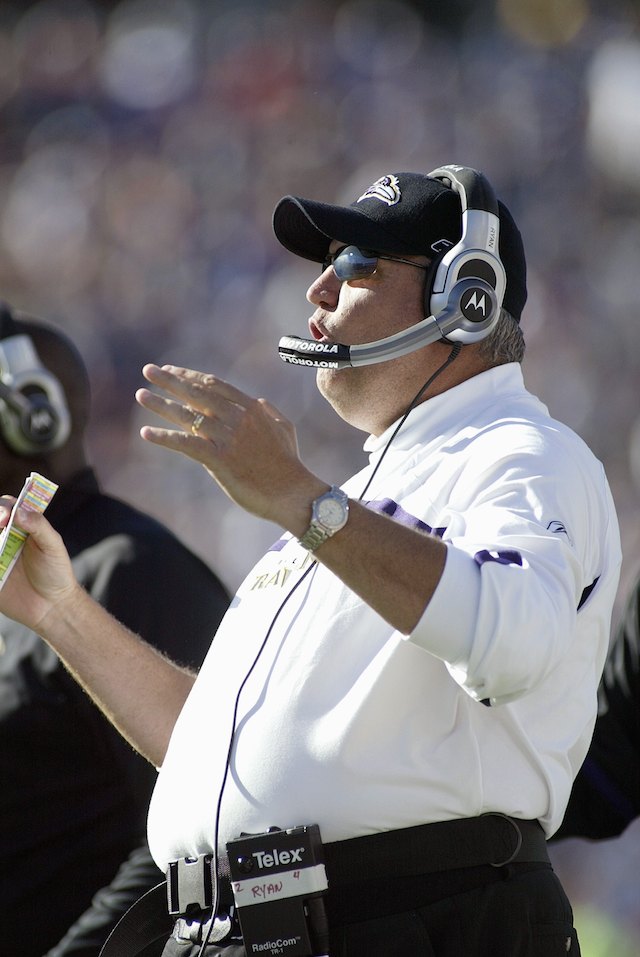 2.  As the defensive coordinator of another NFL team
Likelihood: Highly likely
There is a good chance that Ryan will be the first name that is brought up for every defensive coordinator job that becomes available around the NFL this offseason, and for good reason. Teams like the Indianapolis Colts and Philadelphia Eagles immediately come to mind as offensive juggernauts that could become serious Super Bowl contenders with improved defenses.
Another team to keep an eye on is the Denver Broncos. While their defense is among the league leaders in total yardage allowed, it's no secret around the league that there will be changes made to the Broncos' coaching staff if Denver does not, at the very minimum, repeat as AFC Champions. Current Broncos' defensive coordinator Jack Del Rio could be the coach that goes if the Broncos falter in the postseason; especially after the enormous financial investment the team made into improving their defense last offseason. There is also the possibility that Denver wins the Super Bowl. In this scenario, Del Rio, who has NFL head coaching experience, could become an attractive candidate for one of the head coaching positions that opens up following the season and could leave Denver in that fashion. Imagine what a Rex Ryan-led defense could do with Von Miller and DeMarcus Ware rushing the passer.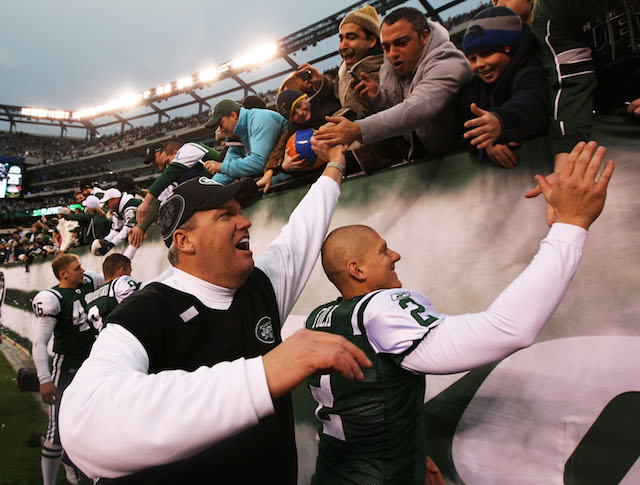 3.  As the head coach of a top-notch college football program
Likelihood: Unlikely
The Ryan family is an NFL family through-and-through. The idea of Ryan taking a big-time college job may get tossed around in the coming weeks, but there is an extremely slim chance that he is ever on the sidelines of a college football program. It's hard to imagine a Ryan taking on the added responsibility of recruiting, although his polarizing personality would likely be very deadly on the recruiting trail.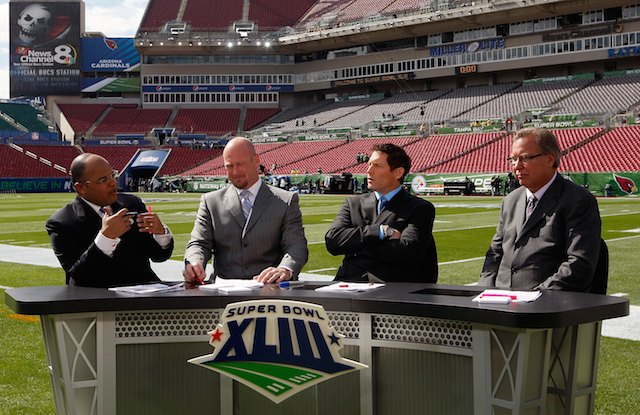 4.  On television or radio as a broadcaster or analyst
Likelihood: Highly Likely
If Ryan decides to take some time away from coaching there will likely be a bidding war between ESPN, Fox, CBS, the NFL Network and practically ever other media outlet in the country for his broadcasting services. He has the type of personality and sense of humor that will be a major draw for audiences, and he also happens to know a thing or two about the game of football.