Where Will the New York Jets' 2015 Starting Quarterback Come From?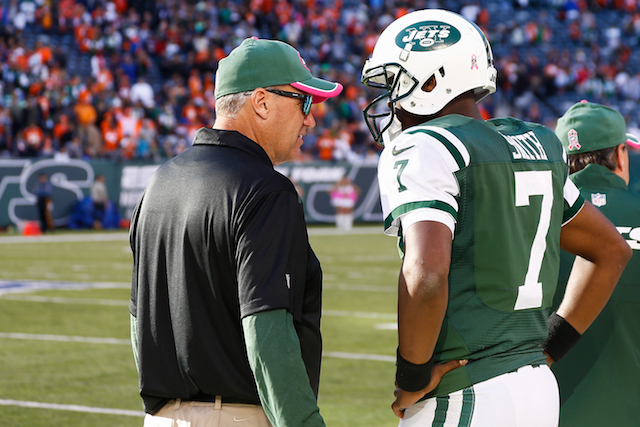 After a 1-7 start to a season with fairly high expectations, nearly everyone with ties to the New York Jets is suddenly missing embattled former quarterback Mark Sanchez. It's a fairly safe bet that neither Geno Smith nor Michael Vick will be the Jets' starting quarterback in 2015. Matt Simms, the son of former New York Giants Super Bowl-winning quarterback Phil Simms, is on the practice squad, but in all reality he doesn't pose much of a threat to make a run at winning the starting job anytime soon. The most likely scenario is that the Jets' 2015 starting quarterback is not currently on the team's roster.
Head coach Rex Ryan and/or general manager John Idzik will likely be fired after the season, meaning there will be a new evaluator who gets to hand pick the next quarterback of the Jets through the NFL Draft, free agency, or via a trade. At this point, it's looking like the Jets are a lock to be picking in the top five in the 2015 NFL Draft, which will give whoever is in charge the chance to select a potential franchise quarterback. There is also the very real possibility that the Jets will use that pick on another position and try to find their quarterback through a trade or in free agency.
Which option makes the most sense for New York? A lot can change and a lot will happen in the coming months that will dictate what direction the Jets choose to go. Here is a detailed breakdown of their options.
All statistics are courtesy of Pro-Football-Reference and Spotrac.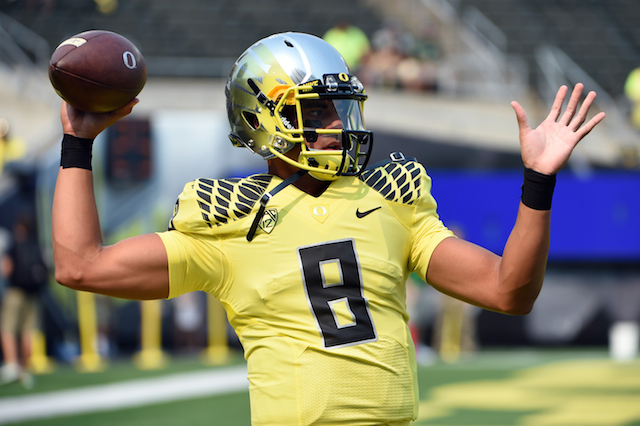 Selecting a quarterback early in the 2015 NFL Draft
If the NFL Draft order were based on current records, the Jets would hold the third pick in the 2015 edition. That would give them a legitimate shot at landing either Marcus Mariota from Oregon or Jameis Winston from Florida State. There is a pretty good chance Mariota will be selected first overall, while Winston's off-field issues may cause him to fall out of the first round altogether. On the other hand, both of these players, who are far and away the best quarterback prospects for the 2015 draft, have college football eligibility available beyond the 2014 season, so there is the outside chance that one or both of them returns to school next fall.
After Mariota and Winston, the drop-off at the position is steep. There will be a handful of guys available in the late first or early second round that are either raw projects or have question marks as to how their skill set or lack of experience in a pro-style offensive system will translate to the professional level. Let's not forget, Geno Smith was an early-second round draft pick who came from a spread offense at West Virginia.
Here is a look at five quarterbacks who may be intriguing prospects for the Jets in the 2015 NFL Draft:
Marcus Mariota, redshirt junior, Oregon
Jameis Winston, redshirt sophomore, Florida State
Brett Hundley, redshirt junior, UCLA
Bryce Petty, senior, Baylor
Dak Prescott, redshirt junior, Mississippi State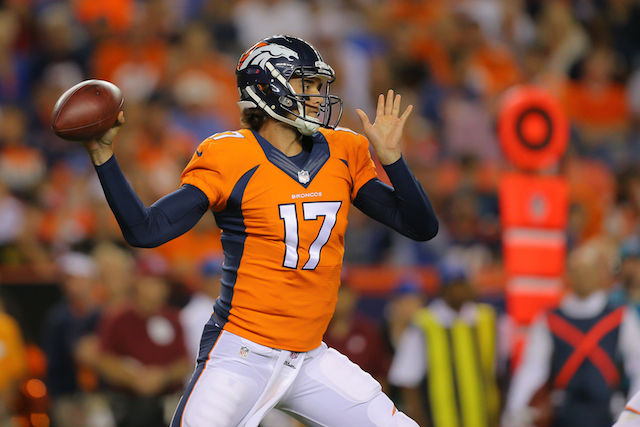 Possible trade scenarios
While the Jets won't be trading for Andrew Luck, Peyton Manning, or Tom Brady, there are a few highly regarded backup quarterbacks around the league that might be attractive options for the Jets in 2015. Here is a look at four quarterbacks that the Jets could explore trading for.
1. Kirk Cousins, Washington Redskins
Cousins had his chance to possibly take over the Redskins' starting job and make Robert Griffin III expendable. Instead, he has been benched in favor of journeyman Colt McCoy. The Redskins will likely look to move Cousins this offseason, and the asking price will likely only be a mid- to late-round draft choice.
2. Chase Daniel, Kansas City Chiefs
Daniel has been a career backup in the NFL but has performed quite admirably when called upon. He won't be taking Alex Smith's job anytime soon and has a contract that is somewhat costly (three years, $10 million) for a guy who literally never plays. The asking price for Daniel will likely be very affordable for the Jets.
3. Brock Osweiler, Denver Broncos
Osweiler was taken in the second round the same year Peyton Manning signed with the Denver Broncos. Obviously, Osweiler has never played a significant down in Denver. In his playing time in the preseason, he has flashed a huge arm and above-average athletic ability to go along with three years of getting to watch Manning's every move in practice and in games. The Broncos would likely entertain the idea of moving Osweiler, given that his contract is up at the end of the 2015 season and they have no gauge on whether he is worthy of an extension.
4. Mike Glennon, Tampa Bay Buccaneers
Glennon has been filling in for Josh McCown until the Buccaneers starter returns from injury. He has flashed a big arm and loads of potential, but that hasn't translated into wins. McCown signed a contract that carries him through the 2015 season and is the unquestioned starter when healthy. For a team in rebuilding mode like Tampa Bay, trading Glennon for draft picks would likely be a welcomed proposal.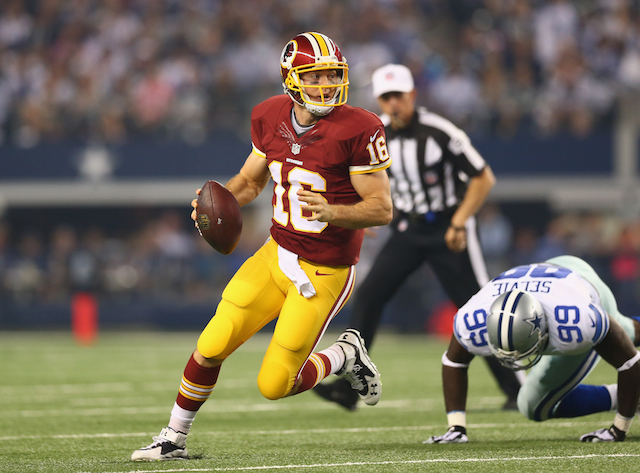 Signing a veteran free agent
The final possibility for the Jets in addressing their quarterback position in 2015 is to sign a veteran free agent quarterback. While this method will likely not give the Jets their long sought-after franchise quarterback, if they find the right guy, they have the pieces on offense (Nick Mangold, D'Brickashaw Ferguson, Percy Harvin, and Chris Ivory) and a strong enough defense to make a playoff run in 2015. Here are four quarterbacks who are scheduled to become free agents in 2015 and may be a good fit for the Jets.
1. Jake Locker, Tennessee Titans 
Locker, the former Titans first-round pick, has never really reached his full potential in the NFL. A lot of that has to do with various injuries, but nonetheless, the team is really high on rookie Zack Mettenberger. Locker's time in Tennessee may be coming to an end after the team declined to pick up the fifth-year option on his contract.
2. Matt Moore, Miami Dolphins
Moore has played well in a backup role for the Dolphins and wants another chance to start in the NFL. Dolphins starter Ryan Tannehill has never gotten a full vote of confidence from his coaching staff, but his play as of late and first-round draft status may have locked up the job for him for the foreseeable future. Moore is highly competitive and will likely be looking to take his talents somewhere other than South Beach in 2015.
3. Brian Hoyer, Cleveland Browns
Hoyer is currently the Browns' starter and has played well enough to lead the Browns into playoff contention. The major problem for Hoyer is not so much his play, but the fact that the team invested a first-round draft pick in Johnny Manziel. Hoyer has hinted that he may not be interested in a return to Cleveland if Manziel is still around, and who can blame him? Manziel is not the type of player you draft to have sit on the bench. If there is indeed not enough room for both Hoyer and Manziel in Cleveland, it is likely the franchise lets Hoyer test free agency.
4. Colt McCoy, Washington Redskins
McCoy entered the season as the Redskins' third-string quarterback, not knowing if he would ever play another meaningful down in the NFL. After an injury to Robert Griffin III and poor play out of Kirk Cousins, McCoy got his opportunity, and now it looks like he has set himself up to be the next backup quarterback to receive a Matt Flynn-esque contract on the free agent market.
Since taking over for Cousins in the second half of Washington's Week 8 game, McCoy has led the Redskins to a come-from-behind win over the Tennessee Titans and a shocking upset over the Dallas Cowboys on Monday Night Football. In his six quarters leading the Redskins, McCoy has completed 85.7% of his passes for 427 yards, with one touchdown, one interception, and a quarterback rating of 107.0 — not too bad for a guy who was on the verge of becoming an afterthought in the NFL.