Where Would Ben Simmons Land if the NBA Could Take a Mulligan on the 2016 Draft?
The NBA trade deadline is set for Feb. 10, but there's still no imminent conclusion to the Ben Simmons trade saga. The disgruntled point guard hasn't returned to the Philadelphia 76ers, and general manager Daryl Morey is still stubbornly refusing to send his former franchise centerpiece packing.
Big Ben was the No. 1 overall pick in the 2016 NBA draft. In hindsight, there may be a few players who could have usurped him for that spot.
So if the 30 NBA GMs got a redo for that class, where would Simmons ultimately land?
Ben Simmons was a near-unanimous choice to be chosen No. 1 overall in the 2016 draft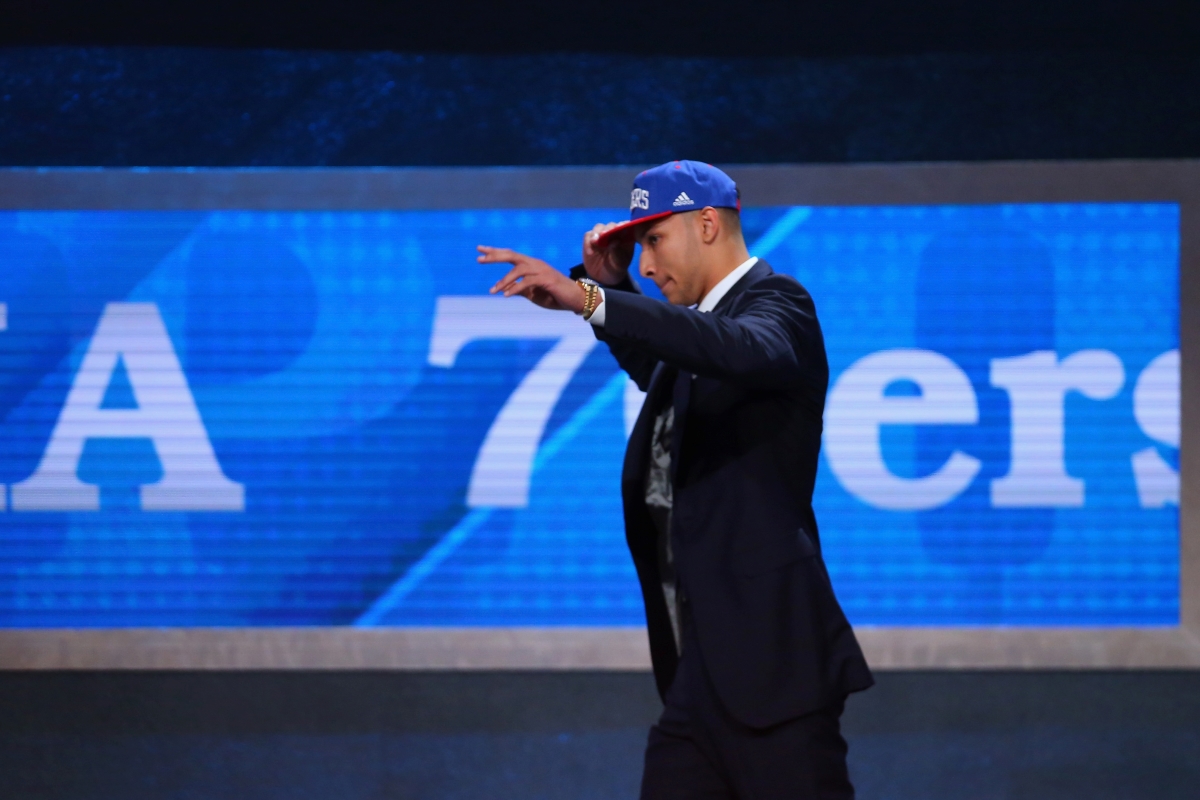 According to DraftExpress, the Australian went from one of the top high school prospects in the country to the top draft prospect in the 2016 class.
In his one-and-done season at LSU, the 6-foot-10 point guard averaged more than 19 points, 11 rebounds, and four assists per game. As a near 7-foot and 240-pound table-setter with excellent court vision, passing skills, and unique athleticism, Simmons' physical profile was enticing.
He also projected as an all-NBA defender with overwhelming size for his position to go along with above-average instincts and anticipation. He averaged 12.9 rebounds, 2.1 steals, and nearly a block per game for the Tigers.
A few other prospects in his class had a reasonable argument for the top spot, but in what was then billed as a relatively underwhelming crop of draft picks, Simmons landed at the top.
But knowing what we know now, is Benny still the clear No. 1 selection?
Simmons would drop from No. 1 to No. 3 and land with the Boston Celtics in a re-draft
The top five picks in 2016 were, in order: Simmons to Philadelphia, Brandon Ingram to the Los Angeles Lakers, Jaylen Brown to the Boston Celtics, Dragan Bender to the Phoenix Suns, and Kris Dunn to the Minnesota Timberwolves.
Right off the bat, an argument could be made that Brown is a better player than Simmons, and Ingram at least has a case as well.
Bender was a complete bust, and Dunn is an end-of-the-rotation player at best.
The following five selections were Buddy Hield to the New Orleans Pelicans, Jamal Murray to the Denver Nuggets, Marquese Chriss to the Sacramento Kings (and eventually to Phoenix — not a great draft for the Suns), Jakob Poeltl to the Toronto Raptors, and Thon Maker to the Milwaukee Bucks.
Things begin to get interesting when discussing Murray vs. Simmons. The former Kentucky product had a breakout postseason in the 2020 bubble and seemed on his way to superstardom before he tore the ACL in his left knee.
The Nuggets point guard hasn't played since, and there is still no official timeline for his return. But pre-injury Murray was a superior player to Simmons.
Also picked in the first round in 2016 were Domantas Sabonis (11th), Caris LeVert (20th), Pascal Siakam (27th), and Dejounte Murray (29th), who's in the midst of a possible All-Star campaign.
All four are good NBA players, but none of them are better than the No. 1 pick in their class.
So the overall verdict: Simmons ends up as third pick and lands in Boston after Murray goes No. 1 to Philly and Brown lands in LA at No. 2.
Amidst all the drama, the LSU product has become dramatically underrated
Falling from the first overall pick to the third isn't a massive drop.
(The what-ifs of this scenario become a fun rabbit hole to go down, though. How different would the Sixers' current situation be if Murray played next to Joel Embiid? Brown may be Zion Williamson's partner in NOLA instead of Ingram. Would Simmons be a better fit with Jayson Tatum?)
But lost in all the drama is that the MIA point guard is a three-time All-Star, an All-NBA player in 2019-20, and a two-time All-Defensive player. Those parts of his scouting report were accurate — Simmons is a high-level playmaker, defender, and rebounder.
No, he can't shoot, and no, he's not a primary offensive weapon. But with career averages of 15.9 points, 8.1 rebounds, 7.7 assists, and 1.7 steals, the 25-year-old is a shoo-in All-Star when engaged.
Eventually, Simmons will land elsewhere, and when we look back on the situation, there's a good chance we wonder why it took so long for someone to want him.
We're also left wondering who would've wanted him five seasons ago if the NBA had the benefit of a second chance at the 2016 draft.
All statistics courtesy of Basketball Reference.