Where Zion Williamson's Vertical Leap Ranks Among the Best NBA Players
While Zion Williamson's start in the NBA didn't go quite as planned. Once he had a chance to play, he quickly put any doubts to sleep. Williamson's greatest asset is his athleticism. For his size and weight, the athlete is deceptively fast and explosive. His most prized asset might be his vertical leap. 
Williamson's leap took center stage while testing for Duke University. Since then, he keeps wowing fans with his highlight-reel moves.
Just how high can Zion Williamson jump? 
NBA players, in general, are freaks of nature. It's not every day you find 7-footers that can jump out of the gym, yet in the NBA, it seems like the norm.
According to Michael Grange, Williamson's vertical jump while testing at Duke was 45 inches (a record at the time), and he was 6-6, 280 lbs, and only 18 years at the time of the testing.
It was a head-turning fete for any player leave alone his size. Coming into the NBA draft, most pundits and analysts expected to see Zion at the NBA draft combine. But like other top prospects, Williamson decided to workout with some of the interested teams.
Going by the numbers he put up at Duke, saying Williamson is average would be an understatement. At those numbers, he is in an envious group of only 7% of NBA players that can jump like him or higher. 
To put the numbers into perspective, only 79 of 1,045 players in the combine have recorded a 40-inch vertical leap or higher. That not only speaks to Williamson's greatness but also how difficult it is to achieve such strength and leaping power. 
Williamson's leap is even more surprising, considering that the most explosive players don't register their best numbers at the combine.
Other NBA players set the bar higher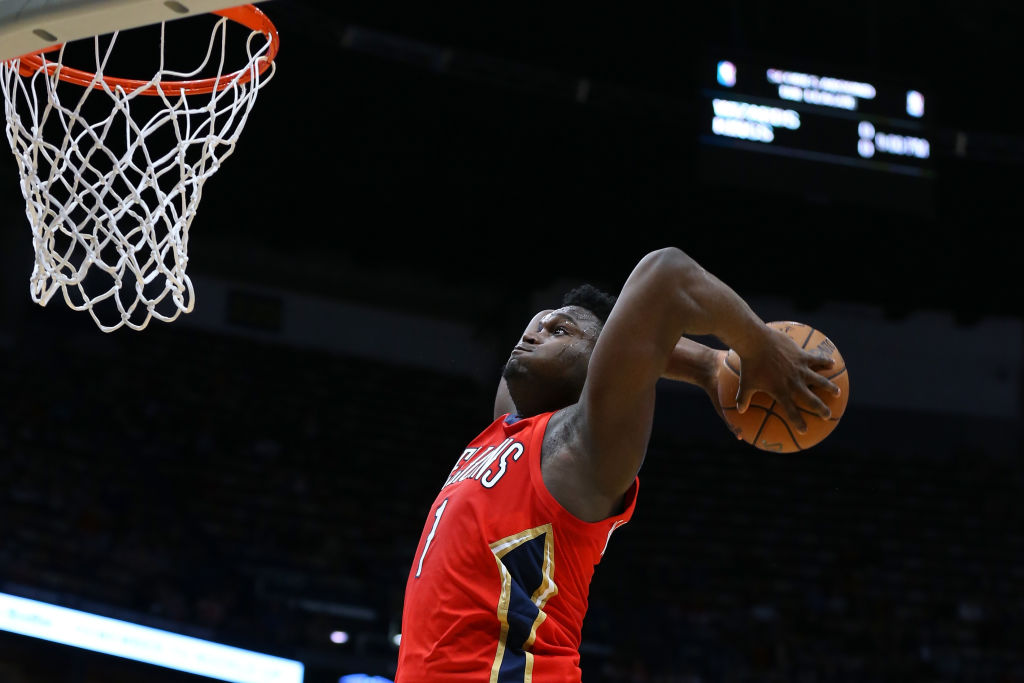 Considering the average human has a leap of about 20 inches, which goes to 30 inches in the NBA with the average maximum vertical at 32 inches, finding players with a vertical leap of 40 inches is both rare and impressive!
But, the NBA has plenty of such guys. Guys like Michael Jordan (46 inches), Zach Lavine (46 inches), Spudd Webb (46 inches), James White (46 inches), and the great Wilt Chamberlain (48 inches) made a name for themselves as some of the best leapers in the NBA. 
You've got to keep in mind that Williamson is only 19 years, and these are just his preliminary numbers. He has his whole life ahead of him, and he is just starting to scratch the surface of his potential.
Is Williamson among the best leapers?
Despite all the talk and chatter about Williamson's leaping ability, it's surprising that he doesn't rank the top 50 in the NBA best leapers list. 
Luckily, he is the youngest of the bunch. He has access to elite trainers in the NBA who can help him fine-tune his body for better performance. Ultimately, if everything goes according to plan, his numbers will improve over time.