Which 2014 NFL Players' Jerseys Do Women Most Love to Buy?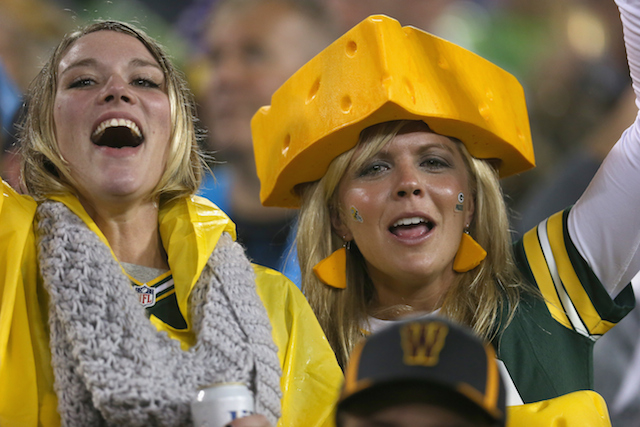 The fine folks at Dick's Sporting Goods are in the business of selling NFL jerseys, and they were kind enough to tweet out a look into which jerseys have been the most popular recently. Even more useful, the retailer broke down the information by demographic. On the next page, you can see a map of the United States, provided by Dick's, that shows the top-selling NFL female jersey for each state from May 2014 to October 2014. So, if you are curious — as we were — about which NFL athletes are most popular with the ladies in the NFL's fan base, this chart should have all the info you need.
While several of the states showed the exact name you would expect to be the most popular player in the state (Larry Fitzgerald for Arizona, Calvin Johnson for Michigan, and Peyton Manning for Colorado), others were a bit more surprising or downright head-scratching. Here, then, are five notable things we discovered about female jersey sales from this week's Dick's Sporting Goods infographic.
http://t.co/OyJuag8j0Y #JerseyReport pic.twitter.com/L23fRhEuZ9
— Dick'sSportingGoods (@DICKS) November 3, 2014
The Vikings are struggling
While new coach Mike Zimmer is implementing a defensive culture that should bode well for Minnesota's future, the sub-.500 2014 edition of the Vikings has obviously failed to capture the hearts of its in-state fan base. (Former face of the franchise Adrian Peterson's indictment for child abuse is obviously also a factor here.) Still, we were surprised to learn that the top-selling female jersey in the state of Minnesota was not purple: Instead, it belongs to Packers star quarterback Aaron Rodgers.
At least Tony Romo has one state

Dallas Cowboys quarterback Tony Romo doesn't have the highest-selling jersey among women in Texas (that honor goes to teammate Jason Witten), but Romo can at least boast one state. Strangely, it's Alaska. We aren't sure how to explain this phenomenon: Perhaps Alaskans are far enough away from Dallas that they don't see all of the late-game turnovers Romo has become known for throughout his career? (Sorry, that was cold.)
Russell Wilson owns the Pacific Northwest … except for Oregon?

The most recent Super Bowl-winning quarterback unsurprisingly has the top-selling jersey in the state of Washington, and Russell Wilson also owns Idaho, Nevada, and New Mexico. In fact, the entire Pacific Northwest section of the map has Wilson's name and colors all over it — with the notable exception of Oregon. Apparently Andrew Luck has made a quite impact with the residents of that state? Safe to say the former Stanford great no longer has an "Oregon problem."
The Heath Miller effect is real
We'll be honest. We didn't expect Steelers TE Heath Miller to have the most popular jersey among women in multiple states — although, does it really count if it's North Dakota and Arkansas? And that wasn't the only random state: Why is Drew Brees tops in Vermont? Or Wes Welker in Utah and South Dakota? How about Jamaal Charles in Hawaii? We'll never know the reason.
Rookies have made an immediate impact (at least on jersey sales)
The top-selling NFL jersey among women in New York since May belongs to Buffalo rookie Sammy Watkins. The No. 1 uniform in Florida is that of new Jaguars quarterback Blake Bortles. And, of course, Johnny Manziel owns jersey sales in Ohio despite the fact that he's holding a clipboard every Sunday. Whether the 2014 NFL rookie class ends up living up to expectations on the field, the uber-marketable players are at least making money for the NFL. (And, at the end of the day, isn't that all that matters?)