6 NFL Quarterbacks With the Worst Season So Far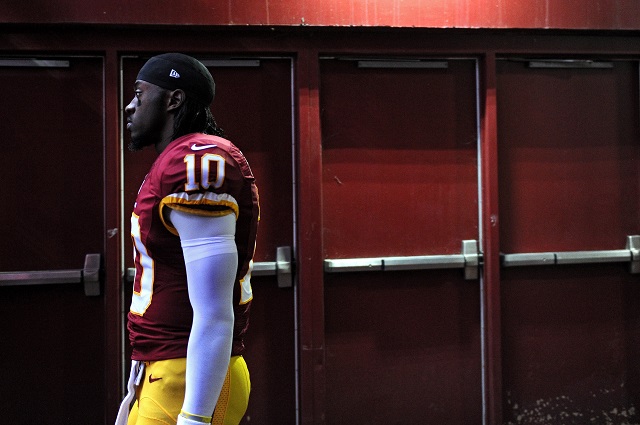 A bad game for a quarterback is a lot like Potter Stewart's take on pornography: you know it when you see it. Sometimes there are measurables, like interceptions, or a low completion percentage, and sometimes there are things that are a little harder to quantify even though they're fairly obvious at the time; misread coverages, poor decisions, and the like. Then there are the slightly more advanced metrics, like ESPN's quarterback rating (or QBR), or Football Perspective favorite ANY/A (Average Net Yard per Attempt). Everyone has their own special way of measuring the success, and subsequently the failure, of the NFL quarterback.
Over at Advanced Football Analytics, they're partial to Win Probability Added, a stat that measures each player's affect on a team's likelihood to win the game before and after each play. They also happen to run a really awesome live Win Probability chart for each game, which you can check out here, but if you're not interested in graphs, the only thing you need to know is that this puts a number on exactly how screwed, say, the Dallas Cowboys are after Tony Romo throws that fourth-quarter interception.
Further, because quarterbacks are involved with every play in a football team's offense, they're a great target for WPA. Unfortunately, this means that while we can celebrate the best at the position over two weeks, we can also look at who is doing the least to help their teams win. The results may surprise you. Here are the 7 worst quarterbacks of 2014 through the first two games.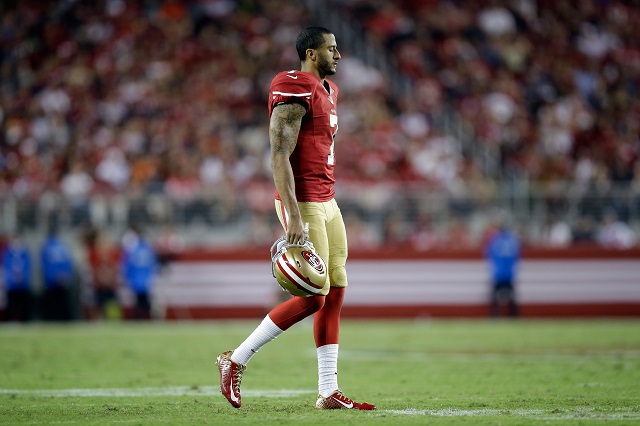 6. Colin Kaepernick: -0.17 WPA
Kaep had a really, really bad game on Sunday — so bad that it's got exactly zero competition for the first spot in "horrible games that Colin Kapernick has had in his short career as a starting NFL quarterback." Three interceptions, four sacks, and a whole host of awful, the single biggest drop in WP for Week 2 came from Kaep's fourth-quarter interception and his penalty for unsportsmanlike conduct. Luckily for him, his first week was excellent, and he grades out as only the sixth most detrimental QB in the entire league right now.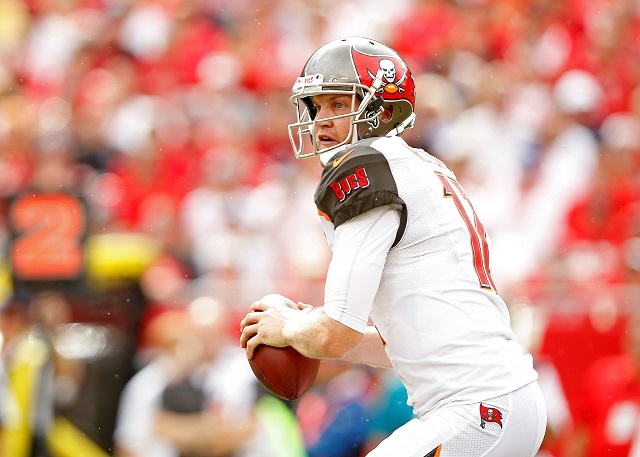 5. Josh McCown: -0.17 WPA
The redheaded quarterback who probably isn't mistaken for Andy Dalton as we think he aught to be, McCown took over the reigns for Tampa Bay to notch the 39th and 40th starts of his 12 year career, and has yet to lead the Bucs to a victory. Looking at the chart for their game against the Rams, though, McCown can't be held entirely accountable for the loss. The Bucs defense was able to hold St. Louis to just 19 points, but they failed to stop Austin Davis from advancing up the ball up the field enough for a decisive field goal.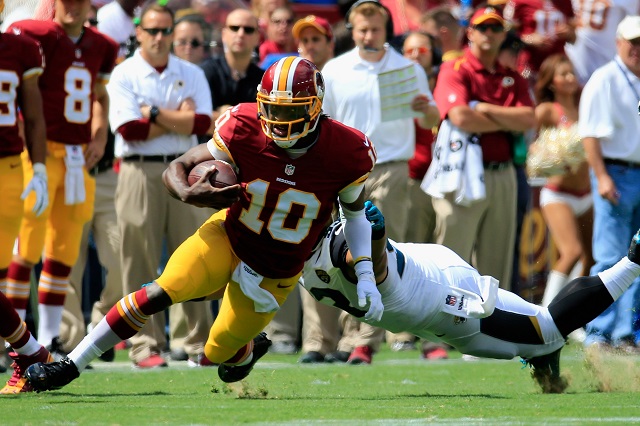 4. Robert Griffin: -0.19 WPA
The terrible unmentionable about RG III's career at this point is that he's been kind of awful for longer than he was definitely awesome. Ever since he blew out his knee the first time, Griffin hasn't been the same. Fans attributed nearly all of last season to rust and the unspoken agreement that he rushed out there too early, but this season was supposed to be the season where we found out what he was made of. Instead, well, he was playing badly — and then he got injured. Again. Pour one out for RGIII.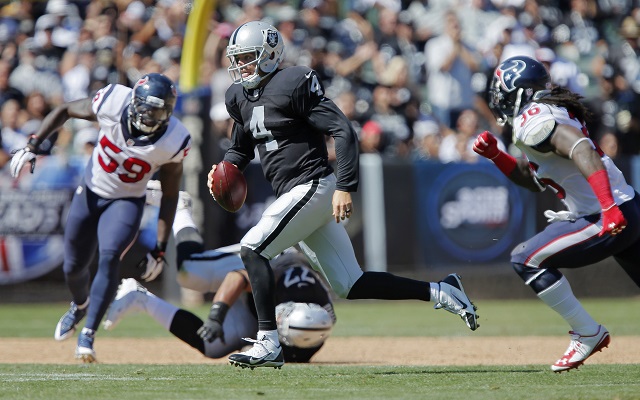 3. Derek Carr: -0.21 WPA
Stop if you've heard this one before: Oakland quarterback has a bad time as the Raiders struggle to do much of anything. While we're sympathetic to their fan base — since no one wants to cheer for a team that's under the constant cloud of relocation — there's a reason why the silver and black have gone through eight quarterbacks in the last decade. Derek Carr looks okay in action, but so far the metrics don't support it. But, hey, he's a rookie. He could get better.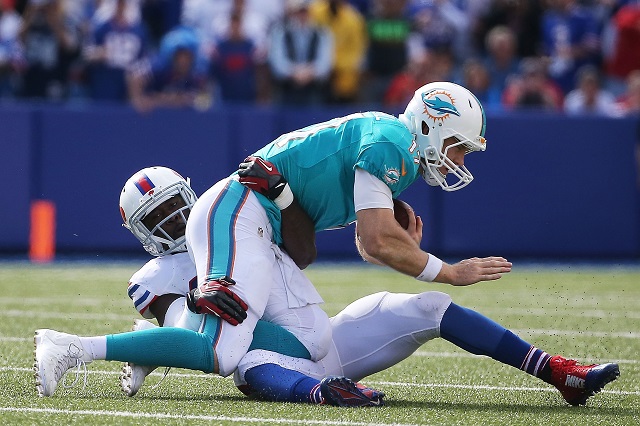 2. Ryan Tannehill: -0.29 WPA
This is the Win Probability Chart for Miami's Week 1 game against the New England Patriots. If you look at it, you'll see that Ryan Tannehill had little bearing on the outcome of the game — most of the biggest gains for Miami came from Knowshon Moreno's excellent performance and the relative ineptitude of the Patriots. In other words, all Tannehill had to do was not botch the game beyond all recognition and they'd win. Consider their second week against the Bills to be the opposite of that.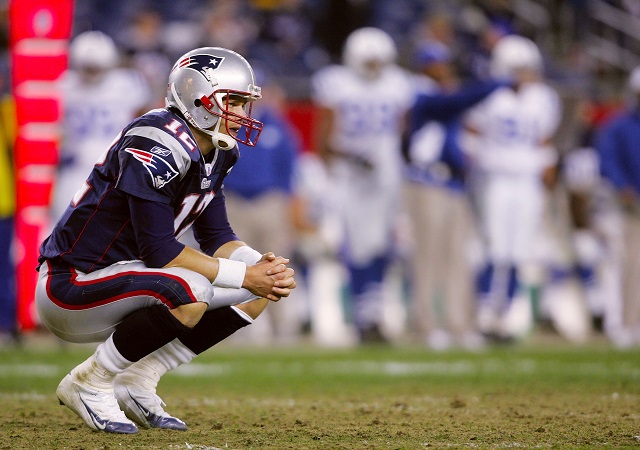 1. Tom Brady: -0.31 WPA
But no quarterback has had a rougher start to the year than Tom Brady who opened the season saying, perhaps prophetically, that, "When I suck, I'll retire." If you'd like a breakdown on exactly how Brady has sucked relative to other quarterbacks in the league, you can check out the Advanced Football Analytics list of QB's here. Of course, this is only Week 2, and things fluctuate pretty quickly. Before Monday's game, Andrew Luck would have been third on this list.