Which 8 NFL Teams Have Been Hit Hardest By Injuries This Year?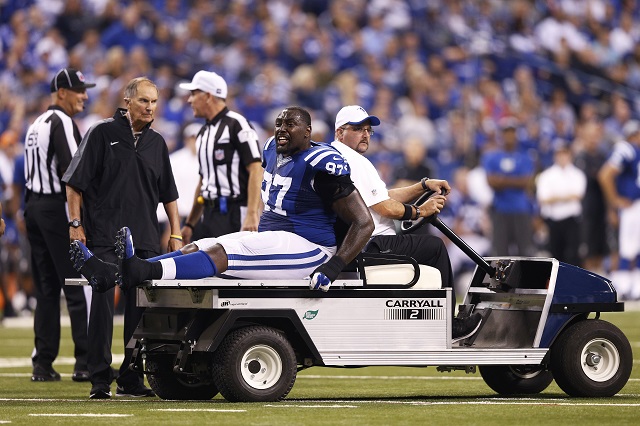 Injuries are the worst. That's a statement that's true of all sports, but save a few unfortunate exceptions, it's never more true than in football, the only widely enjoyed game that happens to be so rough on the human body playing it at the professional level more than once a week is extremely hazardous to your health (which is part of the reason why any player that'll talk about it will tell you Thursday games are awful). The absolute most miserable part about injuries are that they're never 'fair' insofar as any kind can be, and every year there's inevitably one team that managed to stay healthy all year and manage a great record because of it, even though there are potentially teams more talented, on paper, who catch the injury bug.
We're not here to talk about those teams, though. No, we're here, using information from CBS's NFL Injury Report, to determine which teams have the most players currently on the IR and PUP lists — players that aren't going to be able to contribute to their teams success in the near future. Obviously, this is a bummer for fans of all the teams involved, and a reminder of just how tough this gig is, even after you beat out everyone else and make it to the pros.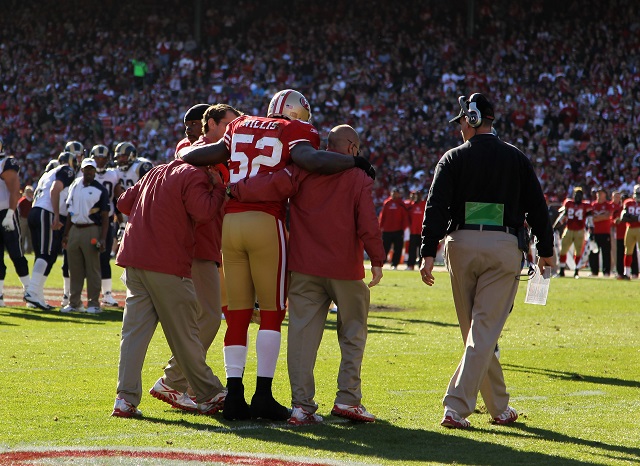 8. San Francisco 49ers
Despite fielding seven players on the IR and the PUP as we round into Week 7, the San Francisco 49ers are still sitting at four wins and two losses, looking to make it all the way into the Super Bowl and, hopefully, coming out on top this time. Maybe as the result of an unforseen power failure?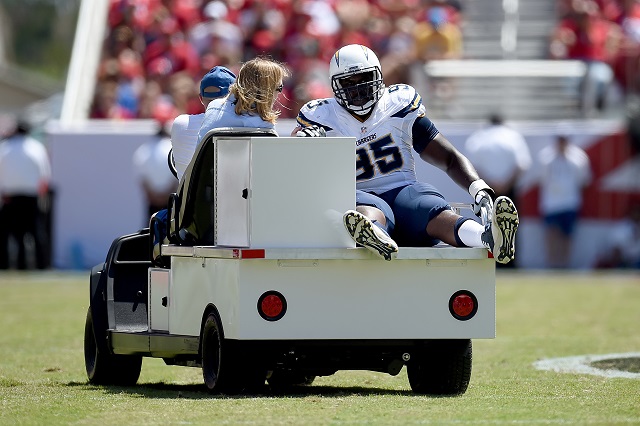 7. San Diego Chargers
Like their Northern California contemporaries, the Chargers have seven players out for a while right now, something that's been glossed over due to the statistical and actual brilliance of quarterback Philip Rivers, who is out there breaking NFL records years after everyone else thought he'd peaked.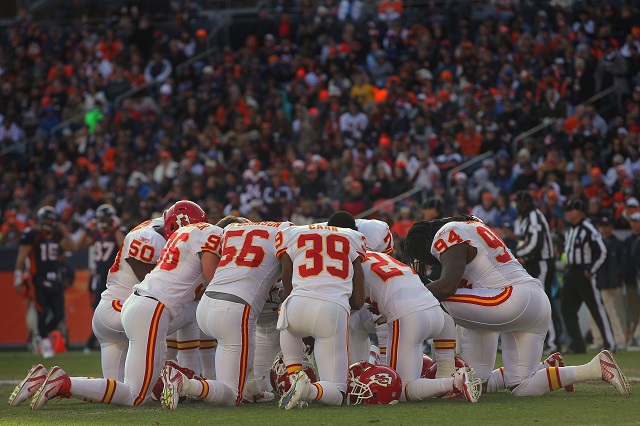 6. Kansas City Chiefs
Unlike the Niners and the Chargers — who are finding success in the face of adversity — the Chiefs seem to have buckled under the pressure of their depleted ranks with seven out officially, a host of other injuries, and some costly mistakes contributing to an underwhelming 2-3 start. That win over the Patriots was pretty definitive, though.
5. Baltimore Ravens
They might be ready to beat you up and take your lunch money, but the Baltimore Ravens seem to be showing some fragility, as seven of their players have found themselves watching from the sidelines for an extended period of time as their team bullies their way to a four-win, two-loss record that's good for second in the AFC North so far.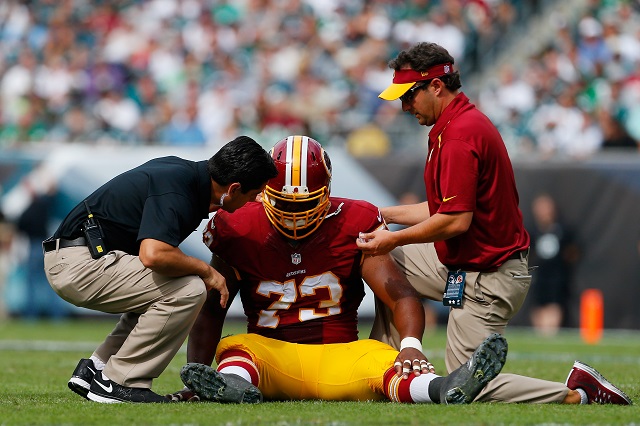 4. Washington Redskins
We would never suggest that there was anything karmic about the fact that the Washington football team had seen eight players wander onto the injured reserve and physically unable to play lists, because we're aware of the fact that the players don't have any say in changing the team's name or not. That doesn't mean that we haven't heard the same theory bandied about in a sports bar or two, though.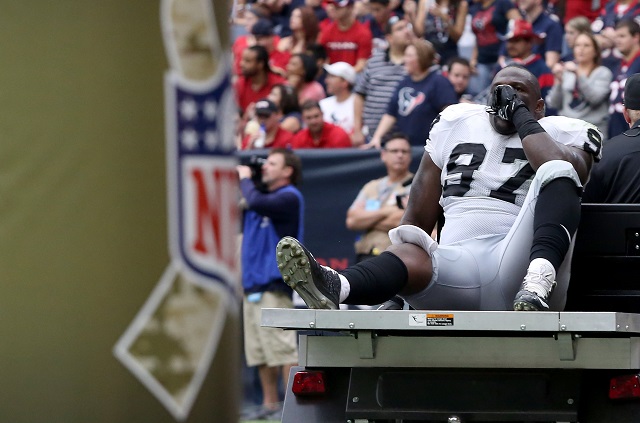 3. Oakland Raiders
The Black Hole hasn't had a lot to look forward to over the last decade and counting, and the fact that so many of the Raiders — nine, all told —  are dropping like flies can't help but shake fans' confidence. On the other hand, it's better to feel badly about your team than to have no team at all, and with all the controversy flying around the O.co about the imminent departure of the Raiders (maybe, we're not spreading rumors here), Oakland fans should be savoring what could be their last season.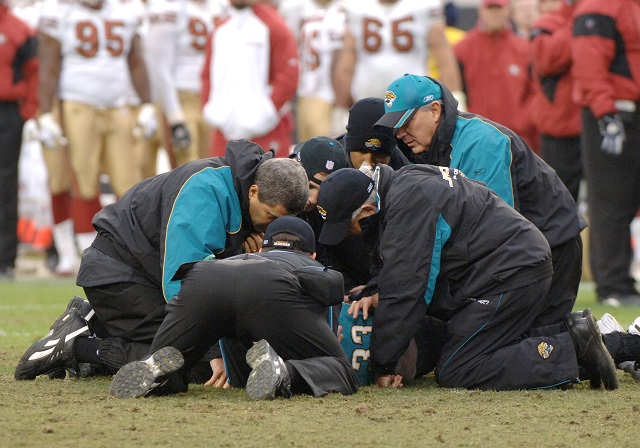 2. Jacksonville Jaguars
While we won't go so far as to say that Jacksonville would have pulled out a win by now if they'd been able to stay healthy, we would say that it's possible some of the game would have been more competitive — the agony of the blocked field goal aside — had nine of their players, including some key contributors, had stayed healthy. Or if they'd had Justin Blackmon, but that's another story.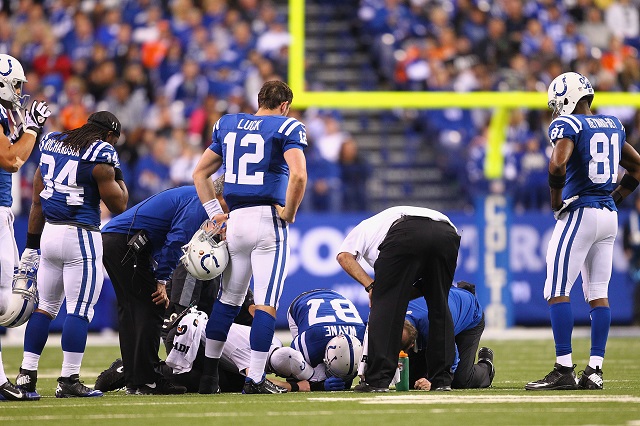 1. Indianapolis Colts
With nine players down, but no damage so far to Andrew Luck and Andrew Luck's Beard, the Colts have managed to maintain the lead over the AFC South, but that'd be much more impressive if the AFC South didn't consist of the Jaguars, the Texans, and the Titans. When you're the only positive team in your conference, fans of at least three other teams are definitely looking at you with hopes of failure, and in the Colts' case, all that bad mojo might be working.