Which College Is Getting the Most Value for Its NFL Talent?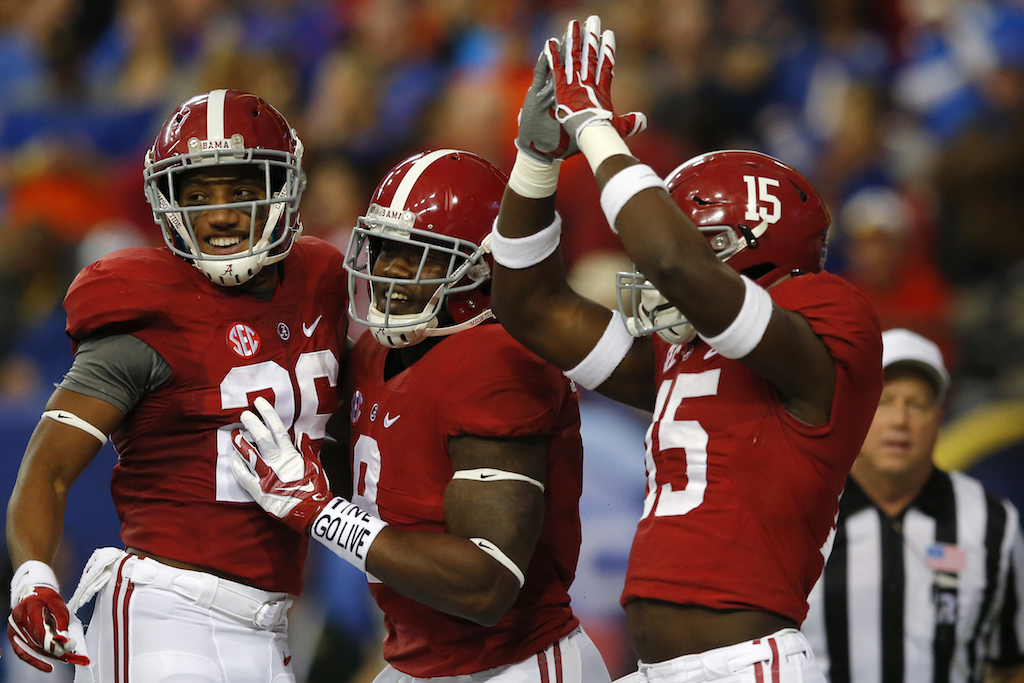 Let's have some fun.
For those of you who don't consider yourselves experts in the world of college athletics, there's only two things you really need to know: Money breeds success and success breeds money. Once you realize that, everything begins to make perfect sense, and you understand why some schools do much better on the field than others.
Seriously, it's all about following the money. For the record, we have. Thanks to the quality research by the good folks at USA Today — who used financial data from the 2013-14 fiscal year — we learned, based on the total revenue generated by their athletic departments, which schools bring in the most money. And while we find this information fascinating, we took things one step further by focusing our attention on how the money relates to college football programs and their alumni playing in the NFL.
The way we see it, when these programs do well, the university finds success on the field and its players end up at the pro level. When that happens, the school gains prestige, which turns into more money, which brings in better prospects, which allows for more success and, of course, more money. And such is the circle of life (relatively speaking, of course).
So, we figured out which school gets the most bang for its buck by assessing the connection between the revenue generated by an athletic department and the total number of alumni each university has playing in the NFL. Pretty cool, right? Therefore, using the seven schools with the richest athletic departments in the country, let's see which is getting the most value for its talent in the National Football League.
7. Michigan, $7.9 million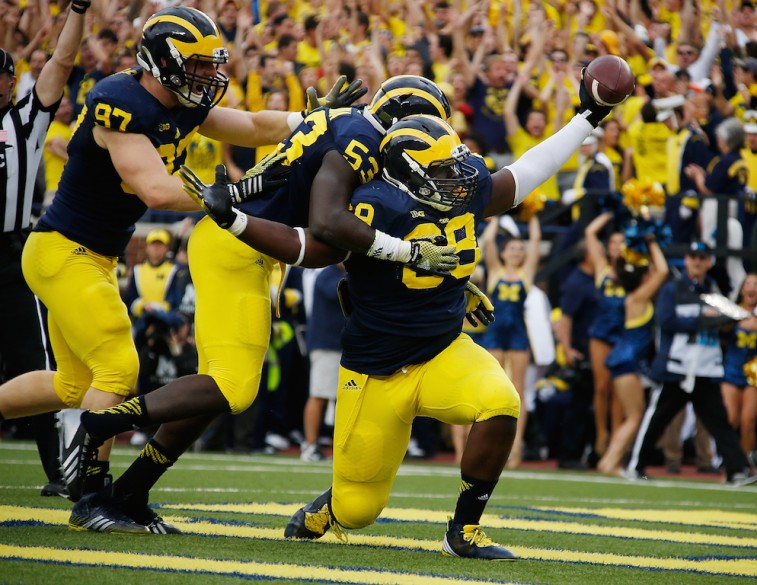 Active NFL Players: 20
Total Revenue: $157,899,820
With Jim Harbaugh at the helm, the Michigan Wolverines once again found themselves associated with success on the football field. However, as far as getting the most value out of its current crop of NFL players, the university still has some work to do. With 20 alumni in the National Football League and an athletic department that generated $157,899,820 in revenue — the third richest in the country — Michigan only produced one pro player from $7.9 million of its revenue. Of course, with Harbaugh running the show, it's only a matter of time before things change for the better — even more than they already have.
6. Oregon, $6.8 million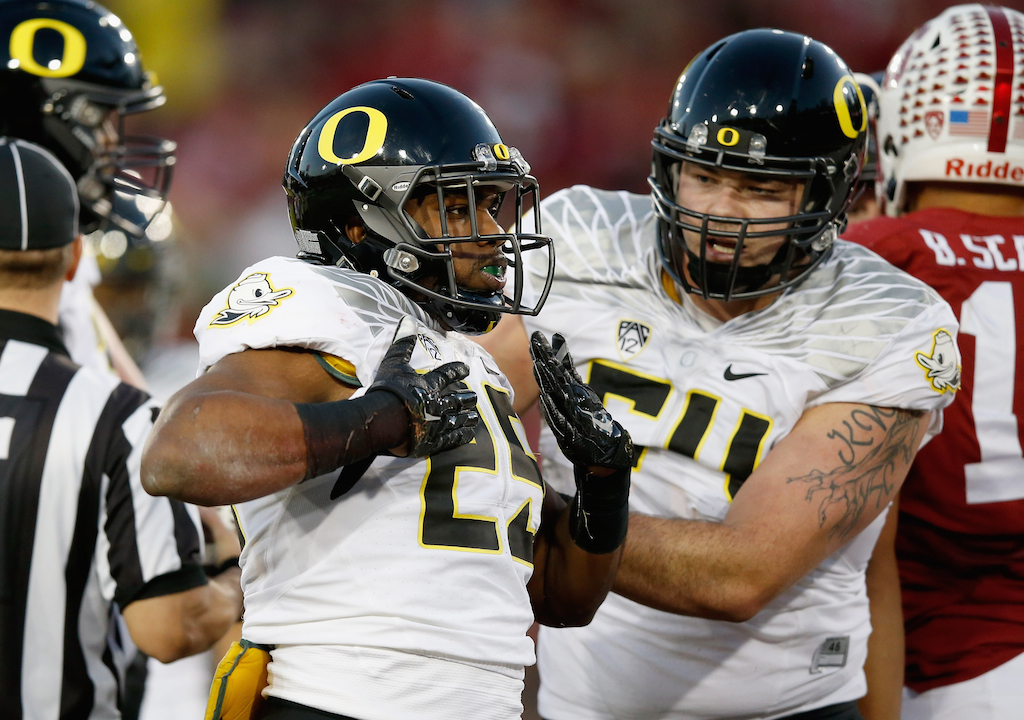 Active NFL Players: 29
Total Revenue: $196,030,398
The Oregon Ducks have the flash, the facilities, and the deepest pockets —  $196,030,398 in total revenue — of any athletic department in the country. However, even with that impressive war chest at its disposal, the university isn't quite getting the best bang for its buck. After all, if you do the math, you'll see that with only 29 former Ducks playing at the highest level, it takes $6.8 million to produce just one NFL player. When you're expected to succeed, these results simply won't do.
5. Texas, $5.4 million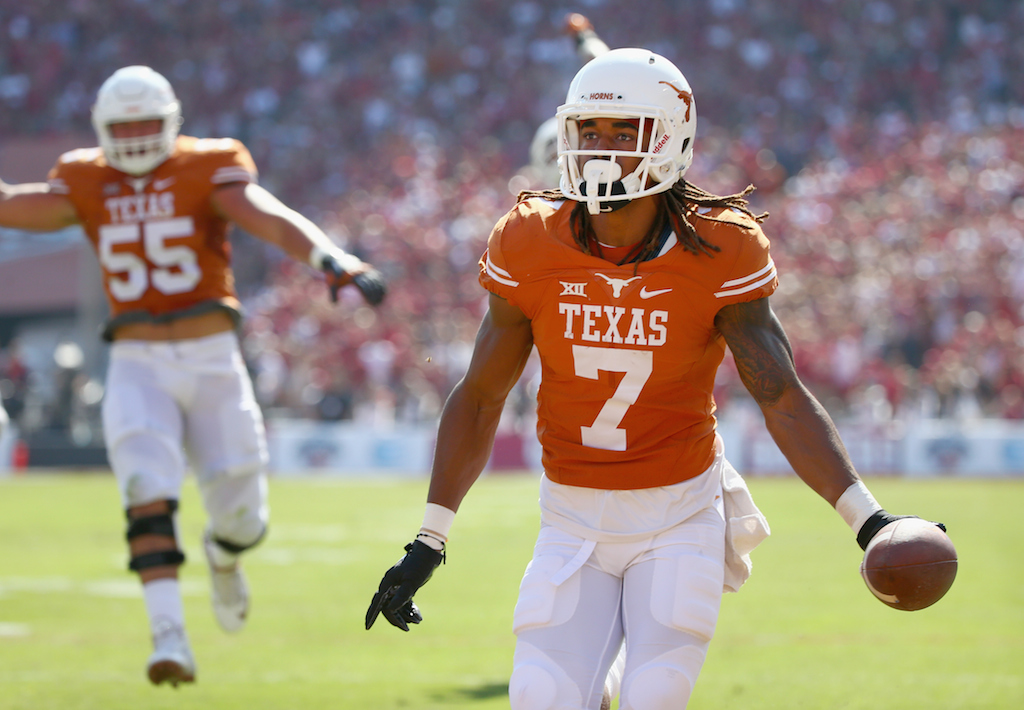 Active NFL Players: 30
Total Revenue: $161,035,187
Not only has the University of Texas been usurped as the school with the richest athletic department in the land but, in terms of getting the most value for its NFL players, it's well behind the competition. Despite generating $161,035,18 in total revenue, there are only 30 former Longhorns suiting up on Sundays. As a result, it's costing $5.4 million to produce just one NFL player. If you ask us, that's not exactly hooking anything.
4. Ohio State, $4.4 million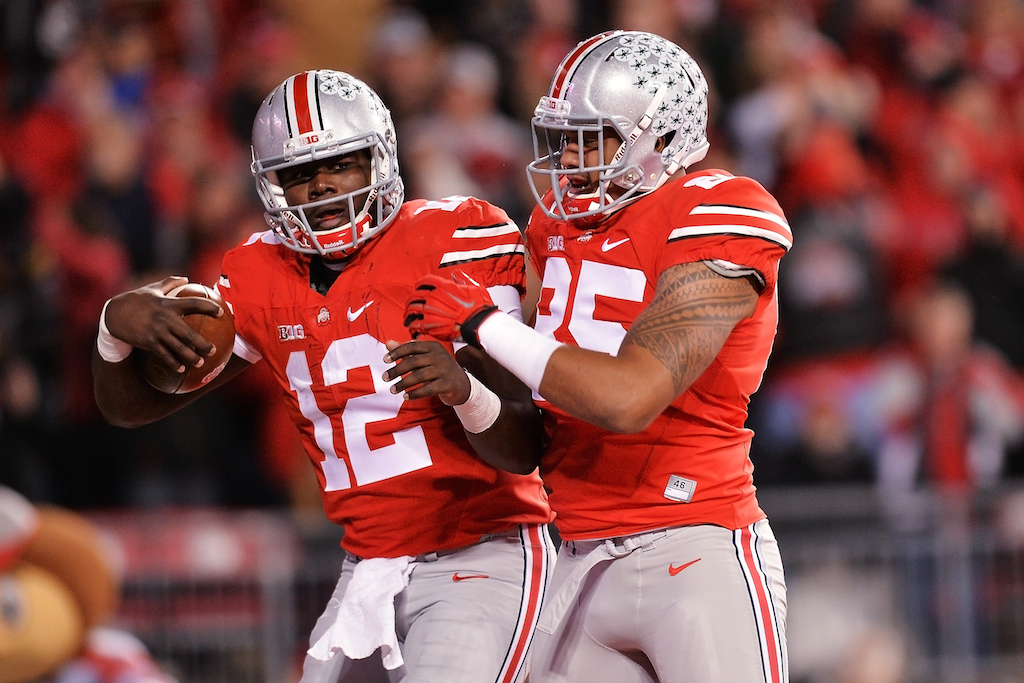 Active NFL Players: 33
Total Revenue: $145,232,681
The Ohio State Buckeyes may not be playing in this year's College Football Playoff, but the university is certainly getting its money's worth in NFL talent. While Ohio State's $145,232,68 in total revenue is fifth among the richest athletic departments in the country, with 33 alumni doing work in the NFL, the university's revenue has produced one pro for every $4.4 million. Clearly they know what they're doing in Columbus.
3. Oklahoma, $3.8 million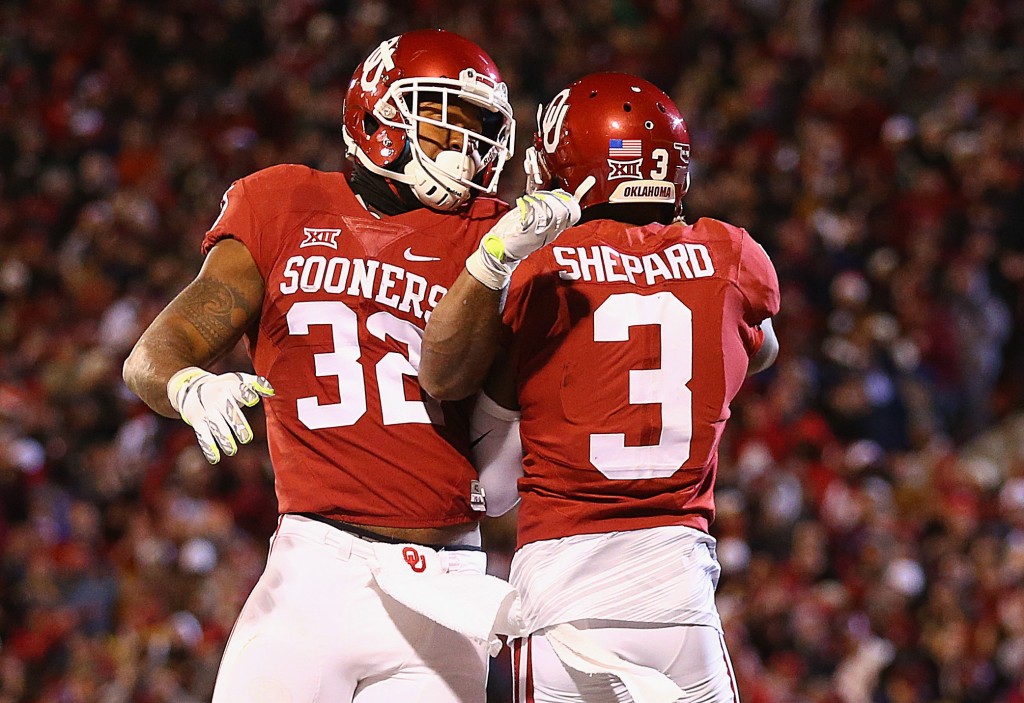 Active NFL Players: 34
Total Revenue: $129,226,692
Out of the seven richest athletic departments in the country, Oklahoma sits at the bottom after generating "just" $129,226,692 in total revenue. Yet, because this university currently has 34 former Sooners bringing the noise on Sundays, Oklahoma is producing NFL players at $3.8 million a pop. With Bob Stoops leading this year's group to the College Football Playoff, we envision even more riches finding their way to Norman.
2. Alabama, $3.7 million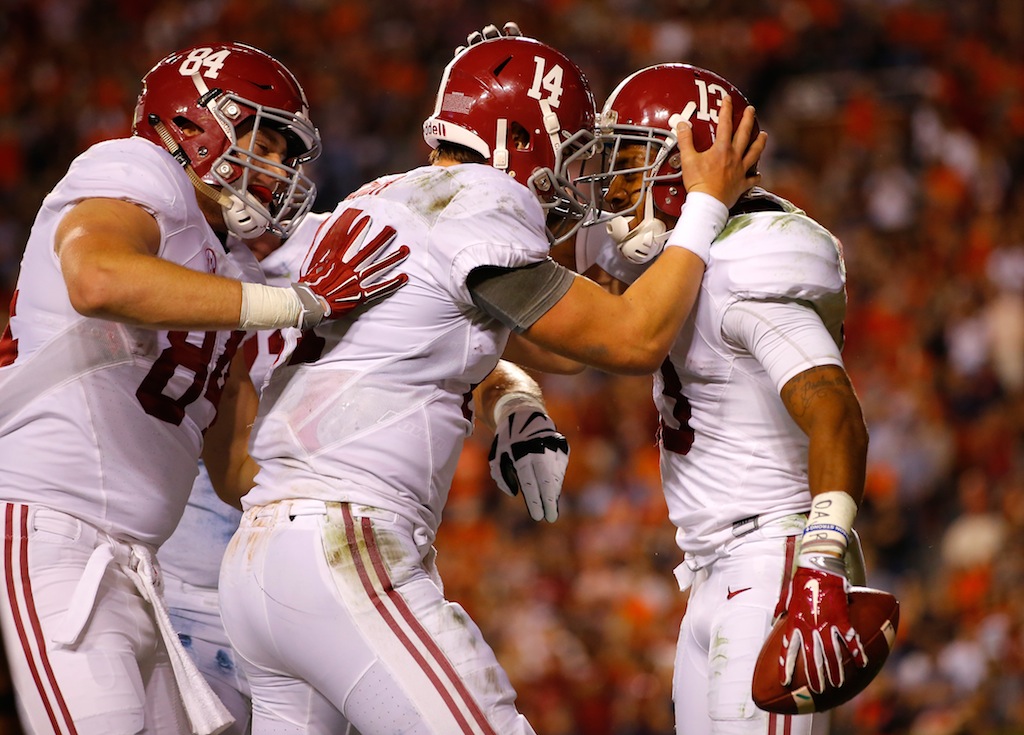 Active NFL Players: 41
Total Revenue: $153,234,273
If you ever wonder why Alabama pays coach Nick Saban the big bucks, this has something to do with it. Not only are the Tide competing for national championships every year but, with 41 former players in the NFL and a total revenue stream of $153,234,273, the school has produced a Sunday warrior for every $3.7 million. Honestly, if we've learned anything, it's that doing good business both on and off the field is just how the Tide roll.
1. LSU, $2.8 million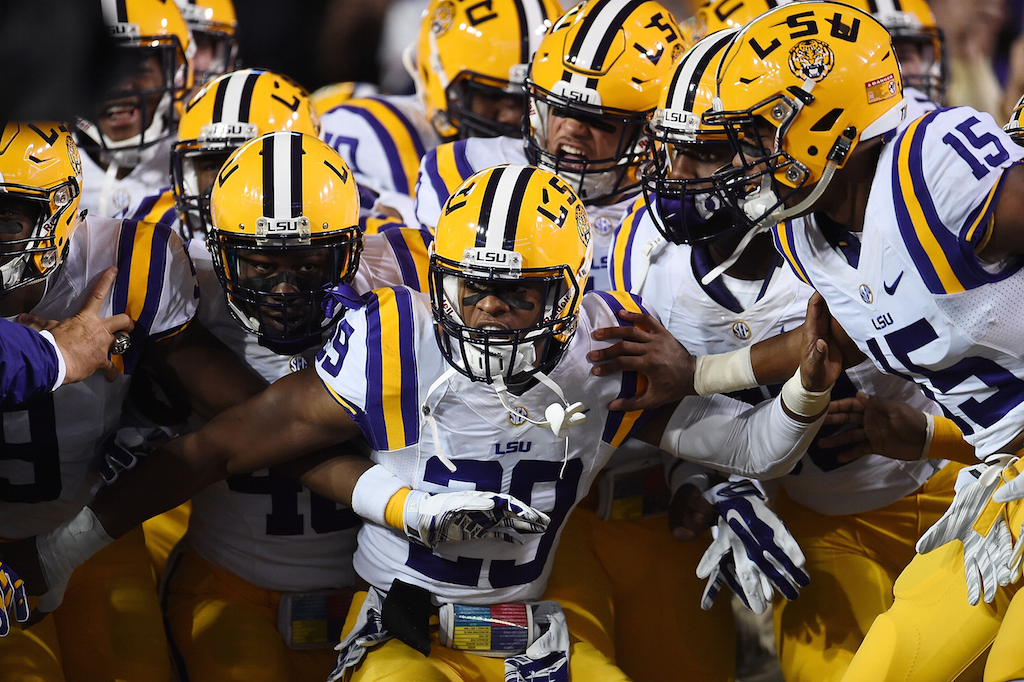 Active NFL Players: 47
Total Revenue: $133,679,256
Baton Rouge just can't be beat. At this moment, there are 47 former LSU Tigers playing in the NFL. Therefore, when you take into consideration that the school's athletic department generated $133,679,256 in total revenue, you quickly realize that LSU is producing one superstar for every $2.8 million. And to think there were some people who thought firing head coach Les Miles was the way to go. That's hilarious.
Statistics courtesy of USA Today and ESPN.
To see the full list of USA Today's college rankings, based on athletic department revenue, click here.