Which High Schools Have the Most NFL Players?
It's a unique honor for a high school to set a player on the path to the NFL. Each of the 32 NFL teams keeps active rosters of no more than 53 players. These are the elite of the elite. Yet somehow, a handful of high schools manage to help players plan for the NFL more than others.
Sending four or five athletes means a high school is seen as an ideal place for young players with NFL dreams. One school stands so far above the rest, it's almost impossible to believe it. How has a Florida district managed to make lightning strike in the same place 15 times? Let's look at the three best high schools for kids with NFL dreams.
3. Long Beach Polytechnic, Long Beach, CA
Texas is synonymous with taking high school football more seriously than any other state. This is partially due to decades of real results. It's also a feeling boosted by the book, movie, and TV phenomenon known as Friday Night Lights. In 2020, however, Texas doesn't even crack the top three.
The first school to forge an incredible amount of NFL players for the upcoming season is Long Beach Polytechnic. This California high school has an incredible seven active NFL players this year:
Iman Marshall, cornerback, Baltimore Ravens
Jamize Olawale, fullback, Dallas Cowboys
DeSean Jackson, wide receiver, Philadelphia Eagles
Marcedes Lewis, tight end, Green Bay Packers
JuJu Smith-Schuster, wide receiver, Pittsburgh Steelers
Jayon Brown, linebacker, Tennessee Titans
Jurrell Casey, defensive tackle, Titans
According to Pro-Football-Reference, this history goes back to the early days of the NFL itself. Their first player to go on to the pros was Jim Lawson, who played for the long-gone NFL version of the New York Yankees in 1927. The fact that Long Beach Polytechnic has maintained this tradition for so long makes it a surefire choice for football families.
2. Junipero Serra High School, Gardena, CA
Another California school comes in just above Long Beach Polytechnic, with eight total players active in the NFL today. This SoCal Catholic private school already had a reputation for NFL success, with over 20 players making it to the top level. They've clearly improved their program even in recent years, with the second-most players on pro rosters today:
Deontay Burnett, WR, Eagles
Marqise Lee, WR, Jacksonville Jaguars
Robert Woods, WR, Los Angeles Rams
Paul Richardson, WR, Washington Redskins
Rasheem Green, DE, Seattle Seahawks
Adoree' Jackson, CB, Titans
Matt Dickerson, DE, Titans
Bene Benwikere, CB, Minnesota Vikings
That's right: a whopping four active NFL wide receivers come from just one high school in Gardena, CA. This could be the premier school for football parents looking to give their kids the best chance at the pros.
1. St. Thomas Aquinas High School, Fort Lauderdale, FL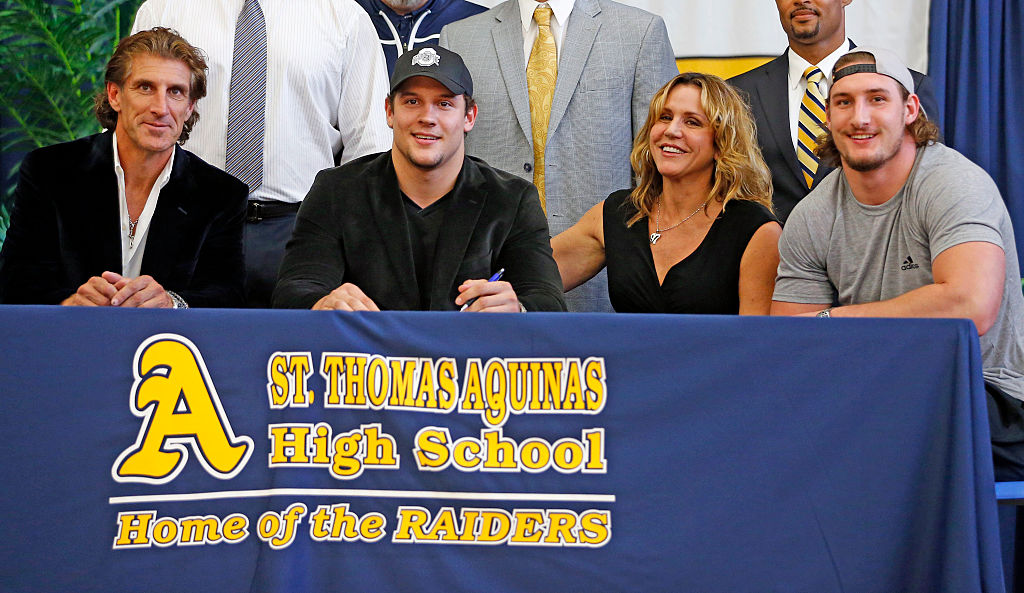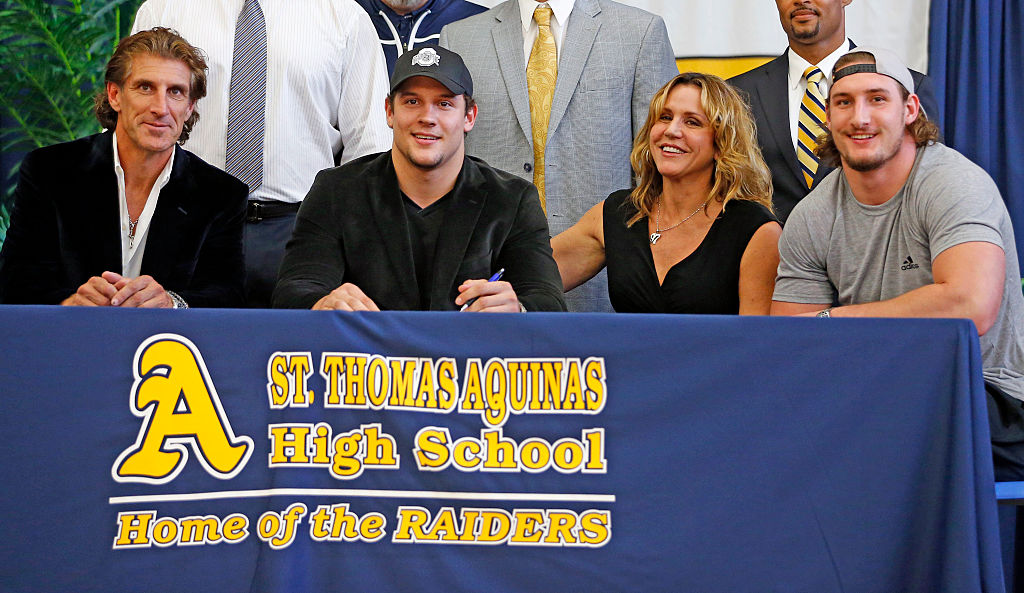 St. Thomas Aquinas is another private Catholic school, this time in Florida. Their success with forging players who go on to the NFL is nothing short of epic. They currently have a seemingly impossible 15 active NFL players, including some notable superstars:
Nick Bosa, DE, San Francisco 49ers
Geno Atkins, DT, Cincinnati Bengals
Giovani Bernard, RB, Bengals
Bobby Hart, OT, Bengals
Bryan Cox, DE, Cleveland Browns
Gabe Holmes, TE, Arizona Cardinals
Joey Bosa, DE, Los Angeles Chargers
James Crawford, LB, Miami Dolphins
Brandon Linder, C, Jaguars
Rashad Greene, WR, Jaguars
Michael Palardy, punter, Carolina Panthers
James White, RB, New England Patriots
Phillip Dorsett, WR, Patriots
Lamarcus Joyner, S, Las Vegas Raiders
Marcus Gilbert, OT, Steelers
St. Thomas Aquinas has the numbers, of course. They have diverse positions covered. They helped create the superstar Bosa brothers. And this is actually a school trending down; St. Thomas Aquinas had 17 former players on active rosters just a year ago, according to the South Florida Sun-Sentinal.
Families looking to invest in their child's football skills can't do better than to compete for a spot in this Florida high school's incredible program.