Which Las Vegas Raiders Wide Receivers Will Breakout in 2021?
The Las Vegas Raiders finished second in the AFC West after posting an 8-8 record in 2020. Jon Gruden's squad ranked eighth in the NFL in total offense. Due to their porous defense, the Raiders could not finish with a winning record and missed the playoffs. The offense will need to continue to put points on the board. For that to happen, the receiving corps will need to step up. Here are the Raiders wide receivers who can break out in 2021.
Henry Ruggs III
The Raiders selected Henry Ruggs III with the No. 12 overall pick in the 2020 NFL Draft out of Alabama. The Crimson Tide standout garnered a great deal of attention heading into the draft.
Ruggs made a name for himself by making splash plays with his speed and overall athletic ability at Alabama. He caught 98 passes for 1,716 yards and 24 touchdowns in three seasons with the Tide. The standalone numbers don't necessarily jump off the page, but he played with Jerry Jeudy, DeVonta Smith, and Jaylen Waddle.
Ruggs struggled in his rookie season in Las Vegas. He started 12 games and recorded just 26 receptions for 452 yards and two touchdowns. He struggled to stay on the field and was outplayed by multiple receivers who were drafted later than him.
The Raiders have to try to find more ways to get Ruggs out in space and utilize his world-class speed to their advantage. If not, people will start labeling him a bust.
Bryan Edwards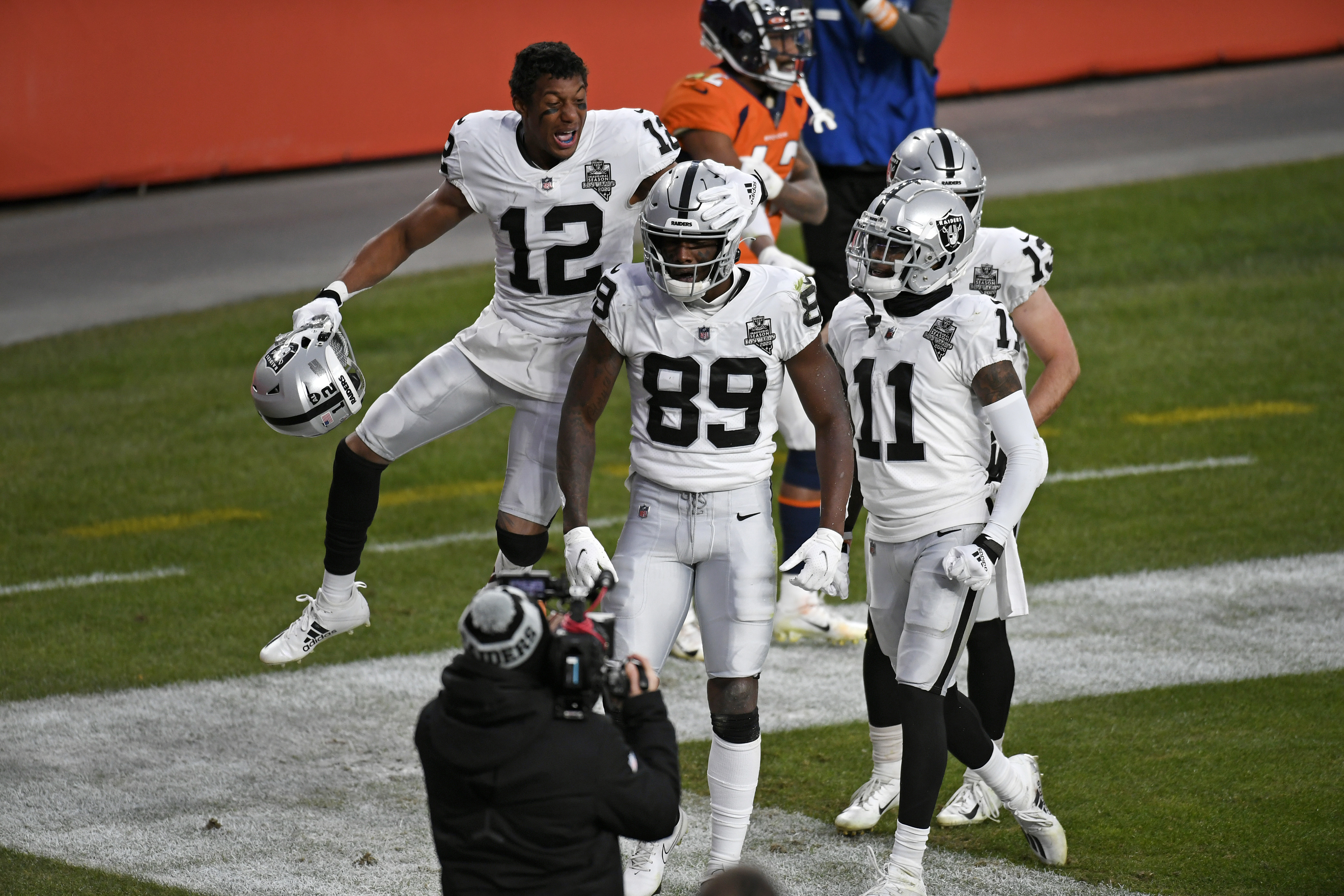 People are saying Bryan Edwards' name quite a bit this offseason. Edwards is another sophomore wide receiver who is looking to make a leap in 2021. The Raiders drafted him the third round of the 2020 draft out of South Carolina.
Edwards recorded 234 receptions for 3,045 yards and 22 touchdowns in four seasons with the Gamecocks. A productive college player, the Conway, South Carolina native possesses a good combination of size and strength. He lacks top-end speed but has still proven to be a downfield threat.
Like Ruggs, he also struggled to make an impact as a rookie. Edwards appeared in 12 games but made just three starts. He caught only 11 passes for 193 yards and one touchdown. The Raiders released John Brown, so Edwards projects as the No. 1 outside receiver.
There's been plenty of positive reports about Edwards coming out of camp. Given his frame, he should be second in line behind Darren Waller for red-zone targets.
Hunter Renfrow
Hunter Renfrow made headlines during training camp after battling with All-Pro cornerback Jalen Ramsey. The Rams corner took to Twitter to shut down reports that Renfrow had a day against him.
The Clemson product is entering his third season with the Raiders. He's caught 105 passes for 1,261 and six touchdowns in two seasons. Renfrow typically operated out of the slot and is very underrated as a receiver.
The 25-year-old has developed chemistry with quarterback Derek Carr. He's proven to be a reliable target for the signal-caller on third downs. Renfrow is a strong route-runner and is capable of making valuable plays when his number is called. He's been doing it since he was at Clemson.
He doesn't have the upside that Ruggs and Edwards possess, but you can't overlook his importance in this offense. He's going to play a role and could see his targets continue to rise.
Zay Jones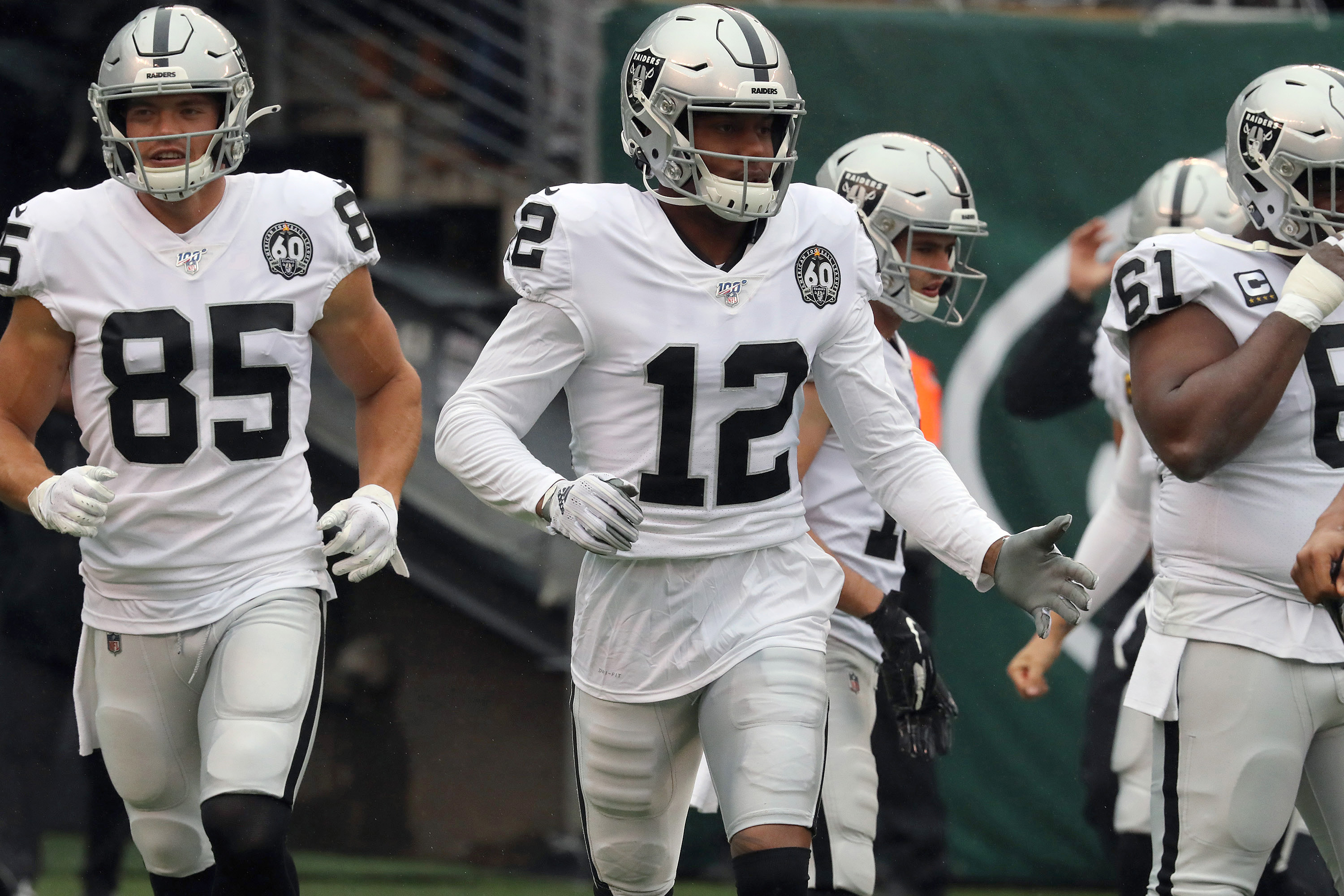 Zay Jones probably has the longest odds to be the Raiders' breakout receiver in 2021, but that doesn't mean it can't be done. Jon Gruden likes him, so he's going to be on the field.
The Buffalo Bills drafted Jones in the 2017 NFL Draft. The second-rounder has yet to take the next step as a pro. His best season came in 2018 when he recorded 56 receptions for 652 yards and seven touchdowns for the Bills.
Jones joined the Raiders during the 2019 season but has never been a focal point of the offense. He may not be a starter but if he makes plays when he gets on the field, that creates a path for more snaps.
The East Carolina product is not a game-breaker by any means but he plays his role. He can run routes at all three levels. That versatility will certainly open up some opportunities for Jones in this offense.
Predicting the breakout Raiders wide receivers
The four Raiders wide receivers mentioned will all have opportunities to make plays. The Las Vegas Raiders love to push the ball down the field with Derek Carr.
Edwards appears to have the clearest path to breakout in the 2021 season. We haven't seen him in the preseason, which suggests he's penciled in as a starter and will play a major role in the Las Vegas offense. His rookie season was disappointing, so positive regression is in the cards.
Ruggs is a burner, but Edwards should be able to make plays without the coaches manufacturing touches. Ruggs could also make a jump in year two, but Edwards can create mismatches with his size.
If there can only be one choice, Edwards should be the guy.
All stats courtesy of Pro Football Reference