Which NBA Coach Will Get Fired First?
With the NBA season tipping off this week, 30 coaches in the league are dreaming of leading their teams to championships. Some of those dreams are actually realistic, and then, at the other end of the spectrum, there are (of course) the Sixers and Lakers. Still, while every team starts with a 0-0 record and the hopes of a special season, many of those bright outlooks will quickly crumble through the 82-game grind. If that happens — all right, when that happens — the first scapegoat is usually the head coach.
Will a coach get fired during the upcoming regular season? We turned to Bovada's odds to see which bench boss is the favorite to lose his job first. Some of the names are to be expected, while at least one is a real surprise. Here, then, are the five most likely coaches to get fired during the 2014-2015 season, according to Bovada.
5. Scott Brooks, Oklahoma City Thunder (8/1)
Brooks has taken the Thunder to the playoffs five times in five seasons, but with Kevin Durant and Russell Westbrook on the roster, the pressure to break through for a title (or at least another trip to the NBA Finals) is more intense than ever. OKC has been snakebit the last few years with injuries, especially in the playoffs, and Brooks needs his roster healthy and intact for the duration of 2014-2015 if his team's going to live up to its championship potential.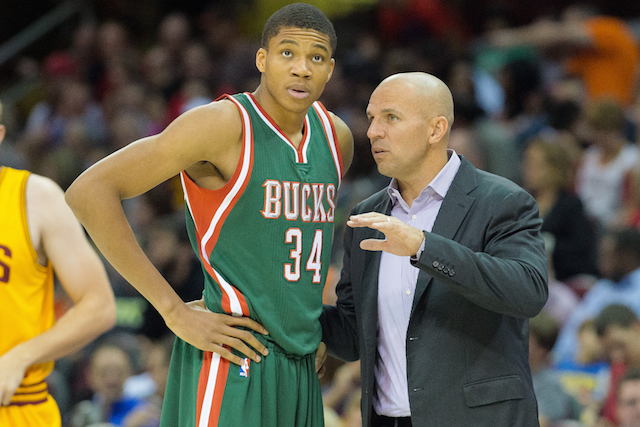 4. Jason Kidd, Milwaukee Bucks (7/1)
Jason Kidd took the Nets to the second round of the playoffs in his first year as head coach, but left after just one season in a deal that sent a pair of second-round picks from Milwaukee to Brooklyn. Kidd will have to adjust to a young roster that doesn't have nearly the same talent level as the Joe Johnson/Deron Williams/Kevin Garnett/Paul Pierce group he coached in New York, and needs to hope No. 2 overall pick Jabari Parker is as advertised. How patient will Bucks brass be with the relatively inexperienced new coach they just made a trade to acquire?
3. Monty Williams, New Orleans Pelicans (4/1)
Monty Williams has only taken New Orleans to the playoffs once in four seasons and has yet to win more than 46 games in a campaign. Still, the team has improved each year since trading Chris Paul to the Los Angeles Lakers Clippers (sorry for the obligatory David Stern deal-killing reference), climbing from 21 wins in 2011-12 to 27 the next season and 34 last year. If Anthony Davis continues to develop into a superstar, Williams's job is probably safe. But can the Pelicans crack the top eight in a loaded Western Conference?
2. Flip Saunders, Minnesota Timberwolves (2/1)
We wouldn't recommend betting on Saunders to be the first coach fired, for two important reasons. Number one: He's the winningest coach in franchise history — taking the Wolves to eight straight postseasons from 1997-2004 —  and is just starting his second stint on the Minnesota sidelines this year. Number two (which CBSSports.com correctly and astutely points out): Not only is Saunders the Timberwolves coach, but he's also the president of basketball operations and a minority owner of the franchise. We'll go out on a limb and say we don't see Flip firing himself midseason.
1. Kevin McHale, Houston Rockets (7/4)
According to the Bovada odds, the favorite to be fired first this season is Houston's Kevin McHale. McHale has posted a winning record in each of his three seasons with the Rockets, but expectations are sky-high for a team with two of the best players in the league in James Harden and Dwight Howard. The formidable inside-outside combo should make Houston a serious title contender, and if the team doesn't perform early, McHale's seat could get hot quick. A third straight first-round exit probably won't cut it in Clutch City.