Which NBA Player Has Won the Most All-Star Game MVPs?
The NBA All-Star Game is the league's annual just-for-fun, mess-around exhibition game. Centers launch 40-foot threes, high-flyers try to hammer down dunk-contest worthy jams, and there are behind-the-back, through-the-leg, nutmeg passes galore.
But every year, the league has to hand out an MVP Award. More often than not, that ends up in the hands of the player who put in the most effort to try and win said award.
But which player or players (hint hint) have put in that effort most often?
Who holds the record for most All-Star Game MVPs won?
All-Star Game MVP winners tend to meet certain criteria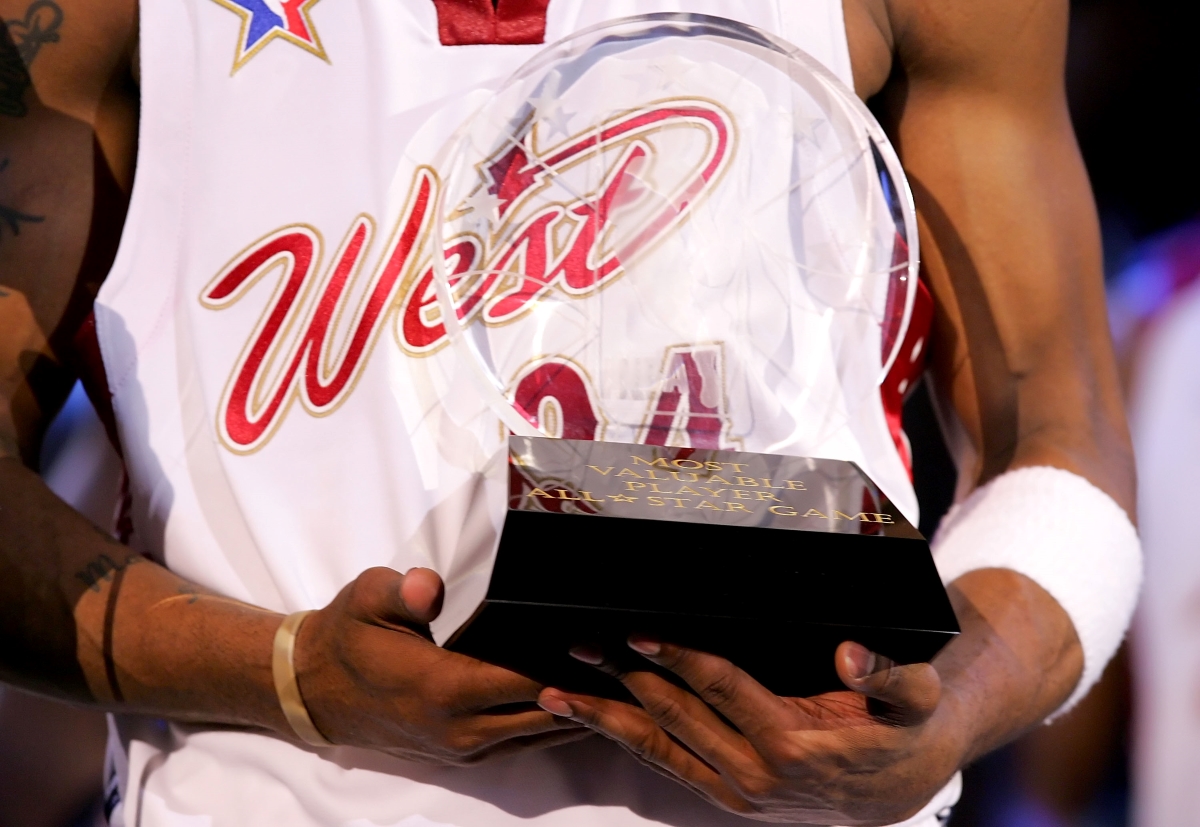 The past five winners of the award and their stats are as follows:
2021: Giannis Antetokounmpo (game-high 35 points, seven rebounds, three assists, one steal on 16-for-16 shooting in a winning effort)
2020: Kawhi Leonard (game-high 30 points, seven rebounds, four assists, two steals, 56.3% shooting in a winning effort)
2019: Kevin Durant (game-high 31 points, seven rebounds, two assists, one steal, two blocks, 66.7% shooting in a winning effort)
2018: LeBron James (game-high 29 points, 10 rebounds, eight assists, one steal, 70.6% shooting in a winning effort)
2017: Anthony Davis (game-high 52 points, 10 rebounds, two steals, 26-of-39 shooting — 66.7% — in a winning effort)
You'll notice two apparent trends — the award goes to the player who scores the most points and happens to be on the winning team.
Which NBA player has won the Kobe Bryant Most Valuable Player MVP the most times?
It's important to note that NBA commissioner Adam Silver renamed the NBA All-Star Game Kobe Bryant Most Valuable Player award in 2020 after Bryant died in a helicopter crash just weeks before that year's game.
It's also important to note that Kobe Bryant is the answer to the question of which player has won the most All-Star Game MVPs. But he's not alone.
Bob Pettit also won four ASG MVPs in seven years: 1956, 1958, 1959, 1962. Pettit should not be forgotten on this list — winning four of seven MVPs is a crazy stat. He also held this record for nearly half a century.
Bryant won his four between 2002 and 2011. The 2002 award came during the Shaq-and-Kobe Los Angeles Lakers dynasty's third and final championship season. (He got booed by his hometown Philadelphia crowd).
The Mamba also won in 2007 and 2009.
Who are the favorites to win the award in 2022?
Giannis has the best odds to win this year's award, according to DraftKings. He's +450 to win his second straight.
First-time All-Star Ja Morant is +550, LeBron is +600 to win in his hometown of Cleveland, Joel Embiid is +700, and Stephen Curry is +1000. (Jarrett Allen and Rudy Gobert have the worst odds at +12000).
LBJ may be the best bet with the motivation of winning the award at 37 years old and in Cleveland, not to mention he would join Bryant and Pettit on the list of four-time award winners.
We'll see if the scoring/winning trend continues this year. But if King James finishes with a game-high in points and leads his team to a victory, there's a good chance he joins that elite All-Star Game company.
All statistics courtesy of Basketball Reference.
RELATED: NBA All-Star Weekend: Remembering When Vince Carter Single-Handedly Resurrected the Dunk Contest