NBA: The Players Who Are Paid More Money Than They're Worth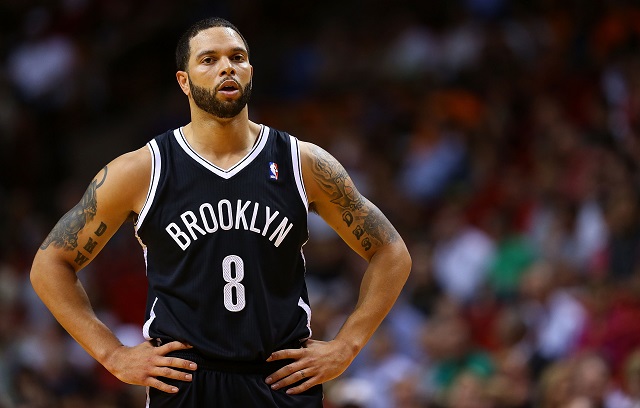 What makes an NBA superstar, Mr. Lebowski? Is it being prepared to make the right play, whatever the outcome? Isn't that what makes an NBA superstar? If you answered, "That and a max contract, sir," then you're in the right place with the right people. Or the right zip code, anyway. Anyhow, determining levels of superstardom is tricky — there are definite tiers to this sort of designation, so while we can say that John Wall or Anthony Davis are "NBA superstars," we can only do so with the understanding that they're not quite in the same echelon as a Chris Paul or a LeBron James. In that specific instance, it's because the latter two are established NBA veterans, while the former two are still on the upswing of their careers. But that's not only the only difference.
We're not really interested in parsing what exactly separates the different levels of basketball superstardom. For our purposes, we were curious about which of the highest-paid players (who are or were in that superstar echelon) were providing the least amount of impact on the court. So we took a look at the highest-paid players in the league, gathering our salary information from Spotrac and obtaining some data from Basketball Reference, to see how those in the uppermost tier of the NBA stacked up against each other. We'll dive into our methodology a little bit more when we talk about our first player, Los Angeles Clippers point guard Chris Paul.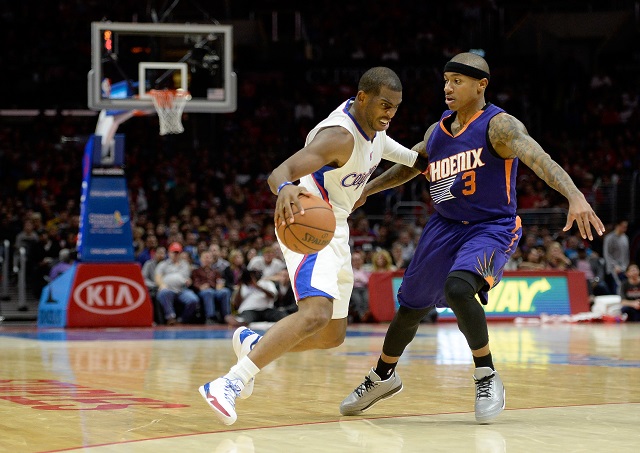 11.  Chris Paul
OK, so what is Winning Value? Winning Value is a number we drummed up in order to quantify this exercise, but it's more an ordering system than any sort of hard statistic. We've taken a player's seasonal salary and multiplied it by his Win Shares per 48, or WS/48, which you can read about in as much detail as you would ever want here. CP3, who is the eighth highest-paid player in the league this season ($20.06 million), has generated a WS/48 of .270 this season. Multiply that $20.06 by .270 and you get 5.41, which we've rounded to 5.4. Make sense?
What does that mean? To put it in perspective, Paul's the only player on this list with such a high WS/48, so he's here in part to prove what a boon a great player can be, and he's also on the bottom end of the curve in terms of his contract, even though he's signed to a max deal — which is a fluid thing in the NBA, depending on tenure and Bird Rights and the like. If you want to look at it like CP3 is here to make everyone else look bad, that wouldn't be a terrible way to picture it.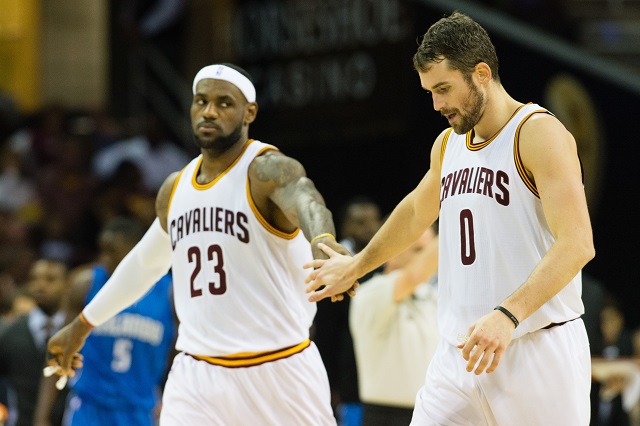 10. LeBron James
No one illustrates the weirdness about this kind of ranking more than LeBron James. He's the best player in the league, and he's in the bottom half of the highest-paid players in the league (sixth overall), but Cleveland spent a large part of the season struggling, which makes his value a hard thing to judge. This isn't to say that the Cavs would be better off without LeBron — that's insanity, because, you know, then they're just the Timberwolves East in uglier uniforms and with Kyrie Irving — but James hasn't played nearly as well so far as he did last year with Miami, where he would've notched a 4.62 on this list, as he was making $17.5 million and posted a WS/48 of .264. So now you know how James fits into this puzzle.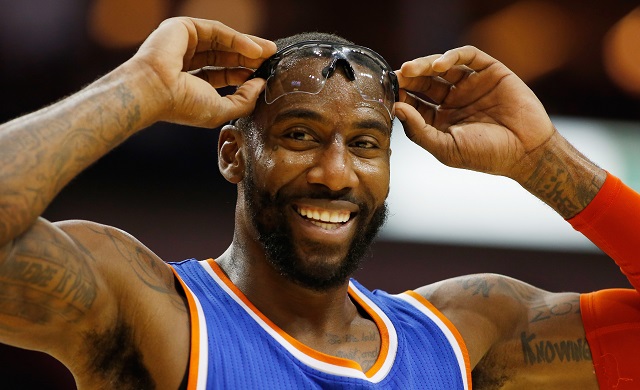 9. Amar'e Stoudemire
Consider Amar'e Stoudemire, usually pegged as one of the worst contracts in the league today, a guy who's been injured for what feels like the entirety of Barack Obama's presidency. He's still making an absurd amount of money for what he's actually contributing on the basketball court — a cool $23.4 million, second highest in the league — but his WS/48 of .138 isn't that awful, all things considered.
We should point out that a Win Share is predicated on, you know, actually winning a game, something that the New York Knicks struggled with this season, and Amar'e didn't see his fortunes improve much when he left for Dallas. The deck's a little stacked against most of the players on this list in that regard, because you're not going to have much luck in earning a high WS/48 if you've got just four wins to your name. Keep smiling, Amar'e.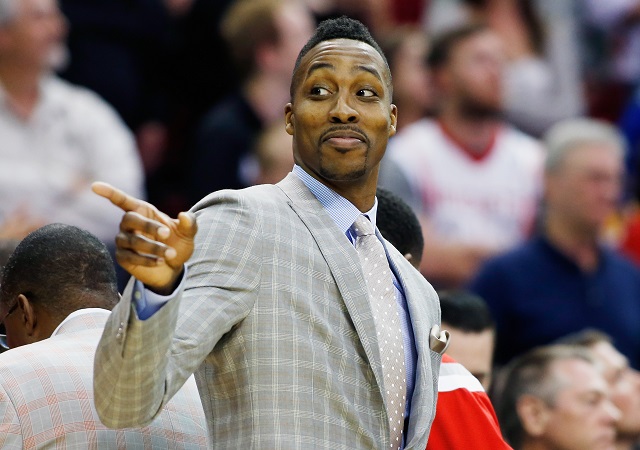 8. Dwight Howard
Dwight's seasonal earnings: $21.4 million; Dwight's WS/48: .140; Dwight's suit-gesture combo: priceless.
The Houston Rockets are fighting against the Clippers in what has been a pretty rough series to watch. They are not, in any way, shape, or form, a bad team. So how does Dwight fit into this? The important answer is that he's just not as important to the Rockets as James Harden, who's notched nearly twice the WS/48 that Dwight has. For an extra bit of comparison, D12's best year as far as Win Shares is concerned came in 2008 to 2009, when he pulled in a .235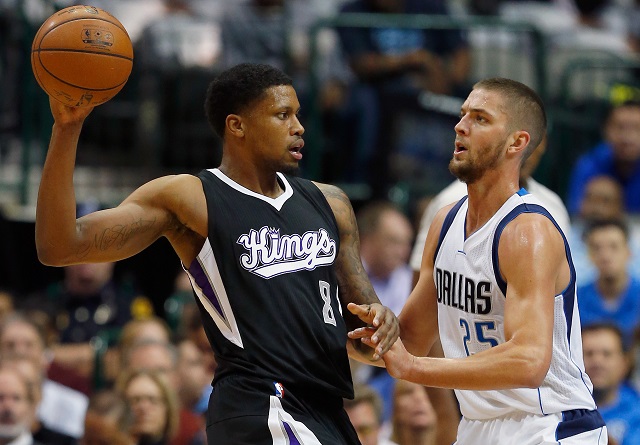 7. Rudy Gay
Over the years, Rudy Gay has become something of a poster boy for the kind of player who doesn't measure up to the advanced statistics community, mostly because he loves shooting long twos instead of threes, a situation that culminated in his banishment of stat sheets from the team locker room during his time with the Toronto Raptors. While our measurement hardly qualifies as an advanced statistic (even if it is derived from one), the fact that Gay's on such a massive contract right now — $19.31 million this year, although he goes to a much more friendlier extension next season — isn't doing him any favors.
We know what you're thinking: This is when we make the joke about his corrective eye surgery. We'll let you make that one on your own.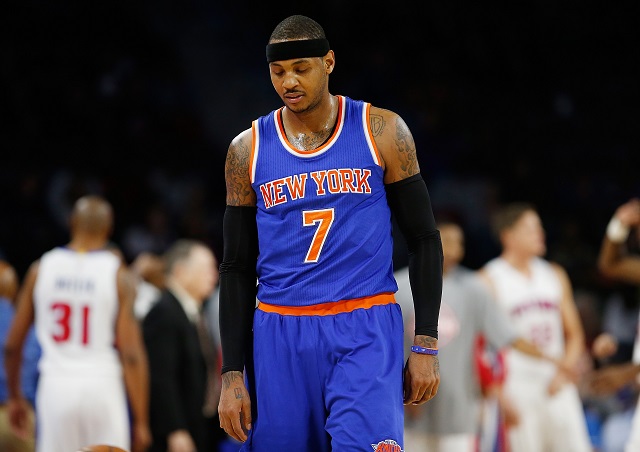 6. Carmelo Anthony
Another situation in which the Winning Value is suppressed because the team is so bad. Carmelo Anthony is playing the best basketball of his career for a flailing Knicks squad, and while he's actually making less than Amar'e, he's been relied upon to do more — something that's never come easy to Anthony, and one that the Triangle has exacerbated.
I mean, you can't blame him for this, even though New York lost the game. Well, I guess you could blame him, but you'd be wrong. And spiteful. That's no way to behave.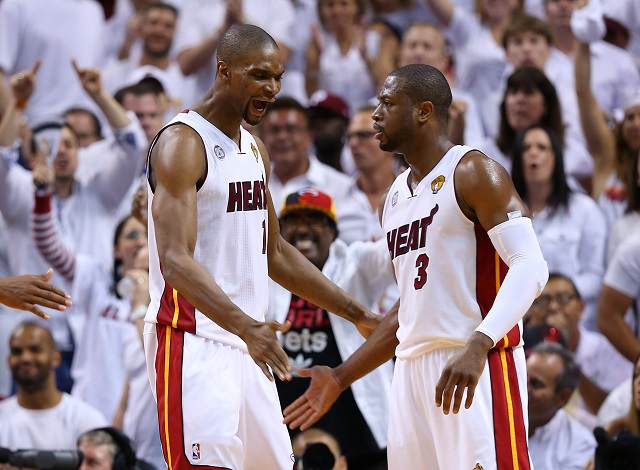 5. Chris Bosh
4. Dwayne Wade
Breaking continuity to pair together these two teammates, Bosh and Wade have begun to look less like guys who deserved massive deals (Bosh is making $20.64 million, while Wade is getting $18.9 million) on the future quality of their play and more like dudes who got handed a pair of sweetheart deals. Not that there's anything wrong with that: We support the idea of athletes getting paid, but it's telling that Wade's value to Miami has declined so sharply compared to Bosh's, even though he's making nearly $2 million less this season. Of course, Miami has taken such a plunge from the heights of last season, but there's a pretty glaring difference in the roster from this time last year.
Then again, anyone who's paid even the slightest attention to the player formerly known as Flash knows that he's lost a step or two, so maybe it's not terribly surprising that the pair is similarly slated for win shares. Wade in his prime was a better player, and that's backed by his numbers, but Bosh has aged more gracefully.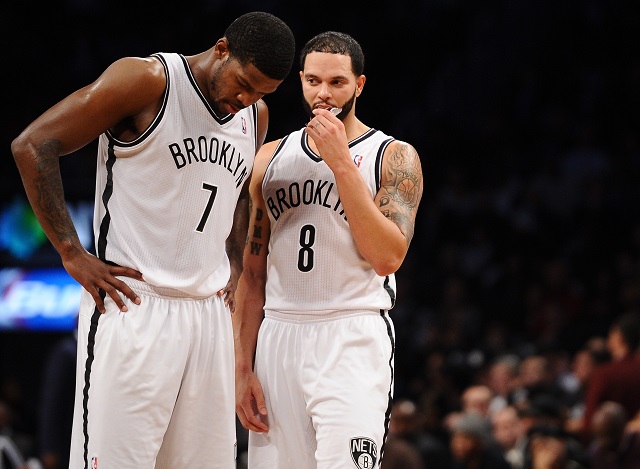 3. Deron Williams
2.  Joe Johnson
If you had to pick a pair of poster boys for this list, you'd be hard-pressed to come up with a duo more perfect than Joe Johnson and Deron Williams. Through no fault of their own, these guys have come to define "overpaid" in the modern NBA sense of the word. Johnson's been the beneficiary of a really good agent for the entirety of his career, and Williams has never been worth his $100 million deal for anyone other than Mikhail Prokhorov, but the pair are making $23.18 million and $19.4 million this season, respectively, while the Nets are three games from breaking even.
For the curious: Williams has been better than Johnson, even though he's being paid less, and that might be the first time anyone's been able to say that since they joined up. We feel for you, Iso Joe. It's also worth noting that, formatted strictly by Winning Value, Dwyane Wade would be second on this list — however we felt that keeping the two sets of teammates together made more sense overall.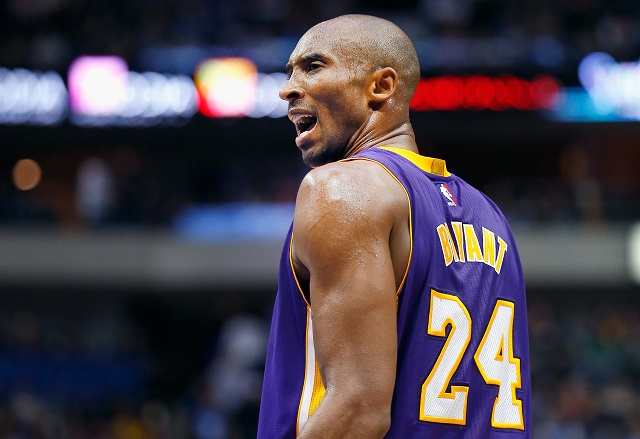 1. Kobe Bryant
That's not a typo, but a glaring indictment of how completely and utterly disastrous the Los Angeles Lakers have been this season. Kobe has completely given up any sort of pretense toward caring about his teammates, his image, or anything. He's the highest-paid NBA player in the league and definitely the least effective among his peers. Or, as Deadspin's Albert Bernako put it: "Kobe Bryant believes in his Solitary Basketball Assassin persona, that it will bring him victory, or at least absolve him of responsibility for defeat. That's funny! Byron and Kobe were going down with the ship, but only because they kept blasting cannons directly into the deck and calling it navigation."
As of this writing, the Lakers are nowhere near respectability, and Kobe is flailing against specters only he can see. He has a WS/48 of .006 and he's being paid $23.5 million to be an icon, not necessarily a winning basketball player.