Which NBA Team Has Drafted the Best Players in the Game?
Every summer, NBA teams go crazy over free agency. We can all think of moments like LeBron James taking his talents to South Beach or Dwyane Wade shocking the league by announcing he's leaving Miami to go to his hometown Chicago Bulls. But the fact is that the best teams are built not by signing players but by drafting them. So, we did an interesting exercise. What would the NBA look like if teams were constructed only of players who they originally drafted?
We took all 30 NBA teams and made up a starting five based solely on players they picked in the NBA Draft — whether or not those players actually played a game for that team (i.e. Kobe would have been listed in Charlotte if he was still playing) — and ranked them from worst to best.
30. Dallas Mavericks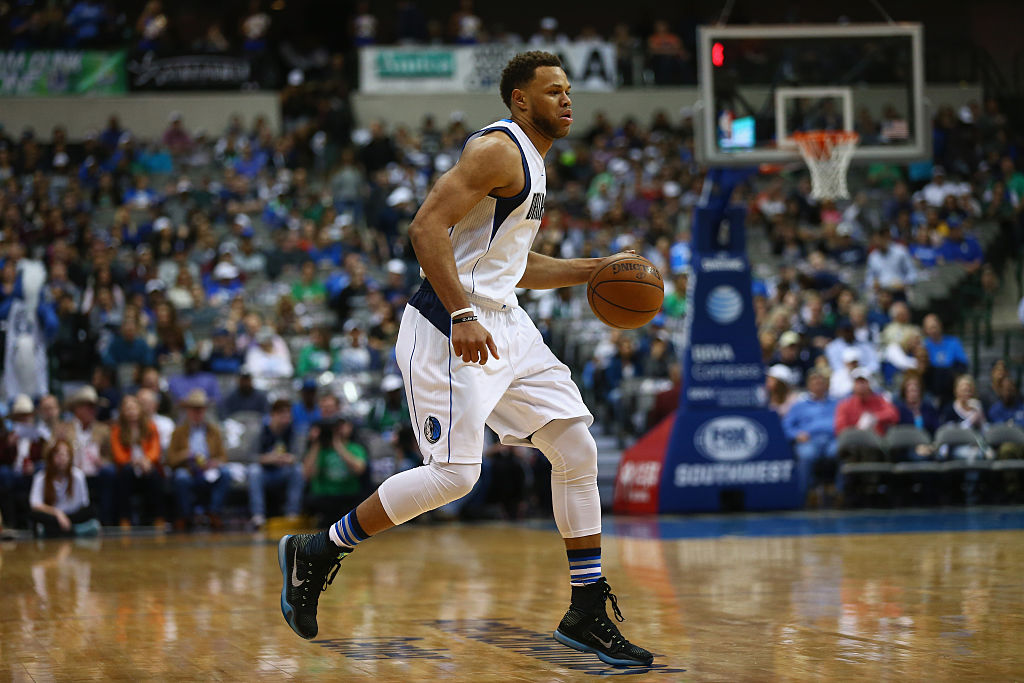 C: A.J. Hammons
F: Tyler Zeller
F: Kelly Olynyk
G: Justin Anderson
G: Jordan Hamilton
Oh, wow. This is a bad team. It was hard to even put together a starting five of players drafted by the Dallas Mavericks, and in fact Jordan Hamilton — who didn't play in the NBA in 2016–17 — had to be included to make it work. For those thinking that we forgot Dirk Nowitzki, check again. He wasn't actually drafted by the Mavericks, despite never playing in any other NBA uniform.
29. Miami Heat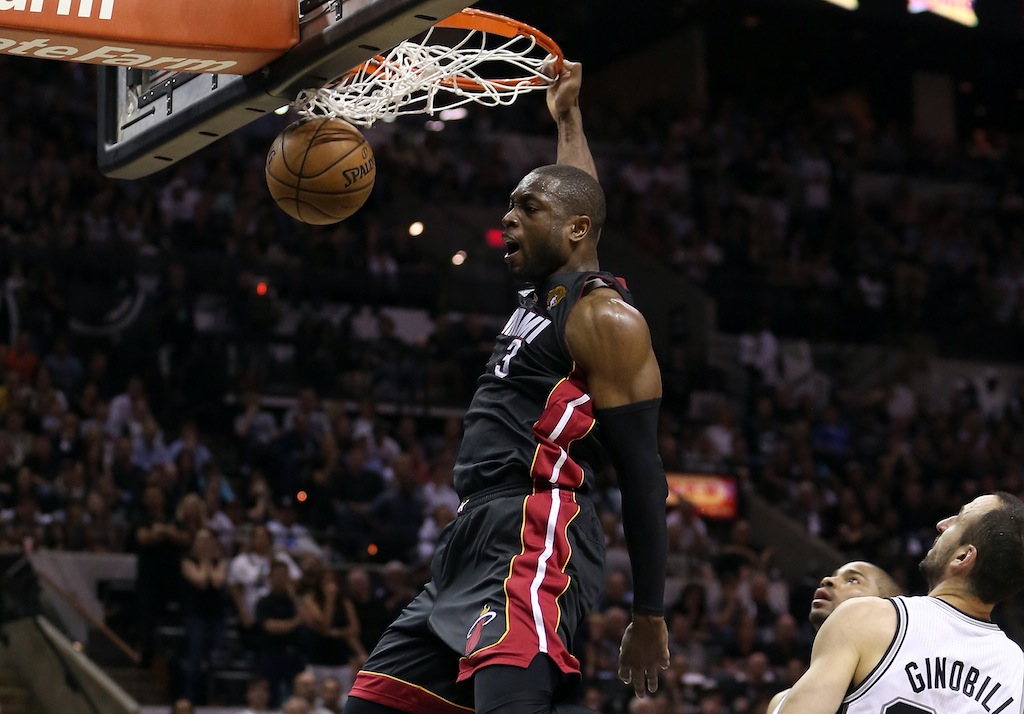 C: Jason Smith
F: Michael Beasley
F: Josh Richardson
G: Dwyane Wade
G: Marcus Thornton
We base this off the talent of each player as of right now. That's a big reason why this Miami Heat team, which features Dwyane Wade and Michael Beasley, falls so close to the bottom. Beasley is nothing more than a rotation player these days. Wade is a shadow of his former self. If we rolled it back to when Wade was in his prime, Miami might move up on the list — if you can look past the fact that Josh Richardson would be in eighth grade.
28. Houston Rockets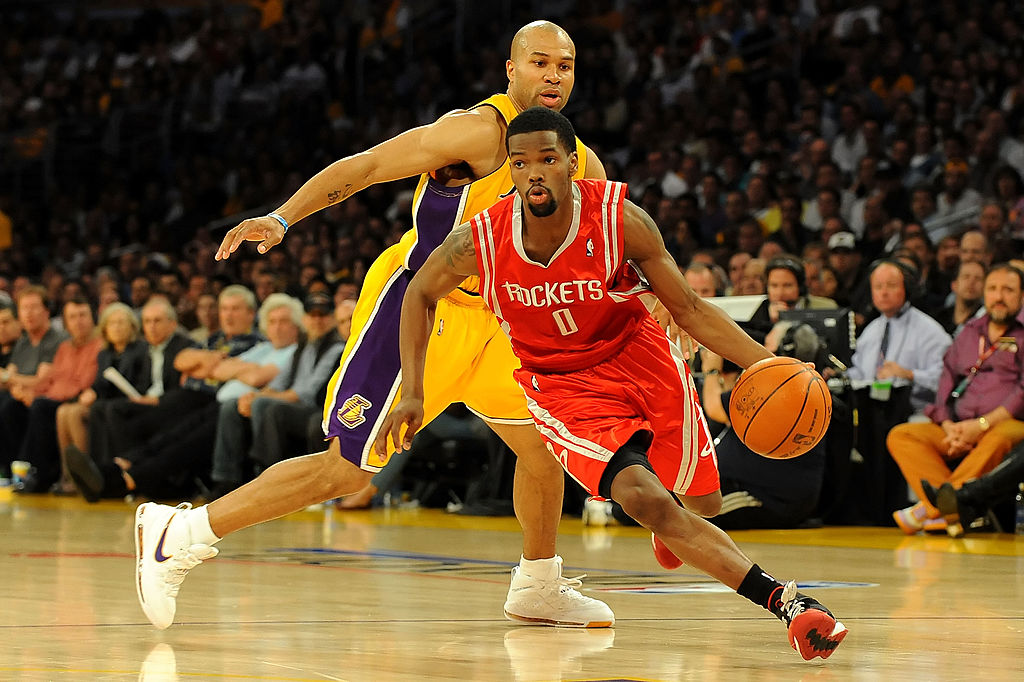 C: Clint Capela
F: Marcus Morris
F: Rudy Gay
G: Nicolas Batum
G: Aaron Brooks
The Houston Rockets feature several decent players, but nobody who stands out in a big way. Nicolas Batum is nice at shooting guard, while Aaron Brooks is nothing much beyond a backup point guard. The front line of Rudy Gay, Marcus Morris, and Clint Capela can score but the rebounding leaves something to be desired. All in all, this is a pretty bad team. Shoutout to Nikola Mirotic, who would be the first off the bench.
27. San Antonio Spurs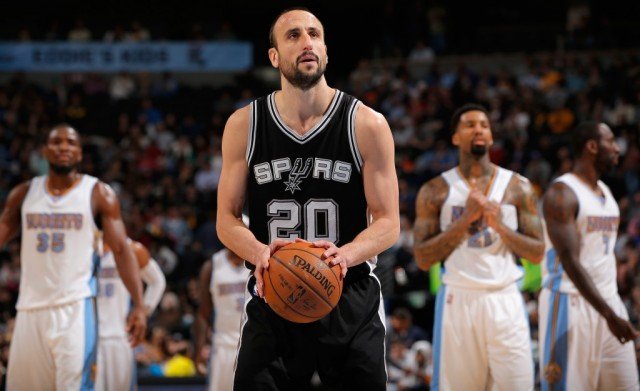 C: Ian Mahinmi
F: Luis Scola
F: Manu Ginobili
G: Goran Dragic
G: George Hill
It's hard to imagine the San Antonio Spurs as bad drafters, because they came up with Kawhi Leonard on draft day; in reality he wasn't an actual Spurs draft pick. It was hard deciding between Tony Parker and George Hill at guard, but now (and moving forward) Hill is the better player and should be treated as such. He, along with Goran Dragic, make a solid backcourt, but the frontcourt of Manu Ginobili, Luis Scola, and Ian Mahinmi is old and bad.
26. Boston Celtics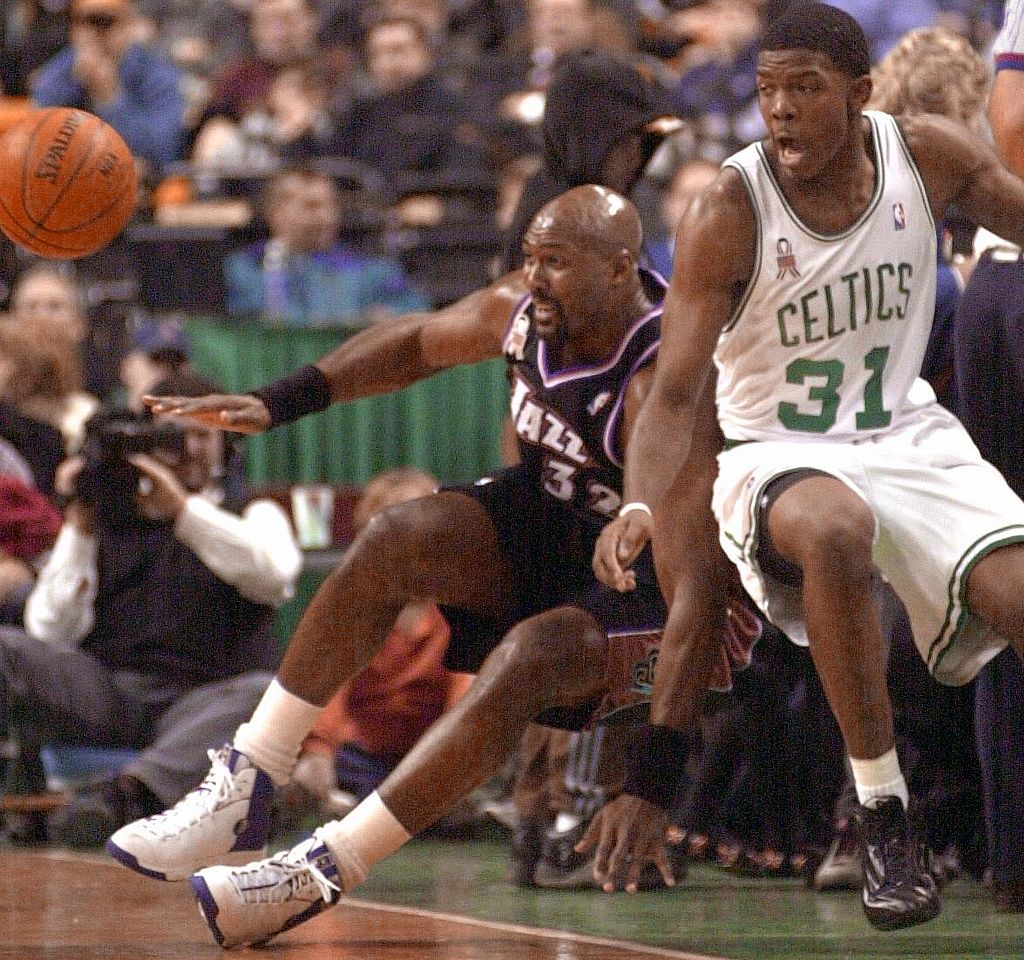 C: Al Jefferson
F: Jeff Green
F: Joe Johnson
G: Avery Bradley
G: Marcus Smart
This is a fun mix of the old Boston Celtics with the new. Marcus Smart and Avery Bradley show up at the guard spots, with Bradley providing much-needed outside shooting. Former Celtic Joe Johnson, despite being nearly 36 years old and not playing for the team since 2002, grabs a starting spot alongside Jeff Green. Center Al Jefferson rounds out the uninspiring starting five. At least Boston is bringing good defense off the bench with Tony Allen.
25. Brooklyn Nets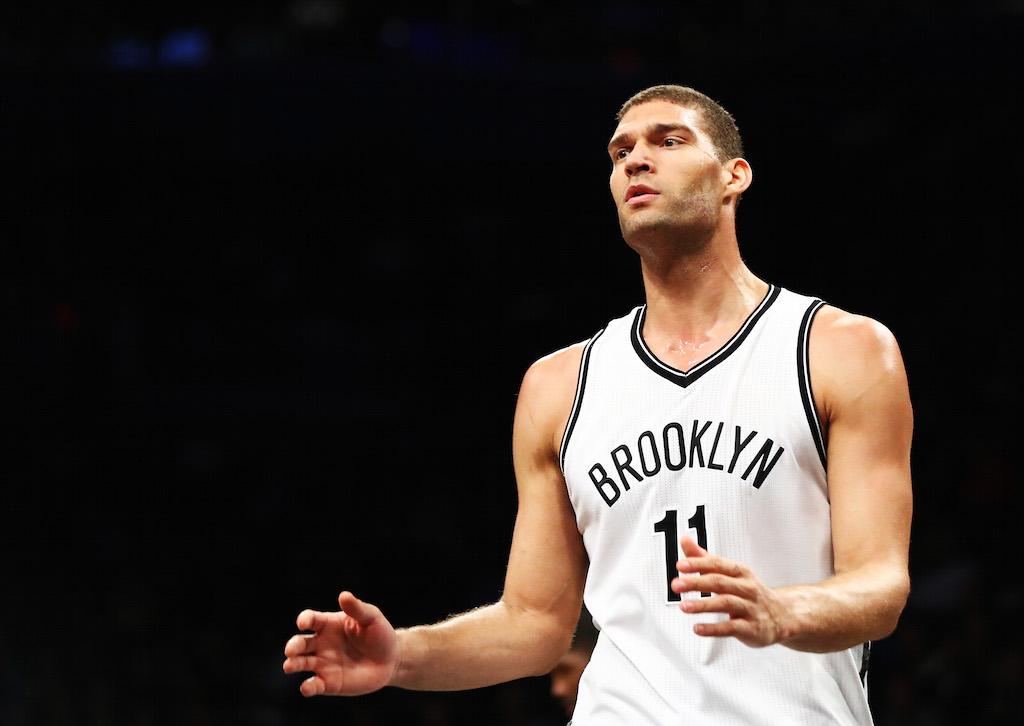 C: Brook Lopez
F: Derrick Favors
F: Ryan Anderson
G: Kyle Korver
G: Jordan Crawford
Yet again, we find a mismatched roster that's difficult to envision playing together on the court. The only reason the Brooklyn Nets' starting five finds itself so far up the list is because of the solid outside shooting. Kyle Korver, Jordan Crawford, and Ryan Anderson are all good three-point shooters, and even center Brook Lopez can step out and knock down the outside shot. They're bad on defense, and they'd lose a lot of games, but they'd be fun to watch.
24. Los Angeles Lakers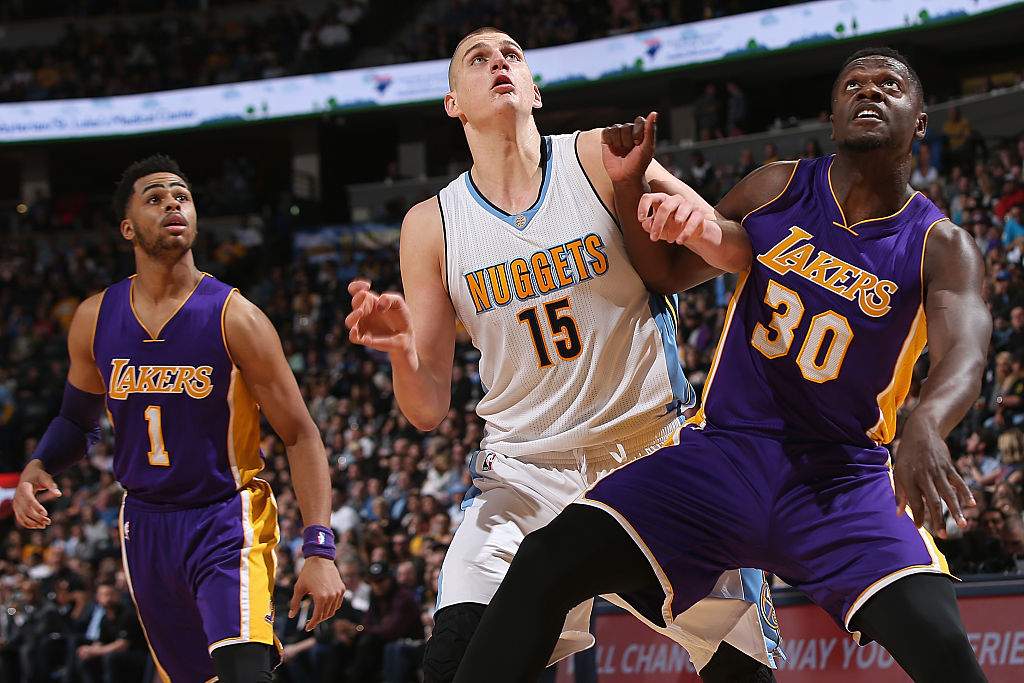 C: Marc Gasol
F: Julius Randle
F: Brandon Ingram
G: Patrick Beverley
G: D'Angelo Russell
The Los Angeles Lakers are interesting in that they have a bad basketball team, but somehow intrigue you with their youth and potential. It's just the right mix, with D'Angelo Russell, Brandon Ingram., and Julius Randle providing hope for the future alongside veteran guard Patrick Beverley and star center Marc Gasol. Larry Nance Jr. is the first man off the bench on this squad.
23. Toronto Raptors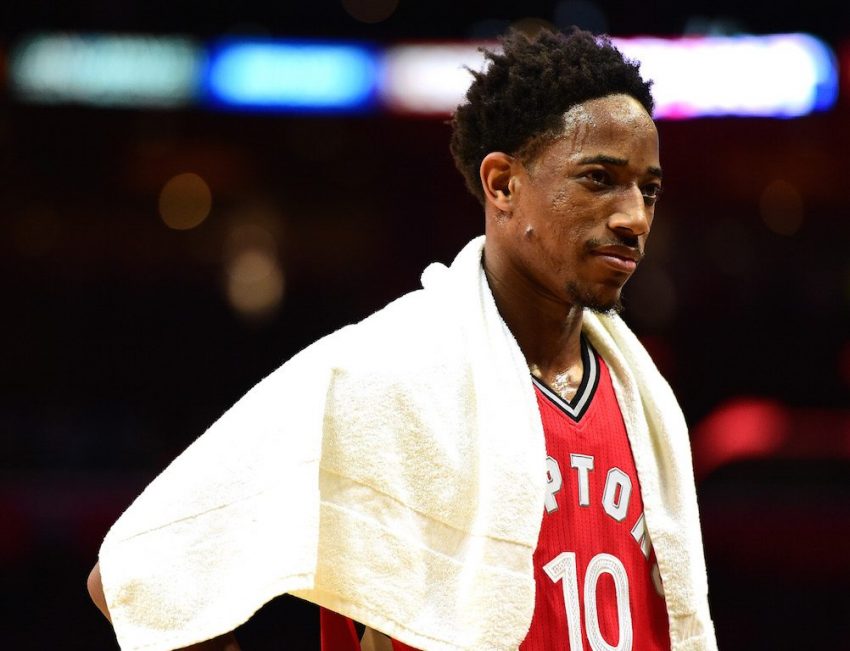 C: Jonas Valanciunas
F: Ed Davis
F: Terrence Ross
G: DeMar DeRozan
G: Delon Wright
When you look to see that the Toronto Raptors have center Jonas Valanciunas and guard DeMar DeRozan, you kind of lean toward the notion that this could be a decent team — like the one they actually have on the court in 2016–17. But instead of Kyle Lowry and Serge Ibaka, you have Delon Wright and Ed Davis. A bonus: Terrence Ross returns to the lineup. But in general this team would lose a ton of games.
22. Charlotte Hornets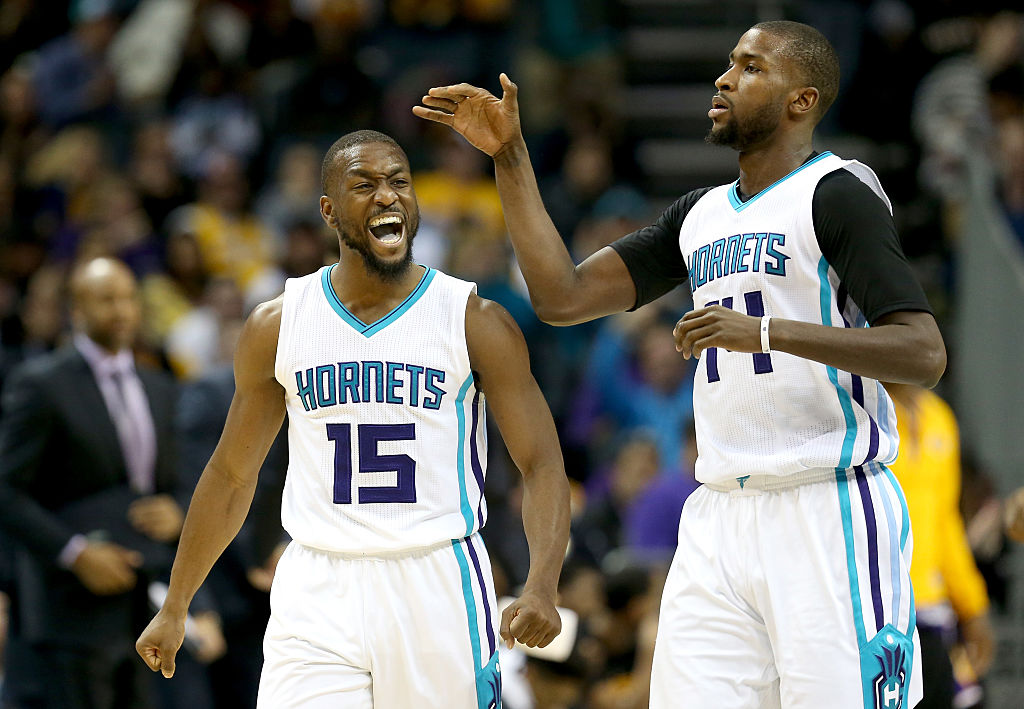 C: Frank Kaminsky
F: Tobias Harris
F: Michael Kidd-Gilchrist
G: Gerald Henderson
G: Kemba Walker
This Charlotte Hornets team might surprise people, with its quality defense up front behind Michael Kidd-Gilchrist and Tobias Harris. You could do worse than Frank Kaminsky at center. Although Gerald Henderson is a below-average option at shooting guard, Kemba Walker has developed into one of the best scoring point guards in the NBA. This might be a 35-win team, but they'd have the potential to develop into more than that — if they upgrade at shooting guard first.
21. New York Knicks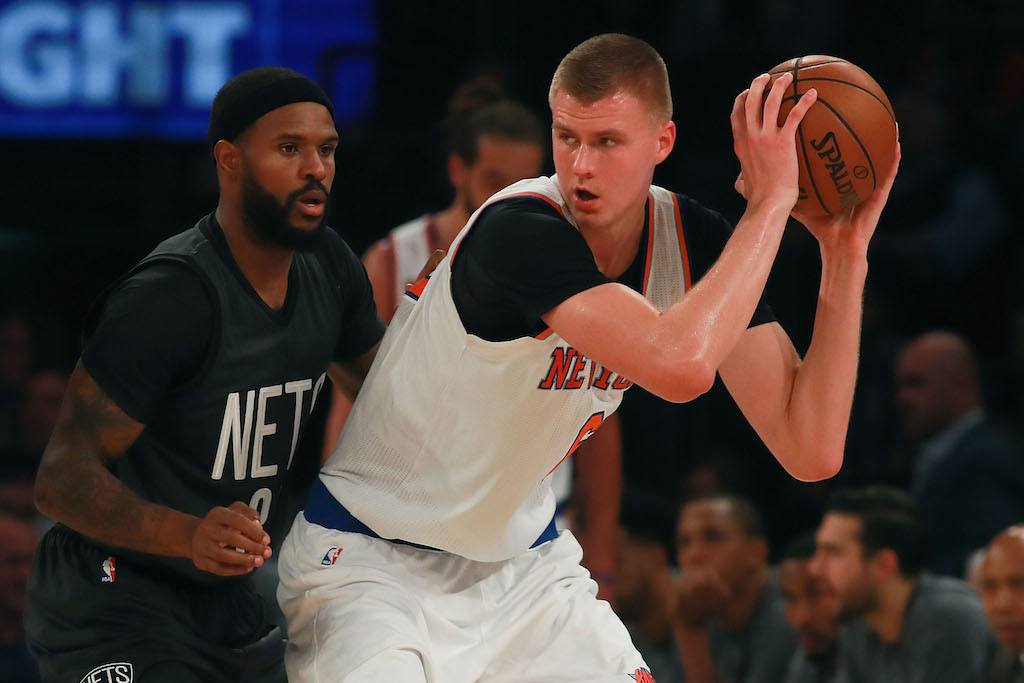 C: Kristaps Portzingis
F: Danilo Gallinari
F: Wilson Chandler
G: Tim Hardaway Jr.
G: Iman Shumpert
Interestingly enough, of the five players in the New York Knicks' lineup, only one of them actually remains on the roster. That would be future superstar Kristaps Porzingis, who stands at 7'3" but can run and handle the ball like a guard. Both Danilo Gallinari and Wilson Chandler were traded to the Denver Nuggets for Carmelo Anthony; Iman Shumpert was traded for essentially a second-round draft pick; and Tim Hardaway Jr. was dealt for a pick that was later used on guard Jerian Grant.
20. Minnesota Timberwolves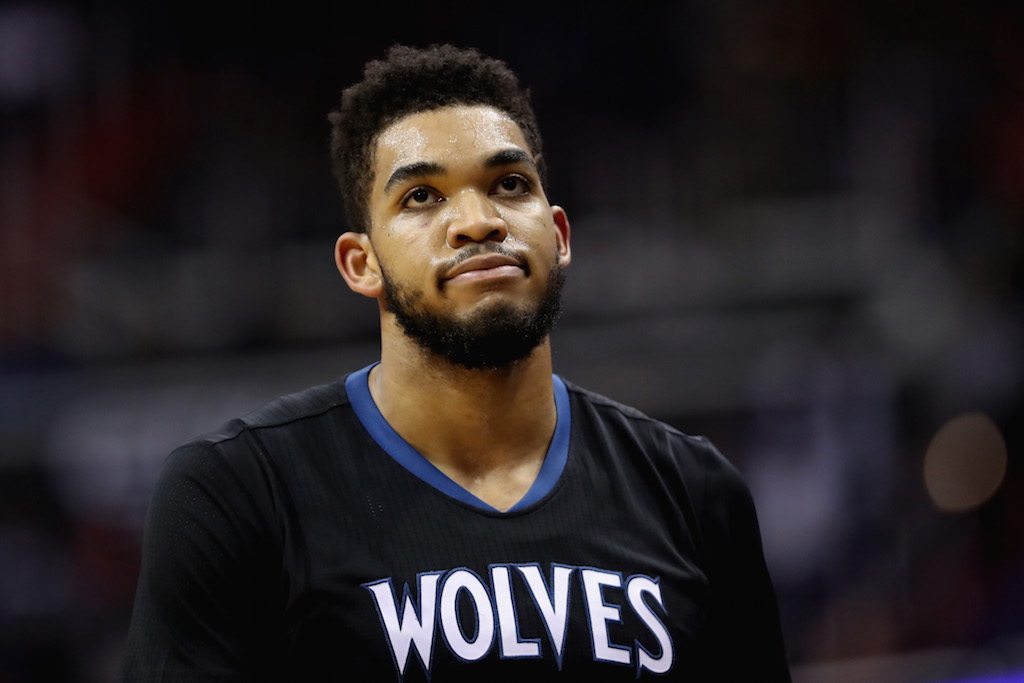 C: Karl-Anthony Towns
F: Trevor Booker
F: Andre Roberson
G: Zach LaVine
G: Ty Lawson
The Minnesota Timberwolves get to keep two of their best players, center Karl-Anthony Towns and guard Zach LaVine. Unfortunately, Andrew Wiggins is no longer a member of the team. The T-Wolves upgrade slightly at point guard with Ty Lawson over Ricky Rubio. Defensive forward Andre Roberson and Trevor Booker step up admirably. Much like the real Timberwolves, this team is probably one or two good players away from really contending for the postseason.
19. Philadelphia 76ers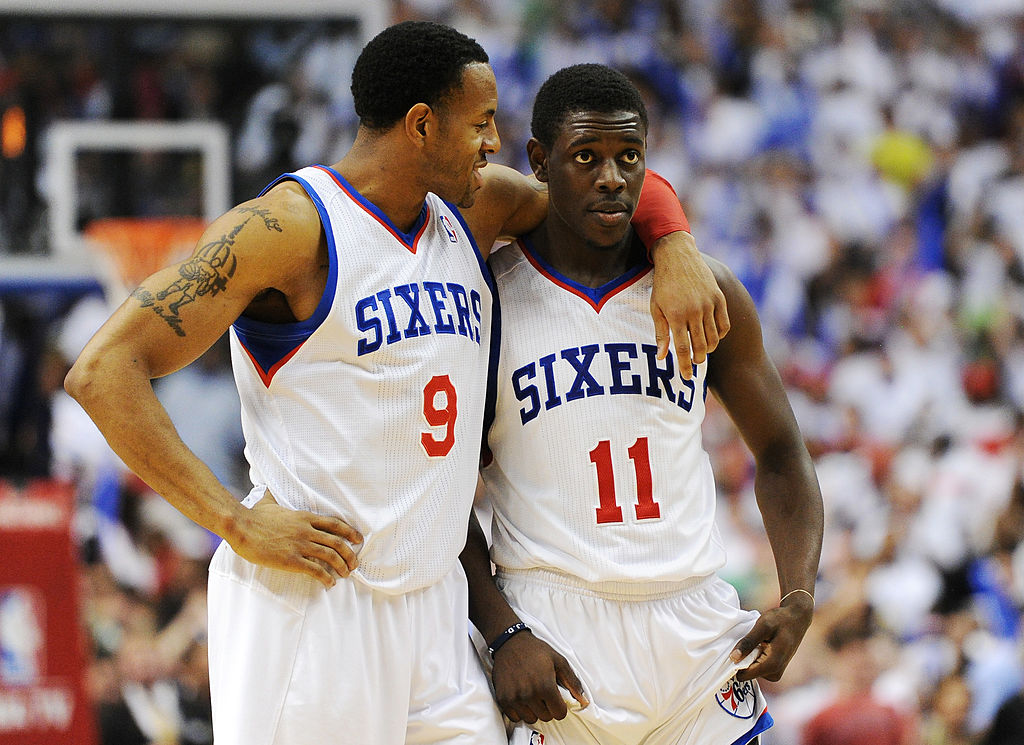 C: Nikola Vucevic
F: Thaddeus Young
F: Andre Iguodala
G: Lou Williams
G: Jrue Holiday
With all of the rebuilding the Philadelphia 76ers have done recently, it came as a shock that we couldn't realistically rank any of their recent draft picks in their starting rotation. You could make an argument for Joel Embiid at center, but he's played 31 games in three seasons. Nikola Vucevic is extremely consistent, so he gets the nod. The same goes for Thaddeus Young at power forward over Jahlil Okafor and Ben Simmons – the latter athlete has yet to play a single NBA game. Overall, this veteran team has some stud prospects in reserve, but no real star to rely upon.
18. Detroit Pistons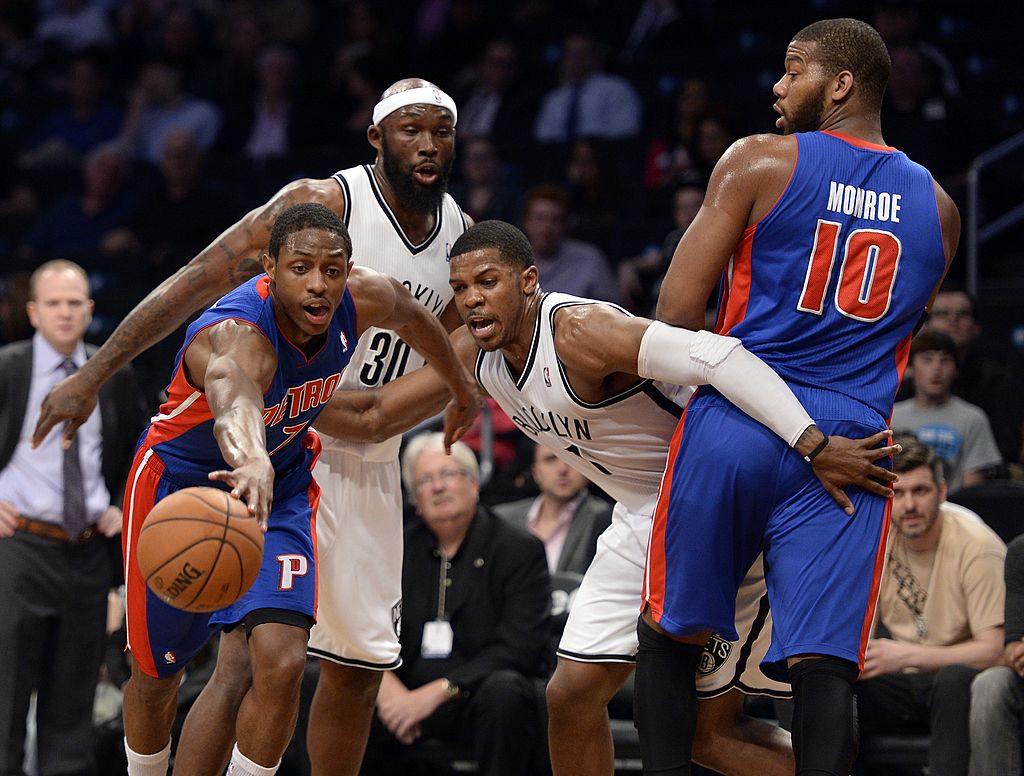 C: Andre Drummond
F: Greg Monroe
F: Kris Middleton
G: Kentavious Caldwell-Pope
G: Brandon Knight
The Detroit Pistons can score points. Andre Drummond serves to garner rebounds and defend the paint, while guards Brandon Knight, Kentavious Caldwell-Pope, and forward Kris Middleton fill things up on the offensive end. This is a high-talent team, but Knight's presence as the starting point guard makes it questionable. The bench, however, is quite solid with Rodney Stuckey, Arron Afflalo, and Amir Johnson.
17. Orlando Magic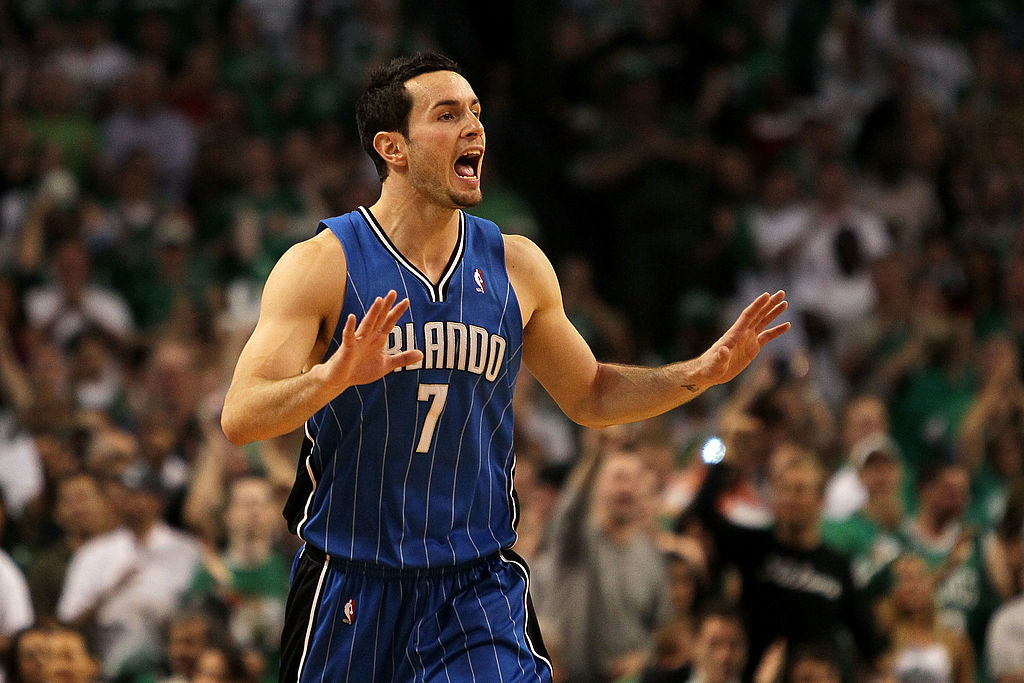 C: Dwight Howard
F: Aaron Gordon
F: Dario Saric
G: J.J. Redick
G: Victor Oladipo
At first glance, you think this team is actually alright. Maybe even a top-10 team in the NBA. But then you realize that J.J. Redick is likely your leading scorer, and disappointment sets in. The trio of Aaron Gordon, Dario Saric, and Victor Oladipo gets you somewhat excited about the future of this Orlando Magic team. Pairing that young core with veterans such as Redick and Dwight Howard would help keep them competitive. But there are a lot of questions here, specifically in regards to who scores the points. This is probably a playoff team, but just barely.
16. Phoenix Suns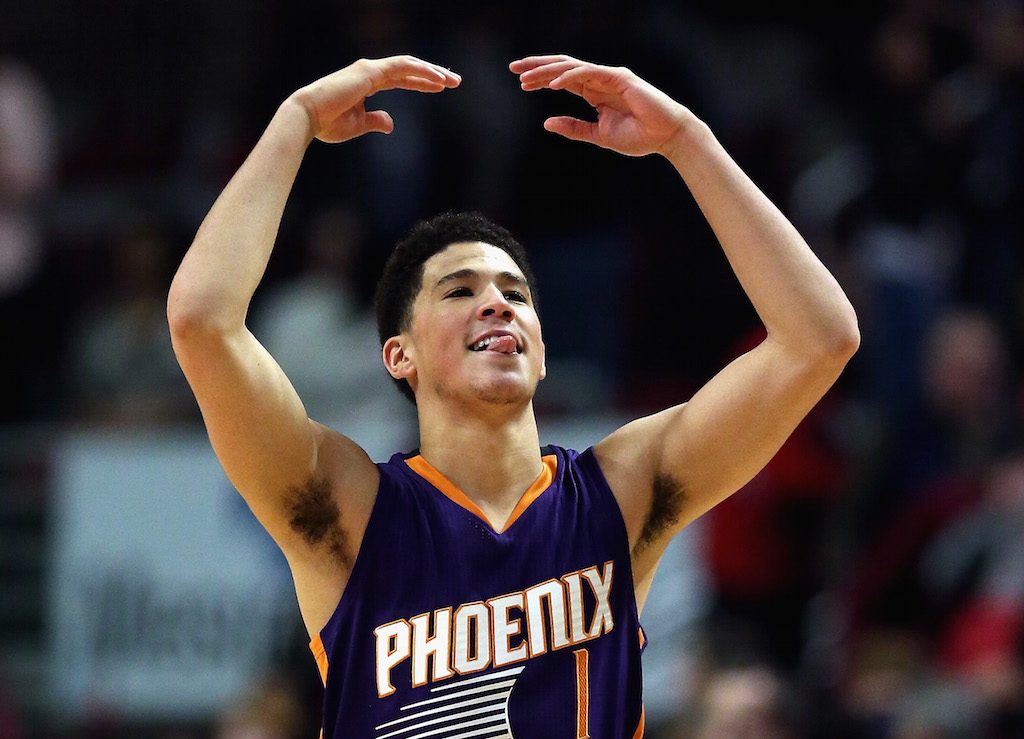 C: Marcin Gortat
F: Markieff Morris
F: T.J. Warren
G: Devin Booker
G: Rajon Rondo
This is really the perfect lineup for the old run-and-gun Phoenix Suns. Rajon Rondo would amass lethal assist totals playing alongside a gunner like Devin Booker. The frontline of T.J. Warren, Markieff Morris, and Marcin Gortat would get up and down the court, too. While this Suns team probably isn't challenging anyone in the playoffs, when the game slows down to a more traditional half-court style, they'd be fun to watch during the regular season.
15. Memphis Grizzlies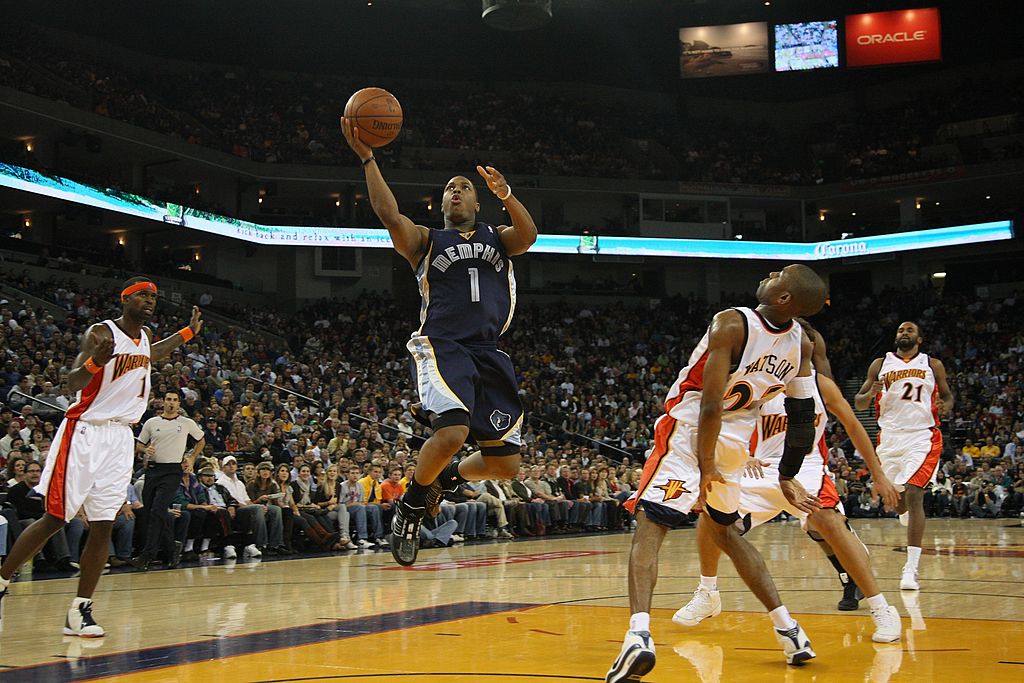 C: Kevin Love
F: Matt Barnes
F: DeMarre Carroll
G: Kyle Lowry
G: Mike Conley Jr.
The real-life Memphis Grizzlies are an older bunch. point guard Mike Conley Jr. is the only player actually drafted by the franchise. In this alternative reality, Conley steps into the backcourt with fellow point guard Kyle Lowry, creating a fun duo who can each handle the ball and run the offense. DeMarre Carroll plays the three-and-D role, while Kevin Love stretches the defense on offense and grabs rebounds on defense. The Grizzlies aren't great, and you could argue that their roster construction needs work. However, they've got some good players who can win ballgames.
14. Atlanta Hawks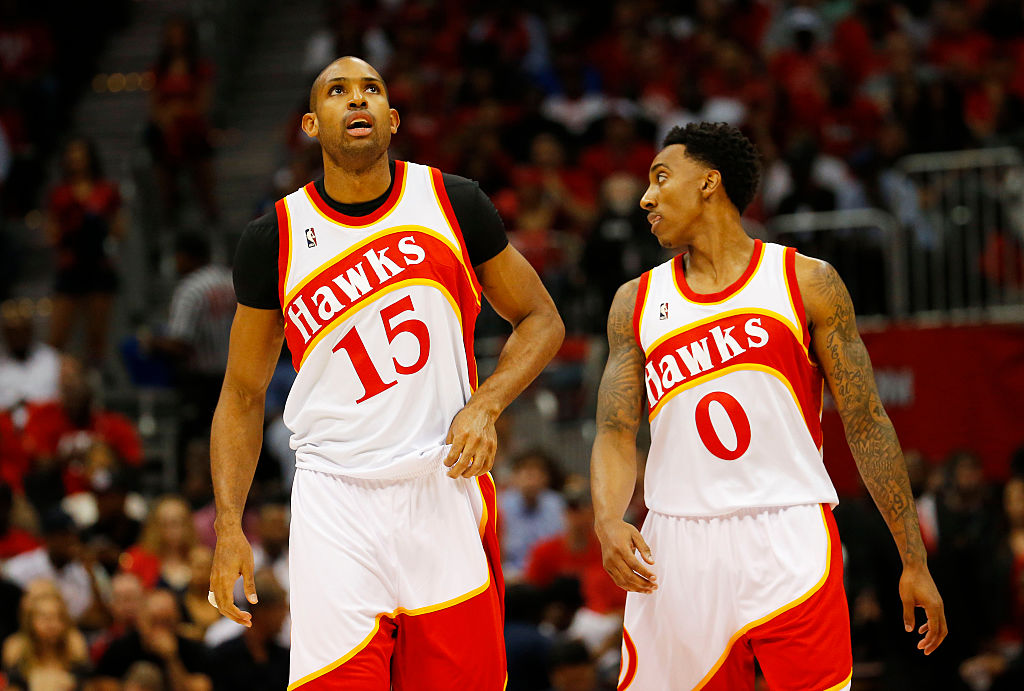 C: Pau Gasol
F: Al Horford
F: Marvin Williams
G: Dennis Schroder
G: Jeff Teague
Another team with a two-point-guard backcourt is the Atlanta Hawks. The options at shooting guard were quite ugly, with reserve John Jenkins and 39-year-old Jason Terry leading the way. So why not do a tandem of Jeff Teague and Dennis Schroder? Marvin Williams and Al Horford battle up front, with aging center Pau Gasol in the middle. This is a solid veteran team with guys like Horford and Gasol who have no problem scoring, whether it be in the paint or facing up for a jumper.
13. Los Angeles Clippers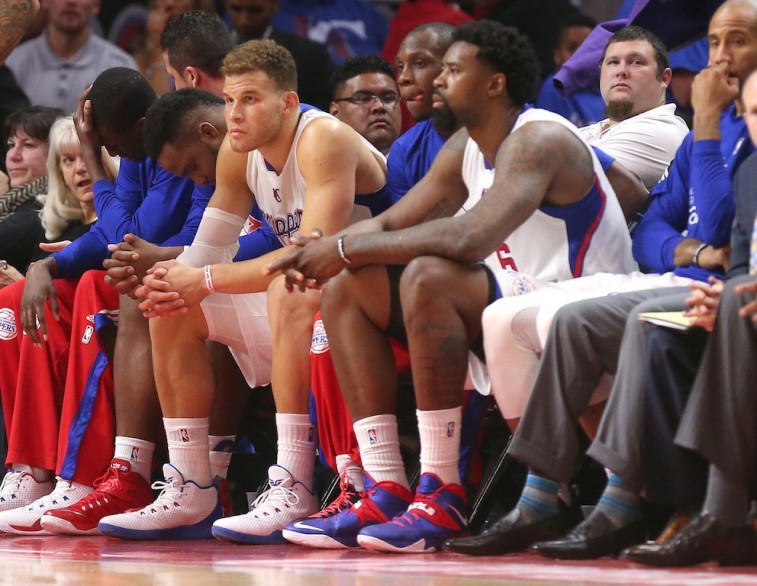 C: DeAndre Jordan
F: Blake Griffin
F: Al-Farouq Aminu
G: Eric Gordon
G: Shaun Livingston
Point guard Shaun Livingston was well on his way to being a quality starter for the Los Angeles Clippers when he destroyed his knee back in 2006–07. Since then, he bounced around and eventually found a home with the Golden State Warriors as Stephen Curry's backup. He can certainly run the offense, especially with talented scorers such as Blake Griffin and Eric Gordon on the team. DeAndre Jordan fills in at center with Tyson Chandler on the bench. This Clippers squad is exciting despite being stuck battling for a playoff spot.
12. Milwaukee Bucks
C: Dirk Nowitzki
F: Jabari Parker
F: Giannis Antetokounmpo
G: Malcolm Brogdon
G: Brandon Jennings
If only Nowitzki was 10 years younger, this would be one great NBA team. Unfortunately, Dirk is nothing more than an aging former-star, while young guns like Jabari Parker — assuming he recovers from his second torn ACL — and Giannis Antetokounmpo lead the team to glory. The veteran presence of Nowitzki helps overcome the fact that the best point guard available is Brandon Jennings, and this team ends up in the postseason to give someone a tough first-round matchup.
11. Indiana Pacers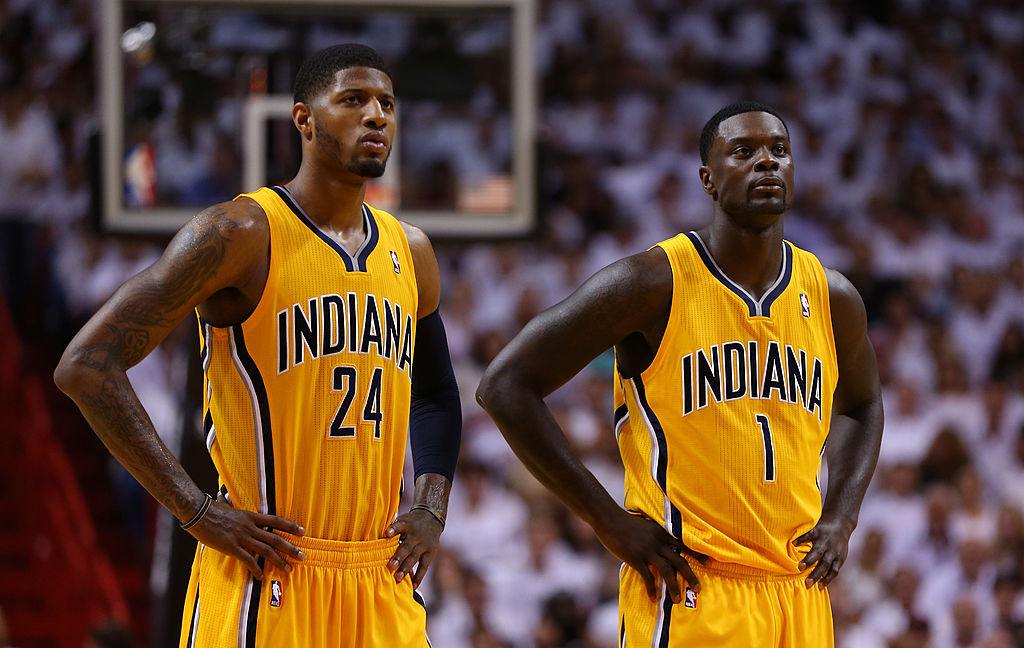 C: Myles Turner
F: Paul George
F: Kawhi Leonard
G: Lance Stephenson
G: Jerryd Bayless
Here we have another quality Eastern Conference playoff contender. The Indiana Pacers keep their young core of Paul George and Myles Turner, and even feature Lance Stephenson returning at guard. But the major upgrade involves bringing forward and MVP-candidate Leonard into the bunch, immediately transforming the Pacers into one of the best teams in the East. The major drawback here is the complete lack of point guard, which falls on Jerryd Bayless, who played only three NBA games in 2016–17.
10. Portland Trail Blazers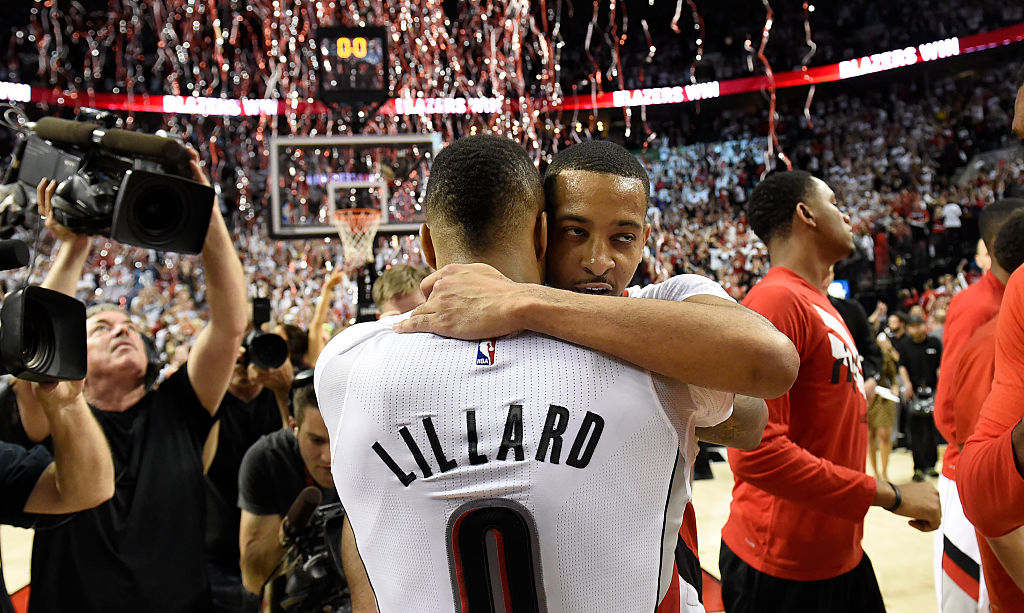 C: Omer Asik
F: Zach Randolph
F: Will Barton
G: C.J. McCollum
G: Damian Lillard
The meat and potatoes of this Portland Trail Blazers team is essentially the same. Damian Lillard and C.J. McCollum are the headliners; Will Barton helps make them good in the front court as well. Zach Randolph is still productive at the power forward spot — even if he's nearly 36 years old — but you could do a whole lot better than Omer Asik at the center. If you wanted to go small ball, you could list Randolph as the center and go with Dante Cunningham as the power forward. Patty Mills off the bench makes this a real solid Blazers team.
9. Utah Jazz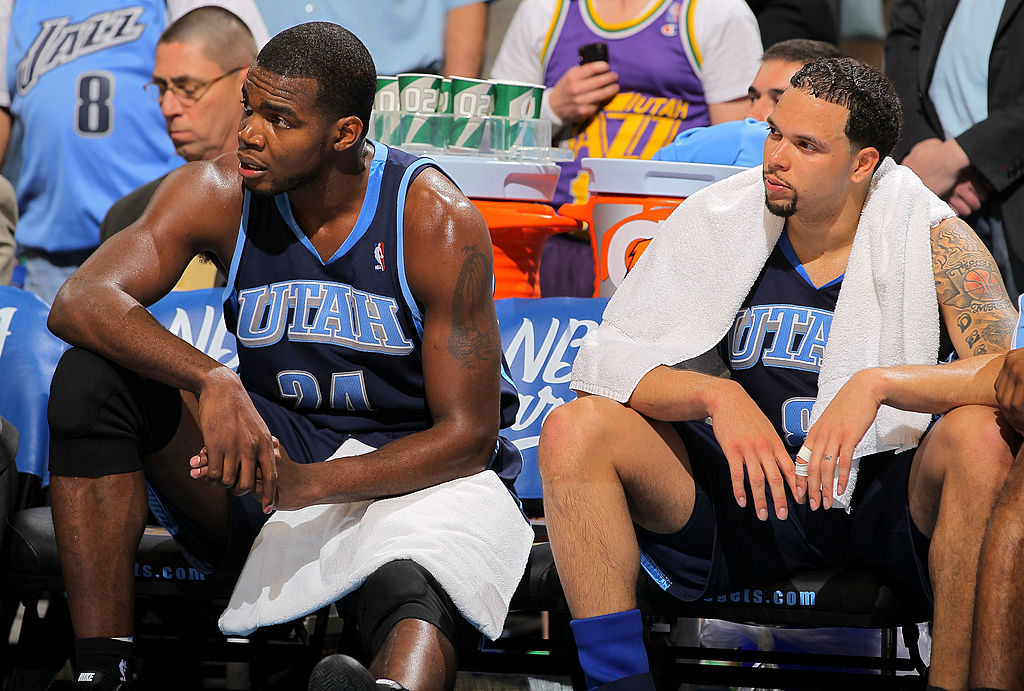 C: Enes Kanter
F: Paul Millsap
F: Gordon Hayward
G: Rodney Hood
G: Deron Williams
If there's one thing the Utah Jazz have done extremely well over the years, it's draft talent. That's important when your franchise is located in Salt Lake City, one of the least attractive destinations for big-time free agents. For this team, the Jazz have Gordon Hayward and Paul Millsap up front, leading off with one of the better forward combinations in the league. Enes Kanter is an excellent scorer for a big man, and the backcourt of Rodney Hood and Deron Williams isn't too bad either (even if Williams is well beyond his prime.)
8. Denver Nuggets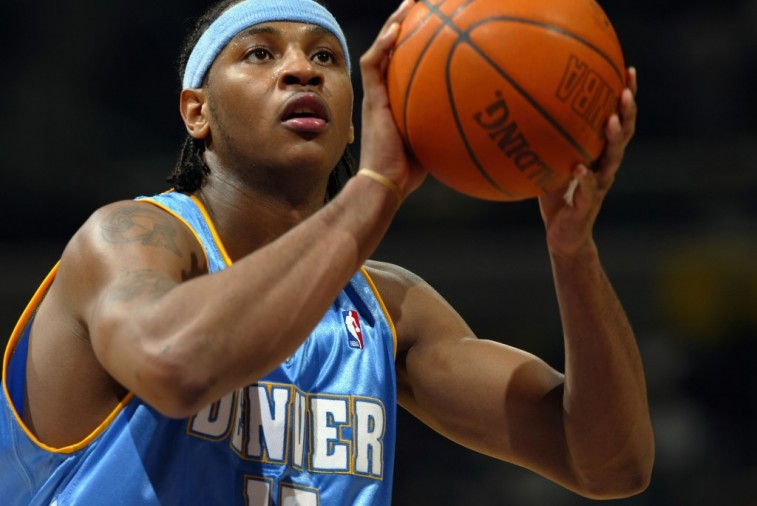 C: Rudy Gobert
F: Nikola Jokic
F: Carmelo Anthony
G: Evan Fournier
G: Jamal Murray
The Denver Nuggets bring back an aging Carmelo Anthony, but this is the kind of team that he might thrive with. Evan Fournier is a quality shooting guard, both in scoring and shooting from long distance. Jamal Murray is young but has potential. With this team he might develop a bit quicker considering the lack of direct pressure on him.
Up front, you're hard-pressed to find a team with two better big men than Rudy Gobert and Nikola Jokic, two of the best up-and-coming centers in the NBA. The Nuggets won't win a championship with this squad, but they'd pound their way to a solid playoff seed in the West.
7. Washington Wizards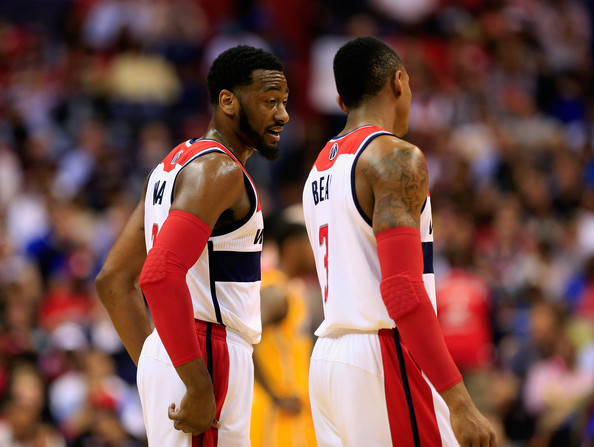 C: JaVale McGee
F: Otto Porter
F: Jordan Clarkson
G: Bradley Beal
G: John Wall
If you think the majority of this Washington Wizards lineup looks like the real Washington Wizards lineup, it's because it does. There's just no replacing John Wall, Bradley Beal, and Otto Porter with anyone else on the Wizards' list. The rest of the list is slim pickings, but Jordan Clarkson stands out a bit. All in all, this is a high-impact, high-potential team that also has JaVale McGee on it. They'll score a ton from outside but get beat up inside by most teams. Not for nothing; the bench also features Nick Young and Devin Harris.
6. New Orleans Pelicans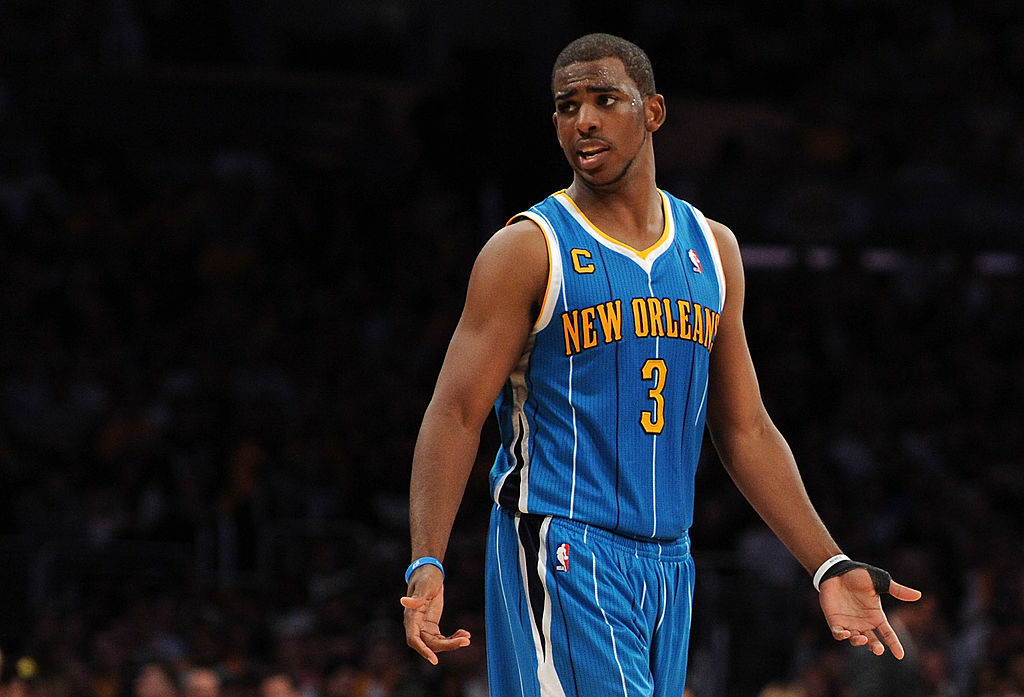 C: Anthony Davis
F: Nerlens Noel
F: J.R. Smith
G: Buddy Hield
G: Chris Paul
There are two reasons why the New Orleans Pelicans are listed this high. One of them is Anthony Davis, and the other is Chris Paul. There may not be two star players that match better in this entire exercise; it's a shame they never got to play together in New Orleans. Nerlens Noel has potential, as does sharp-shooter Buddy Hield. J.R. Smith adds both a veteran scorer and a tinge of craziness to the roster.
5. Chicago Bulls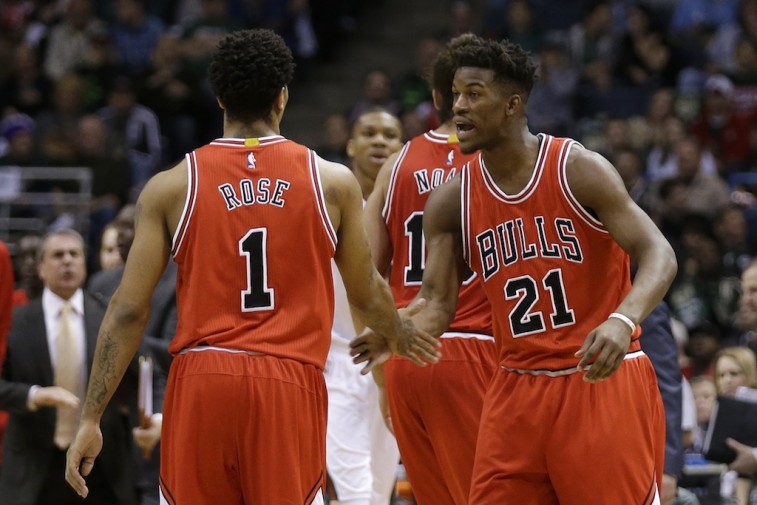 C: LaMarcus Aldridge
F: Taj Gibson
F: Jimmy Butler
G: Gary Harris
G: Derrick Rose
Yes, LaMarcus Aldridge is listed here with the Chicago Bulls. They actually drafted him and traded the big man to the Portland Trail Blazers on draft day in exchange for Tyrus Thomas. Yuck. They also get credit for guard Gary Harris, who was part of a deal to bring in Doug McDermott on draft night. Otherwise, the trio of Taj Gibson, Jimmy Butler, and Derrick Rose –– even after all the knee surgeries –– makes this one of the better teams in the East.
4. Sacramento Kings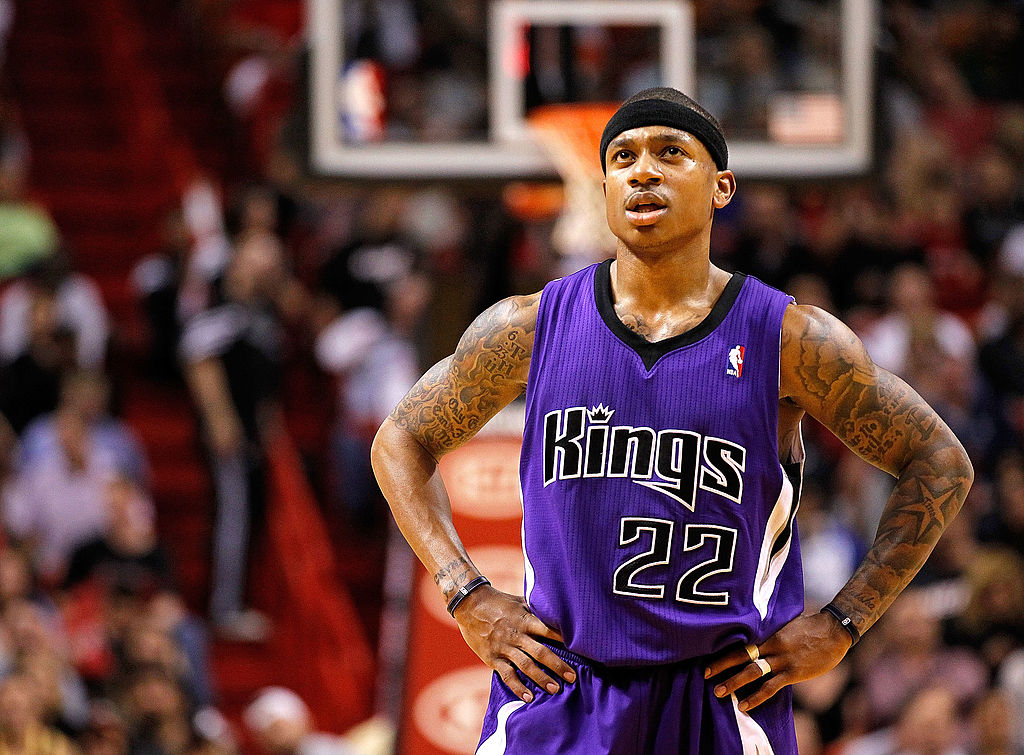 C: Hassan Whiteside
F: DeMarcus Cousins
F: Tyreke Evans
G: Nik Stauskas
G: Isaiah Thomas
Talk about your "Big Three." The Sacramento Kings get back Isaiah Thomas, DeMarcus Cousins, and Hassan Whiteside, none of which are actually with the team anymore. That's kind of sad, when you think about it. What did they really get for those three players? Anyway, it would be easier to rank the Kings higher if they had much of anyone to impact the rest of their roster, but there's a considerable dropoff with Nik Stauskas and Tyreke Evans. Even still, this is a contender in the Western Conference.
3. Cleveland Cavaliers
C: Tristan Thompson
F: LeBron James
F: Andrew Wiggins
G: Dion Waiters
G: Kyrie Irving
Just like in real life, the best team in the East is the Cleveland Cavaliers. LeBron James is still the best player in basketball, and this is the team that drafted him. The rest of the lineup, ironically, is filled out by players who were lottery picks by the Cavs during the years when James took his talents to South Beach. We never got to see Andrew Wiggins on the court with LeBron, but it would be kind of fun to see what they could've done together.
2. Golden State Warriors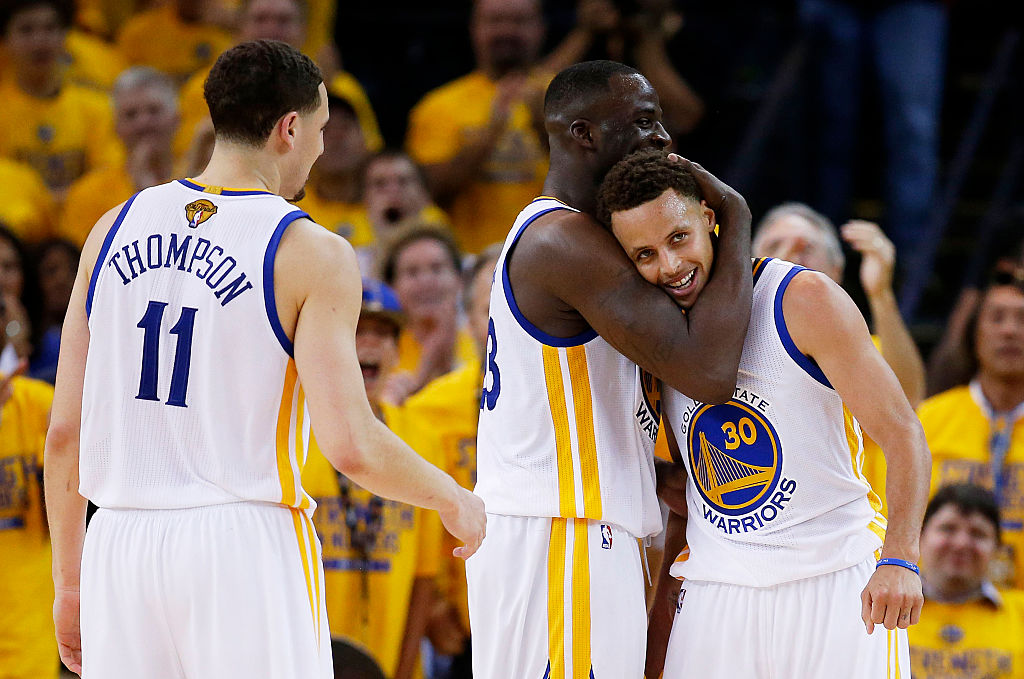 C: Festus Ezeli
F: Draymond Green
F: Harrison Barnes
G: Klay Thompson
G: Stephen Curry
Another team that looks relatively familiar is the Golden State Warriors. Essentially, the lineup of Stephen Curry, Klay Thompson, Harrison Barnes, and Draymond Green is the same lineup that went to back-to-back NBA Finals the last two seasons. Add in Festus Ezeli, who played backup to the starter Andrew Bogut, and you have the all-Warriors draft pick team. This is probably a 65-win team and a major title contender.
1. Oklahoma City Thunder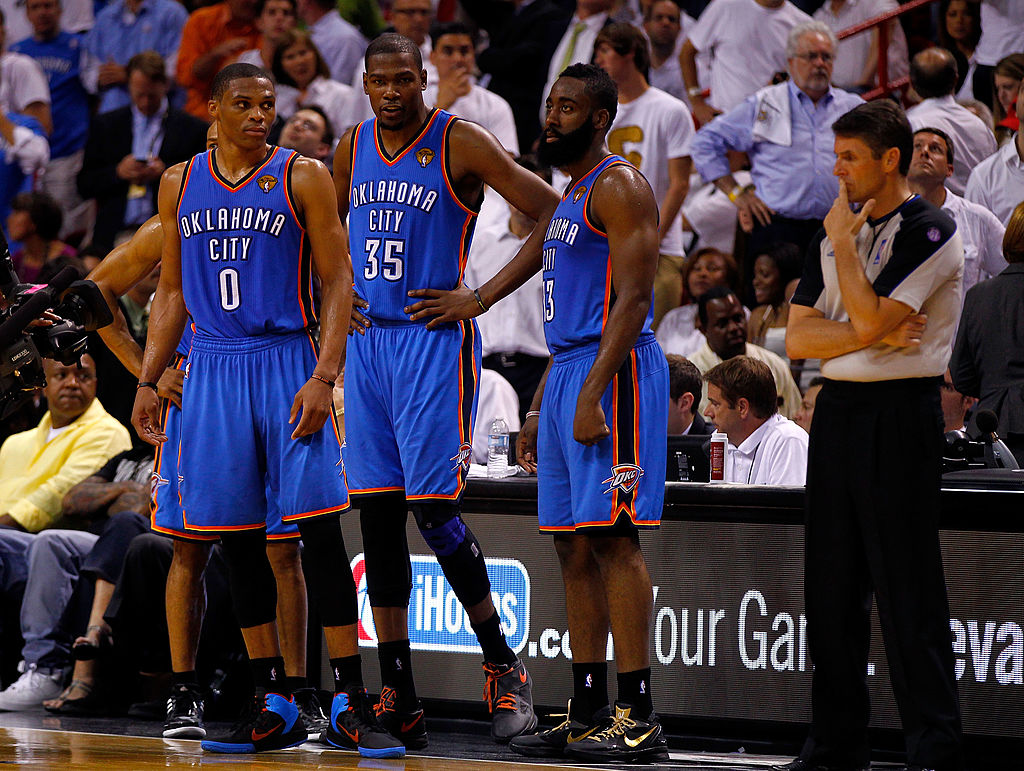 C: Serge Ibaka
F: Kevin Durant
F: James Harden
G: Eric Bledsoe
G: Russell Westbrook
No team can compare to the list of players drafted by the Oklahoma City Thunder. It's actually sad to look back and realize just how stacked this team was. The 2011–12 NBA Finals runner-up had Russell Westbrook, James Harden, Kevin Durant, and Serge Ibaka, while Eric Bledsoe was drafted in 2010 and then traded to the Los Angeles Clippers for a 2012 draft pick that became Fab Melo. On the bench, the Thunder feature Reggie Jackson, Nick Collison, and Steven Adams. This is almost certainly your NBA Champion.
Statistics courtesy of ESPN and Basketball-Reference.