Which NFL Coaches Deserve to Get Fired After 1 More Dismal Season?
COVID-19 aside, 2020 was always set to be a transitional season. The old guard of quarterbacks is in its last days. The somewhat disappointing crop from the last five years is hitting the "put up or shut up" phase. And the new face of the NFL, Chiefs quarterback Patrick Mahomes, may tilt an entire division in his favor. So which NFL coaches are most likely to falter amidst the chaos?
The Jets' Adam Gase can't waste Sam Darnold's third season
Adam Gase has a bit of breathing room to work with this season. Sports Illustrated reports that the Jets organization acknowledges the team's rebuild status. They couldn't keep All-Pro safety Jamal Adams on board for Gase, and apparently they're aware that things could go south.
But it all comes down to fan expectations, and the degree of backlash. Gase already came out of his time with the Miami Dolphins looking fairly bad. And setting aside Adams' fate, there's the issue of Sam Darnold's development. The young QB is headed for his third season. If Gase can't cultivate something promising in him this year, that could spell the end of his run in New York.
Texans coach Bill O'Brien's GM aspirations mean he cannot fall below .500
USA Today's projections for the 2020 NFL season pin the Houston Texans as going 7-9. Unlike Gase's potential lucky break, head coach Bill O'Brien is likely under pressure to go beyond that below-.500 prediction. The organization bet big on quarterback Deshaun Watson. He's an investment that O'Brien will catch blame over if it goes awry.
O'Brien is at a different level of risk than most head coaches. He's looking down the barrel of a tough season not long after making his case to step in for GM duties. The title was a vote of confidence in the offseason. But like all high-level roles, it also means that whatever goes wrong lands squarely on him. Good luck if that 7-9 prognostication comes true.
Bears coach Matt Nagy may not survive his bet on Mitchell Trubisky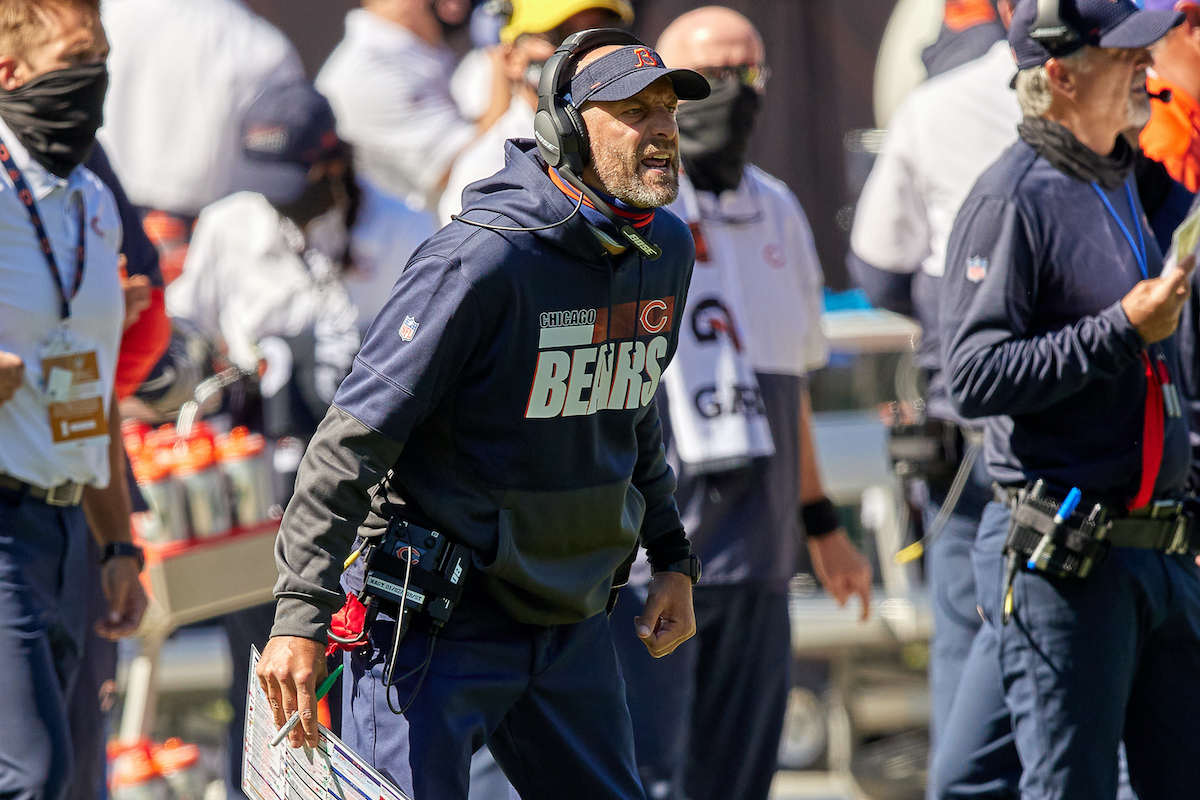 The Bears went from being a strong playoff contender to a punchline so fast, it likely made head coach Matt Nagy's head spin. His time is running out, and USA Today's 5-11 prediction for his upcoming season puts into perspective just how low the opinion of the Bears has become. Yet Nagy isn't to blame for the worst of it.
The organization's infamous choice to trade up for substandard Mitchell Trubisky — the same year Mahomes was available — looks worse with each game the hapless quarterback plays. The Chicago front office felt it had something special, despite ample warnings that Trubisky was a one-dimensional QB.
Nagy, to his credit, is anything but one-dimensional. That's also his downfall, as his complex offensive schemes don't seem to give Trubisky's straightforward style a chance to develop. It's on the organization that this absurd mismatch happened, but one of them has to go.
Nagy showed his willingness to please his superiors by giving their golden boy a splashy entrance, naming Trubisky the starting QB for week one. But this being the NFL, it's Nagy who will likely have to fall on his sword.