Which NFL Franchise Comes the Closest to Peyton Manning's 500 TDs?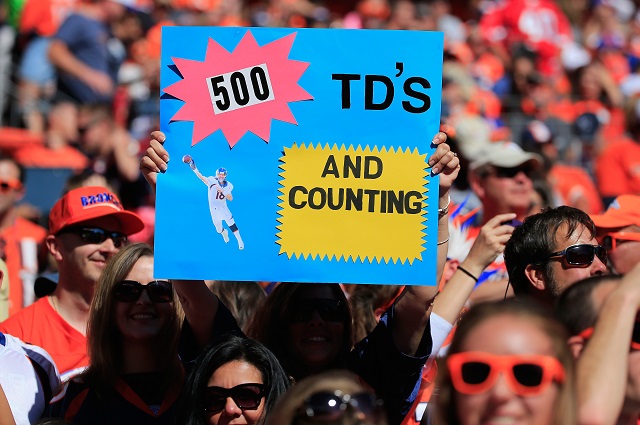 Earlier this season, Peyton Manning became the second quarterback in NFL History to break 500 touchdowns — as you've undoubtedly heard by this time, the first player to do it was Brett Favre, and the Arizona Cardinals would have to go back to 1987 to reach 500 touchdowns: a longer period of time than Manning's entire career. Over at Football Perspective, they went through the numbers and looked at which teams would have to go back the furthest in order to match Peyton's feat.
Long story short, it was the Browns, or the Jets (to the mirth of everyone else's fans), depending on how you broke it down, who had the worst time matching Peyton's record, as either team would have to go back to the early '80s to match Manning's career output. But that got us thinking: Since the birth of the NFL proper, that is, since the 1970 merger, which teams would be able to match Manning's 17-year record the fastest? We know that Manning's done it faster than any franchise in history, but there's got to be some competition, right?
The answer: Not really. The closest any franchise gets to 500 passing touchdowns from 1970 onward is in 1989. Who was it? Do you want to make a guess first?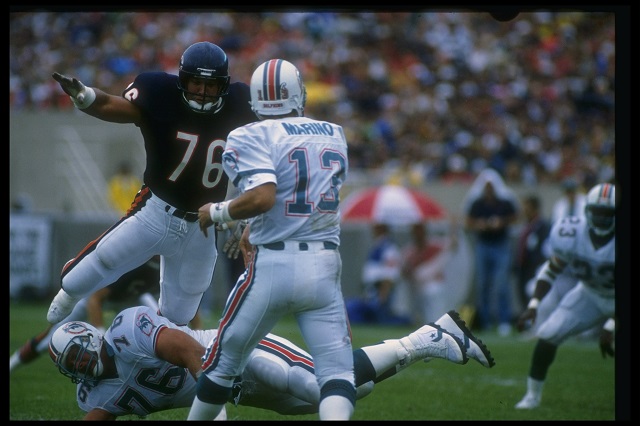 That's correct, it was the Miami Dolphins, who managed 505 passing touchdowns over that 19-year period, going over the line with the assistance of Dan Marino's 24 touchdowns (and a couple from the backups). So, out of all the teams that managed to hit 500 the quickest since the merger, it's the Dolphins that stand first and foremost. At the end of the 1990 season, the Raiders and the San Francisco 49ers would also jump that hurdle.
If you're not of the mind that we should be counting from the merger forward, and instead should be looking at the entire totality of the NFL's history, though, you might want to steel yourself against disappointment. From the advent of the National Football League, it would take 26 years for a team to break 500 passing touchdowns — the first team to do that was the Chicago Bears, who finished the 1966 season with 501. Seriously.
The takeaway, as per usual, is that Peyton Manning's a pretty absurd football player, and it turns out he's a bit better at finding the right pass for a touchdown than most. It's easy to get caught up in the idea that he's totally incapable of playing when the stakes are highest, but he'll walk away from the game a true statistical anomaly.