Which NFL Teams are Desperate Enough to Chase Ray Rice?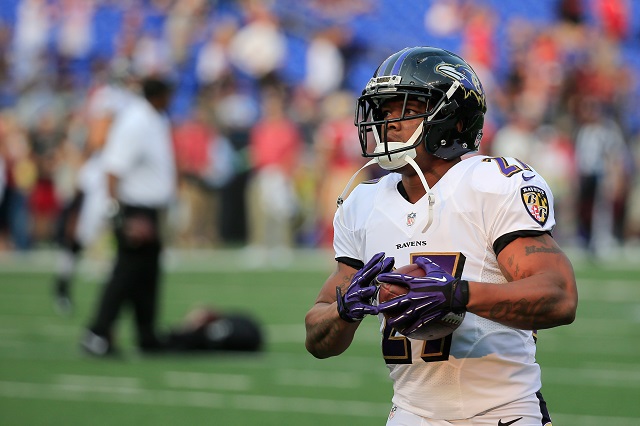 Ray Rice is eligible to play football in the NFL again, after winning his appeal of an indefinite suspension handed down by the league office after footage leaked of the running back knocking his wife unconscious in a hotel elevator. The incident originally earned him a two-game suspension from commissioner Roger Goodell, but was escalated after the footage leaked to the public (this was also when the Baltimore Ravens, Rice's former team, formally cut him from the squad). We're not surprised by his return, but now that he's eligible to play in the league again, we have to wonder which team is going to bite the bad PR bullet and sign him.
At nearly 28, Rice is approaching the twilight of his career, if he hasn't hit it already, but his skills haven't visibly eroded to the point where he might be out of work yet, and thanks to ESPN, we already know that there are at least four teams that have at least considered signing him to a new contract. Realistically speaking, we'd figure that every team has considered the possibility, but only a few have done it to enough of a degree to be noticed. And, of course, the two teams that would go on the record have already said they're not signing him. Lets tackle them first.
The two teams that won't take Rice, but acknowledged interest, are a pair of squads that could desperately use his services — the Indianapolis Colts and the New Orleans Saints. For the Colts, this is as close to a public concession that the Trent Richardson trade was an abject failure as we're likely to get, as he's been all but totally replaced by Boom Herron, who was drafted in the sixth round of the 2012 NFL draft. Rice is definitely an upgrade there, but the baggage of signing him this season seems to have kept the Colts (who, it must be noted, are already in the headlines for the arrest of owner Jim Irsay) at bay.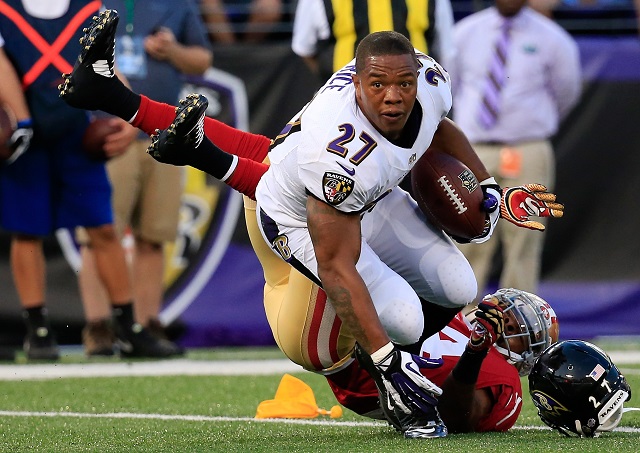 As for the Saints, they're currently on track to ride their their losing record all the way into the playoffs, since they sit atop the NFC South, and they can use all the help they can get. Even in an offense that favors the pass to the near exclusion of all else (understandable because, you know, Drew Brees), it's easy to see Rice as an upgrade to Mark Ingram and Khiry Robinson, especially if they're as committed to winning in the short term as it appears. Again, though, the Saints aren't willing to take a chance on Rice this season.
Why? Probably because he's been out for the entire year, and while we're willing to give credence to the idea that Rice has stayed in game shape, it's hard to really endorse a signing that's going to include any amount of rust on a player that's already coming in with some loaded expectations about his character. The Cardinals are also passing on Rice, even though they're down their leading rusher. While the other two teams remain silent, at least in public, about examining Rice, we have to assume that they're teams looking to make a bit of a jump into playoff contention, otherwise why bother? Taking a cursory glance at the standings, we suspect that the Chargers, currently relying on Branden Oliver, would be interested, as well as the New England Patriots, because they seem to churn through running backs like paper towels. Ok, that last one was kind of a reach, but who else fits? The Broncos? It could be the Broncos, who are in the bottom half of the league when it comes to effective rushing yards.
Either way, it's going to be interesting to watch what happens when, rather than if, Ray Rice returns to the NFL, even if we have to wait until next season. For now, though, it's all conjecture.