Which NFL Teams Require Fans to Be Vaccinated?
The COVID-19 pandemic shook up our everyday lives in many ways, and how we experience in-stadium NFL football games is among those changes. While we were prevented from going to stadiums to see our favorite NFL teams take on opponents throughout the 2020-21 season, this is not the case for the 2021-2022 season. However, it will still be much different from what we're used to in the past. Amid the continued COVID-19 pandemic, NFL teams are boasting relatively high vaccination rates — and many are even requiring fans and players to be vaccinated, or to show proof of a negative COVID-19 test. All 32 teams have been cleared for full capacity this season, but here's what you need to know about their vaccination and/or negative COVID-19 test requirements.
Which NFL teams require fans to be vaccinated?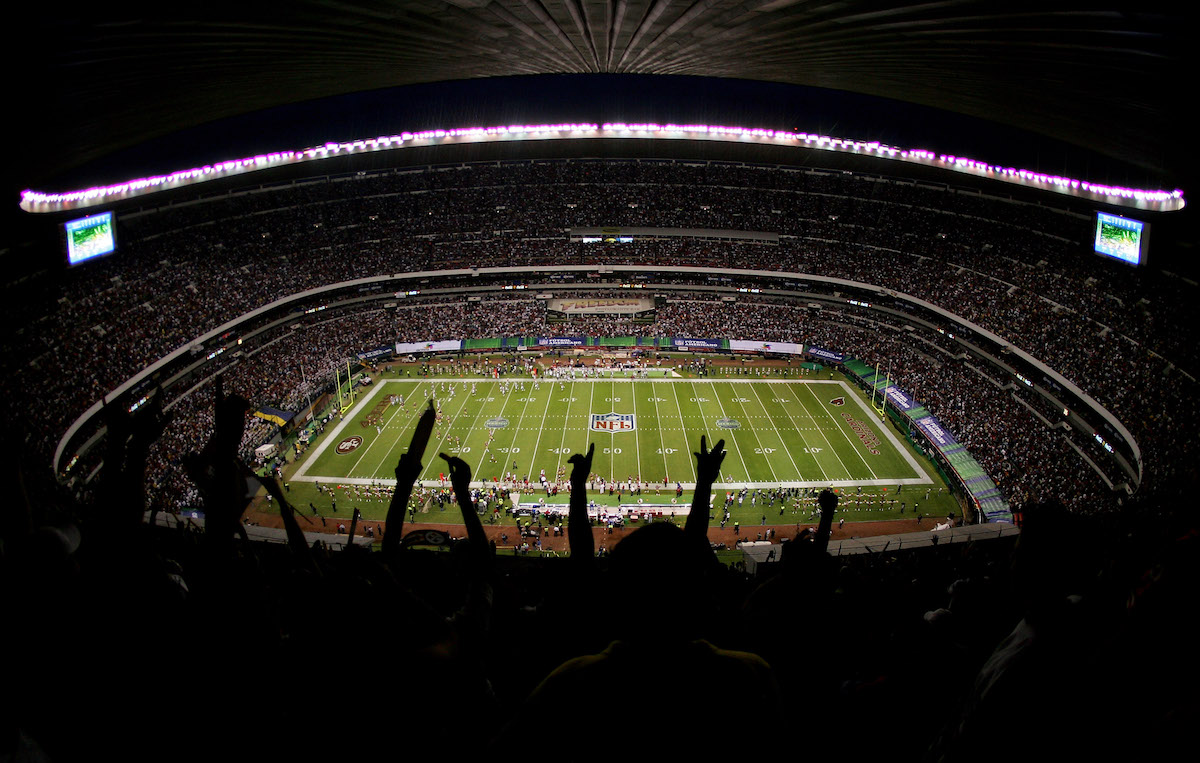 The rules about vaccination and/or having a negative COVID-19 test vary widely depending on the NFL stadium. Let's take a closer look at those differences.
Green Bay Packers
The Green Bay Packers announced that they will not require fans to wear a mask or show proof of vaccination to attend Packers events.
Las Vegas Raiders
The Las Vegas Raiders have officially announced that masks are not required, but all attendees must be fully vaccinated to attend Raiders events. You will have to "show proof of COVID-19 vaccination through CLEAR's free mobile app and Health Pass feature." The Raiders will still offer unvaccinated fans an opportunity to attend events, given they also "receive vaccinations on-site at Allegiant Stadium prior to Raiders home games." Newly vaccinated fans will be allowed to enter, but they will have to wear a mask.
New England Patriots
Gillette Stadium announced that they're only accepting mobile ticketing, and they are now only taking cashless payments. They only require that fans use face coverings. Negative tests and vaccination proof are not required.
Philadelphia Eagles
The Philadelphia Eagles require that all fans wear a face mask — vaccinated and unvaccinated — when in indoor spaces. However, a mask is not required for attendees who are outdoors or "within suites that have their windows open."
Tampa Bay Buccaneers
According to the Tampa Bay Buccaneers, fans entering the Raymond James Stadium will have to be masked while indoors at all times they are not eating or drinking. Outdoors, vaccinated guests are given the option to do either, and unvaccinated guests are highly recommended to continue wearing masks.
Kansas City Chiefs
Fans attending Kansas City Chiefs games are permitted to wear face masks indoors — vaccinated and unvaccinated fans. Outdoors, only unvaccinated guests are asked to wear a mask. Proof of vaccination is not required.
Arizona Cardinals
The Arizona Cardinals announced that fans must follow the CDC's recommendation for all fans — vaccinated and unvaccinated — to wear masks indoors. There's no say on whether masks are required while outdoors.
Denver Broncos
The Denver Broncos reported that fans entering the Empower Field at Mile High are not required to show proof of vaccination. However, vaccinated fans will not have any restrictions, while unvaccinated fans must wear a face covering.
Chicago Bears
According to the latest Chicago Bears announcement, fans entering Soldier Field "age two or older, regardless of vaccination status, wear masks in public indoor settings." Masks are optional in outdoor settings.
Seattle Seahawks
The Seattle Seahawks announced that fans who are 12 and older "will be required to provide proof of COVID-19 vaccination or a negative COVID-19 test result taken within 72 hours prior to kickoff to attend Seahawks games at Lumen Field." Vaccinated ticket holders must be fully vaccinated to enter without providing a negative test result.
Cleveland Browns
The Cleveland Browns do not require anything from their fans. However, they recommend everyone wearing false masks indoors and ask that unvaccinated fans wear masks outdoors.
Baltimore Ravens
The Baltimore Ravens require that fans wear approved face masks when indoors, regardless of vaccination status. They also require that face masks "adequately cover both nose and mouth and fit snugly at the sides of a face and secured under the chin."
New York Giants
The New York Giants recently announced that there will be no restrictions for fans entering the stadium. Face masks, negative tests, and proof of vaccinations are not required for entry.
Minnesota Vikings
The Minnesota Vikings do not require their fans entering their stadium to wear face masks or be vaccinated. However, they do recommend that fans do both anyway.
Cincinnati Bengals
According to the Cincinnati Bengals, fans will not be required to be vaccinated or wear face coverings — although they are recommended — to attend games this season.
Buffalo Bills
According to the Buffalo Bills, fans will need to have a minimum of one vaccination dose by Oct. 3 and must be fully vaccinated by Oct. 31. If you are 12 or under, you can enter without a vaccination. However, you will just have to wear a mask at all times. There are no exceptions to the vaccine requirement.
Jacksonville Jaguars
The Jacksonville Jaguars also recommends but does not require that their fans get vaccinated and wear face masks when in attendance.
Miami Dolphins
The Miami Dolphins have no requirements for fans entering the Hard Rock Stadium, but they recommend vaccinations and face coverings.
New Orleans Saints
The New Orleans Saints announced that fans 12 and older must show proof of at least one dose of a COVID-19 vaccine or provide a negative COVID-19 PCR test. Vaccination proof is required to enter, and face masks are also required for all guests at all times.
Los Angeles Chargers
The Chargers do not require guests to be vaccinated but require that fans — both vaccinated and unvaccinated — wear face masks.
Washington Football Team
The Washington Football Team requires face masks at all times when indoors — but not outdoors for vaccinated guests. Proof of vaccination not required.
Detroit Lions
The Detroit Lions do not require face masks or vaccinations to enter the stadium. Face masks are recommended.
Tennessee Titans
The Titans will not require proof of vaccination or face coverings to attend games this season.
Indianapolis Colts
The Colts announced that there will not be any health screenings or requirements. However, they recommend face masks for all attendees.
New York Jets
The New York Jets will not require fans to wear face masks or be vaccinated to attend games.
Houston Texans
The Texans only ask that all guests wear face masks, but no strict restrictions are in place to attend.
Atlanta Falcons
The Falcons announced that face coverings are mandatory for everyone at all times. Physical distancing is also required.
Dallas Cowboys
No proof is needed, but the Cowboys ask that all unvaccinated fans wear face masks when in attendance.
Pittsburgh Steelers
The Steelers only ask that unvaccinated guests wear masks at all times and vaccinated guests wear masks when indoors and out of their seats.
Of course, the COVID-19 situation is ever-evolving — and therefore, so are the guidelines. It's always best to check on each NFL stadium's website ahead of the game to see the most up-to-date information regarding masks, proof of vaccination, and proof of a negative test.
RELATED: Patrick Mahomes Says He's Fully Vaccinated in Order to Protect Daughter Sterling