Which Player Is Most Likely to Win the NFL's New Sportsmanship Award?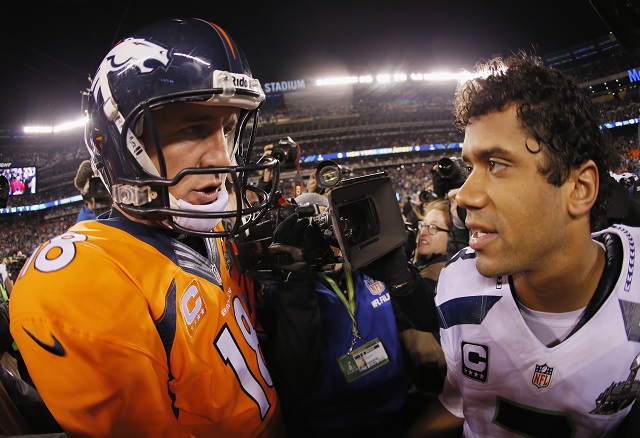 The NFL quietly created another award earlier this week, and now, alongside honors like MVP and other individual accolades there will now be the National Football League's Sportsmanship award, an annual acknowledgement of a player that "never hesitate[d] to show that excellence in football is not achieved without respect for the game, for their opponents, for the officials and for the fans," according to ESPN. If this sounds like the most convoluted way to keep some emphasis on positive public relations by giving Russell Wilson another award to you, then rest assured, you're not alone.
On paper, anyway, this does seem like Wilson's award to lose, and if the people in charge of handing these things out were, say, guys like Peter King, then you'd basically be correct in assuming that this was nothing more than the NFL's influence over a bunch of entrenched sportswriters afraid to lose their cred with the league, but instead it's voted on by players. So, there goes that angle. Here's how it works, as detailed in the ESPN story: Each team submits one player, a crew of former players culls that down to eight, then, with each conference getting four, the players vote on those eight finalists. In short, there's no way the 'wrong sort' of guys are going to be eligible when the finalists are picked — no one's going to see Ray Rice winning the sportsmanship award even if every NFL player thinks he's the best thing since sliced bread — but there isn't enough league meddling for it to really look like league meddling. Everybody wins.
OK, so, what do we know about these kind of awards (Comeback Player, MVP, so on and so forth)? How will we be able to whittle down which players are going to make the cut? What are the odds that it'll be someone you've never heard of that all the players love?
One thing we can file under a safe assumption: This player will probably be a quarterback. They're the most common heads of draft classes, they're the most likely to win MVP votes — long story short, if there's something to be won, the signal caller is there to win it. To keep riffing on the Seahawks for a second, Richard Sherman isn't going to get this award because the perception is he's kind of a jerk, you know? They're not giving the sportsmanship award to a guy that makes fun of Michael Crabtree (even though they totally should, because Richard Sherman is the best kind of sportsman explicitly because he's kind of a jerk). And they're not going to give it to a fine magnet like Colin Kaepernick because that would provide easy fodder for the cynics out there. Peyton Manning's already winning awards left right and center, so we have to assume there's some voter fatigue there. We already covered Wilson, but come on, this award exists to validate the marketing fodder that is his public persona.
The truth is, we can't really tell who's going to win this award, beyond the reasonable exclusions we've already outlined. This is going to go to a player that's never rocked the boat, that has enough of a reputation that guys on other teams are going to vote for him, and someone that's going to give a good speech while looking presentable in a suit. It's going to be whoever can do the best "Not Richie Incognito" impression, basically. Our money's on Luke Kuechly, the guy who's so friendly and personable and 'sportsmanlike' that even the NFL will admit that they've screwed up.