Which Players Named to the NBA's All Summer League Teams Are Ready to Contribute in the Regular Season?
Put a bow on the NBA summer league season. Led by rookie Davion Mitchell's defensive performance, the Sacramento Kings held the Boston Celtics to just 67 points in cruising to a 33-point win in the championship game. Mitchell and Brooklyn's Cam Thomas were named Summer League Co-MVPs, and both were named to the NBA's All-Summer League First Team.
The All-Summer League Second Team was announced as well. Both teams consist entirely of rookies and second-year players, so there's not a lot of actual NBA experience to go around. But which summer league all-stars are ready to play meaningful minutes for their teams during the regular season?
NBA's All-Summer League First Team
Mitchell and Thomas, along with rookies Jalen Johnson of the Atlanta Hawks and Trey Murphy III of the New Orleans Pelicans, were members of the summer league's first team. Joining them were second-year players Obi Toppin (New York Knicks), Jalen Smith (Phoenix Suns), and Payton Pritchard (Boston Celtics).
Mitchell didn't dominate the scoring column, averaging just 10.8 points per game in Las Vegas, but shot 47.1% from three and showed playmaking ability, totaling nearly six assists per game. It was his defense, however, that stood out in a league filled with shot chuckers. Mitchell forced Pritchard, who's already played NBA minutes with Boston, into as many turnovers (six) as points in the title game.
Thomas led the summer league in scoring at 27.0 points per game. Toppin broke out after a sub-par rookie season to average 21.0 points and 8.3 rebounds per game. Johnson was a pleasant surprise for Atlanta. Selected with the 20th overall pick in this year's draft, Johnson averaged 19.0 points and 9.5 rebounds on 57.4/41.7/81.8 shooting splits.
Murphy was drafted for his three-and-D potential and showed it, shooting 44% from deep and using his length to grab 1.8 steals per game. Smith barely saw the floor last year for Phoenix but showed up in Vegas, averaging a double-double with 16.3 points and 12.5 rebounds. He also shot a promising 35.7% from three.
NBA's All-Summer League Second Team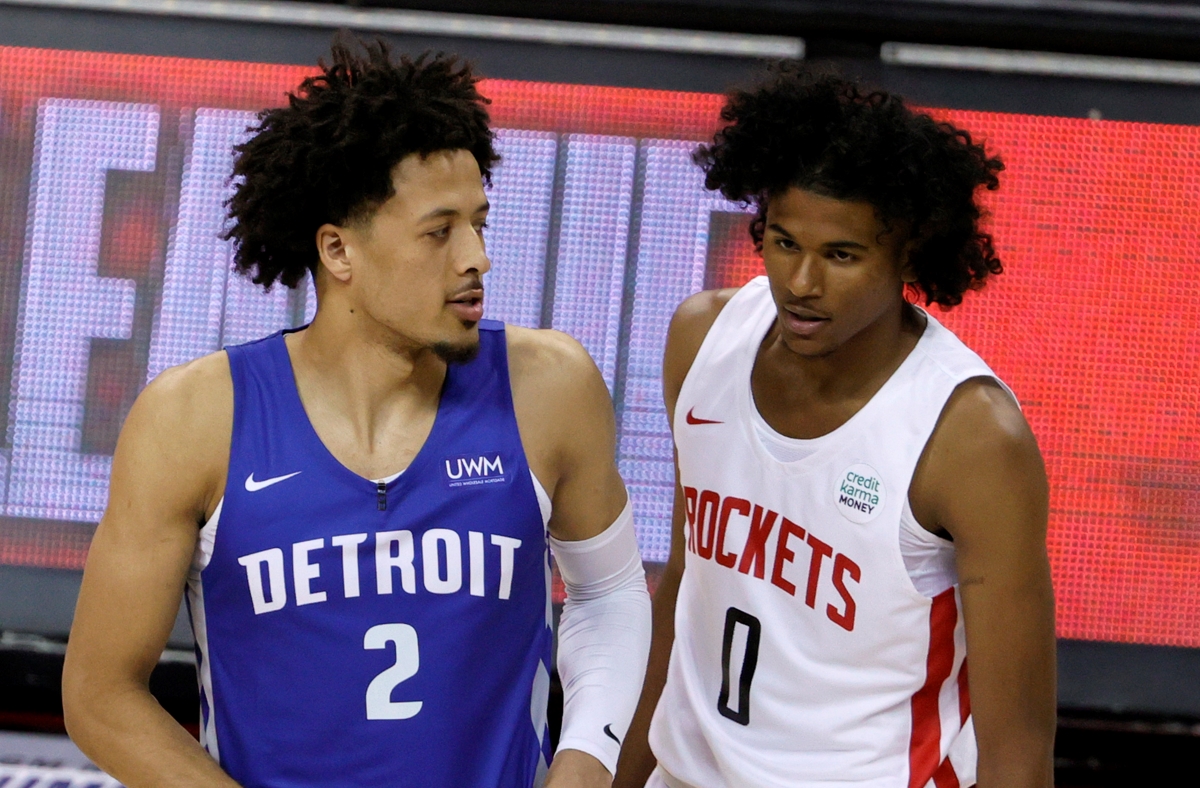 The first two picks in the 2021 NBA Draft — Detroit's Cade Cunningham and Houston's Jalen Green — led the summer league's second team. Joining Cunningham and Green were Philadelphia's Paul Reed, Chicago's Patrick Williams, and Cunningham's teammate Luka Garza.
Cunningham and Green showed why they were selected at the top of last year's draft. The No. 1 overall pick was the most consistent rookie in Vegas, averaging 18.7 points and 5.7 assists per game on 50% shooting from behind the arc. Green was held out of the final game due to injury but showed his burst, athleticism, and pure offensive talent. The G League product averaged 24.1 points per game on 51.4/52.6/92.9 splits.
Williams should have dominated summer league after playing a significant role for the Bulls his rookie season and he did. The sophomore averaged 21.0 points and 9.7 rebounds. Reed was perhaps the biggest surprise in Vegas as the 6-foot-9 forward averaged a double-double to go along with 2.6 steals and 2.2 blocks per game.
Garza was a dominant offensive player in college at Iowa, but there were questions about his game translating to the NBA due to his lack of athleticism. At least in summer league, though, his skill level showed out to the tune of 15.0 points per game. He also showed the range he'll need to stick in the league, hitting 40.0% of his 4.0 three-point attempts per game.
Which summer league all-stars are ready to contribute in 2021?
Cunningham and Green are givens as both rookies will start and play significant roles for their respective teams. Williams will be key for Chicago again. Pritchard will be in the Celtics' rotation. But the Pelicans need Murphy to contribute on the wing, even as a possible starter, alongside Zion Williamson. If Toppin can carry his summer league production into the regular season, he gives New York — a legitimate Eastern Conference contender — offensive firepower it didn't have last season. Phoenix lost in the NBA finals in part because they had no backup to Deandre Ayton. The Suns desperately need their 2019 top-10 pick to play well this year.
Summer league always needs to be taken with a grain of salt because of the level of competition and style of play. But players who show out in their first or second preseasons and can carry their summer league production over to the regular season can be huge boosts to their respective franchises.
All stats courtesy of NBA.com.