Which Professional American Sports Can You Play Till You're Gray?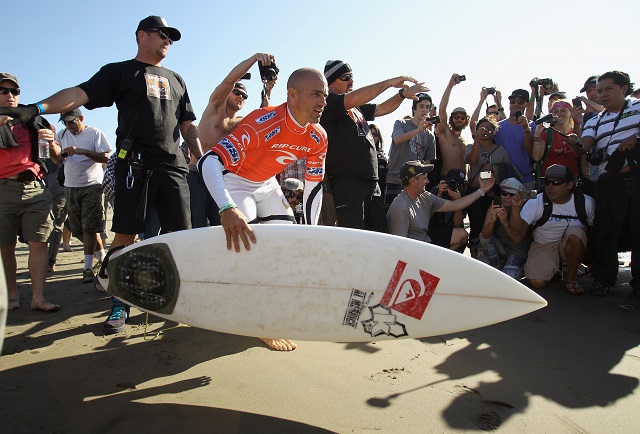 Earlier this week, Kelly Slater — who is something like the Michael Jordan and Vince Lombardi of surfing — managed to beat out a bevy of fellow surfers in the second round of the Hurley Pro at Trestles, and if this is starting to sound utterly foreign to you, Trestles is a beach, the Hurley Pro is a competition, and Kelly Slater is a 42-year-old man beating out guys who weren't alive when he first turned pro in 1990. In the specific, this isn't that surprising, because Slater's the winningest surfer of all time, but outside of action sports, there's an understanding that athletics are a young person's game, and that Father Time is inescapable.
To a degree, that's true — everyone's got to retire from the highest level of pro competition sometime after all, and as the popular saying goes, no one beats Father Time, but that line comes at a different time for each sport. In tennis, Venus Williams is 'practically ancient' at 34 (she's older than Roger 'nearly fossilized' Federer), an age that wouldn't even raise an eyebrow in golf. Speaking of golf, we've included it, but with a caveat or two. Don't worry, we'll get it it.
So, without further adieu, here are the seminal American sports, ranked by the age of their oldest active pros. Ages were gathered from their respective Sports Reference databases when available, and cited elsewhere in other instances.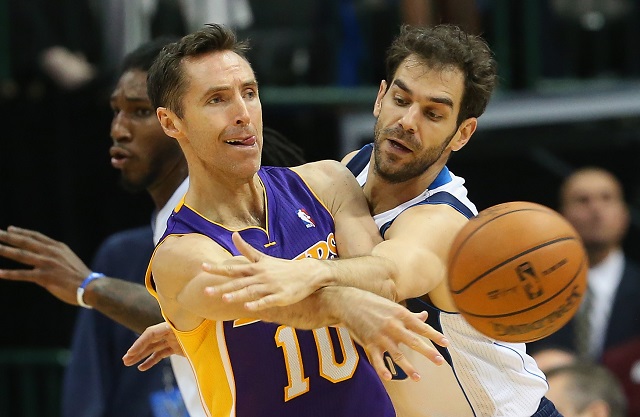 6. NBA: Steve Nash, 39 Years Old

You could, maybe, debate the active status of Steve Nash, since he's been largely seen in a suit and tie since leaving the Phoenix Suns (and their incredible medical staff) for Los Angeles, but he's under contract for one more season with the Lakers and he's going to try as hard as he can to actually play it out, at least according to a Grantland webseries on his pending retirement that aired earlier this year. If Nash doesn't fit your criteria, the next player behind him is shooting guard Ray Allen, whose obsession with fitness is legendary among basketball afficionados.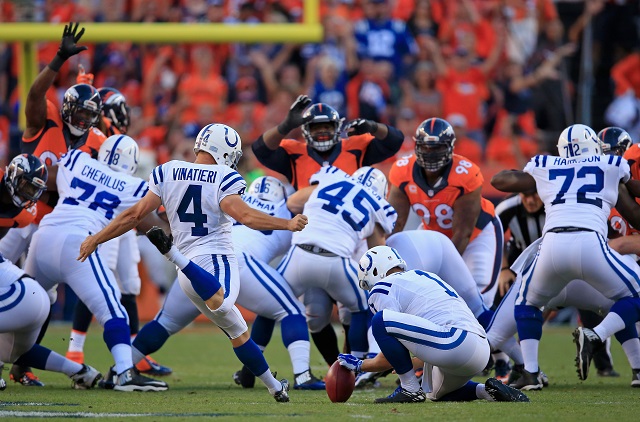 5. NFL: Adam Vinatieri, 41 Years Old
Well, okay, there's some room for jokes about whether or not kickers are 'really' football players (spoiler alert: they are), and you'd have to drop all the way down to Matt Hasselbeck, age 38, to find the oldest NFL player that isn't one, and besides all that, kickers are real honest to goodness football players anyway, so Vinatieri, now in his 19th season, counts.
More impressively, perhaps, is the fact that he's missed so few games over the course of his career. With the exception of 2009 when he had his knee scoped, Vinatieri has missed no more than 3 games a season for his entire NFL tenure. That's impressive, considering the toll that football takes on the body — yes, even on kickers.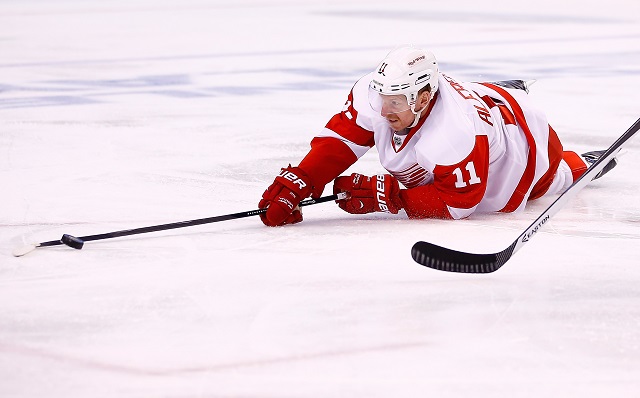 4. NHL: Daniel Alfredsson, 41 Years Old
Just two weeks older than Vinatieri, Alfredsson is still on an NHL roster, despite the fact that the team isn't banking on him actually making it to training camp this year as he recovers from what has become a chronic back injury. Of note: had Teemu Selänne just held on for another NHL season, ice hocky would have vaulted up this ranking. Unfortunately, Selänne left the league after last season.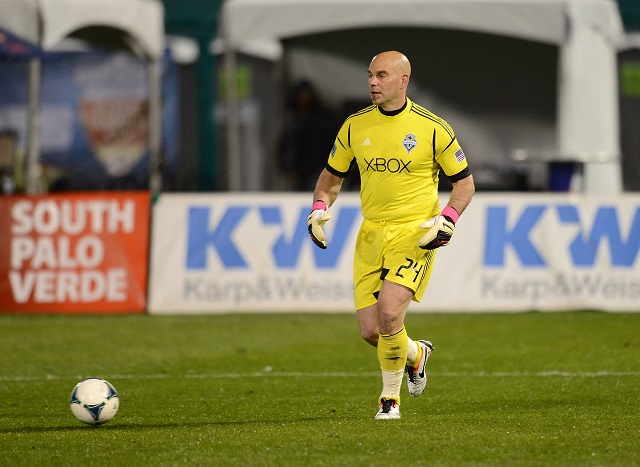 3. MLS: Marcus Hahnemann, 42 Years Old

This is not the place to make an impassioned statement one way or another about the 'realness' of soccer as an American sport — it's spot in the pantheon, and/or whether the increased World Cup viewership really indicates the fall of civilization as we know it. Instead, this is to acknowledge that the keeper for the Seattle Sounders, Marcus Hahnemann, is a particularly wizened fellow (and a Seattle native). After starting his career with the Sounders — before the MLS existed, in fact — Hahnemann's talents took him abroad before returning to MLS in 2012.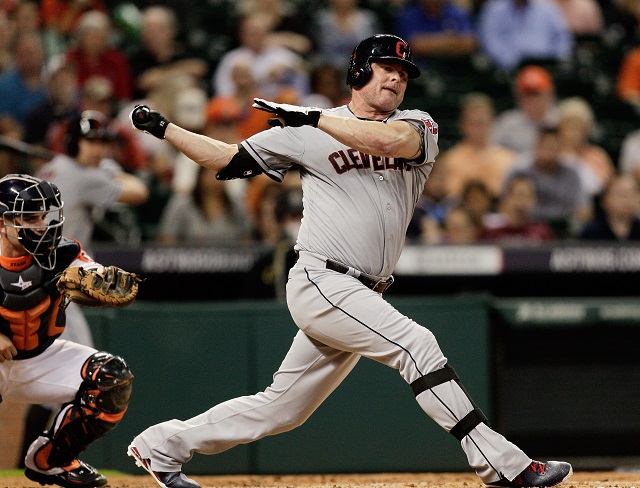 2. MLB: Jason Giambi, 43 Years Old

Baseball was, probably, one of the first candidates for top honors when you first considered this list, and it's worth pointing out that the MLB does have the biggest roster of 40-year-olds that are still active professionals — by the numbers, baseball is where you want to be, assuming where you want to be is still playing professionally as what would be considered in any other sport an old man. It's worth noting that Giambi was still a force for good last year with the Indians, although he's struggled this year.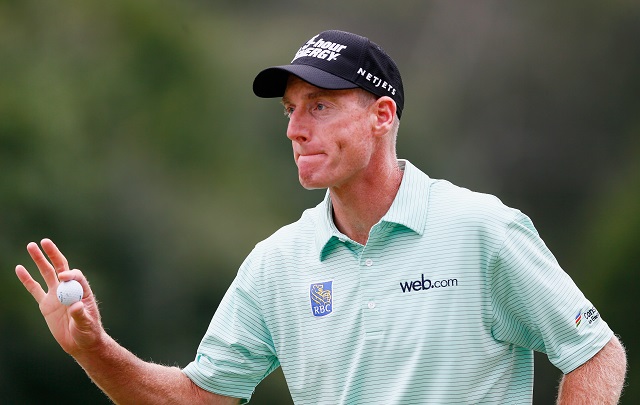 1. Golf: Jim Furyk, 44 Years Old

So, about golf, which is near synonymous with "older participation in a sport." You could argue that golf isn't a 'real' sport, but that's sort of missing the point, since there's a level of physical athleticism required to participate, and also because there's an entire industry of people who make their living by playing it, being involved in it, and promoting it. That said, we narrowed our list down to PGA participants that weren't playing in the Senior PGA Tournaments, and then narrowed it further by keeping our results to players who had earned over 500 cup points and finished in the top 10 of a tournament at least three times in 2014. Under those auspices, 44-year-old Jim Furyk came out on top as the eldest.