Which Schools Have Produced the Most Current NFL Quarterbacks?
As of September 24, there are seventy-nine active quarterbacks on NFL rosters, according to the teams' official websites. They represent sixty different schools of various sizes and football traditions — everywhere from Harvard to Alabama State to Notre Dame to West Texas A&M to Oklahoma to Sam Houston State.
Of these sixty programs, thirteen of them can boast the notable feat of having two current quarterbacks on active NFL rosters. They include five SEC schools (Auburn, Georgia, LSU, Missouri, Texas A&M), three each from the Big Ten (Michigan, Purdue, Wisconsin) and ACC (Boston College, Florida State, North Carolina State), one from the Pac-12 (Oregon State), and…Eastern Illinois.
That's right, Eastern Illinois. The Panthers (admit it — how many of you even knew the EIU mascot before today?) are represented in the NFL by Cowboys starter Tony Romo and Patriots backup Jimmy Garoppolo. Not bad at all for a school with an enrollment of less than 10,000 students.
So which universities have sent the most current NFL quarterbacks to the league? Three different programs have a trio of alums on active rosters right now — how many of the schools can you name without looking ahead? We begin our list with…
1. Michigan State
The Michigan State Spartans have built quite the quarterback tradition recently. Signal-callers Drew Stanton (2003-2006 seasons), Brian Hoyer (2005-2008), and Kirk Cousins (2008-2011) all started games on Sunday in the NFL, playing for Arizona, Cleveland, and Washington, respectively. Throw in Eagles starting QB Nick Foles, who began his college career in East Lansing before transferring to Arizona, and it's clear that there aren't many breeding grounds for NFL quarterbacks quite like Mark Dantonio's program.
2. USC
According to NFL.com, eleven different Trojan quarterbacks have been drafted in the last twenty-five years, most of any school in the nation. Three former USC standouts are in the league now, led by veteran Cardinals QB Carson Palmer (1998-2002). That group also includes Mark Sanchez (2006-2008) and Matt Barkley (2009-2012), who are both members of the Philadelphia Eagles. Palmer, Sanchez, and Barkley combined to throw for over 28,000 yards during their college days in Southern California.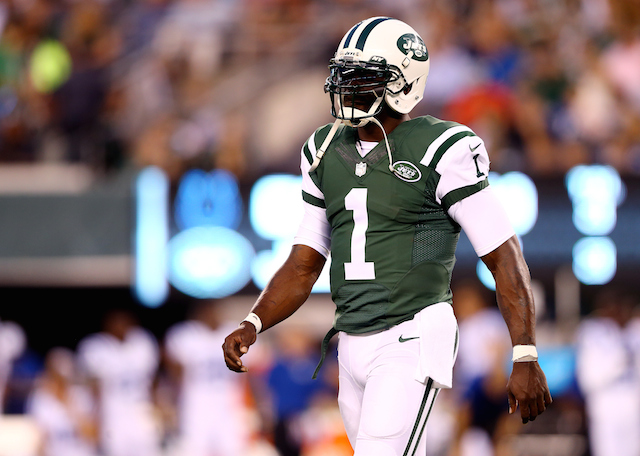 3. Virginia Tech
The final entry in the three-NFL-quarterback club might be a bit more surprising — it's the Virginia Tech Hokies. While Tyrod Taylor and newcomer Logan Thomas have a combined zero career starts in the league, they're at least earning NFL paychecks. Taylor played quarterback for coach Frank Beamer in Blacksburg from 2007-2010, with Thomas succeeding him at the position (2010-2013). The elder statesman of Virginia Tech's QB class is Michael Vick, who played for the Hokies in 1999 and 2000. (To put Vick's longevity into perspective: When he led Tech to the national title game in January 2000, Thomas was just 8 years old.)