Which Teams Are the Best Potential Trade Destinations for DeAndre Hopkins?
What is possibly the most surprising news of the NFL offseason so far – no, Tom Brady hasn't picked a team yet – is that DeAndre Hopkins could be on the move. Peter King wrote in Football Morning in America that two teams told him over the weekend to watch Hopkins and the Houston Texans. King wrote that the Texans don't have a top-50 pick for 2020 or 2021, so they could be looking for some picks in return. Hopkins, who is currently only 27 years old, is one of the top receivers in the game as he has had 96 or more receptions and 1,100 receiving yards or more each of the last three seasons. Here are teams who could be the best possible trade destinations for him, and possibly the best trade partners for the Texans.
Indianapolis Colts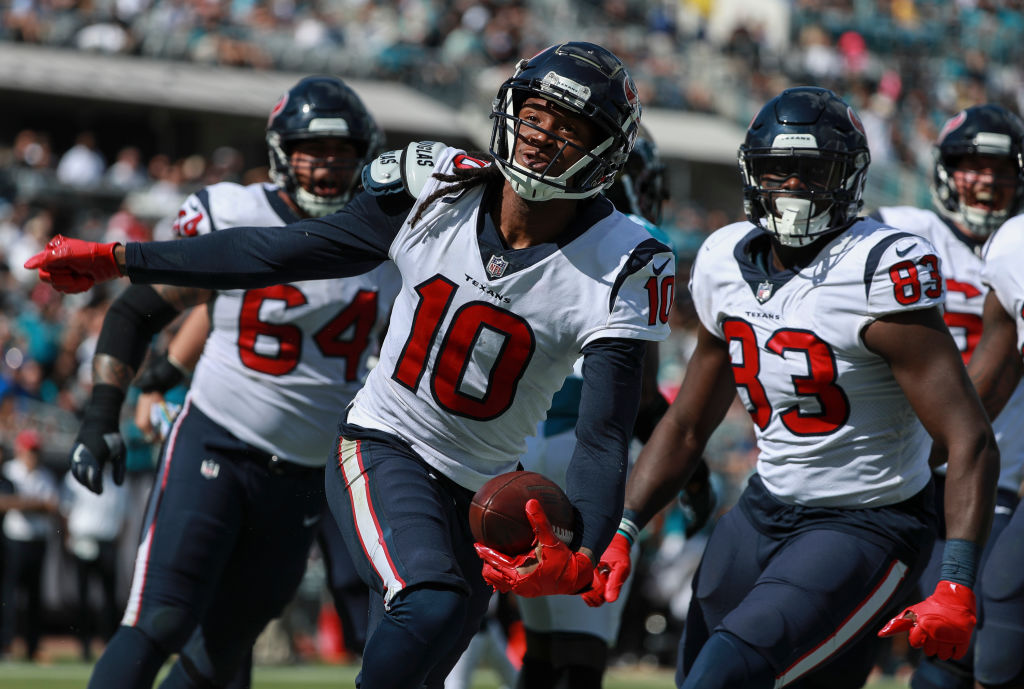 The Colts have a lot of cap space so they can certainly take on Hopkins' salary. Entering Sunday, the Colts had the second-most cap space in the league at $85.3 million, according to CBS Sports. That was before they re-signed left tackle Anthony Castonzo to a two-year deal worth $33 million on Sunday, though, locking up their offensive line for next season. The Colts definitely need help at receiver. They have four-time Pro Bowl receiver T.Y. Hilton, but he was sidelined with injuries for much of last season and after him, they have a lot of unproven guys.
No, as of right now this maybe isn't a great spot for Hopkins since Jacoby Brissett is currently their quarterback. However, pairing him with a pocket passer like Phillip Rivers could be dangerous. Hopkins could also start building chemistry with a young quarterback if the Colts draft one.
For the Texans, the Colts have three top 50 picks they could trade them. However, they will probably want to keep at least one to draft the quarterback of their future. The Texans ultimately might not want to trade Hopkins to an AFC South rival, though.
New England Patriots
If the Patriots want to bring back Tom Brady, they are going to need to get him more weapons. Last season, everyone saw Brady only have Julian Edelman to throw to and while he is a great slot receiver, he's not a guy that can take the top off of a defense. Brady has not had a receiver like Hopkins since maybe Randy Moss and the Patriots went 18-1 during their first season together, reaching the Super Bowl.
Salary cap wise, the Patriots have a little money to spend as they have a little under $40 million in cap space, according to Bleacher Report. Additionally, New England has a top-50 pick this year as they sit at No. 23 overall. If they can get a deal done, and bring Brady back, then the Brady-Hopkins connection would be a cheat code.
Philadelphia Eagles
This could be a fun team to see Hopkins on as the Eagles have one of the most talented young quarterbacks in the league in Carson Wentz. He, however, did not have one receiver who had over 500 receiving yards last year as tight end Zach Ertz was probably his only reliable target.
The Eagles have a little over $40 million in cap space, according to Bleacher Report, and they have the No. 21 overall pick that they could trade to the Texans. Even without reliable receivers, Wentz still threw for over 4,000 yards last year and 27 touchdowns. Those numbers would increase drastically if he had a receiver like DeAndre Hopkins.
San Francisco 49ers
The 49ers just went to the Super Bowl last season. If they added Hopkins it would just not be fair. They have a decent quarterback in Jimmy Garoppolo and a nice young receiver in Deebo Samuel, but adding Hopkins would take their offense to a new level. The 49ers only had one player who had over 1,000 receiving yards last season and that was tight end George Kittle.
The problem is, the 49ers would probably have to figure something out cap space wise. They only have a little under $13 million in cap space, according to Bleacher Report. They do have the No. 31 overall pick, though, which the Texans could want. If the 49ers can add Hopkins to their offense to go alongside Kittle, Garoppolo would easily be a Pro Bowl quarterback and the 49ers would have one of the most explosive offenses in the league.
It might just be a rumor that DeAndre Hopkins could be traded. It would certainly change the landscape of the NFL if it did happen, though. If the Texans are open to trading him, they should look at the Colts, Patriots, Eagles, and 49ers.