While the Nets and Sixers Solve Their Ben Simmons and James Harden Issues, the Milwaukee Bucks Are Quietly Making Moves Toward a Second Straight Championship
The Milwaukee Bucks won their first NBA Championship in 50 years last season behind their core of Giannis Antetokounmpo, Khris Middleton, and Jrue Holiday. But just one MVP and a couple of All-Stars don't make a roster and don't win a title by themselves.
Bobby Portis became a cult favorite in Milwaukee because of his contributions down the stretch last year. PJ Tucker was brought in around the 2021 trade deadline and was a consistent starter during the Bucks' postseason run. Pat Connaughton and Brook Lopez were crucial to the franchise's first championship in half a century.
While the NBA world awaits Ben Simmons' debut with the Brooklyn Nets and James Harden's with the Philadelphia 76ers, Milwaukee is quietly going about its business once again and making under-the-radar moves to set itself up to win back-to-back titles.
The Bucks are one of the teams in a heap atop the East
Prior to a Feb. 17 matchup against the 76ers, Milwaukee is 36-23 and in third place in the Eastern Conference standings. The Bucks are two games back of the first-place Chicago Bulls and trail the Miami Heat by just a half-game.
But the top of the East is a jumbled mess. Chicago and Miami have reigned supreme in recent weeks, but there are eight teams within 6.5 games of the No. 1 seed, and that eighth team is Brooklyn, which awaits the return of Kevin Durant and the debut of Simmons.
When healthy, though, the Bucks have proven to be one of the NBA's best teams again in 2021-22. When healthy.
Pat Connaughton leads the team in games played — and just had surgery on his right hand. Starting center Brook Lopez played in the first game of the year and has been out since after back surgery.
Giannis has missed 11 games, Khris 12, and Jrue 13.
Still, Milwaukee is sixth in the league in scoring and third in rebounding, and Antetokounmpo leads the NBA in scoring. The team is 23-6 when he, Middleton, and Holiday play together.
But just in case, general manager Jon Horst has begun to add reinforcements in anticipation of a long playoff run.
The Milwaukee Bucks have already made moves to bolster their roster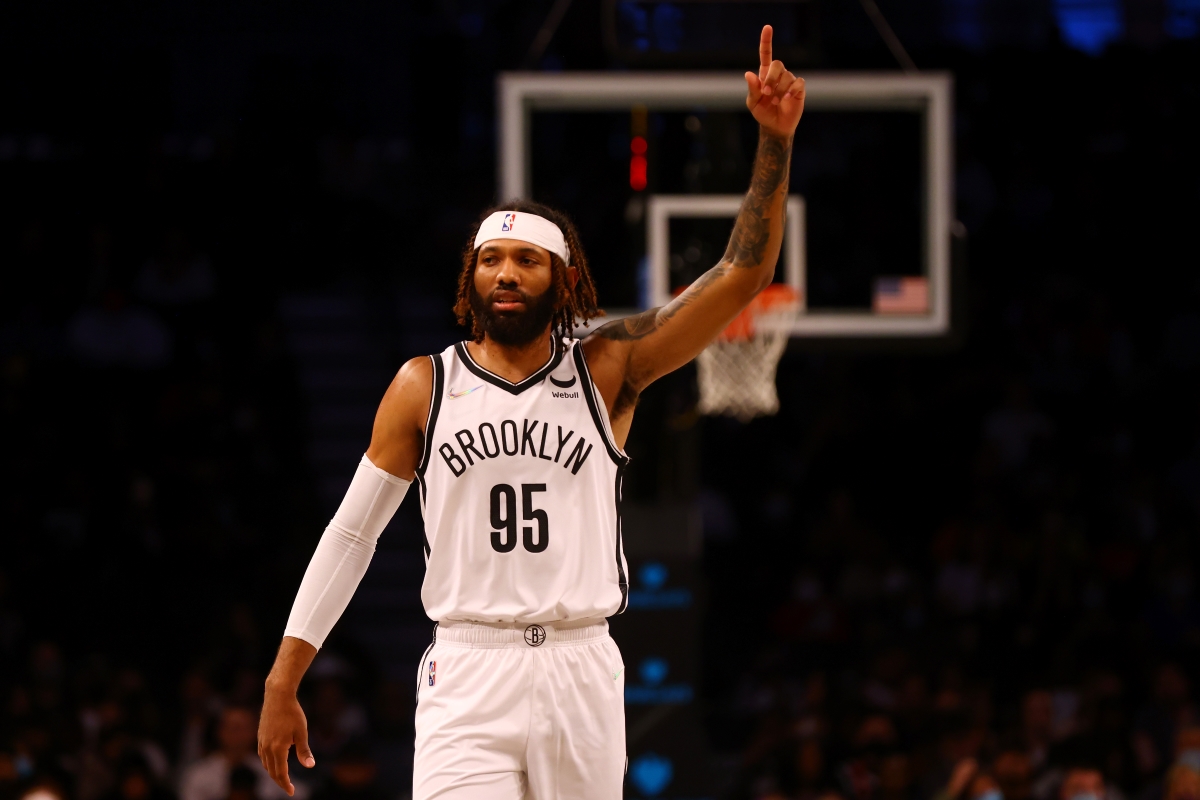 Horst swung a deadline-day deal for veteran big man Serge Ibaka as part of a four-team trade that sent Donte DiVincenzo to the Sacramento Kings (poor Donte).
In just about the smallest of small sample sizes, Serge has played twice since arriving in Milwaukee. He's averaging 7.5 points, 6.0 rebounds, and 0.5 blocks in 27.6 minutes over those two appearances and has hit one of his two three-point attempts.
That's all head coach Mike Budenholzer needs from Ibaka, though. The Bucks need another big in their rotation — whether Lopez returns or not — who can play defense and hit open threes.
Milwaukee also became the beneficiary of the Harden-Simmons deal as Brooklyn waived DeAndre' Bembry to complete their trade with the Sixers. Horst pounced and signed Bembry, according to ESPN's Adrian Wojnarowski. The 27-year-old will provide needed wing depth, especially during Connaughton's absence.
With DiVincenzo gone and Planet Pat out of the lineup, the Bucks' minutes behind Grayson Allen and Middleton have been soaked up by Jordan Nwora and Wesley Matthews. And even when Connaughton does return, Bembry has proven to be a reliable contributor during his career.
The 6-foot-5 fifth-year pro started 20 of 48 games with the Nets this season, averaging 5.8 points and 3.2 rebounds on 41.7% shooting from three and 56.8% shooting from the floor in 19.8 minutes.
The St. Joe's product hasn't ever been a high-usage player but has always found a way to fill a role. Bembry has career averages of 19.4 minutes and only 5.2 shot attempts but can play minutes at the 2 or the 3, which Milwaukee sorely needs.
Horst might not be done adding to his Milwaukee Bucks roster, either.
There are still two open roster spots to fill
Along with sending Donte to the Kings, the Bucks GM traded Rodney Hood and Semi Ojeleye to the Los Angeles Clippers in the Ibaka trade. He's kept a roster spot open all season, so even with the Bembry signing Milwaukee still has the capacity to add two more players.
The chance to win a championship puts the team in contention to land perhaps the biggest difference-maker on the buyout market in point guard Goran Dragic, according to Wojnarowski.
If the Bucks can land the 35-year-old, they would fill their three most significant roster holes: Ibaka provides depth up front, Bembry on the wing, and Dragic would be a considerable upgrade behind Holiday.
George Hill has played that role so far this year, but has played it poorly.
While the NBA world chooses to focus on the big names, the Milwaukee Bucks continue to go about their roster business quietly. But a deep postseason run and back-to-back NBA titles would make everyone take notice of the small-market franchise. Again.
All statistics courtesy of Basketball-Reference.
RELATED: Milwaukee Bucks Trade: Serge Ibaka Just Provided the Defending Champions a Massive Boost in Their Title Defense