While the NFL has Problems With Coaching Hires, the NBA Is to Be Commended for its Diversity Among Head Coaches and GMs
Leave it to that sage philosopher, Sir Charles Barkley, to bring some much-needed context to current and sports world events.
"Did you know that we've got a better chance of getting a black woman on the Supreme Court than we do of having a black NFL coach right now?" Barkley philosophized on Thursday's TNT Inside the NBA broadcast. "Never thought you'd hear that, right?"
While the NFL has plenty of woes with its awful track record of hiring African-American individuals for head coaching and front-office positions, the NBA is thriving with its racial diversity efforts. It's such a non-factor in the NBA that the issue often goes unsaid and unnoticed — even by Sir Charles Barkley.
In the NBA, diversity is a badge of honor among coaches and front-office leaders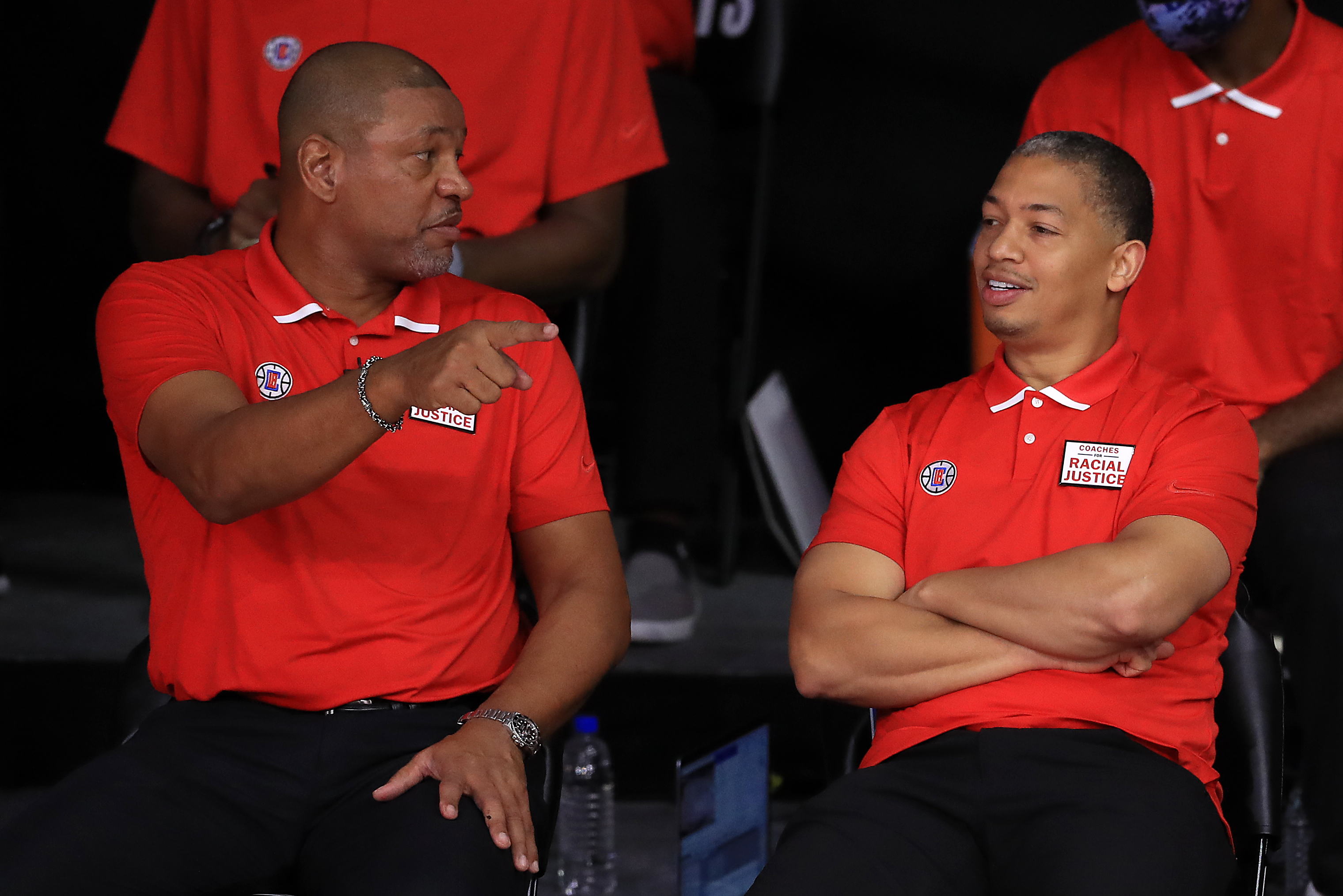 The NFL had come under fire in recent weeks when the Miami Dolphins fired Brian Flores, and the Houston Texans axed David Culley. That left Pittsburgh Steelers coach Mike Tomlin as the only African-American head coach in the 32-team NFL. 
This week, Flores filed a class-action lawsuit against the NFL and three franchises, claiming that their hiring practices are racially biased. Flores made those claims after accusing Dolphins' owner Stephen Ross of two illegal schemes and accusing the New York Giants and Denver Broncos of interviewing him only to satisfy the league's "Rooney Rule." Flores even produced text messages from Bill Belichick that indicated that the Giants had already chosen Brian Daboll as their head coach even though Flores had yet to interview for the position.
Now, to put all of those struggles in context, look at the NBA's reccent history of hiring practices. Of the eight coaching vacancies filled last summer, seven were by African-American candidates. While there is just one African-American coach in the 32-team NFL, 14 African-Americans and 16 total minorities are running squads from the sidelines in the 30-team NBA.
"I'm really just kind of so proud of our league, to be honest with you," Portland's Chauncey Billups, one of the seven African-American coaches hired last summer, said to ESPN. "I think we're light years ahead of where any other league is. I'm really proud of it, and I think a lot of it has to do with our players and our union. They've been pretty aggressive about what needs to happen."
The NBA's diversity is also evident among teams' high-level management positions
One of the biggest reasons the NBA has done so well in diversifying its head-coaching ranks is its progress in front offices. There are now eight African-Americans holding positions as lofty as President of Basketball Operations or General Manager.
That number swelled upon the recent hirings of Marc Eversley by the Chicago Bulls and Troy Weaver by the Detroit Pistons. In the wake of a social injustice movement across the country, those hirings might appear to the casual observer as strategic or simply quota filling.
However, upon closer inspection, hard-core basketball fans will see that Eversley and Weaver had long been overdue to have teams to run. Eversley, who holds the highest position in the history of the Bulls franchise for an African-American, has put together one of the league's deepest and most balanced rosters. As for Weaver, he nailed his first free-agent signing two years ago (Jerami Grant), and he hit a home run with last summer's top overall pick (Cade Cunningham).
African-American coaches and GMs represent six NBA teams in both positions. East squads Cleveland (JB Bickerstaff/Koby Altman), Detroit (Dwane Casey/Weaver), and Philadelphia (Doc Rivers/Elton Brand) have double representation. In the Western Conference, Houston (Stephen Silas/Rafael Stone), New Orleans (Willie Green/Trajan Langdon), and Phoenix (Monty Williams/James Jones) have African-American leadership at the coach and GM positions. Of that group, Phoenix has been the league's best team, Cleveland has been the NBA's biggest surprise, and Philadelphia has gotten the most out of its superstar player.
"With the versatility and variety of what it looks like throughout different organizations, I commend the NBA," ESPN analyst Mark Jackson said on a recent broadcast. "And I challenge the NFL. Can we please get some more brothers on the wall?"
Chauncey Billups is happy the NBA doesn't need a "Rooney Rule" for its coaching hires
Chauncey Billups, a champion as a player in 2004, landed his first head coaching job this past summer when the Portland Trail Blazers hired him. Despite losing superstar guard Damian Lillard for most of the season and standout guard CJ McCollum for six weeks, Billups has kept Portland within striking distance of the playoffs.
Billups said that it would be insulting to a coach to interview for a job just so that franchise could check a quota box.
"It probably sounds crazy, but I'm not really a big fan of the Rooney Rule," Billups told ESPN. "I think they're just making you interview a black candidate, but if that black candidate don't really have a chance, don't interview him.
"So, I think it just gives you a check-the-box in the situation, and I don't think that's fair," Billups added. "But for some reason, they thought that that rule was going to be the great equalizer, and it's not. So, I'm not crazy about that rule and a couple of other things in the NFL, but I'm blessed to be in the NBA."
Again, leave it to Sir Charles Barkley to point out the monumental differences in hiring practices for head coaches between the Lilly-white NFL and the more culturally diversified NBA.
"I never thought I'd say that — we're gonna have a black Supreme Court (judge) before we have a black NFL coach," Barkley said sarcastically. "What a great county we live in."
Statistics are courtesy of ESPN.com. 
RELATED: Portland Trail Blazers coach Chauncey Billups Loves His New Job and Loves How His Team Is Growing