'Whispers' Regarding Klay Thompson's Outlook Should Only Increase Hype Surrounding the Warriors as NBA Title Contenders: 'Klay Is Going to Be BACK Back'
Klay Thompson remains out as he keeps rehabbing from an Achilles injury suffered last fall, but the anticipation surrounding his return continues to build. That, in turn, is likely to feed into the hype of the Golden State Warriors as NBA title contenders.
The Dubs opened the season 9-1 ahead of a Nov. 10 matchup with the Minnesota Timberwolves, the best record in the NBA. Stephen Curry has picked up right where he left off last season, making history and performing at an MVP level for a Golden State squad that very much resembles the championship Warriors teams of old.
Although Golden State is exhibiting caution with respect to Thompson's health, he is already making waves. Given how the Warriors fared without him on the court thus far, Klay's eventual return will likely inspire unmitigated excitement from Dubs fans.
"Whispers" around the NBA suggest Klay Thompson looks as good as ever
Klay Thompson offered Warriors fans numerous glimpses into his recovery in recent weeks. He even dressed in full uniform during a pregame workout. But he's also generating buzz behind the scenes.
On the Nov. 9 edition of ESPN's NBA Today, Brian Windhorst reported that "whispers" in league circles indicate Thompson looks terrific in his recovery. League personnel expects Klay to look like the All-NBA-caliber player of old.
"The whispers around the league right now about Klay Thompson … they say he looks good. … There is a real confidence in there that, especially by the end of the season, that Klay is going to be BACK back."

–ESPN NBA Insider Brian Windhorst on Klay Thompson
It's one thing for the Warriors to express optimism regarding Thompson's return to the floor. But it's another thing entirely for other scouts and executives to validate Klay's body of work in the rehab process.
Granted, Thompson will undoubtedly go through an adjustment period. Acclimating to game speed can pose a challenge. Still, if he resembles the Klay of old, the Dubs get a true second star capable of helping them to realize championship aspirations.
Thompson's ability to get back to full strength makes the Warriors true NBA championship contenders
Most basketball fans probably acknowledge Klay Thompson as a big name, but the fact he has not played for the Warriors in over two years might necessitate some reminders as to just how good Thompson is when healthy.
The 31-year-old is one of the best shooters in NBA history and an elite catch-and-shoot threat who works off screens and forces defenders to chase while also having the confidence to pull up in transition. He can score off the bounce and operate in pick-and-roll. Not to mention, his playoff heroics resulted in the nickname "Game 6 Klay," though Charles Barkley tried to give Thompson a far less suitable moniker.
Thompson is also an elite defender. Klay guards multiple positions and almost always took on the most difficult assignment for the Dubs. He made All-Defensive Second Team during his last healthy season in 2018-19.
The shooting ability and defensive skills made Thompson a lynchpin of the Warriors dynasty in past years. He figures to have a similar impact on this team if he is indeed "BACK."
Golden State is being lifted by improvements from the likes of Jordan Poole. The Warriors have more depth, with guys like Gary Payton II making plays off the bench. Add a healthy Thompson — and a more mature James Wiseman — to the mix, and the Dubs look as strong as any team in the Western Conference.
When will Klay Thompson return from injury?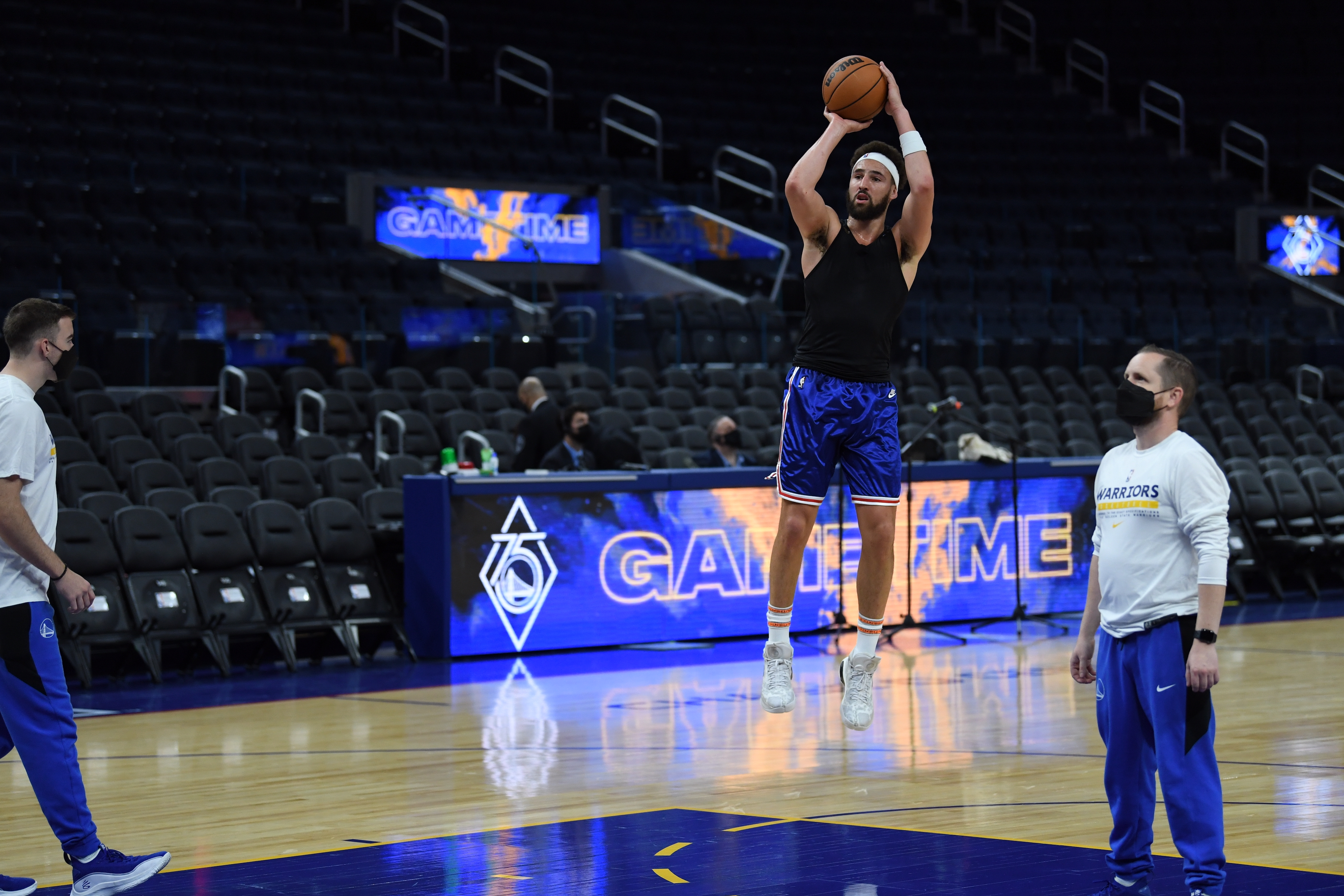 The Warriors have yet to establish a firm timetable for Klay Thompson's return. However, they've established some target dates.
Thompson is already playing 3-on-3, and Shams Charania reported last month that Thompson could be cleared for full practice in the very near future. Charania noted the return to practice would not change the timetable, with Thompson expected to return around Christmas or shortly thereafter.
In any event, Thompson still appears to be at least a month away. Warriors fans can only dream of what the team might look like with Klay in the rotation as Golden State sits atop the Western Conference standings.