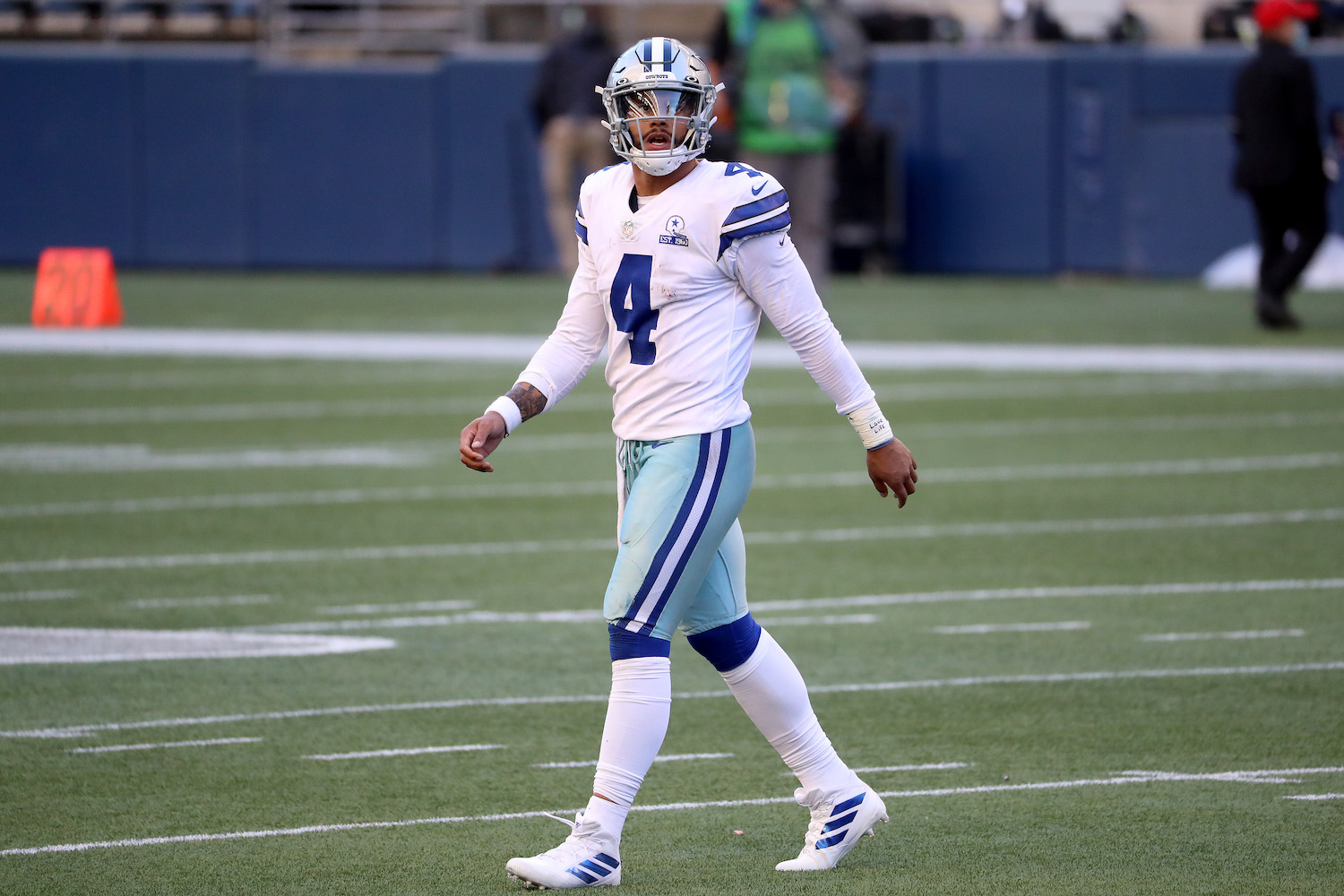 Who Are Dak Prescott's Parents?
Despite being one of the most recognized names in sports, Dak Prescott's family is relatively anonymous. Who are Dak Prescott's parents?
Dak Prescott is one of the most recognized names in sports as the quarterback for the Dallas Cowboys, yet his family has remained relatively anonymous in his five seasons in Dallas. That tragically changed earlier this year when one of Prescott's brothers died by suicide.  
Dak Prescott's parents are rarely mentioned and never shown on television up in the stands celebrating their son throwing one of his many touchdown passes. There's a reason. Who are Dak Prescott's parents?
Dak Prescott's mother tragically died from cancer
In 2013, Dak Prescott introduced himself to the SEC as the starting quarterback for the Mississippi State Bulldogs. That season, Prescott posted impressive numbers both through the air and with his legs. He finished the year throwing for 1,940 yards and 10 touchdowns while also running for 829 yards and 13 touchdowns.
Behind the big numbers, celebrations, and what would become that trademark-Prescott smile, he was hurting. His mother, Peggy, who raised him and his two brothers and he was very close with, was dying from cancer. In October, during the heart of the conference schedule, she took a turn for the worse. She died on November 4.  
"When you lose your mom, it's not that easy," Prescott told Fox Sports in 2018. "That's something you've got to wake up every day, looking yourself in the face and knowing that you've got an angel. You've got an angel that has expectations for you to do and you've got to go out there and do them each and every day."
Dak Prescott's parents divorced, but he remains close with father today
Peggy Prescott's story is the one that most often gets told because of its tragic ending and the fact that it happened when Prescott first appeared on the national stage. But his father Nathaniel, or "Nat," has been there for Dak his entire life. 
Nat has just maintained a lower profile since he and Peggy divorced when the boys were young. Although their marriage ended, the two remained close friends. But he's heard the whispers through the years by some that he's an absentee father. He knows the truth. And so does Dak.  
"Me and my dad have always had a tight relationship, different from my brothers, I guess," Dak Prescott told the Fort Worth Star-Telegram in 2017. "But we all have our own individual relationships. He has always been there for me."
Dak's father, who played defensive end and linebacker at Grambling State, lived in Austin during Prescott's final year in Starkville. Now he lives in Frisco, just a few minutes away from his son. 
Prescott's brother dies by suicide 
In April, Dak Prescott endured the sobering loss of his 31-year-old brother Jace unexpectedly. Jace was an offensive lineman at Northwestern State in Louisiana and played until 2010. Several years later, at just 25 years old, Jace was one of Peggy's primary caregivers while she battled cancer.
Prescott said on the Graham Bensinger show, watching their mother die took an emotional toll on all of them, but especially Jace. "You can't even put into words the burden. It's something only Jace knew. And he didn't necessarily share that. Jace never was really much of a talker. When something like that was a huge burden on him, he didn't know how to share it — didn't know how to be vulnerable about it."
Jace's death shocked Dak and his family. To Dak's credit, since his brother's death, he has publicly shared his own struggles with anxiety and depression that he experienced during the pandemic. His openness in talking about mental health issues has been praised by many for talking about a sensitive subject that is often dismissed because of its stigma.
Prescott's talents on the football field clearly show he's one of the best quarterbacks in the NFL. But more important than that, the way he puts other people first and treats them with compassion and dignity reveals what type of human he is. And Dak Prescott has his parents to thank for that. 
How to get help: In the U.S., call the National Suicide Prevention Lifeline at 1-800-273-8255. Or text HOME to 741-741 to connect with a trained crisis counselor at the free Crisis Text Line.