Who Are LeBron's 5 Biggest Rivals in the NBA?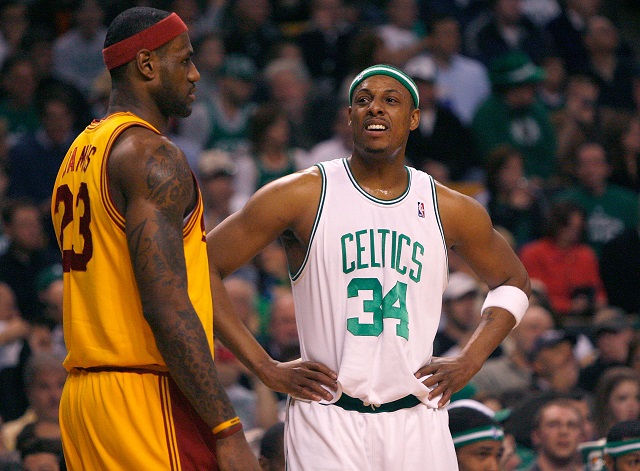 LeBron James is no stranger to adversity, on or off the basketball court. While every NBA player is inevitably compared to their peers, the stakes get a little bit higher when you're forecast to be as great as someone like LeBron, who notoriously graced the cover of Sports Illustrated when he was just 16. But while the draft class rivalries that were laid out almost by route never really panned out — James famously teamed up with two of them, Chris Bosh and Dwyane Wade, while never playing Carmelo Anthony's Denver Nuggets enough to make a lasting impression — there have been players and teams that did rise to the challenge. One of the most famous and most influential (in that it almost certainly played a role in the formation of Miami's Big Three) was Paul Pierce and the Boston Celtics.
Pierce, who departed the Celtics with compatriot Kevin Garnett and now plays for the Washington Wizards, recently revisited the rivalry as the Wizards got set to play the Cleveland Cavaliers for the first time since James's return. "I think a lot of it is really misunderstood: If I see LeBron walking down the street, it's not going to be no fistfight," he elaborated for reporters. "I've got a lot of respect for him. It's like fighting for the same girl. How am I going to be cool with that guy? I've got total respect for him as a person. It's just the thing we go through on the court."
At this stage in the game, the antipathy is tilted pretty squarely in LeBron's favor, and, at 37, Pierce's prime is well behind the both of them, even if he remains the only guy in the Eastern Conference that was really able to guard James while remaining a potent option on the offensive end. But who else was able to successfully stand in LeBron's way over his decade long career? The list is surprising, and interesting, even beyond the Pierce connection, which we should probably dive into a little bit more before moving on.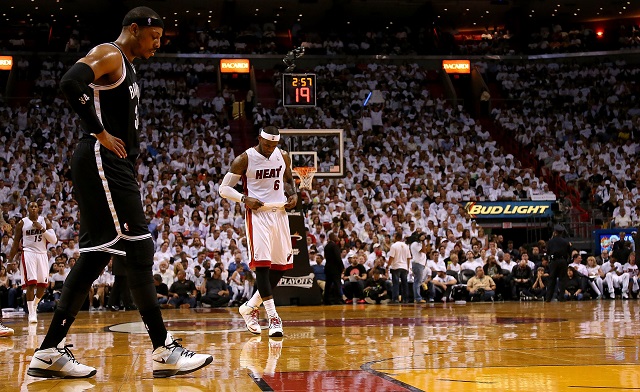 5. Paul Pierce
Over the 34 NBA games that Pierce and James have faced each other in the regular season, Pierce holds the edge, notching 19 victories to LeBron's 15. During the playoffs, though, the roles were reversed (this is a byproduct of Miami being good enough to make it to four straight NBA Finals), with James holding a 17 to 13 advantage. As for their stats, both have put up numbers worthy of their certain inductions into the NBA Hall of Fame — LeBron managed 30 points, six assists, and nearly seven rebounds against Pierce during the regular season, while The Truth averaged 22 points, six rebounds, and four assists over that same span.
In the post season, the scales are titled a bit — James averaged 29, eight, and five to Paul's 17 points, four rebounds, and almost three assists. Those numbers belie the fact that until James left Cleveland, he was completely dominated by the Celtics in the post season, with James only managing five wins before he took his talents to South Beach. If you're interested in more stats comparing Pierce and James, click here.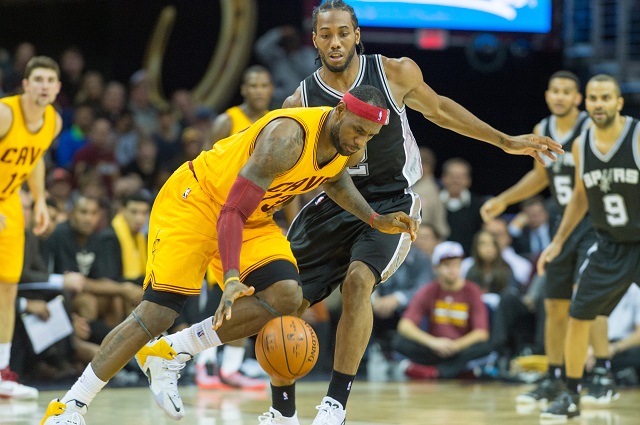 4. The San Antonio Spurs
While the Boston Celtics defined the first arc of LeBron's career, once he moved to Miami his struggles in a quest for a championship would become defined by the San Antonio Spurs (with a tip of the hat to the Dallas Mavericks, who stymied the Heat during their first Finals appearance with Wade, Bosh, and James, and the Oklahoma City Thunder, who we'll get to later). It took a superlative shot from Ray Allen and an incredible miss by Tim Duncan for the Heat to escape a loss to San Antonio the first time, and while everyone assumed that 2013 was going to be the last time that Duncan, Parker, Ginobili and company would make it back to basketball's biggest stage, they shocked everyone by repeating their feat in 2014 and completely decimating Miami, putting James at a one series deficit against the team — LeBron had been swept by the Spurs when he made his lone Finals appearance with the Cavaliers back in 2007.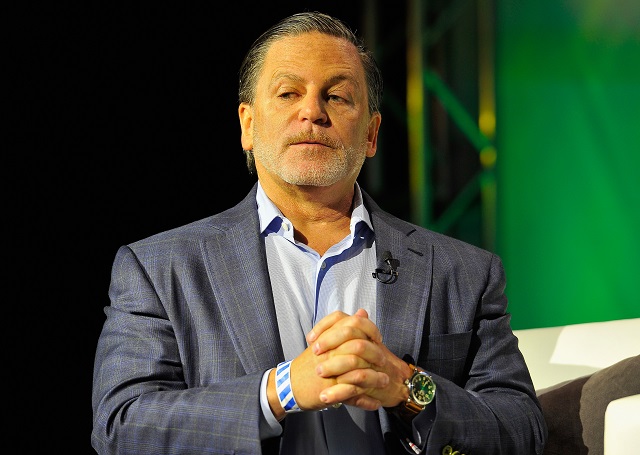 3. Dan Gilbert
The least traditional rivalry on this list, Dan Gilbert is best known among sports fans as a Comic Sans afficionado — a fact revealed to everyone at once when he penned the now-infamous (and now-deleted) open letter to James in the wake of The Decision. Luckily for us, nothing on the Internet is ever really gone for good, and we've captured some of the choice memories from that letter to you (with a hat tip to ESPN for keeping the contents up in full, albeit in a different font).
"As you now know, our former hero, who grew up in the very region that he deserted this evening, is no longer a Cleveland Cavalier. This was announced with a several day, narcissistic, self-promotional build-up culminating with a national TV special of his 'decision' unlike anything ever 'witnessed' in the history of sports and probably the history of entertainment.
"Some people think they should go to heaven but NOT have to die to get there. Sorry, but that's simply not how it works. This shocking act of disloyalty from our home grown 'chosen one' sends the exact opposite lesson of what we would want our children to learn. And 'who' we would want them to grow-up to become."
What a gem. Gilbert and James have apparently mended their fences over the years, but this is too good not to revisit in a list like this.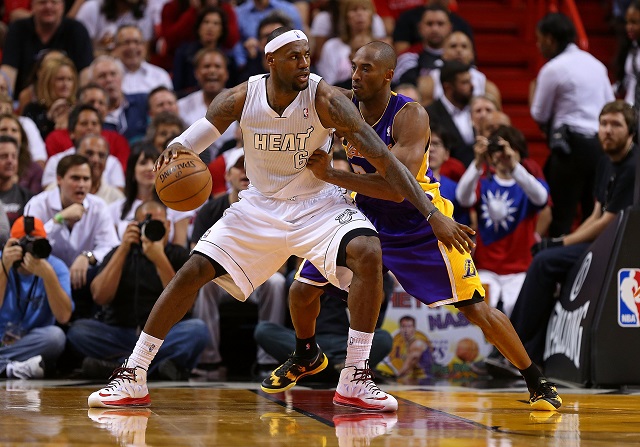 2. Kobe Bryant
While the LeBron/Kobe rivalry always felt a little forced to us (maybe it was just the puppet commericals), and we never got to see them both playing in the Finals against each other, there's no doubt that this matchup between two all time greats has yielded some fantastic results, even if it's surprisingly more lopsided than you might think. In the 19 games that Kobe and LeBron have played against each other, the Lakers have managed just six wins overall, in spite of Bryant's cumulative stat line of 25 points and just barely under 5 rebounds and assists (he's recorded 4.9 of each in their meetings. Of course, that's eclipsed by James's 27 points, 7 rebounds and 7 assists, but that's to be expected.
In many ways, Bryant is now in a similar situation to James, with his Lakers looking about as talent sapped as the early Cavaliers teams that defined LeBron's first tenure in Ohio. The difference, though, is that Bryant is almost certainly on his last NBA contract, while you could make a safe bet that James, not even 31, will be in the league for the foreseeable future. You can check out their individual game stat lines against each other here.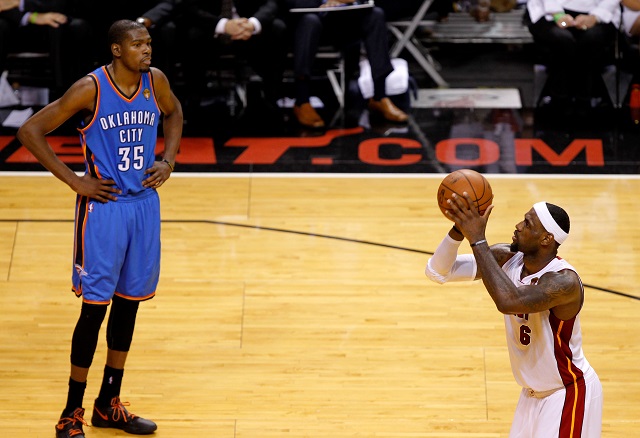 1. Kevin Durant
While most of LeBron's rivalries have been against established players that are significantly older than he is, his most exciting matchup for the future remains the lanky forward in Oklahoma City (by way of Seattle), Kevin Durant. Durant, the league's MVP, has received a little bit of criticism for his calculated not-James public persona, but the fact remains that the two are displayed around the NBA as the King and his heir apparent, underscored by the fact that KD is 26, or roughly the same distance agewise from LeBron as James was from Pierce and Kobe.
In their 13 regular season meetings, though, James has roundly stomped Durant, losing just three. Their stats, though, are eerily similar, with LeBron posting a 29 point, six rebound, six assist  line to Durant's 29, six rebound, and three assists. The difference, of course, is that Durant is still reaching the peak of his basketball ability, while James is probably playing as well as he's ever going to. For specific numbers relating to James and Durant, click here.