Who are the 13 NBA Players Still on Team USA After De'Aaron Fox Left?
The list of NBA players that fans will see on Team USA at the Basketball World Cup continues to dwindle. Sacramento Kings point guard De'Aaron Fox was expected to make the team after impressing coaches and teammates with his strong play during practices and scrimmages, but he decided to withdraw from consideration on Saturday to focus on the Kings' upcoming season.
With Fox's withdrawal, Gregg Popovich's Team USA squad is down to just 13 players. That group of 13 will be cut down to 12 before the FIBA World Cup begins on Saturday, August 31.
De'Aaron Fox joins the very long list of players who have withdrawn
The original list of players that were eligible to play on Team USA in this year's World Cup was a who's who of the world's top players. LeBron James, Anthony Davis, Kawhi Leonard, Paul George, Steph Curry, Damian Lillard, James Harden, Russell Westbrook, Kevin Durant, and Kyrie Irving were all on that list; and none of them will be participating.
Seeing the game's top stars opt out of playing isn't too surprising. But the rest of the list of players who have withdrawn themselves from consideration is pretty staggering:
Marvin Bagley, Bradley Beal, Devin Booker, Jimmy Butler, Mike Conley Jr., DeMarcus Cousins, DeMar DeRozan, Andre Drummond, Eric Gordon, Draymond Green, Blake Griffin, Montrezl Harrell, Tobias Harris, Gordon Hayward, DeAndre Jordan, Kevin Love, Kyle Lowry, CJ McCollum, Paul Millsap, Victor Oladipo, Chris Paul, Isaiah Thomas, Klay Thompson, JJ Redick, Julius Randle, PJ Tucker, John Wall, Zion Williamson, and Trae Young
Some of these players have legitimate injuries. Others might need the rest coming off of long postseason runs. But that still leaves a whole lot of guys that you'd think would jump at the opportunity to represent their country and play for Gregg Popovich, but that hasn't been the case.
Only 13 players still remain on the team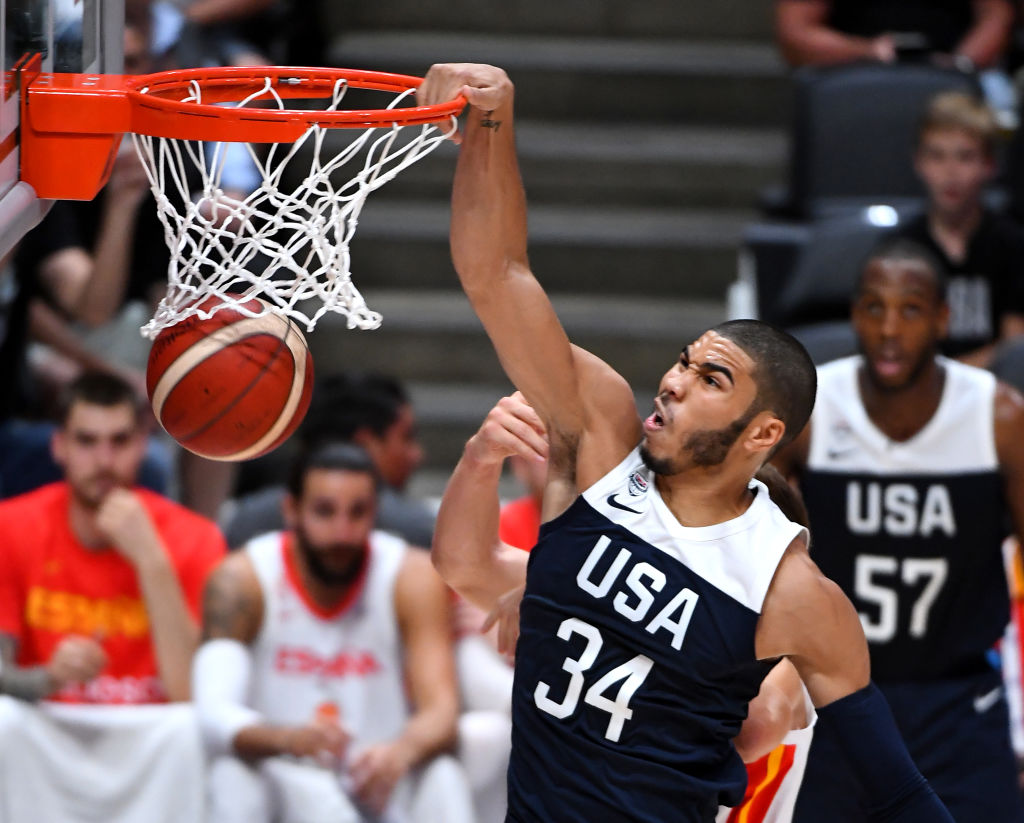 So with so many players not participating in this year's FIBA World Cup, who is? Here are the 13 players that traveled to Australia to represent the United States in exhibition games this week:
Harrison Barnes, Jaylen Brown, Joe Harris, Kyle Kuzma, Brook Lopez, Khris Middleton, Donovan Mitchell, Mason Plumlee, Marcus Smart, Jayson Tatum, Myles Turner, Kemba Walker, and Derrick White.
San Antonio's Derrick White was probably the biggest beneficiary of De'Aaron Fox's decision to leave the team as it increases his chances of making the team as Kemba Walker's backup at point guard.
While many players decided not to join Team USA so that they could practice with their NBA teams this offseason, the Boston Celtics are getting the best of both worlds. Four of the 13 remaining players in Kemba Walker, Jayson Tatum, Jaylen Brown, and Marcus Smart will suit up for the Celtics this season, and this experience in China should give the group a nice opportunity to gel in competitive play before the regular season begins.
Everyone withdrawing makes Popovich's job easier
Gregg Popovich has expressed in the past how difficult it is to make cuts to get down to a 12-man roster. That's one of the silver linings in all of these players dropping out; Popovich and his staff have had most of the decision making done for them. Bam Adebayo and Thaddeus Young are the only two players that Team USA has actually cut of its own accord.
There are multiple theories on why so many players are dropping off of Team USA this season. One is that with Golden State no longer a runaway favorite to win the NBA Championship, players are more excited about the upcoming season and their chances to win it. Another is the high risk to low reward ratio; because the United States is expected to win every year, players won't get much credit if Team USA wins but will be ridiculed if it loses.
These are reasonable theories that could play a role, but fear of injury has to be the number one reason. With Kevin Durant and Klay Thompson suffering devastating injuries in the NBA Finals this season, players around the league received a stern reminder of their fragility. Playing in an exhibition tournament just might not be worth the risk of injury, however low that risk may be.