The 3 Greatest Passing Forwards in NBA History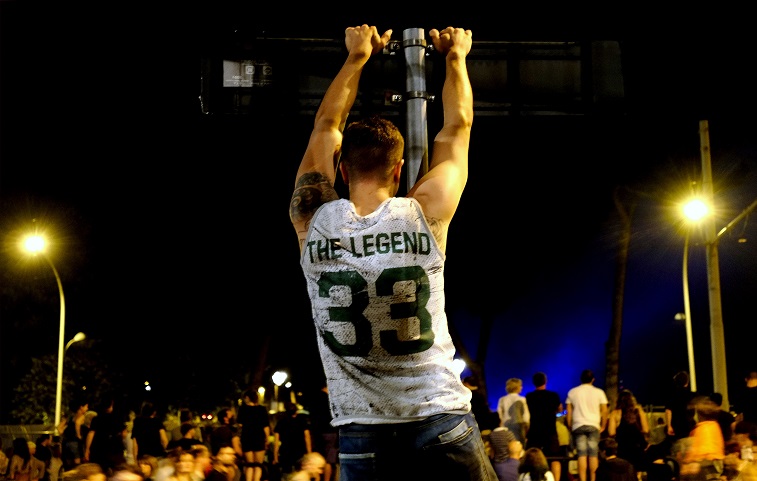 If you can think it, it's probably been attempted. This goes for everyone from the Wright Brothers to every 'fail' video you've ever seen on Youtube, but ideas are out there, and attempts are usually recorded. As far as basketball is concerned, the idea of running an offense through a forward, rather than a guard, remains something of a novel concept in the NBA. To do so, team executives, scouts, and coaches must find that rare athlete that is big and strong enough to bang bodies in the paint, yet agile and crafty enough to handle the ball out on the perimeter, and hit open cutters for easy scores at the front of the rim.
A forward who is willing to share the ball will add multiple dimensions to any offense. At the top of the key, a point forward will create space for sharp shooting guards to play off the ball and run off screens. On the low block, a skilled forward can deftly pass out of double teams for wide open looks within the flow of the offense. A passing forward, of course, is the model citizen for the time honored "he makes his teammates better" cliché.
As passers, three special players have far and away separated themselves from the rest of the pack at the forward position. To date, this trio has amassed a combined 18,131 assists, seven MVP awards, and most importantly, 11 championships. Going forward, fans will likely spend countless hours debating over which of these generational athletes performed as the most complete player.
 3. Scottie Pippen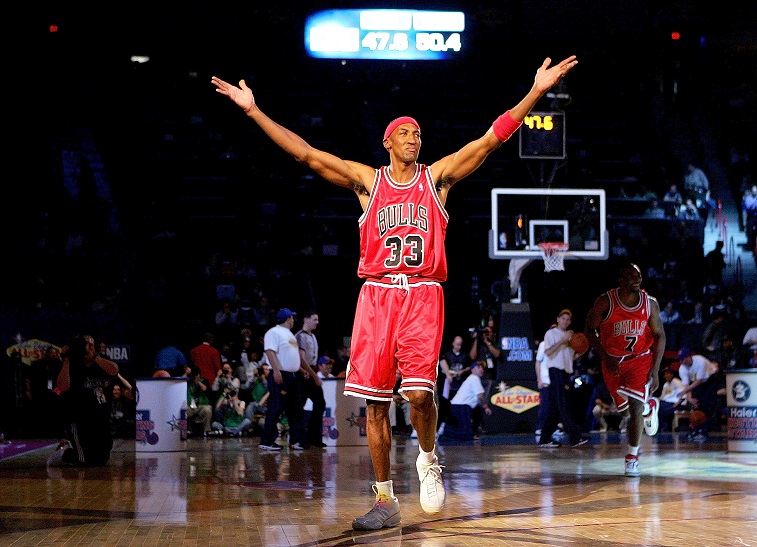 While Paul Pressey and others had played the point forward earlier in NBA history, it was Scottie Pippen who arguably evolved the concept into the late 80's and early 90's. In Chicago, Pippen and Jordan actually took turns initiating and running the offense, while point guards John Paxson, B.J. Armstrong, and Steve Kerr were pure shooters who often played off the ball and spotted up around the perimeter. For half court sets, Phil Jackson and Tex Winter installed the triangle offense, a system that demanded a player look for the pass first and involved involved series of screens, cuts, and weak-side isolations.
In all, Scottie Pippen racked up 6,135 assists as a forward, only second to one other player at the forward position [editor's note: it's worth pointing out that, season by season, Grant Hill was arguably superior, as routinely notched a higher assist percentage and APG average. Health gives the nod to Pip]
Scottie Pippen, of course, won six championships with the Chicago Bulls. In 1992, Scottie Pippen had his breakout year, filling up the stat sheet for 21 points, eight rebounds, seven assists, two steals, and one block each contest. The 1992 Bulls torched defenses for 110 points per game and would go down as the most prolific offense from Chicago's Dynasty era.
2. Larry Bird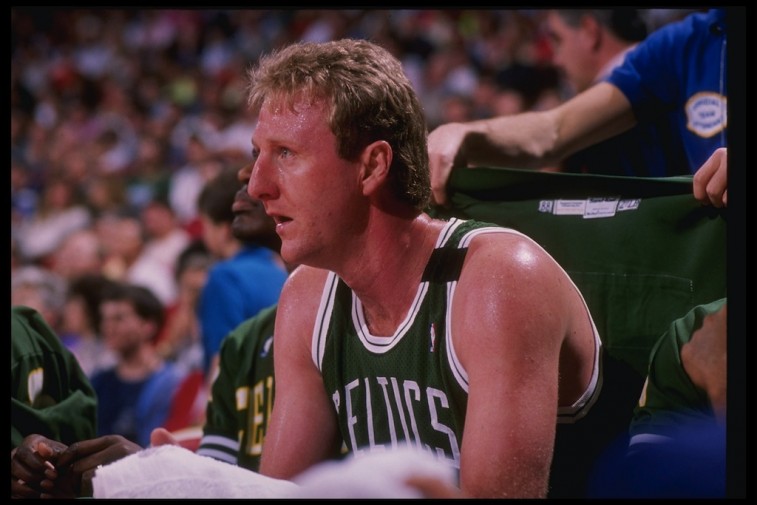 At six-foot-nine and 220 pounds, Larry Bird was never mistaken for the fastest, biggest, or strongest man on the NBA basketball court. Bird, of course, more than made up for his lack of athleticism through supreme fundamentals and basketball IQ. As a passer, Bird would always deliver his chest and bounce passes with textbook form. For Larry Legend, going no-look or whipping around a behind the back pass was as much about anticipation and delivering the ball through a tight window, than it was about brazen hot dogging to show up opponents.
In half court sets, Bird was especially effective as an interior passer, feeding Robert Parish and Kevin McHale easy looks in the paint. On the low block, Bird was always a threat to score and would draw double teams. After surveying the defense, Larry Legend would often either hit a flashing cutter beneath the basket, or pass out of the double to an open shooter. On the secondary break, Larry Bird would drift out towards the three-point line, where frantic defenders would rush out to crowd the perimeter. With the defense off-balance, Bird would hesitate and pump-fake, before firing a bullet to Danny Ainge filling the lane.
Larry Bird dished out a total of 5,695 assists over his 13-year career. In 1987, Bird put together one of the greatest NBA stat lines of all time, in racking up 28 points, nine rebounds, and eight assists per game. Aan offensive machine, Larry Legend went a respectively 53%, 40%, and 91% from the field, three-point line, and charity stripe that regular season. Most importantly, of course, was the fact that Larry Bird won three championships through his unselfish play.
In the twilight of his career, Larry Bird battled an assortment of nagging injuries and a notoriously bad back. With a limited range of motion, Bird settled even more so into his role as a decoy and facilitator. With the exception of 1987, Larry Bird reached personal highs in his own assists per game through his three final seasons in the NBA.
1. LeBron James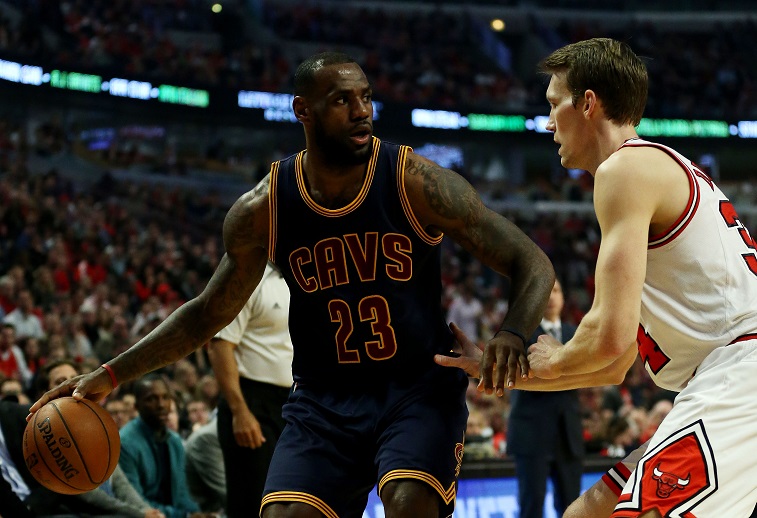 Say what you will about him, but LeBron James has always prided himself in making the right basketball play, instead of simply jacking up contested shots. At this point, James will always be measured against Larry Bird for the title of greatest small forward of all time. And while the debate will ultimately shift to titles won, rather than statistics. Larry Bird made five trips to the Finals, winning three. LeBron James, at 30, has already taken five teams to the Finals and brought home two championships. As an unselfish player,
In 2009, King James dished out nine assists per game, while also scoring 30 points and hauling in seven rebounds. Similar to Scottie Pippen, especially without Jordan, LeBron James has often been tasked with running the offense, as a point forward, with shooters spotting up from the outside. James has been devastating on the pick-in-roll, especially in pairings with the likes of Dwyane Wade, Kyrie Irving, Chris Bosh, and Kevin Love. After turning the corner, LeBron can either power towards the goal for the jam, or drop in a bounce pass to a cutting big man. If the defense packs the paint, James will kick the ball out behind the arc for an open three.
James, of course, has been a runaway freight train out in the open court in a way that Bird never could. After pushing the pace with a full head of steam, opponents often stop just short of drawing a charge on James at the top of the key. With the defense on its heels, James will often flick a touch pass over to a wing scorer or trailing big man for an easy score.
If anything, James' critics have made the claim that he is too unselfish for his own good. Who could forget the grief he took at the conclusion of the 2012 All Star Game when he decided to pass, instead of shoot? It's possible that Bird was a better passer than LeBron (we've read that argument in the dark corners of the internet) but James has already tallied 6,301 assists, a mark that not only leads all NBA forwards historically but is nearly 1,000 more than Bird posted. In fact, it's entirely possible that James will have notched more assists than Bob Cousy and Kevin Johnson before he hangs up his sneakers.
All data courtesy of Basketball-Reference.com