Who Are the Best Former Notre Dame Players in the NFL?
On Saint Patrick's Day, a few sports teams come to mind. One of those is certainly the Notre Dame Fighting Irish. Notre Dame has one of the most rich college football traditions in all of America. From their 11 claimed national championships, to all of the well-known names who have worn the blue and gold, not many college football programs can compare. There have been many great players over the years who played at Notre Dame and then had success in the NFL. However, who are the best current NFL players who played college football for the Fighting Irish?
4. Harrison Smith, Safety
Harrison Smith had a great career at Notre Dame from 2008 through 2011. In those four seasons, Smith racked up 307 total tackles. His best season was probably in 2010 as he had 91 tackles and seven interceptions. However, he still had a good senior season as he had 90 total tackles, nine passes defended, and two forced fumbles.
In the 2012 NFL Draft, the Minnesota Vikings selected him with the 29th overall pick. Smith had a great rookie season, making the 2012 All-Rookie Team, as he had 104 total tackles and three interceptions. He has been productive ever since. Smith has been a Pro Bowl selection every season since 2015 and was a first-team All-Pro in 2017. His fellow players voted him onto the NFL's Top 100 players list each of the last four years. His highest ranking was in 2018 when he ranked No. 46.
Smith ranked No. 83 in the top 100 in 2019. During the 2019 season, Smith had 85 tackles and three interceptions.
3. Jaylon Smith, linebacker
Smith was a stud at Notre Dame as he was a 2015 consensus All-American and won the 2015 Dick Butkus Award. After having 58 tackles in his freshman season, Smith had 111 tackles in his sophomore season, and 115 his junior season in 2015.
Smith suffered a torn ACL in the Fiesta Bowl during his junior season which hurt his draft stock in the 2016 NFL Draft. The Dallas Cowboys ultimately selected him with the 34th overall pick, and Smith had to sit out all of 2016 due to that injury. However, Smith has been a beast since 2017.
In 2017, Smith had 81 tackles for the Cowboys and then took that next step in 2018 racking up 121 tackles. Then in 2019, Smith had 142 tackles as he earned a Pro Bowl selection. In 2019, his fellow NFL players ranked him No. 61 overall on the NFL Top 100 list.
2. Zack Martin, guard
Martin helped lead some successful Notre Dame offensive line units starting his redshirt freshman season in 2010 and until his final season in 2013. Martin dominated during his time with the Fighting Irish. For example, during his senior season, Notre Dame played Shilique Calhoun, Frank Clark, Aaron Donald, Trent Murphy, Kyle Van Noy, and Leonard Williams. They all combined for 103.5 tackles for loss and 46 sacks that season, according to Bleacher Report. Against Martin and the Notre Dame line, they had no sacks and just 3.5 tackles for loss.
Martin continues to dominate in the NFL. After being drafted 16th overall by the Dallas Cowboys in the 2014 NFL draft, Martin and the rest of Cowboys' offensive line has been looked at as one of the best units in the entire NFL. Martin is a six-time Pro Bowl selection and a four-time first-team All-Pro.
Each of the last two seasons, Martin was a first-team All-Pro. In 2019, his peers ranked him No. 59 on the NFL Top 100 list. Pro Football Focus ranked him as the third-best offensive lineman in the NFL after Week 15 of last season. 
1. Quenton Nelson, guard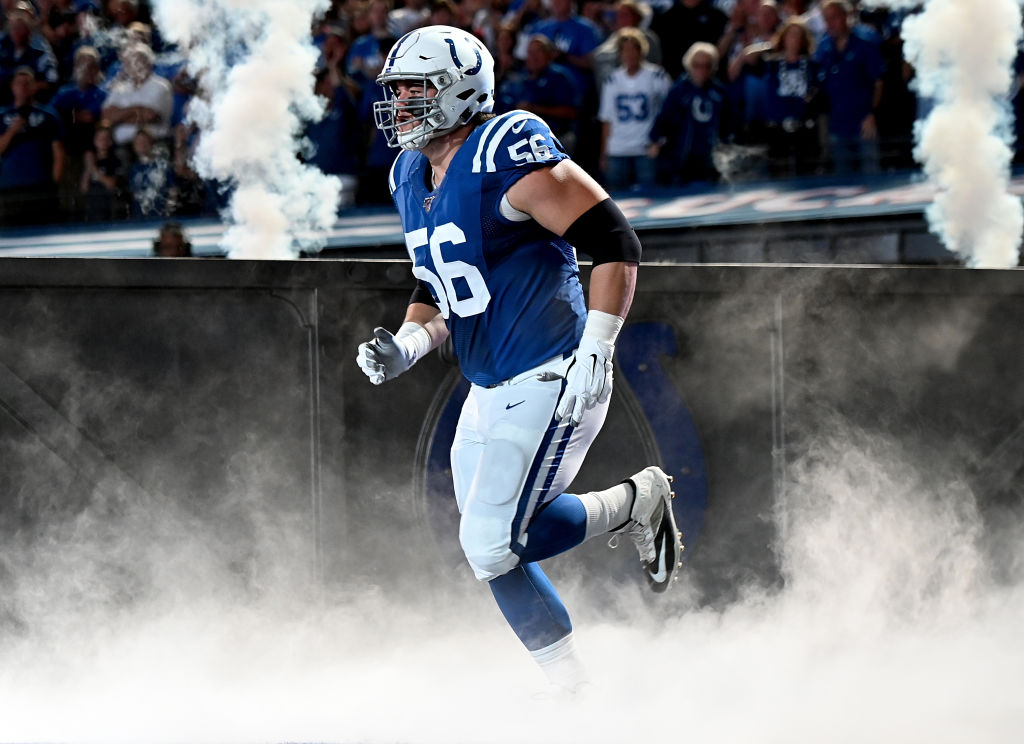 Nelson was another beast offensive lineman for the Fighting Irish. During his junior season in 2016, Nelson was a part of an offensive line that helped Notre Dame gain 417.6 total yards per game, according to UND.com. Then in 2017, Nelson was a unanimous All-American as he helped the Irish run for at least 300 yards in seven of their 12 regular season games. 
The Indianapolis Colts drafted Nelson with the sixth overall pick in the 2018 NFL Draft and he has been one of the best offensive lineman since his rookie season. In his first two seasons in the NFL, Nelson is a two-time Pro Bowl selection and a two-time first-team All-Pro selection. Nelson is one of the more recognizable names at offensive line with videos of his pancake blocks going viral. Pro Football Focus ranked him as the No. 2 offensive lineman in the NFL through Week 15 last season. 
All four of these guys are some of the best players in the NFL. Quenton Nelson's instant success, though, is why he is the best former Notre Dame player currently playing in the NFL.