NFL: The Best Mobile Quarterbacks Ever
For a game that changes so often, football is remarkably resistant to new ideas and concepts. Today's game bears little resemblance to the football of nearly a century ago, and we have no doubts that this ever-evolving sport will continue to move and grow in ways that are impossible to predict. After all, who could've seen the rise of the dual-threat quarterback?
In the modern NFL, the idea of a mobile quarterback has been something of a curiosity. At his best, an elite mobile quarterback will avoid sacks and keep plays alive behind the line of scrimmage before firing a bullet downfield for a big gain or taking off on broken plays to pick up large chunks of yardage with his feet. Smart mobile quarterbacks, of course, wreak havoc upon defensive game plans, as linebackers and defensive backs are often left flat-footed.
At his worst, a running quarterback will ignore wide-open receivers, panic, and be dropped for huge losses in the backfield. If anything, a scrambling quarterback is an injury risk because he is frequently exposed to jarring hits from the opposition (just ask RG III).
Football purists have often argued that a running quarterback cannot win a Super Bowl, and some take this mindset with them to the NFL draft, where more traditional teams and general managers prefer to take statuesque signal callers who ran pro-style offenses in college. The following five quarterbacks dedicated their careers to proving that mobility was more than just a gimmick at the position. These are the best mobile quarterbacks ever.
5. Randall Cunningham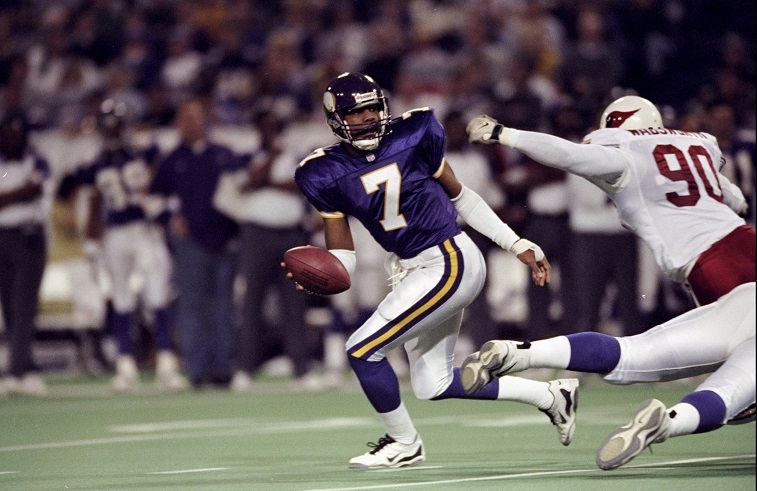 Possibly the most impressive quarterback in terms of his physical abilities, Randall Cunningham would remain on the field for special teams in a pinch to boom kicks as an emergency punter. In his career, Cunningham punted 20 times for 894 yards, or an average of 44.7 yards per punt. On two separate occasions, he sent punts of 80 and 91 yards off his right foot in Philadelphia. On any given Sunday, he was a must-see event for highlight reel jukes, spins, flips, high-stepping scrambles, and deep bombs.
In 1988, Giants linebacker Carl Banks went low and attempted to take out Cunningham's legs behind the line of scrimmage. An agile Cunningham hurdled over Banks before he gathered his balance and threw a dart to tight end Jimmy Giles for six. Two years later, the quarterback spun out of a likely Bruce Smith sack back in his own end zone before rolling left, setting his feet, and effortlessly tossing the football 60 yards to Fred Barnett. Moments later, the Eagles had completed a 95-yard touchdown pass in front of shocked Buffalo fans.
In 1990, Cunningham torched defenses for 3,466 yards and 30 touchdowns, completing 58% of his passes. That season, he also ran for 942 yards and five touchdowns on the ground. With age, Cunningham settled more so into the role of pocket passer and was largely under center for a 15-1 1998 Vikings team that also featured Randy Moss and Cris Carter — one of the greatest offenses of all time.
That year, Cunningham threw for 3,704 yards and 34 touchdowns in 14 starts for Minnesota. For his career, Cunningham accounted for 29,979 passing yards, 4,928 rushing yards, and 242 total touchdowns. The quarterback, however, only made one trip to the NFC championship game, which he lost as a member of the 1998 Minnesota Vikings.
4. Donovan McNabb
Although much maligned, Donovan McNabb did pace his teams to a .647 winning percentage through his prime years in the City of Brotherly Love. As part of this run, McNabb made five trips to the NFC championship game — in 2001, 2002, 2003, 2004, and 2008 — with one Super Bowl appearance.
As a mobile quarterback, McNabb was at his best out of Andy Reid's version of the West Coast offense, where the pass actually set up the run. On three- and five-step drops, McNabb would work the seams of the Cover-2, fire quick outs, set up screens, and hit crossing routes across the middle. Reid would often call designed rollouts for McNabb to stretch the boundaries of the defense before dropping in a bomb over the top of the secondary.
On broken plays, he simply took off to weave through traffic and make his way toward the touchdown pylon. As a dual-threat quarterback, he passed for 37,276 yards and 234 touchdowns, while also running for 3,459 yards and 29 touchdowns.
McNabb will always remain a polarizing figure largely for his inability to win "the big one." In Super Bowl XXXIX, McNabb threw for 357 yards, three touchdowns, and three interceptions off 30-51 passing. Those numbers tend to come up after the lasting images of a winded McNabb dry heaving in the huddle, bickering with Terrell Owens, and burning through precious seconds of clock, ultimately going going down 24-21 to the budding Patriots dynasty.
3. Fran Tarkenton
At a slight 6-foot-0 and 190 pounds, Fran Tarkenton often mused that his scrambling ability came out of necessity, as he often found himself running for his life out on the gridiron. For 18 years, "The Scrambler" used his legs to avoid big hits and extended his career in separate stints with the New York Giants and Minnesota Vikings.
Tarkenton, of course, will forever be remembered for his time with Bud Grant and the Purple People Eaters, losing all three trips to the Super Bowl in the '70s. He owned all major passing records by his 1978 retirement. In all, he completed 3,686 passes for 47,003 yards and 342 touchdowns. On the ground, Tarkenton also racked up 3,674 yards and 32 touchdowns while revolutionizing the position.
However, he often fell apart in the Big Game, which supported the arguments of those critical of the mobile quarterback. In Super Bowl IX, the Pittsburgh Steel Curtain harassed him into a miserable performance: He went 11-26 for 102 yards and three interceptions.
2. Michael Vick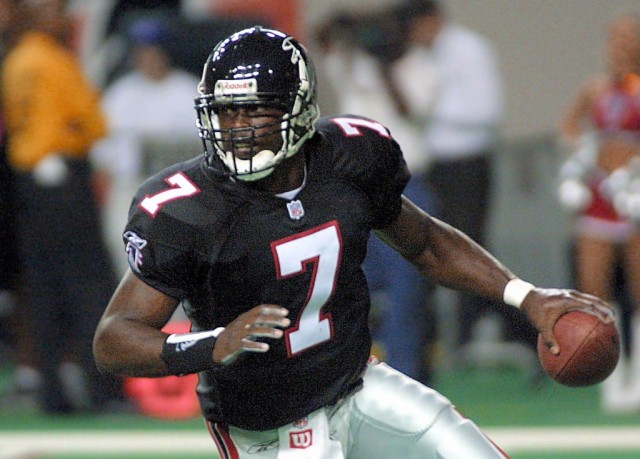 Michael Vick's legend is built upon one thing: his otherworldly running ability. In his prime, Vick was usually the fastest man on the field, and he has said that he would often ditch the playbook in Atlanta in favor of relying upon his own instincts to make plays as a natural athlete.
Arguably the most electric performer in the league by his second season in the NFL, Vick completed 55% of his passes for 2,936 yards and 16 touchdowns that year while embarrassing defenders on the ground for 777 rushing yards and eight touchdowns. In what would become something of a signature moment, a young Vick marched into Lambeau to dominate Brett Favre and the Green Bay Packers in the wild card round. Vick, however, went on to win only one more playoff game as a Falcon.
In 2006, he remarkably topped the 1,000-yard rushing mark as a quarterback. Shortly thereafter, though, Vick was embroiled in a dog-fighting scandal that led to jail time and two years out of football. A humbled Vick did not take the reins again as a starting quarterback until 2010, after a shaky first year in Philadelphia. In Andy Reid's system, Vick reinvented himself as a pocket passer who would only take off and run as a last resort.
The quarterback went 8-3 as the 2010 Eagles starter after completing 63% of his passes for 3,018 yards and 21 touchdowns against only six interceptions. That year, at 30, Vick still demoralized defenses for 676 yards and nine touchdowns on the ground. In all, he's racked up 6,109 yards and 36 touchdowns as the most prolific scrambler in the history of the game.
1. Steve Young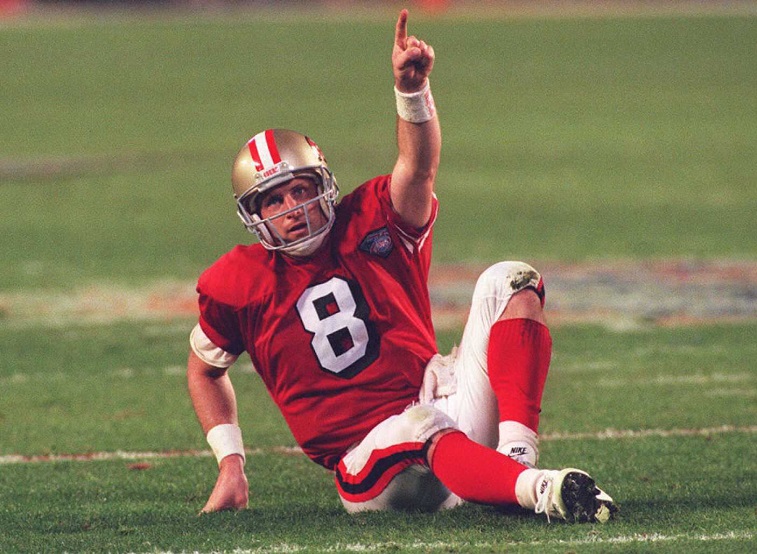 In 1987, the San Francisco 49ers sent two draft picks to Tampa Bay in exchange for Steve Young. At the time, the Buccaneers had dismissed him as a bust after the young quarterback tossed 21 interceptions through his first two seasons in the league. In retrospect, of course, the Young-to-San Francisco move was one of the most lopsided deals in the history of sports.
In San Francisco, he immediately showed flashes of greatness as a back-up to Joe Montana. Young was not given the keys to the franchise as the starting quarterback until 1991, when Montana was dealt to Kansas City. From there, Young immediately went to work adding another dimension to the West Coast offense with his feet.
With time, Young matured into a poised pocket passer who led the NFL in completion percentage through five separate seasons. In 1994, he completed 70% of his passes for 3,969 yards and 35 touchdowns. As an added bonus, Young also scampered for 293 yards and seven touchdowns that season. To close out this storybook year, he lit up the San Diego Chargers for a record six touchdown passes before claiming MVP honors in a Super Bowl XXIX blowout.
Statistics courtesy of Pro Football Reference