Who are the Top 5 Players in Jacksonville Jaguars History?
Where does wide receiver Jimmy Smith rank on our list of the top five players in Jacksonville Jaguars history?
Trevor Lawrence doesn't crack the list, but the second-year Jacksonville Jaguars quarterback is headed in the right direction.
While Lawrence remains one of the most promising young quarterbacks, and the Jaguars hope to make their way to the AFC title game this weekend, he hasn't quite reached elite status when it comes to the top players in franchise history. With a few more successful seasons under his belt, that could change. For now, we put together a list of the top five players in Jaguars history, and it includes one quarterback whose name isn't Lawrence.
No. 5: Maurice Jones-Drew, RB
Maurice Jones-Drew is one of two running backs to make this list. Jones-Drew was a 5-foot-7, 210-pound back who was hard to bring down.
A second-round pick by the Jaguars in 2006, Jones-Drew didn't become a full-time starter until 2009, but he still managed to put up some big numbers in his early years. As a rookie, he started one game but still racked up 941 yards and 13 touchdowns. During his first four NFL seasons, he had 49 touchdowns, despite starting just 20 games.
In 2009, he became the team's starter and rattled off three straight 1,000-yard rushing seasons. In 2011, he led the NFL with 1,606 rushing yards and had his lone All-Pro season. He finished his career with 79 touchdowns, 68 of them coming on the ground.
No. 4: Mark Brunell, QB
Mark Brunell spent nine years as quarterback of the Jags after the Green Bay Packers selected him in the fifth round of the 1993 NFL Draft.
In his second year in Jacksonville, Brunell went 9-7 and made the first of his three Pro Bowls by throwing for a league-high 4,367 yards. With Brunell under center, the Jaguars reached the AFC Championship Game twice. He had four straight winning seasons as Jacksonville's starting QB.
With the Jags, Brunell went 63-54 and threw 144 of his 184 career touchdown passes.
No. 3: Jimmy Smith, WR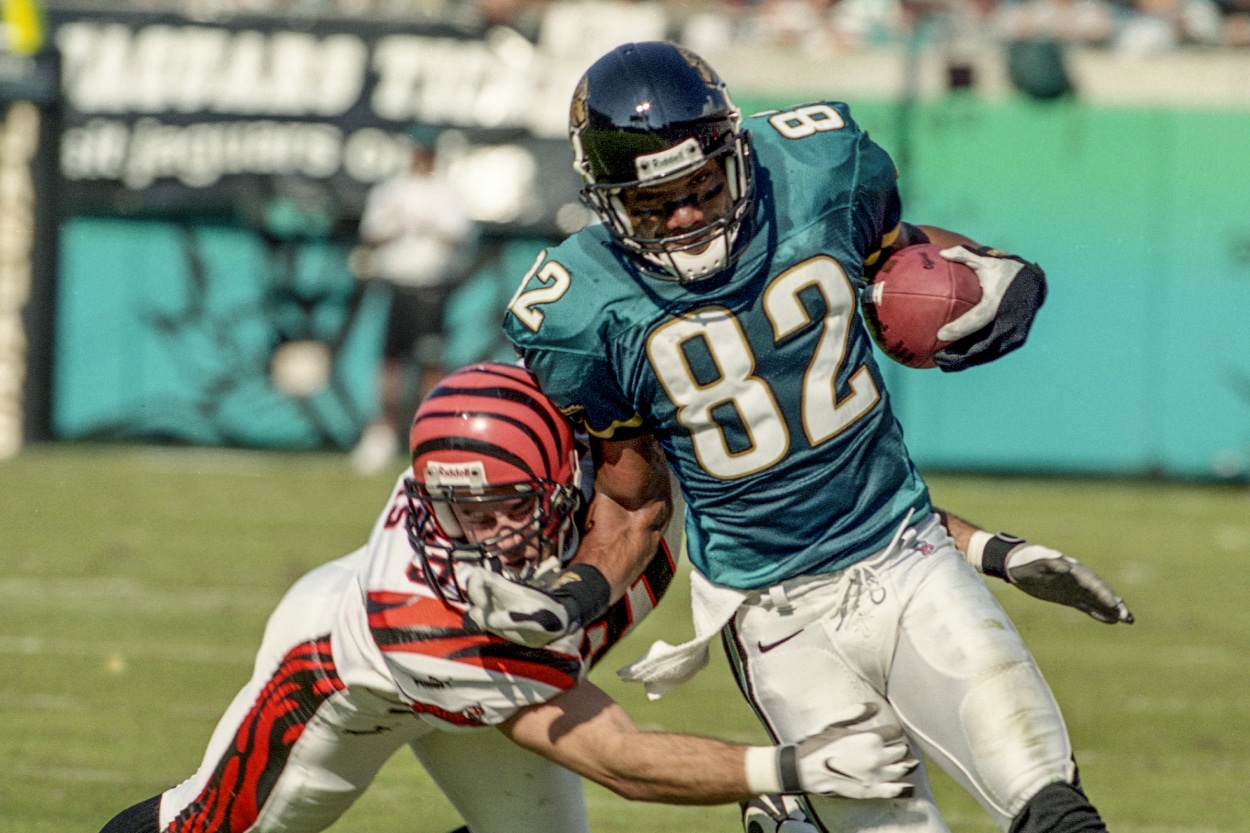 Jimmy Smith remains the best receiver in Jaguars history, and it's easy to see why.
Originally selected in the second round of the 1992 NFL Draft by the Dallas Cowboys, Smith played 11 years for the Jaguars and had nine 1,000-yard seasons. After catching 83 passes for 1,244 yards in 1996, Smith had the first of five straight Pro Bowl seasons in 1997 when he had 82 catches for 1,324 yards and four touchdowns.
His best year came in 1999 when he finished with a league-high 116 catches for 1,636 yards and six touchdowns. Smith finished with 12,287 receiving yards and 67 touchdown receptions in his career.
No. 2: Fred Taylor, RB
It's amazing and unfair that Taylor had just one Pro Bowl season in his 13-year NFL career. He spent 11 of those seasons with the Jaguars, where he became one of the best running backs in the game.
The ninth overall pick by the Jaguars in the 1998 NFL Draft, Taylor made his presence felt as a rookie. He started 12 of the 15 games he played in 1998 and collected 1,223 yards on the ground while adding 14 rushing touchdowns. Taylor also was a pass-catching threat out of the backfield, with 44 catches for 421 yards and three more touchdowns.
The biggest problem for Taylor was injuries. He missed six games in his sophomore season but still managed 10 total touchdowns. He bounced back with 1,399 yards and 12 rushing touchdowns in 2000, but the Pro Bowl still eluded him.
In 2003, Taylor racked up a career-high 1,572 rushing yards but still didn't earn a Pro Bowl. That came during the 2007 season when he had 1,202 yards and five touchdowns. In total, Taylor had 11,271 rushing yards and 62 touchdowns with the Jaguars.
No. 1 Tony Boselli, OL
Tony Boselli was the first player ever drafted by the expansion Jaguars in 1995, and they certainly made the right call. Like Taylor, Boselli, a 6-foot-7, 324-pound tackle, was hampered by injury, but he strung together five straight Pro Bowls after his rookie year to help cement his legacy.
Boselli was as dominant an offensive lineman as they come. He's a three-time All-Pro and the only Jaguars player to be inducted into the Pro Football Hall of Fame.