Who Are the Top 6 NFL Quarterbacks After Week 1?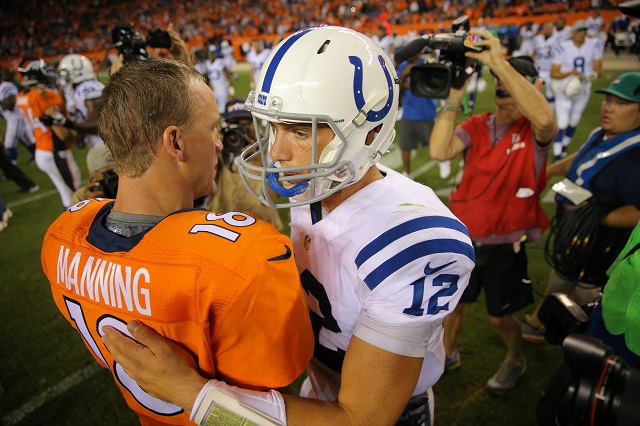 This needs to begin with a caveat. It is possible, however unlikely, that Eli Manning, Matthew Stafford, or perhaps both of them could go on to have Madden-esque games that vault either of them to the top of this list after their Monday Night Football appearance. If that is indeed the case, we'll adjust this list accordingly.
The first week of NFL Football is officially in the books, and while the sample sizes are small and the fortunes of NFL teams are notoriously fickle — remember: the Cleveland Browns started 2013 by going 4-2, and the Houston Texans won back-to-back games in the first two weeks before finding new and inventive ways to lose in every single game after that — we can already start looking at the quarterbacks who've come roaring out of the gates firing on all cylinders.
There are a number of different ways to examine the effectiveness of a quarterback, and while ESPN loves their quarterback rating, or QBR, it's important to note that they also invented it, so there's definitely some bias there. (If you're interested in reading more about the validity of QBR, read this article from Football Perspective.)
What follows, then, are the five quarterbacks who had the highest QBR as well as the highest AY/A, or average yard per attempt. We love the AY/A because it allows for a more complete look at the passing game that the quarterback was involved in without placing too much emphasis on the elements of the game that sit outside the signal caller's control. That said, we've got to give a shoutout to Peyton Manning here, who just misses the cut, finishing his game against Indianapolis with a 9.14 AY/A, a 111.9 QBR, and a win over the Colts. He also threw three touchdowns, putting him just 15 scores away from passing Brett Favre. All data courtesy of Pro Football Reference.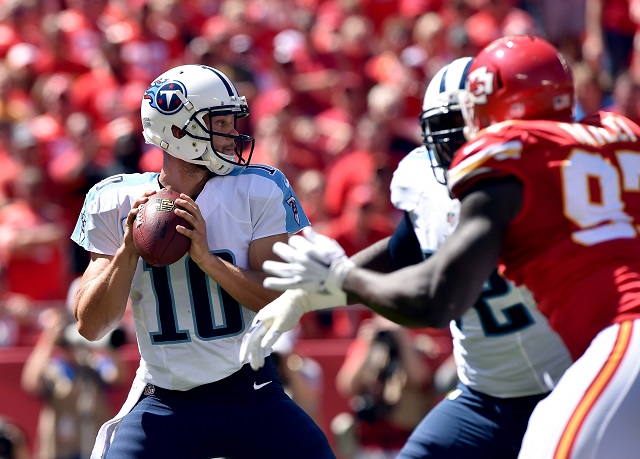 6. Jake Locker: 9.27 AY/A, 111.4 QBR
Broncos fans need to inhale, exhale, and repeat their new mantra: "It's just one game. It's just one game." If we were to gamble on the future, we would imagine that Jake Locker will not have a better season than Peyton Manning, and in many aspects, their performances were largely identical. What really gives Locker the advantage, despite throwing for one fewer touchdown, is his completion percentage — both quarterbacks were able to complete 22 passes, but Locker only attempted 33 to Manning's 36. They finished within three 'real' yards of each other, if you're into that (Locker: 266 yards; Manning: 269).
5. Ben Roethlisberger: 10.00 AY/A, 100.7 QBR
While Big Ben split the difference in touchdowns and interceptions — one of each — his day against the Cleveland Browns was salvaged by a 365 yard day that saw him go 23 of 34 from deep. Unfortunately for fans of drama everywhere, Johnny Football did not see the field. Also interesting: despite what the final score might indicate, each team only scored one touchdown through the air, with Cleveland's Brian Hoyer tying the game in the fourth (Hoyer did not have a great game otherwise).
4. Ryan Fitzpatrick: 10.27 AY/A, 109.3 QBR
Fitzmagic returns! Originally signed as something of a bargain basement replacement for Matt Schaub — who stopped looking like an NFL quarterback and began instead to resemble Dresden circa 1945 halfway through last season — the Harvard graduate who signed a massive deal with Buffalo managed to be uninspiring enough that the Bills would complain about him to anyone who would listen, cutting him once the disappointment became public. Did the Texans defense win the game? Almost certainly. Is going 14-22 overinflated when your one touchdown was mostly the receiver's work? Definitely. Does Fitzmagic care? Absolutely not.
3. Colin Kaepernick: 10.48 ANY/A, 125.5 QBR
The thing that's stopping the Russell Wilson/Colin Kaepernick rivalry from developing into, you know, an actual measurement of competition between two players, is that the whole thing feels staged — it feels as if they've spent more hours shooting advertisements together than sitting across from each other on a football field. That said, even if Wilson has a Super Bowl win over Kaepernick so far, the San Francisco QB roundly outplayed his Seattle counterpart in Week 1, offering up a 125.5 QBR and a 10.48 ANY/A to go with a pair of touchdowns. You can see Wilson's numbers here.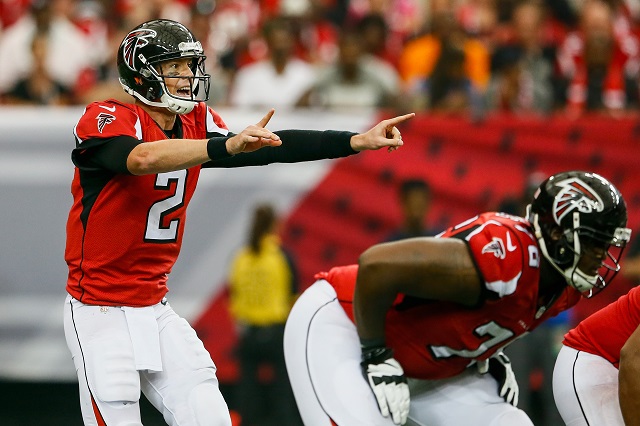 2. Matt Stafford,10.66 AY/A, 125.3 QBR
Consider this a great reason why the football week isn't over until the early hours of Tuesday morning. After Detroit's 35-14 dismantling of New York, Lions quarterback Matthew Stafford finished with two thrown touchdowns, both to Calvin Johnson, one rushing touchdown, and 346 yards from the field on a 68 percentage completion rate.
1. Matt Ryan, 11.81 AY/A, 128.8 QBR
No one had a better week throwing the football than Matt Ryan, who put the first nail in the coffin of the idea that he's now overpaid thanks to his new contract extension, worth up to $100 million. Three touchdowns, 448 yards, and a 72 percent completion rate saw the Falcon's QB emerge with the highest QBR of the week, the largest AY/A of the week, the highest total yardage — by over half a football field, since Andrew Luck took the second place spot with 370 — and Atlanta is already a quarter of the way toward matching their successes of last season. Good job, Matt Ryan.