Who Cares? 2020 Champion Chase Elliott Fails to Dominate NASCAR Cup Series Headlines Or Draw Biggest Cheers of Hendrick Motorsports' Garage
NASCAR Cup Series driver Chase Elliott should have been the Hendrick Motorsports' headline-grabber this season.
He was the defending series champion and the veteran driver in the team garage. With teammate Kyle Larson dominating the series with nine wins, he accepted a back seat to the newcomer's image reclamation project.
The ordinarily quiet Elliott has remained consistent with his personality outside of his multi-race playoff-fueled feud with Kevin Harvick.
Driving in defense of his Championship 4 on Nov. 7, Elliott continues to let his driving do his public speaking.
NASCAR Cup Series driver Chase Elliott not worried about the muffled applause
Elliott's Cup championship last season was Hendrick Motorsports' first since 2016.
Yet, it has been Larson, who overcame a NASCAR suspension last season for uttering a racial remark during an iRacing streaming event, which has attracted the louder ovations.
"There's definitely been a few races this year where it's like, 'Wow, my cheers were louder than Chase.' That's really cool," Larson told The Associated Press.
In their first season as Hendrick teammates, Elliott and Larson have yet to make a personal connection. With coronavirus (COVID-19) restricting driver interactions, the two have rarely run into each other at the office.
"I feel like with Chase, what you see is what you get. He's just quiet and keeps to himself, and I appreciate that side of him," Larson said.
To his credit, Elliott has not spoken up publically or shown petty jealousy toward his teammate.
"I'm not ever going to knock somebody for doing a good job behind the wheel, or on the pit box, or on pit road," he said. "When you do a good job, you should be rewarded for it, and rightfully so."
Elliott nearly takes out teammate Larson early during Championship 4 race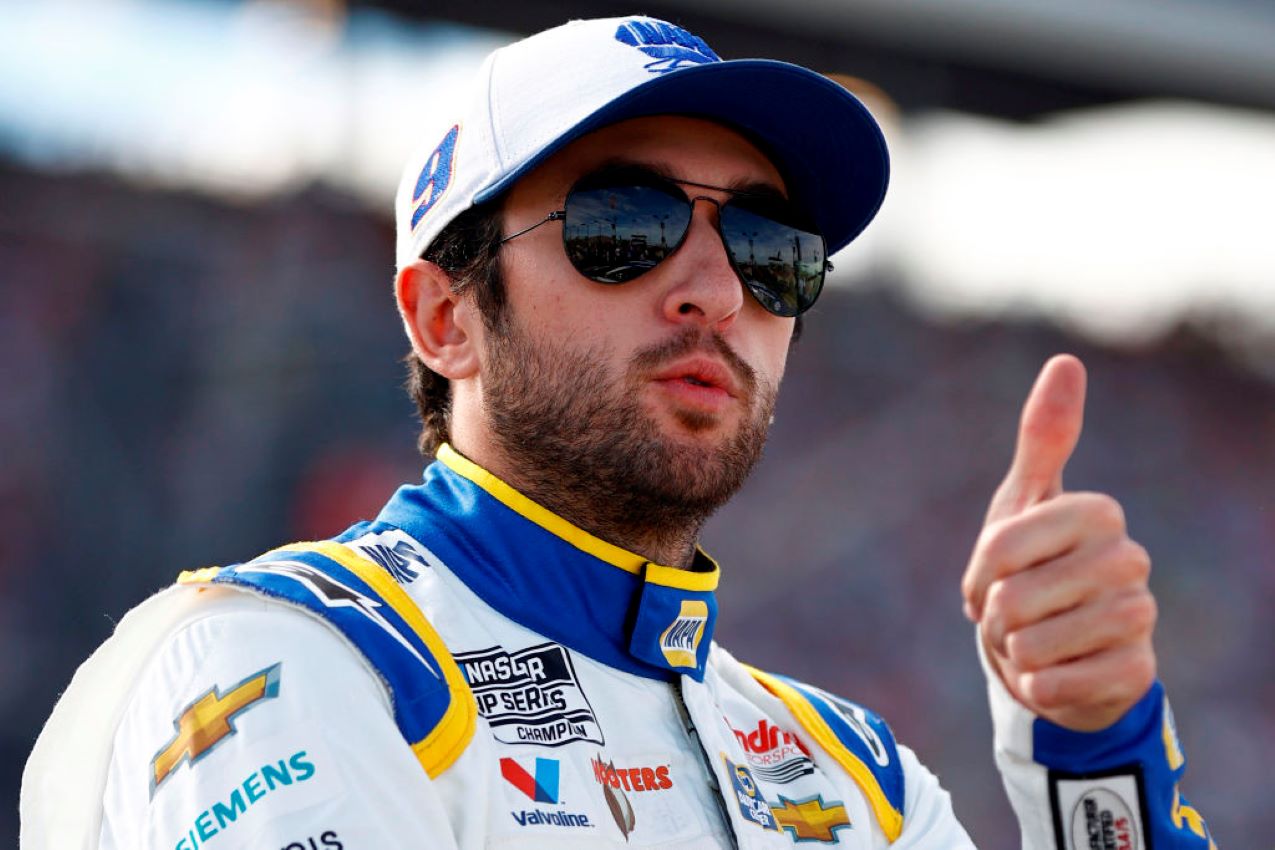 Larson and Elliott found themselves racing side-by-side on Lap 27 of the championship race at Phoenix Raceway on Nov. 7. Elliott went low and attempted to pass his teammate. He didn't have the power and almost lost control of the car.
His No. 9 Chevrolet started sliding up the track, coming within inches of taking out both of Hendrick's final four entrees.
Wonder what T-shirts would have been created the next week if Elliott did not save his car from swiping Larson's at the last second?
Elliott may not be pouting over not dominating headlines throughout 2021, but he raised and challenged Kevin Harvick during their ongoing postseason feud.
Elliott came out on top of that face-off when Harvick fell out of Championship 4 competition when he wrecked with Elliott drafting his position. Afterward, the usually reserved Georgia native released a T-shirt line mocking Harvick: "Merry Offseason and Happy Christmas."

Popular Elliott brushes off Hamlin for mocking his fan base
Elliott also shook off his popularity.
The winner of the NASCAR Cup Series' most popular driver award for the past three seasons, the younger Elliott is not the most popular driver in his family. He needs to win the honor for another decade and a half to match his record-setting father, "Awesome" Bill Elliott.
When Denny Hamlin recently mocked his fan base, Chase Elliott brushed off the final four rival.
For Elliott and Larson, there was more at stake at the championship race than just a Cup series championship. The two were also racing for the Hendrick Motorsports' garage bragging rights.
They ran 1-2 through the early turns of Stage 3 on Nov. 7.
That race will continue as long as they are teammates.