Who Could Steal Super Bowl MVP From Tom Brady?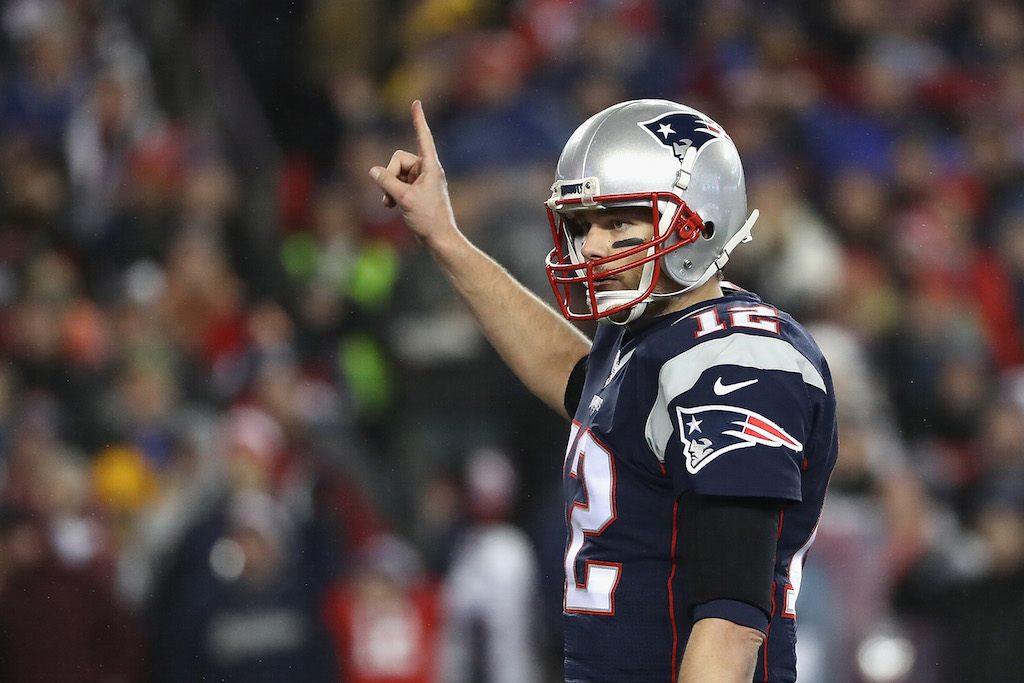 And then there were two.
Following a hard-fought regular season, and an equally exciting few rounds of playoff football, the quest for NFL supremacy comes down to the Atlanta Falcons and New England Patriots. Two teams that, based on their recent play, clearly separate themselves from the rest of the pack.
In the end, a case could be made for why each team has what it takes to walk away from Super Bowl LI victoriously. The Patriots are battled-tested and have experience on their side, while the Falcons are flying high with the most potent offense in the NFL. If you ask us, this game has the chance to be an instant classic. Of course, while everyone knows the Super Bowl is, ultimately, about the Lombardi Trophy, it's hardly the only piece of hardware at stake.
At the end of this matchup, one player will walk away with the game's Most Valuable Player award. The general consensus is that Patriots quarterback Tom Brady is destined to add to his already stacked trophy case. However, according to Vegas odds, the future Hall of Famer faces some stiff competition for the individual honor. See for yourself.
4. (tie) Devonta Freeman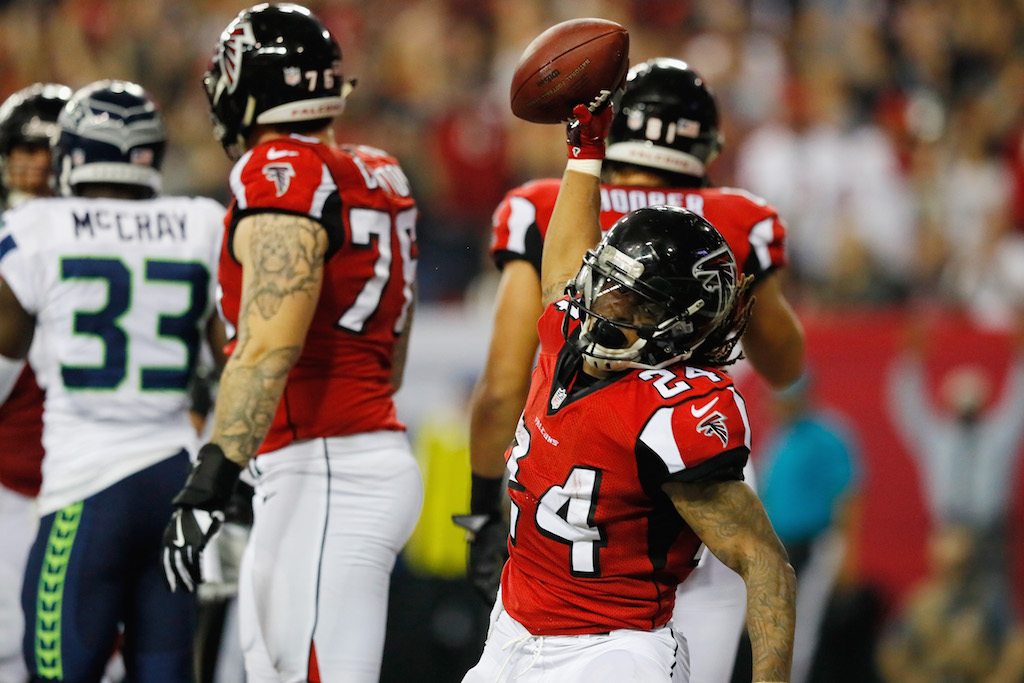 Odds: +2000
Devonta Freeman has been an absolute workhorse for the Falcons all season. In 16 regular-season games, the third-year pro carried the ball 227 times, racked up a career-high 1,079 rushing yards, and notched 11 rushing scores (for the second year in a row). While Freeman's production dipped a bit in Atlanta's two postseason contests, we cannot overlook the two-time Pro Bowler.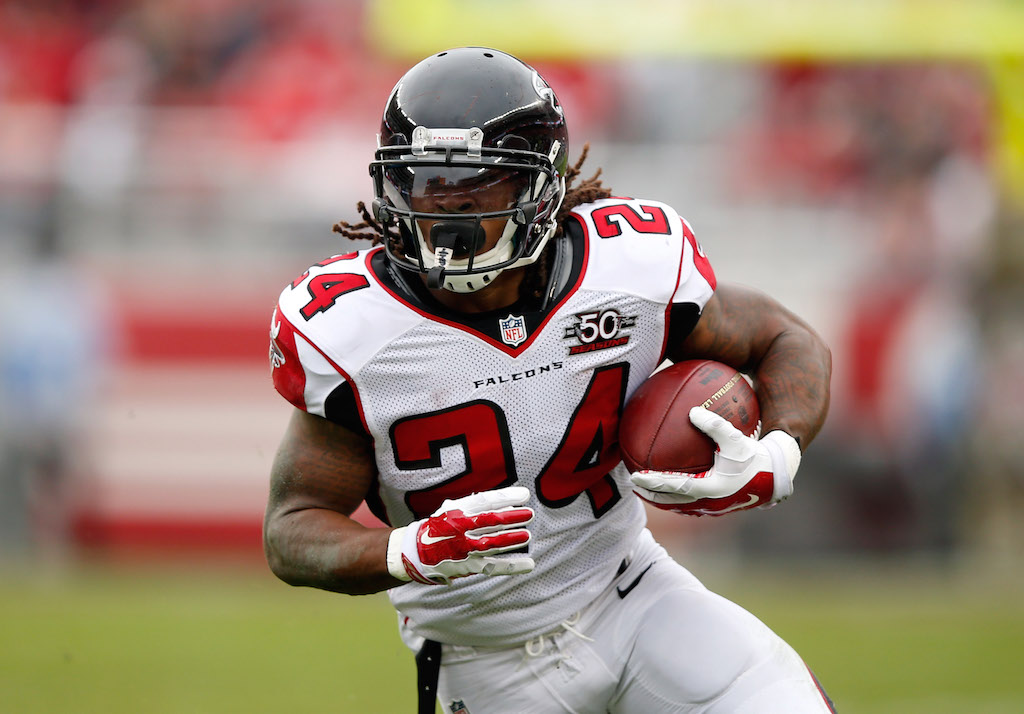 Despite averaging just 43.5 yards per game on the ground in the postseason, Freeman found other ways to torch the opposition. Just ask the Seattle Seahawks, who saw the former Florida State standout burn them for four receptions and 80 receiving yards in their divisional-round playoff game. Based on the odds, Freeman is unlikely to walk away with the Super Bowl MVP award this season. However, should he explode for a monster game, all bets are off.
4. (tie) Julian Edelman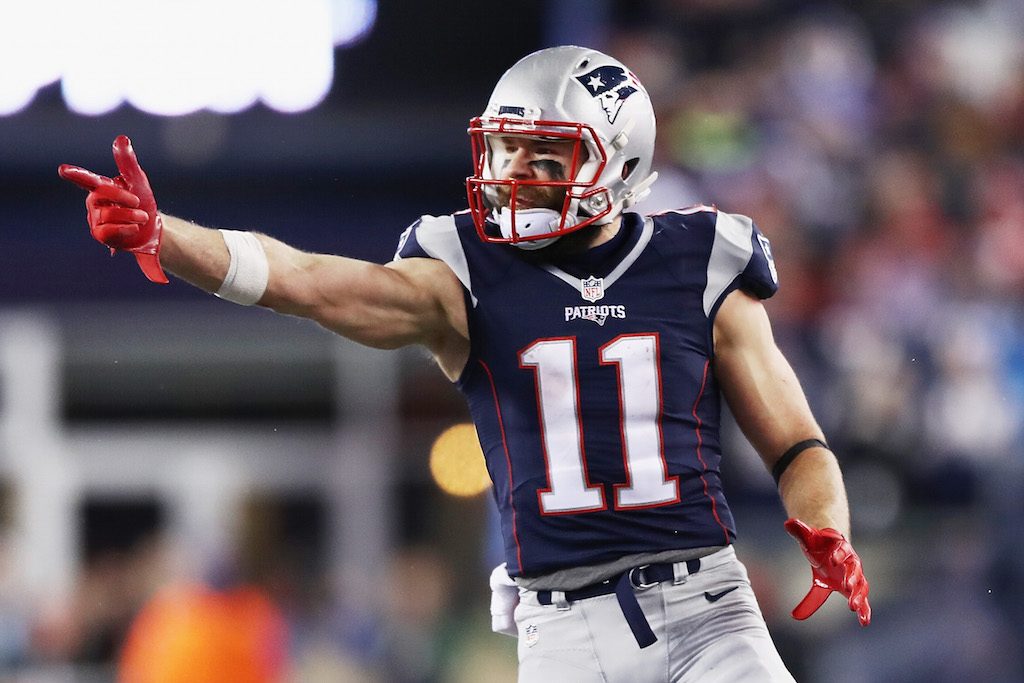 Odds: +2000
At 30 years old, Julian Edelman had the most productive season of his NFL career. He was targeted 159 times, caught 98 passes, and finished the 2016 season with 1,106 receiving yards to lead all New England wideouts. To the jubilation of Patriots Nation, Edelman continued his heroics into the postseason. And, trust us, if you're an Atlanta Falcons fan, this is the last thing you want to hear.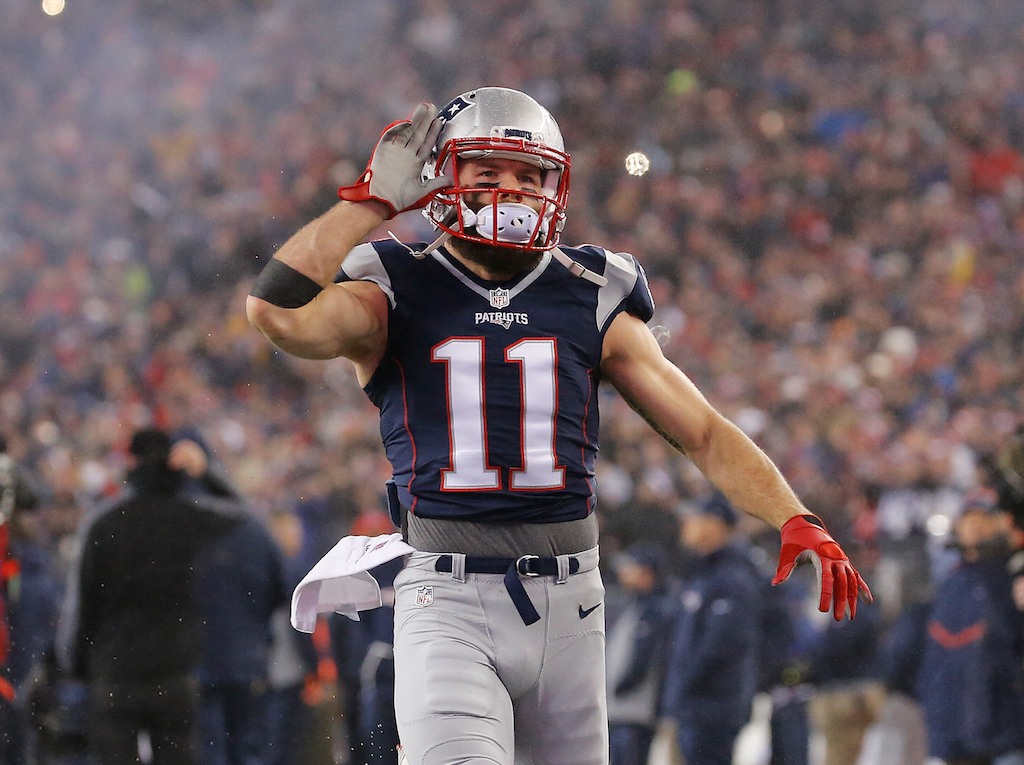 In New England's divisional-round matchup with the Houston Texans, Edelman went off for eight catches and 137 receiving yards. He followed up that performance with eight catches, 118 yards receiving, and one touchdown reception against the Pittsburgh Steelers in the AFC title game. Heading into Super Bowl LI, Edelman has the fourth-most receiving yards (255) in the 2016 playoffs. Who knows, perhaps another 100-plus yard performance is enough to push No. 11 over the top, and earn him individual hardware of his own.
4. (tie) LeGarrette Blount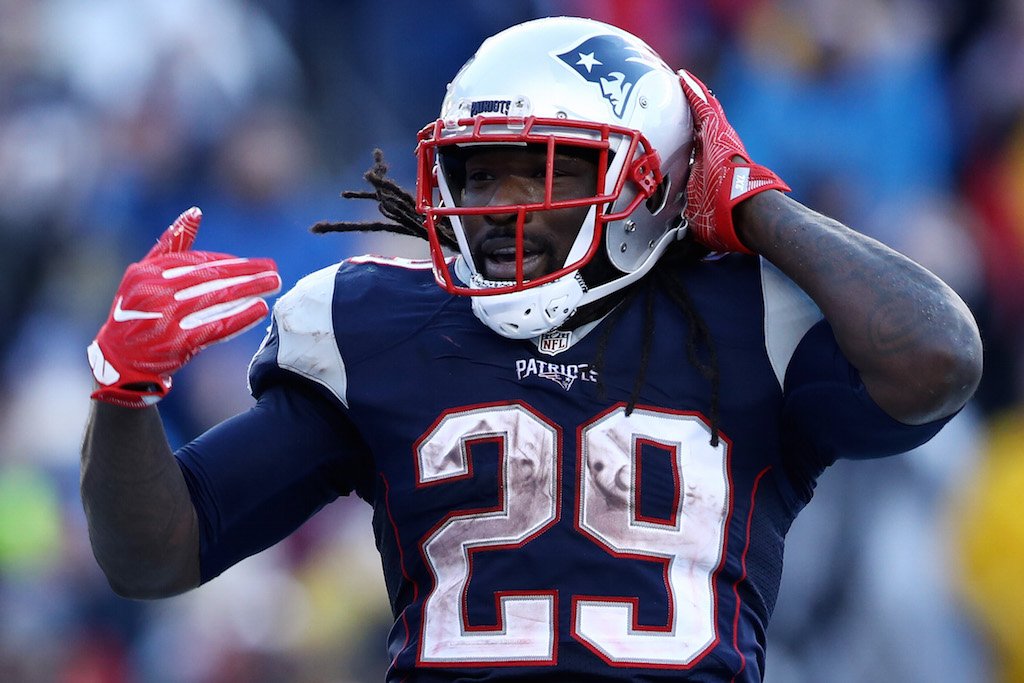 Odds: +2000
In 2016, LeGarrette Blount proved to all the doubters that he still had plenty of game. Despite being 30 years of age, the former Oregon Duck put together the most impressive season of his career. Blount averaged 72.6 rushing yards per game while carrying the ball 299 times for 1,161 rushing yards and a league-leading 18 rushing scores. These numbers should strike fear in the hearts of Falcons fans everywhere.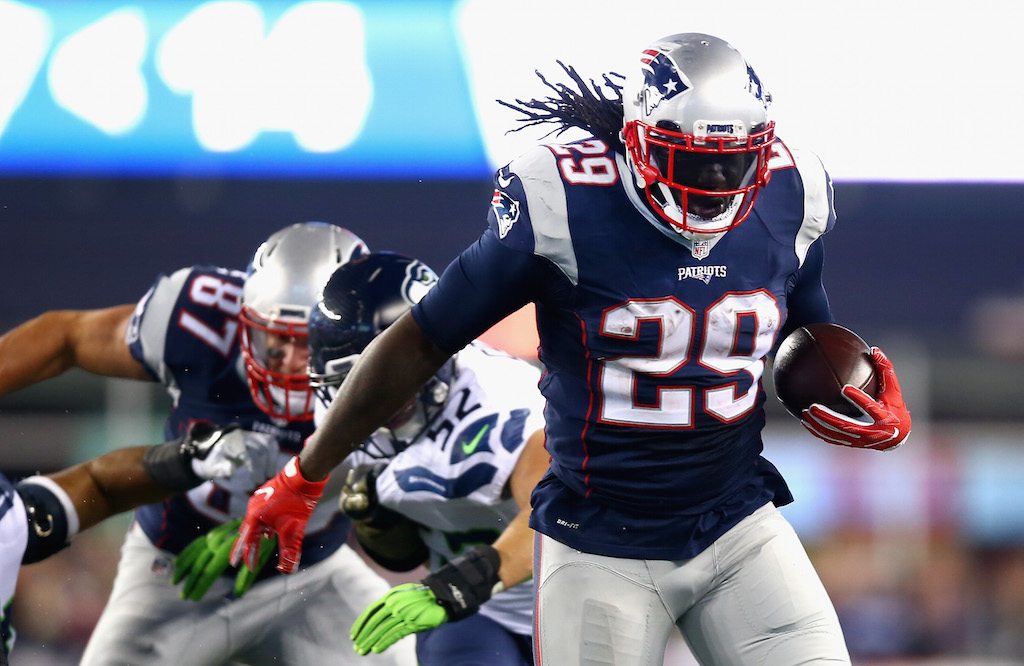 Although Blount's numbers weren't jaw-dropping in the 2016 playoffs, that's no reason to take him lightly. At 6-foot-1, 245 pounds, this back runs with ferocity, power, and brute force. Once Blount builds up a full head of steam, it usually takes an army to bring him down. Don't be surprised if this winds up being a common theme in Super Bowl LI.
3. Julio Jones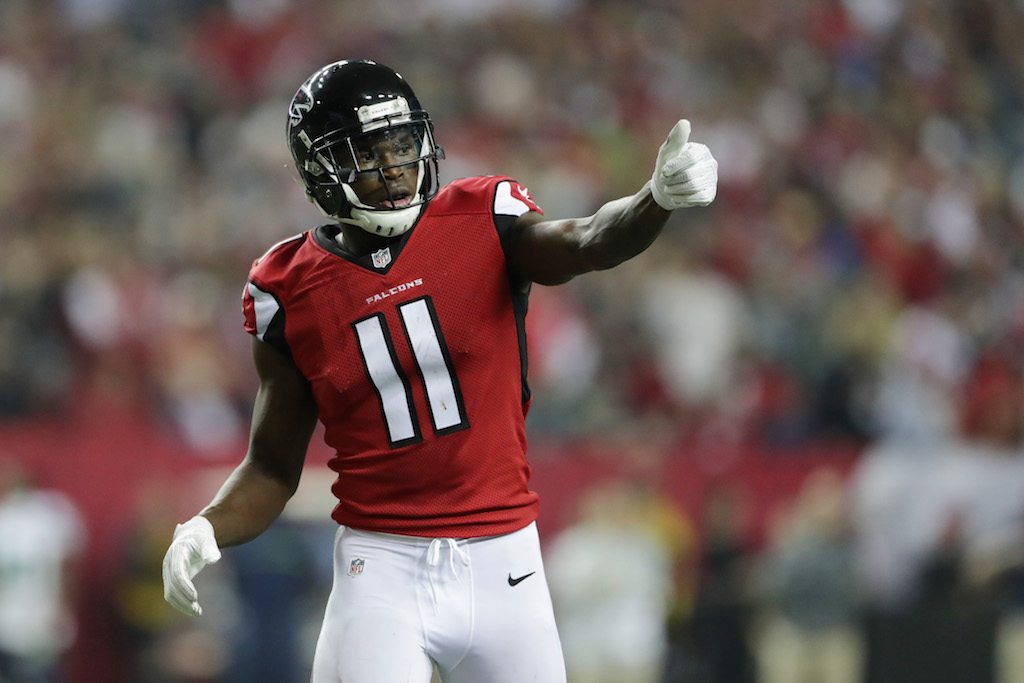 Odds: +1600
Julio Jones is easily one of the top three receivers in the NFL. Some even suggest that the 6-foot-4 phenom is in a class all by himself. Based on the numbers he generated this past season, these folks certainly have a case.
In only 14 games, Jones caught 83 passes, averaged an NFL-best 100.6 receiving yards per contest and finished the regular season with 1,409 yards receiving and six touchdown catches. When it comes to Jones, the thought process is quite simple: You're not going to stop him; you can only hope to contain him.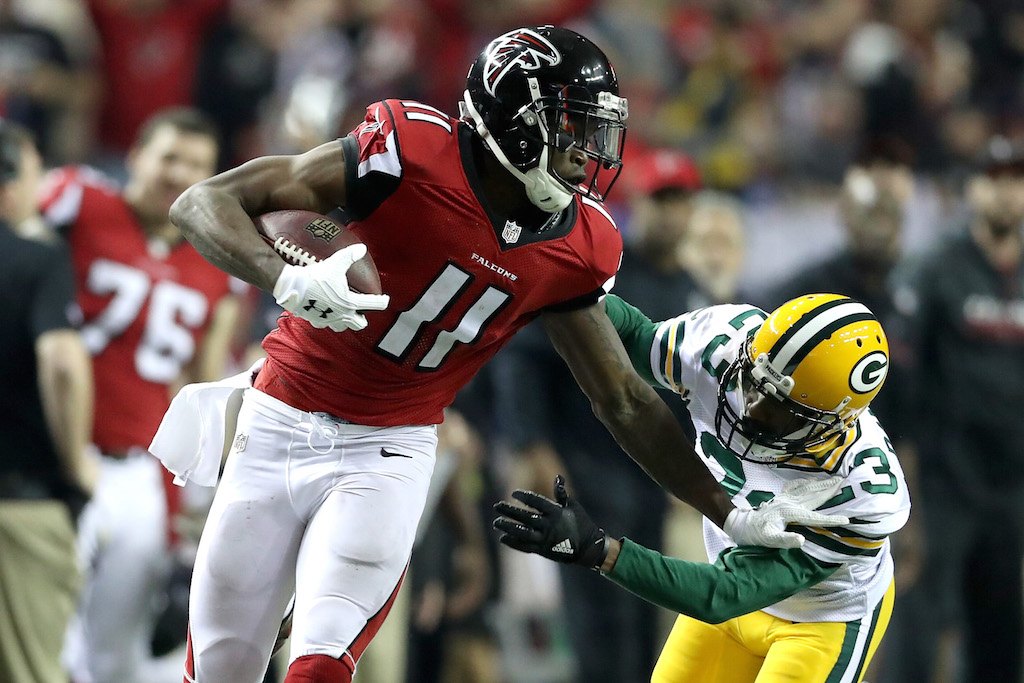 Jones may have been limited to six catches for 67 yards and a touchdown against the Seahawks in the divisional round, but he took his game to the next level in the NFC championship game. As hard as they tried, the Packers had no answer for No. 11, who burned them for 180 yards receiving — on nine catches — and two touchdown catches. For the record, he accomplished all this on a bum toe. No doubt the Patriots will attempt to limit the damage by the All-Pro wideout. We're just not sure they can.
2. Matt Ryan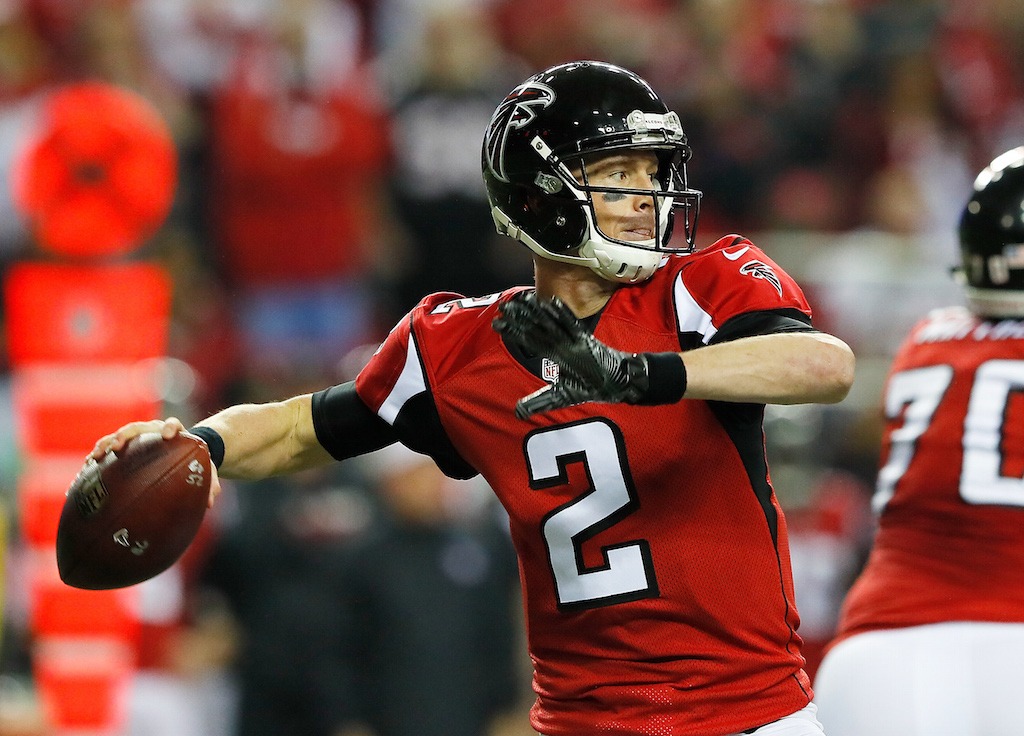 Odds: +185
Matt Ryan is playing like a man possessed. On his way to earning First-Team All Pro honors, the frontrunner for the NFL's MVP award completed 69.9% of his passes, threw for 4,944 yards, 38 touchdowns, and seven interceptions, and led the league in yards per attempt (9.3), touchdown percentage (7.1), and passer rating (117.1). What's scarier is that he's only continued to raise his game in the postseason.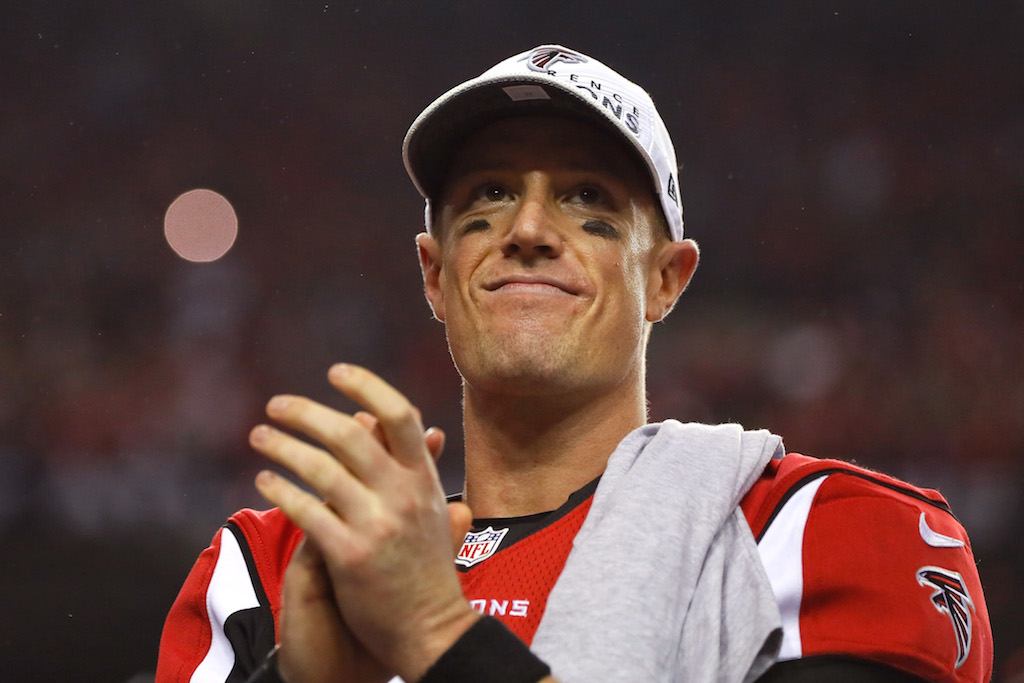 No one has an answer for Ryan during these 2016 playoffs. Through two contests, the Falcons quarterback is completing 70.7% of his passes, averaging 365.0 passing yards per game, and has thrown for 730 yards and seven touchdowns. With Ryan currently playing the best football of his career, it's no wonder Atlanta has the premier offense in the NFL. If the Falcons go on to win Super Bowl LI, we'd be shocked to see anyone other than Ryan winning Super Bowl MVP.
1. Tom Brady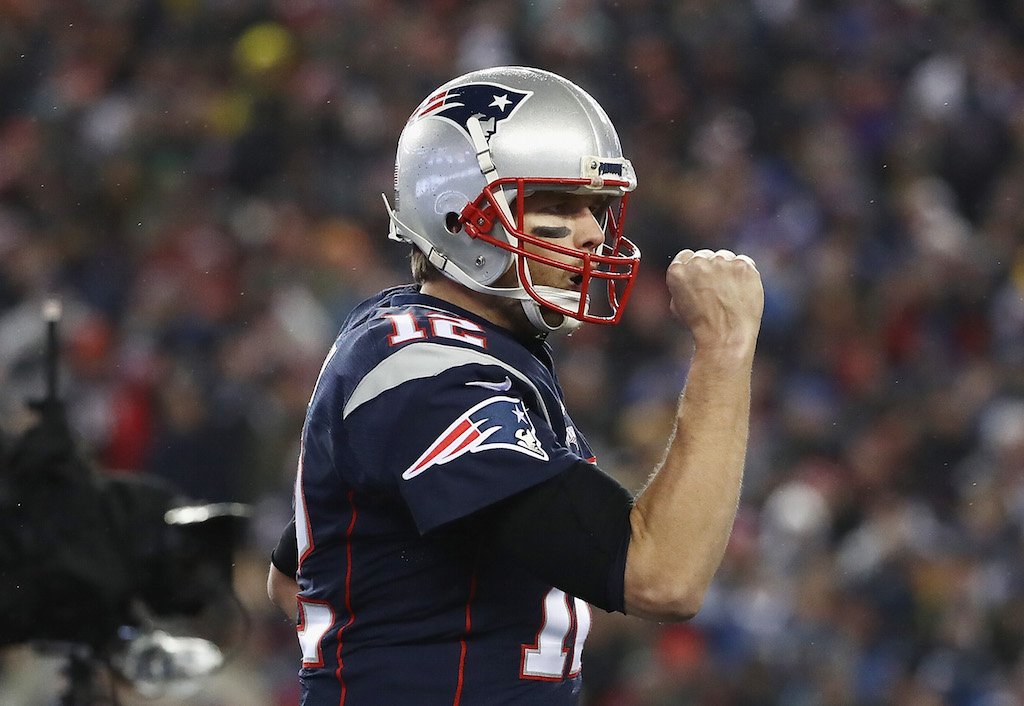 Odds: -110
Following a four-game suspension to start the 2016 season, Brady returned to the lineup and proceeded to take the rest of the league by storm. He went 11-1 as a starter, completed 67.4% of his passes, and lit up the opposition to the tune of 3,554 passing yards, 28 touchdowns, and just two interceptions. Brady hasn't been perfect this postseason, but there's a reason why most people believe he'll walk away as the Super Bowl MVP: He's simply the greatest.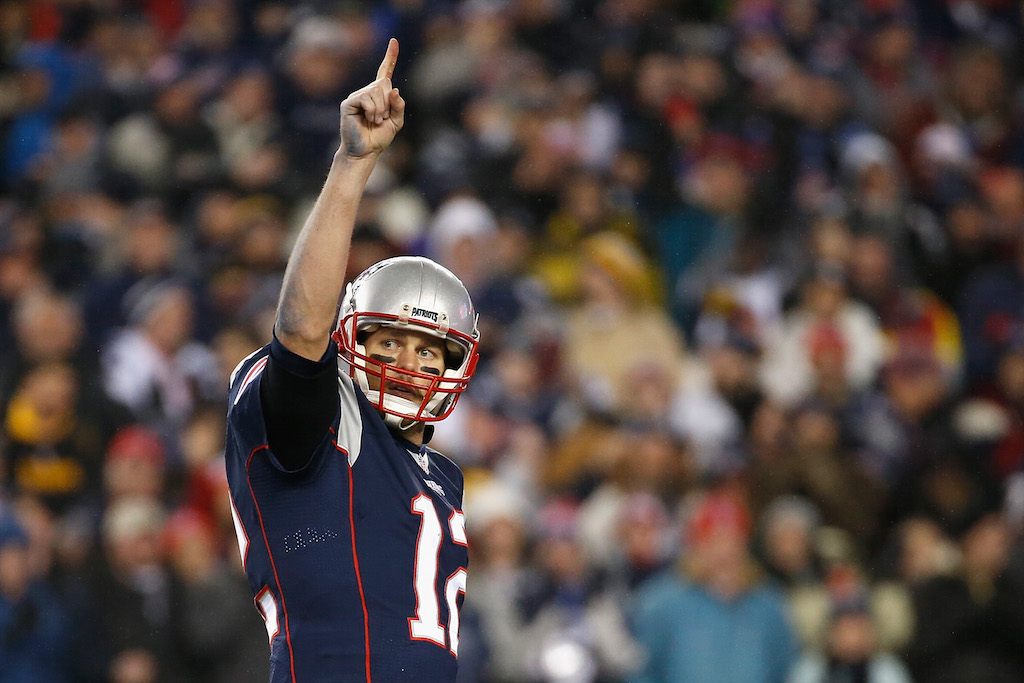 When the stakes are at their highest, that's when Brady is at his best. This guy is the ultimate competitor; a proven winner who lives for the moment. A victory against the Falcons would give Brady his fifth career Super Bowl win; the most of any quarterback in the history of the game. Are you really going to bet against him? We wouldn't recommend it.
Odds courtesy of 5Dimes via OddsShark. Statistics courtesy of Pro-Football-Reference and ESPN.