Who Did Baker Mayfield Play for in College? He Was a Walk-on at 2 Different Schools
Cleveland Browns starting quarterback Baker Mayfield is in the midst of contract extension negotiations. As the number one pick in the 2018 NFL Draft, he is expected to garnish an attractive deal. The fate of his draft classmates, Buffalo Bills Josh Allen and Baltimore Ravens Lamar Jackson, will undoubtedly affect what Mayfield can work out. Meanwhile, the Heisman Trophy winner has been out of college long enough that some fans (new and old) might wonder what school he played for. Keep reading to learn all about Baker Mayfield's college football journey.
Mayfield has built a successful career in the NFL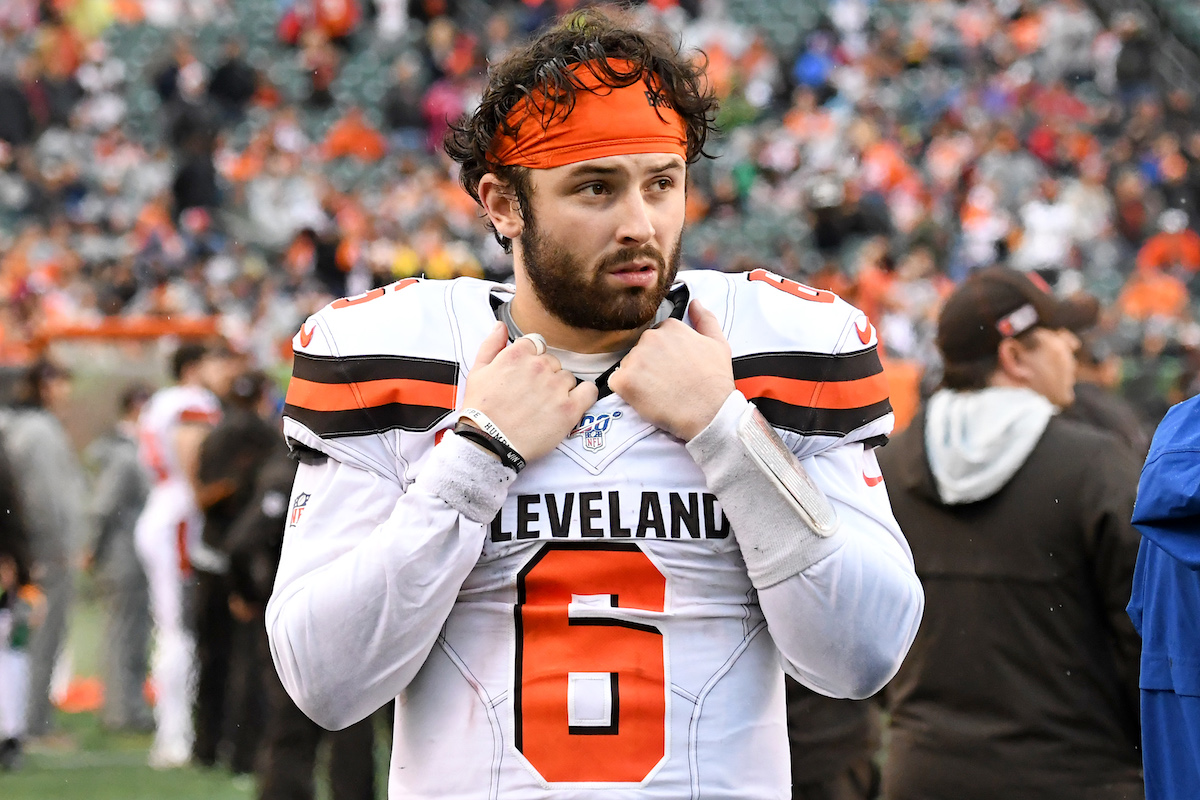 The 26-year-old has been playing in the NFL with the Cleveland Browns for the past four years. In his rookie year as starting quarterback, Mayfield threw for 3,725 yards with 27 touchdowns and 14 interceptions. He had a 64% completion rate, ending the season with a 7-7 record.
Mayfield struggled in his second season in 2019 with a change in coaching staff and a newly rebuilt offensive line. According to Pro Football Reference, the signal caller's completion rate dropped to just 59 percent, and the Browns record fell to 6-10. That season he threw for 3,827 yards with 22 touchdowns and 21 interceptions.
Last season, Mayfield threw for 3,563 years with 26 touchdowns, eight interceptions, and a 63% completion rate.
In Week 2 of the 2021 season, Mayfield experienced a shoulder injury during a pass in the game against the Houston Texans. According to Browns Nation, the starting quarterback was not fazed by the soreness, saying, "If he is in pain, Mayfield is putting on his game face."
Where did Baker Mayfield go to college?
Because of his success at Lake Travis High School in Austin, Texas, Baker Mayfield was offered a scholarship to play college football at Washington State — but declined the offer, instead becoming a walk-on at Texas Tech.
In 2013, he became the first Red Raiders walk-on player to start a season opener as quarterback, later receiving the Big 12's Offensive Newcomer of the Year award. Due to difficulties with scholarships and the coaching staff, Mayfield left Texas, becoming a walk-on at the University of Oklahoma.
Because of NCAA transfer rules, Mayfield had to sit out the 2014 season. The following year, he won the starting quarterback position for the Sooners. According to Fan Nation, "No player in college football history did more for walk-ons," with two appearances in the playoffs and three consecutive wins in the Big 12 championships.
Playing his senior year for OU, the young quarterback threw for 4,627 passing yards and 43 touchdowns. He ranks seventh all-time in NCAA history with a college career total of 14,607 years, 131 touchdowns, and 30 interceptions. Fan Nation reported Mayfield is "the only player in NCAA history with 14,000 passing yards and 1,000 rushing yards."
In 2017, the young quarterback won the Heisman Trophy, becoming the first walk-on player ever to take home the coveted award. Mayfield's successful college career made him an obvious first-round NFL draft pick for 2018.
Contract negotiations are in the works
According to WKYC, Josh Allen just signed a six-year contract "reportedly worth $258 million — $150 million of which is guaranteed." This is great news for Mayfield, in that "the market has been set for his own extension negotiations with the Cleveland Browns."
Spotrac reported the current market value for Mayfield is a four-year, $141 million contract, with an annual salary of $35 million. The deal would boost his ranking to the league's fifth-highest paid quarterback, notwithstanding Lamar Jackson's potential deal. Many analysts believe the Sooners alum will negotiate a contract that far exceeds these conservative projections.
Mayfield's current contract lists him as a free agent until 2023, since the Browns exercised their option for a fifth-year on his rookie deal. The original four-year contract was for $32 million guaranteed, getting roughly $24.3 million before the 2020-21 season. Mayfield currently has an average annual salary of $8 million and is eligible to start negotiating a contract extension now. According to ClutchPoints, he has an estimated net worth of $12 million.
USA Today reported that, "Mayfield has made it clear that a contract extension is something he will let his agents handle until it is time for him to get involved." While the starting quarterback is laser focused on the new season, "The Browns, for their part, have made it clear they want their quarterback around for a long time."
RELATED: Baker Mayfield is Quietly Following the Same Path Tom Brady Took to Achieve NFL Greatness