Who Did Colin Kaepernick Lose His Starting NFL Job To?
Colin Kaepernick's NFL story is complex. In his first year, he backed up Alex Smith, barely taking the field. In his second season, he took the 49ers to the Super Bowl and came within three points of winning. Then, a series of injuries and poor seasons led to a quarterback competition with Blaine Gabbert in 2016. Eventually, Gabbert won.
That same year, Kaepernick began protesting racism and police brutality. This made him more of a celebrity than a football player. Many believe it led to his failure to make it back into the league. But how exactly did Kaep lose the job to Gabbert?
The 2016 QB situation in San Francisco
During the 2016 season, Gabbert was given the Week 1 start. Coming off a disappointing 2015 with some lingering injuries, Kaepernick wasn't able to immediately take the field and the 49ers were excited to see what Gabbert could do. Unfortunately, it wasn't much. After five games, Kaepernick re-took the field and muddled through the remainder of the season as the 49ers won one game out of 11.
As blogs like Niners Nation observed, Kaepernick wasn't playing worse than Gabbert. The 49ers defense was abysmal and destroyed any chance at success a QB might have in the San Francisco system. But at the time, this wasn't apparent to fans who believed that Kaepernick may have been the issue (a convenient excuse, given that his protest made plenty of fans uncomfortable). When Kyle Shanahan took over the coaching job in 2017, it seemed like Gabbert would be a better fit for his system.
Who 'won' at quarterback?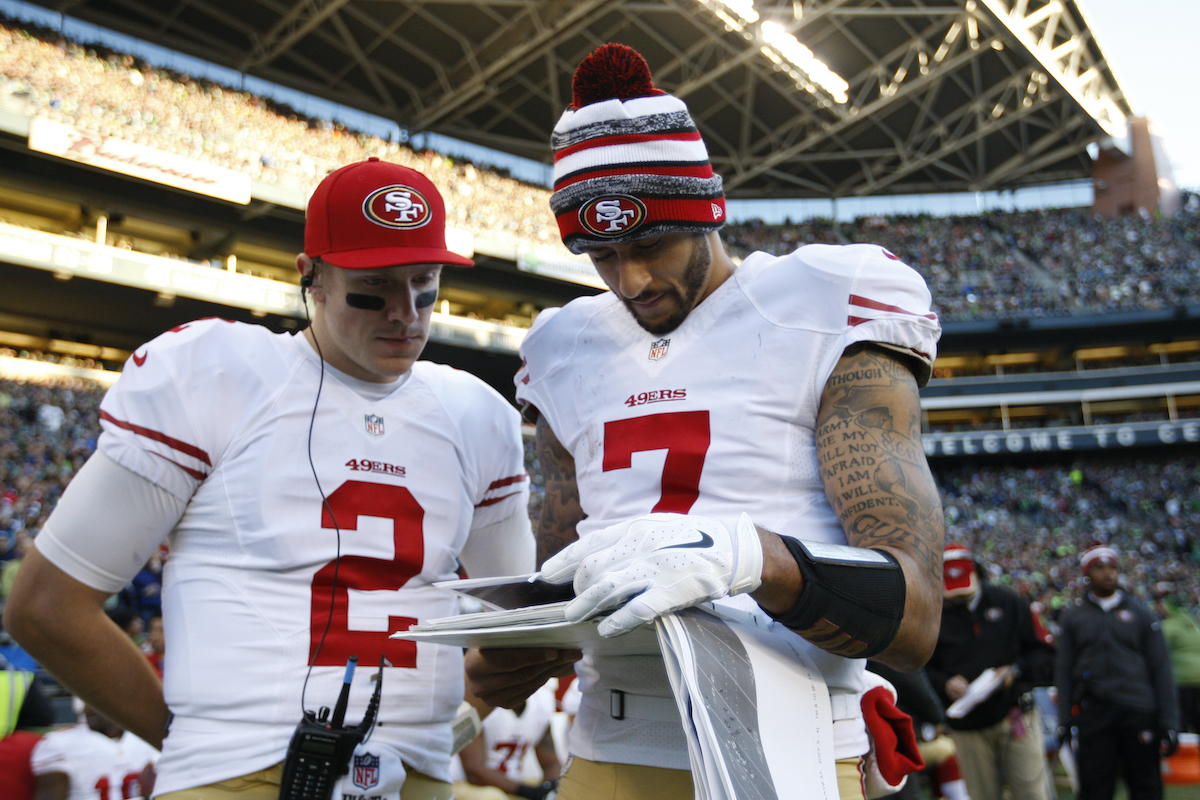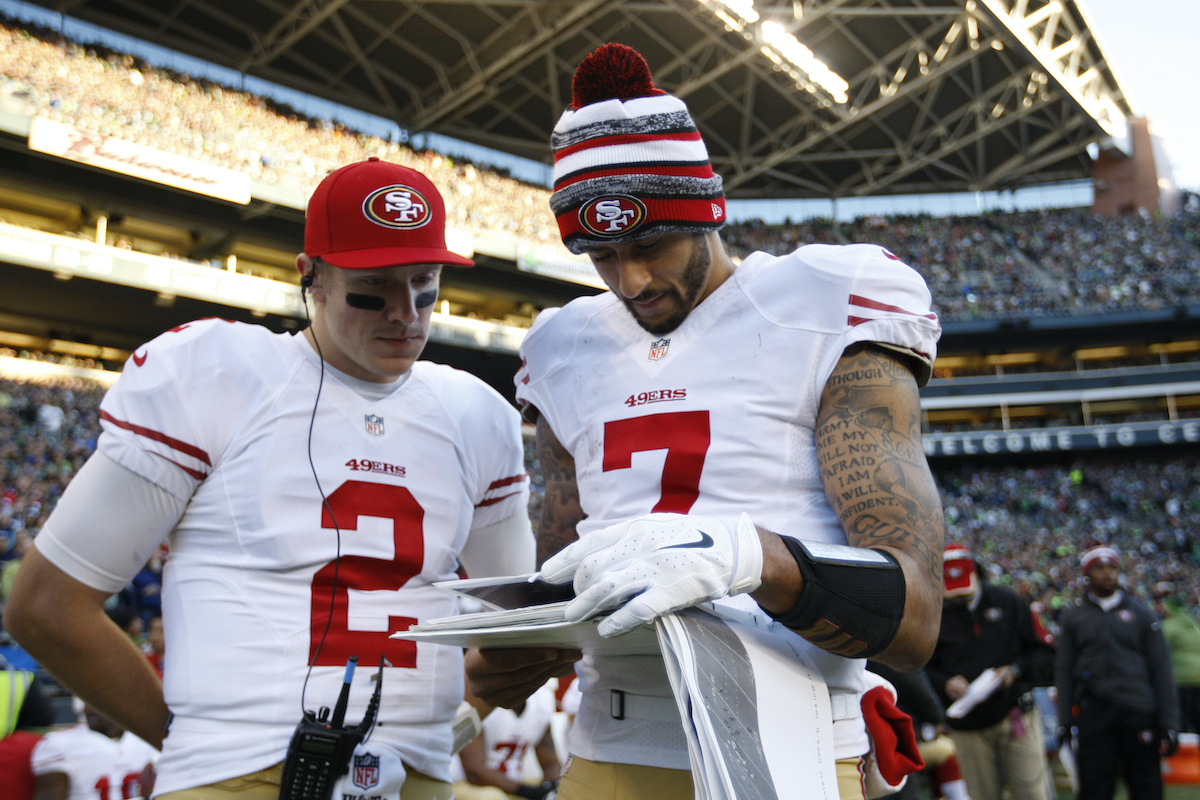 Of course, most fans know how that story ended. Gabbert played for the Arizona Cardinals and Tennessee Titans over the next couple years, not getting traction anywhere. He now plays behind Tom Brady in Tampa Bay. And San Francisco cycled through QBs like C.J. Beathard before awarding Jimmy Garoppolo the starting job (before he tore his ACL).
However, Garoppolo eventually found his footing in SF and brought the team back to the Super Bowl a few years later. A happy ending for the 49ers (until Shanahan blew another double-digit lead) but what is Kaepernick doing now?
Unlike Gabbert, Kap is no longer in the league. He's expressed his desire to play again, but teams have refused to sign him. It appeared he may find a landing spot after he settled his collusion case against the NFL, but nothing has materialized so far. Gabbert will continue to play backup and get paid, while Kaepernick will watch a league that's finally come around to the cause he's championed for years — from home.
Tension about racism in America has reached a boiling point, and the NFL has bent over backward to show fans they're on the "right side." But players linking arms in unity during the Thursday Night season opener were booed by the sparse Chiefs fans in attendance. It's clear the league has a long way to go. But the Washington Football team did end up changing their very racist name so… progress?
The future of Blaine Gabbert and Kaepernick
Gabbert "won" the quarterback race in San Francisco, but he didn't start a single game for the Niners the next season. Kaepernick, who is at least equally-skilled, found himself out of the league while Gabbert bounced from team to team collecting signing bonuses and guaranteed minimums.
The "quarterback competition" in San Francisco was a sham at best, as Kaepernick never had a chance once the new coach was brought in. But if he is truly gone from the league, he's spent his time much more productively than Gabbert.