Who Did Mike Krzyzewski Replace at Duke?
If the reports are accurate, the Duke Blue Devils will have a new head men's basketball coach in 2022–23. The last time that happened, Jimmy Carter was President, Queen's "Crazy Little Thing Called Love" topped the pop charts, and Coal Miner's Daughter was No. 1 at the box office. So was the state of things on March 18, 1980, the day Army basketball coach Mike Krzyzewski was named head coach at Duke.
Krzyzewski had just turned 33, and no one could have projected he would still be there more than 40 years later as the winningest men's basketball coach in NCAA history. Next season will be his 47th as a collegiate head coach and his 42nd at Duke.
Krzyzewski's accomplishments while in Durham can fill a large room. His teams have won five national championships, reached 12 Final Fours, played in 35 NCAA tournaments, and have won 15 ACC tournaments to go with 12 regular-season ACC titles. But because it's been so long since Duke conducted a coaching search, it's worth asking: Who was the coach he replaced?
Duke rose to prominence in the 1960s, then slid backward until Bill Foster arrived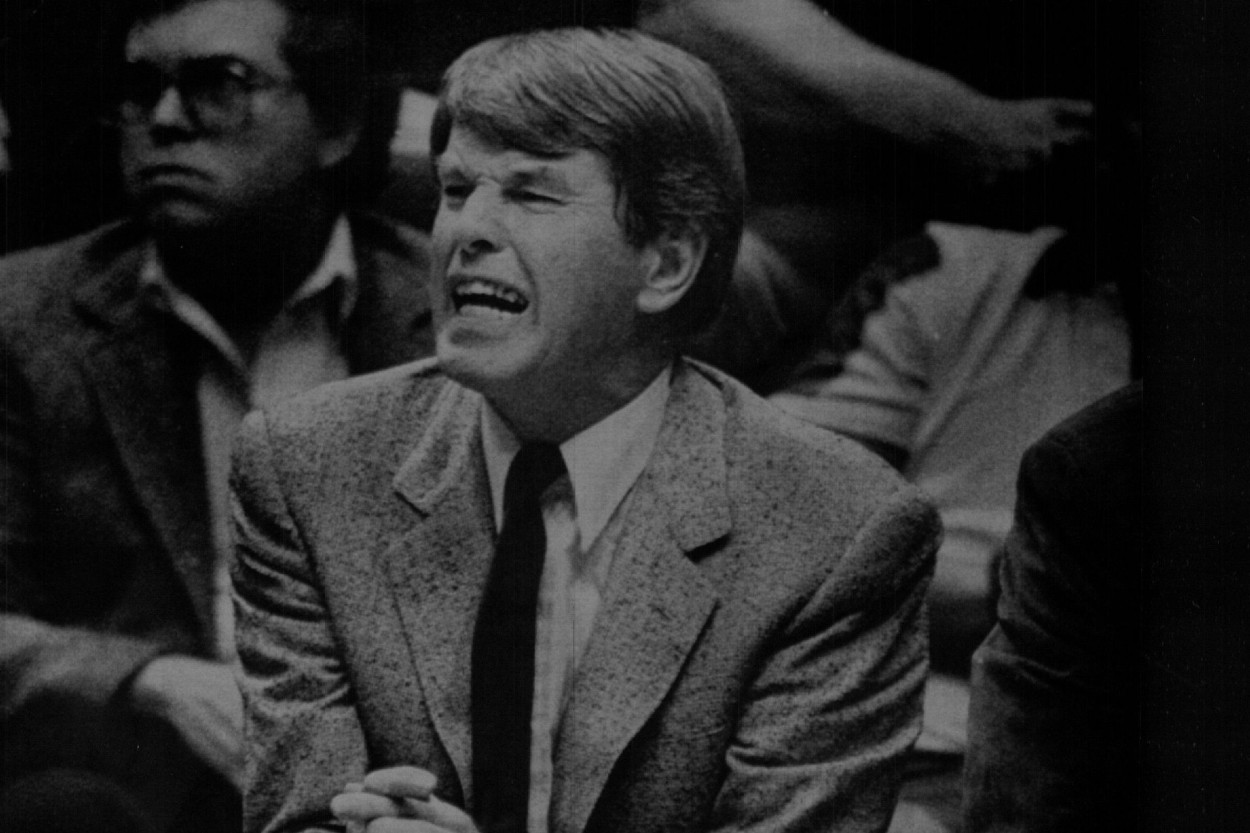 Duke's most sustained success as a program had come in the 1960s under coach Vic Bubas. The Blue Devils reached three Final Fours over a four-season span from 1962–66. He also brought some recognizable names to Durham as assistant coaches, including Chuck Daly and Hubie Brown. When he retired in 1969, the program turned to his lead assistant, Bucky Waters.
Waters had the job for four years, resigning after a 12–14 record in 1972–73. His replacement, assistant coach Neill McGeachy, was fired after one 10–16 season. Bill Foster had coached the previous three seasons at Utah, leading them to a national ranking and a 22–8 record in 1973–74. The job at Utah followed eight seasons at Rutgers, where his teams were 120–75.
The Blue Devils were a .500 team their first three seasons under Foster before a breakthrough in 1977–78. Duke lost a tight battle with North Carolina at old Carmichael Auditorium in Chapel Hill and finished second in the ACC. But the Blue Devils won the ACC tournament after UNC went down in the semifinals to Wake Forest.
That team reached the national final before losing to Kentucky. Duke made the following two NCAA tournaments, as well, but Foster was looking to move.
Foster opened the door for the hiring of Mike Krzyzewski
Duke was not looking to make a change after the 1979–80 season. Duke had a disappointing ACC season, going 7–7 after opening the campaign with an 11–0 record in non-conference play. Seeded sixth and 19–8 heading into the ACC Tournament, Duke rolled through — in succession — 19th-ranked NC State, No. 10 North Carolina, and seventh-ranked Maryland.
The run continued through a second-round victory over Penn in the Mideast Regional. Next came a stunning upset of top-seeded and fourth-ranked Kentucky in the Sweet 16. That win came at Rupp Arena, adding to the shock factor. Sixth-seeded Purdue ended Duke's run in the regional final.
But Bill Foster couldn't resist the allure of another rebuild, and Hall of Fame coach Frank McGuire was on his way out at South Carolina. Foster resigned at Duke before the NCAA Tournament. He was introduced as the Gamecocks' new coach the day after the Blue Devils finished their season.
Divergent paths for Bill Foster and Mike Krzyzewski
Bill Foster never found the type of success he enjoyed at Duke. At South Carolina, he had two winning seasons in six years and never reached the NCAA Tournament. His final position was at Northwestern, where he was 54–141 over seven seasons.
As for Mike Krzyzewski, he nearly didn't survive after his third season. Duke had endured back-to-back losing seasons and had finished with losing ACC records three consecutive times. The Blue Devils were also 0–3 in the ACC tournament in that span. Their 1982–83 season ended with a 109–66 blowout at the hands of Ralph Sampson and the Virginia Cavaliers.
Duke fans were restless and wanted Coach K gone. But athletic director Tom Butters stuck with Krzyzewski, and, man, was he rewarded for it. Duke went to the next 11 NCAA tournaments, reached the Final Four every year from 1986–92, and won the program's first two national titles back-to-back in 1991 and 1992. The 1991 title included a historic upset of an undefeated UNLV team in the national semifinals. That was essentially the same UNLV that had demolished the Blue Devils in the 1990 national title game.
His success at Duke also spring-boarded Krzyzewski to multiple Olympic and World Cup titles as head coach for USA Basketball. And all of it happened because Bill Foster preferred building a program to sustaining one.
Statistics courtesy of SRCBB. Music rankings via Billboard. Box office information came from Playback.fm.