Who Does Joe Rogan Think Is the GOAT UFC Fighter?
There are a handful of candidates in the running of being the GOAT UFC fighter, but many fans think that it boils down to two people. There's Khabib Nurmagomedov, who just retired with an undefeated 29-0 record, and there's also Jon Jones, who's also practically undefeated. Here's a look at which of these two great fighters Joe Rogan thinks is the greatest of them all.
Khabib Nurmagomedov makes a strong case for himself
Nurmagomedov needs little introduction as he has been one of the most dominant UFC fighters ever. Like many of the greatest fighters, Nurmagomedov has been training since he was a kid, and he specialized in wrestling. With the wrestling and grappling skills that he's mastered, he's been able to completely dominate his opponents in the octagon.
Practically speaking, Nurmagomedov has never been in trouble when he's in the ring. Every single opponent that he's fought, no matter how great they were, were all taken down and dismantled by Nurmagomedov's elite wrestling skills. He's also beaten some very tough opponents, including the likes of Conor McGregor, Justin Gaethje, and Dustin Poirier.
That said, while he is undefeated, some fans and analysts, including Rogan, think that his record isn't as impressive as other GOAT candidates like Jones.
That's because, while Nurmagomedov has been completely dominant in the octagon, he hasn't actually faced that many high-caliber fighters. For example, of his 29 wins, 16 of them were outside of the UFC, and only four of them were in title fights against high-level opponents.
Jon Jones is the embodiment of UFC greatness
RELATED: Joe Rogan Gushed Over LeBron James' Potential in the UFC
Like Rogan discussed on his podcast, The Joe Rogan Experience, Jones' record is probably more impressive than Nurmagomedov's since Jones has been the champ for so long.
Jones set a UFC record when he became the youngest champ at 23 after he beat Mauricio Rua in 2011. Jones had 13 fights before that title fight, and he'd fight 14 more times afterward, each time for the title.
The champ also won each of those 14 title fights, though, as Rogan discussed with Luke Thomas, those wins weren't as dominant as Nurmagomedov's wins were. Jones' earlier fights, which were against UFC legends like Rashad Evans and Lyoto Machida, were dominant victories, but as time went on, Jones' dominance started to wane.
Alexander Gustafsson gave Jones one of his toughest fights in 2013, and that wouldn't be the last close fight for Jones. Like Rogan talked about, two of Jones' most recent fights, which were against Thiago Santos and Dominick Reyes, were so close that some fans think Jones actually lost.
Regardless, with a nearly undefeated record of 26-1, Jones has one of the strongest resumes of all the GOAT candidates.
What Joe Rogan thinks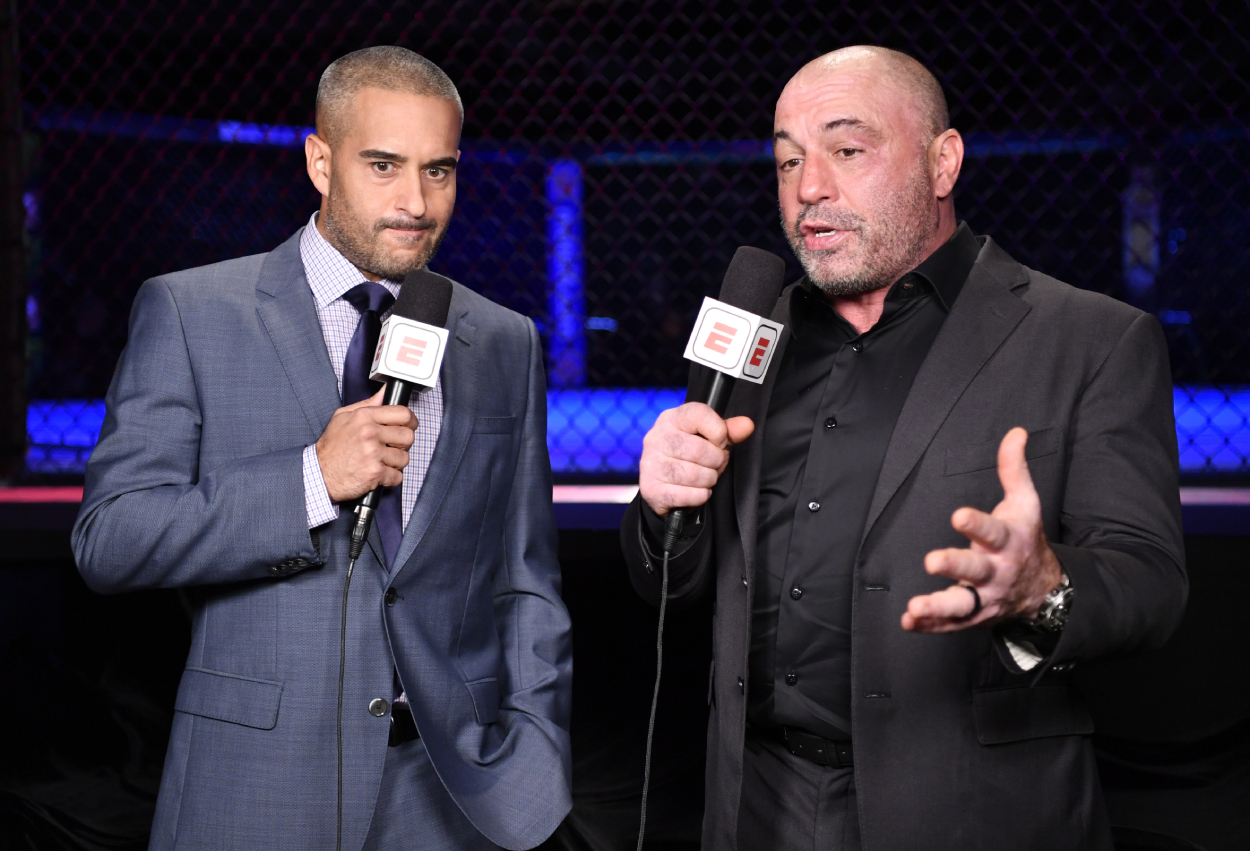 RELATED: Jon Jones Has a Warning for an Up-an-Coming UFC Fighter
There are a lot of caveats to this debate, such as the fact that Jones' only loss was off a technicality and most fans think he won that fight. There's also the fact that Jones has tested positive for performance-enhancing drugs many times, and that taints his legacy. But ultimately, this debate boils down to the question of what's more valuable, dominance or resume.
Like Rogan and Thomas talked about, Nurmagomedov's resume is lacking when it's compared to Jones', but Nurmagomedov dominated his opponents far more than Jones did. Rogan suspected that Nurmagomedov has lost about one or two rounds in his career, while Jones has clearly lost a few rounds in some of his closest fights. As a result, Rogan thinks that the answer just depends on which factor someone values more in this GOAT debate.
There are two ways that this debate can be settled, though. Jones can start dominating his opponents like he used to do, and that could clear things up. Nurmagomedov could also make a comeback and dominate even more opponents, but unfortunately, that's not too likely right now.