Who Is Golfer Lee Westwood's 'Secret Weapon' Caddie, Helen Storey?
Although one of the most consistent pro golfers, Lee Westwood still hasn't won a majors tournament. In recent years he's struggled — mainly due to a lapse in focus. In 2017, the now-47-year-old experienced a bitter divorce and relocated from Florida back to England. But it looks like Westwood is back in fighting form, only this time he won't have his longtime caddie.
Instead, Westwood prefers having his fiancé, Helen Storey, or his son Sam at his side. This seems to have made all the difference for his game.  
Lee Westwood's golf revival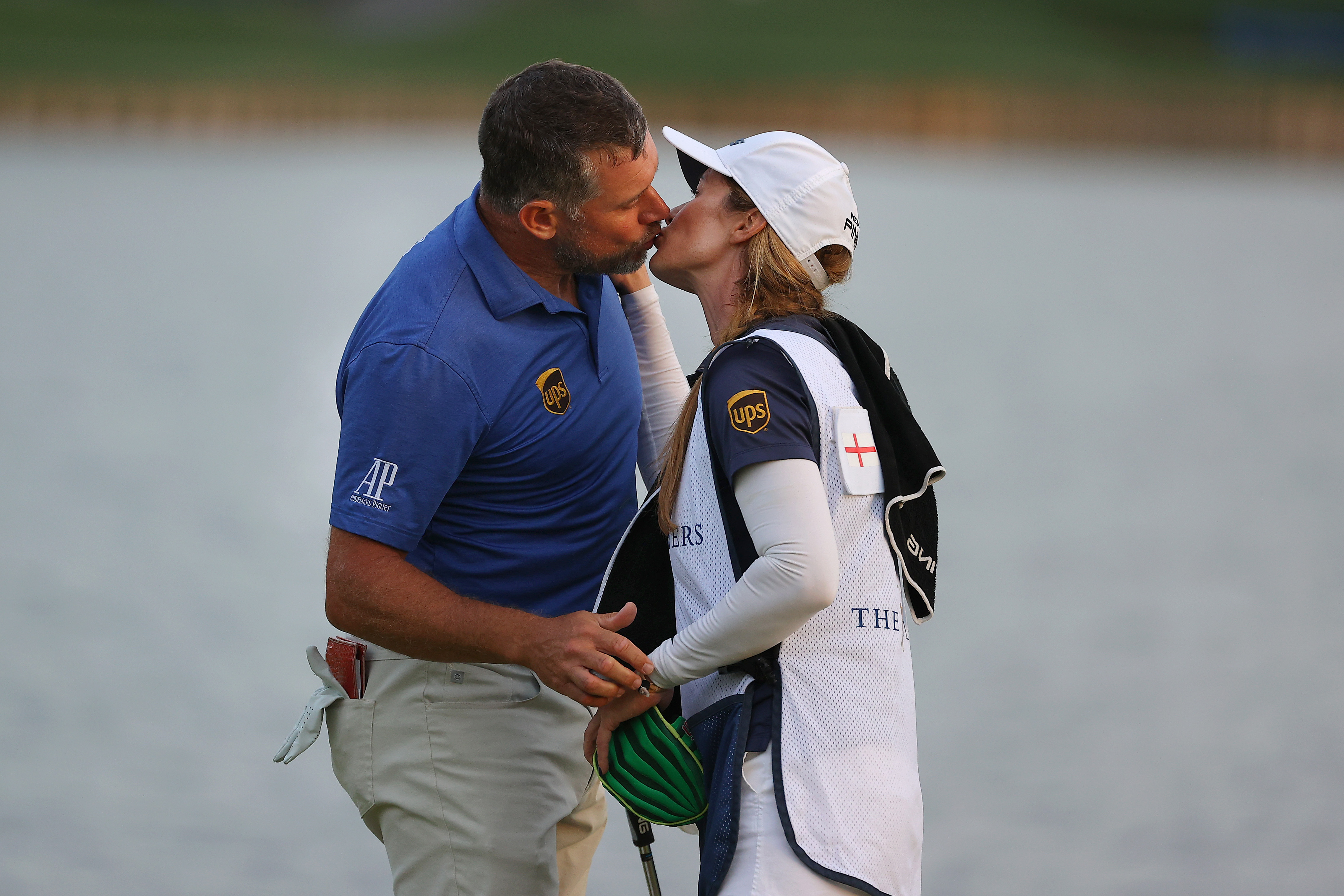 RELATED: Justin Thomas' Caddie Just Made Over $270,000 to Become the Highest-Paid Caddie in 2021
Westwood entered the scene in 1996 and won his first pro tournament. Since then, reports Business Wire, he's won tournaments on five continents, joining only a handful of other golfers. Westwood almost secured his first Masters win in 2010 when he led the pack entering the final day. The English golfer ended up finishing second, a career-best, to Phil Mickelson.
Westwood golf game faltered a bit during the mid-2010s due to a contentious divorce. He also parted ways with his longtime caddie, Billy Foster. Golf Digest reports that Westwood was seeking autonomy — not additional input. Instead of Foster, he asked then-girlfriend Helen Storey to do the job. Westwood said:
At my stage of my career, there's not a lot a caddie can tell me, but obviously Helen gets me in a fantastic mood out there, and psychologically she can help me and say the things that I need to hear.

Lee Westwood on his caddie/partner, Helen Storey
The move worked. After adding Storey to his team, he snapped his four-year winless streak, and his play has improved tremendously.
Who is Lee Westwood's caddie, Helen Storey?
RELATED: Why Do The Masters Caddies Wear White Jumpsuits?
After Westwood's divorce from his wife in 2015, he started dating Storey. She works as a fitness instructor but got a new job when Westwood assigned her to caddie duties in 2018. Her presence on the green calms Westwood and gets him in the right mindset.
Others note the difference in him too. Fellow golfer Bryson DeChambeau told Golf.com, "I think Helen is a big part of it, She's keeping him steady and level-headed, and she's a rock. Keeps his mind focused on the right things, and she's been awesome for him, and that's one of his secret weapons, I think."
Westwood finished second at the DP World Tour Championship, Arnold Palmer Invitational, and The Players Championship. But Westwood isn't concerned with winning anymore. Instead, he explained, "I still care about my performance, and that in turn leads me to work as hard as I've always worked. The only thing I can control when I go out there is the process and making sure I have fun. I make sure I have fun."
Westwood's son splits caddie duties with Helen Storey
Storey isn't Westwood's only secret weapon. He enlists the help of his son Sam for caddie duties, too. Sam is his son from his marriage to Laurae Coltart. The couple also has a daughter together. The pair split in 2015 amidst accusations of Westwood's infidelity. The matter was settled in 2017 before it went to trial. 
Westwood told ASAP Sports that both Sam and Storey negotiate about who caddies which events. "I just like being out there with the both of them," the golfer explained. "Both keep me relaxed. We have good chats out there. It's good bonding time."
Westwood elaborated that he likes to break down his game in the evenings after competing during the day. Storey gives him feedback; Sam enjoys himself and excitedly looks forward to his caddie duties, too.