Who is Alex Guerrero? Everything We Know About Tom Brady's Trainer and His Role With the Patriots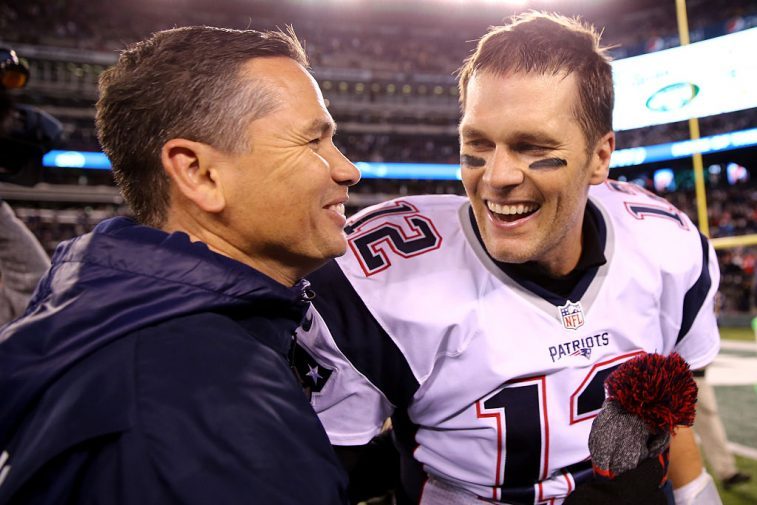 New England Patriots quarterback Tom Brady has said that he would like to play in the NFL until he's 45, and why not? He's still in excellent shape and winning on Sundays by carving up defenses made up of players much younger than him.
Many can't put their finger on why Father Time hasn't caught up to him yet, but if you ask Brady it's all thanks to the TB12 Method he developed with Alex Guerrero.
Here's more on Guerrero and what his role is with the Patriots this season.
What does Guerrero do?
Guerrero is Brady's longtime trainer and friend. He was born in California and studied traditional Chinese medicine at the now-defunct Samra University of Oriental Medicine in Los Angeles where he received his master's degree.
In 1996, he opened his own rehab facility and later began working with several athletes including LaDainian Tomlinson, Ty Law, and Willie McGinest.
How did he meet Brady?
Guerrero and Brady actually met through McGinest in 2004 after the former linebacker recommended the trainer to the quarterback. The men began working with one another more and more over the years and Guererro became known as Brady's "body coach."
In 2013, they went into business together opening the TB12 Sports Therapy Center at Patriot Place.
What is Guerrero's role with the Patriots?
Guerrero's constant presence in the locker room rubbed some of the Pats strength and conditioning coaches the wrong way. The reasons were reportedly because of his controversial background and instructions that differ from theirs, leading players to choose sides.
Things came to head in 2017 after he and the Patriots head coach Bill Belichick had a rift which resulted in Guererro being booted from the team plane and his sideline access restricted. In August 2018, reporters asked Belichick about Guerrero and what his exact role is now with the team.
"He's not a member of the organization," Belichick said. "He works at TB12. I think we're all aware of that. We have people in our traveling party, some are in the organization, most are, and some aren't. We have people in various capacities that work with us on game day, and again, every team has that. We have that too.
"You need some extra people on gameday. Video department, there could be specialty people on the medical staff, security, and so forth. We have other people who are — some are full-time, some are let's call it gameday-type employees because of just higher demands of certain areas on game day."
What other players does he work with?
Brady isn't Guerrero's only client on the Patriots. He actually works with about 20 other players on the team as well including Rob Gronkowski and Julian Edelman.
Gronkowski began visiting the TB12 Sports Therapy Center in 2017 and adopted the method with the goal of staying injury-free. "Just looking at Tom, seeing what he does every day, what he eats, talking to him, personally one-on-one, just learning about the body with him, just seeing how flexible he is, how pliable he is, how loose he is all the time, every day and ready to go. I just felt like it was the time [in] my career where I needed to devote myself at all levels," the tight end explained.
Eldeman also started working with Guerrero during his rehab and became an advocate of the TB12 method as well telling WEEI, "I feel like it helps me with a lot of my stuff, and I like consulting with Alex and those guys over there because I've seen through a lot of the rehabs that they have done that it's been unbelievable."
Follow The Cheat Sheet on Facebook!