Who Is Ash Barty's Boyfriend Garry Kissick?
Ash Barty is among the biggest stars in women's tennis. Although she might not be as famous to Americans as Coco Gauff or Naomi Osaka, Barty stands atop the WTA rankings and shows no signs of slowing down. A refreshingly open tennis star, Barty isn't the only athlete in her relationship. She's dating up-and-coming golf star, Gary Kissick, since 2016.
Ash Barty rises to the top
RELATED: The Weirdest Thing Goes Through Naomi Osaka's Mind During Matches
The Australian first picked up a tennis racket at five years old and has not looked back since. In 2010, reports the WTA, the teen began to compete in the Australian ITF Circuit before qualifying for her first WTA event the next year as a wild card. Although she was not yet a breakout star, achieving this at such a young age put her on the radar.
In 2012, she made the main draw at Hobart, Roland Garros, Wimbledon, and the Australian Open. She also won four singles and two doubles titles in the ITF circuit. Barty kept improving. By 2014, she was a staple at all the major events, a multi-time winner in doubles events, and still a rising star. 
The now-24-year-old shocked the world, however, when she decided to take a two-year break from tennis. Barty took the time to recover from burnout. Upon returning, she was on a level like never before. As of August 2020, the eight-time singles titleholder has earned nearly $18 million in prize money. Off the court, her life is getting similar attention, too. 
Who is Ash Barty's boyfriend?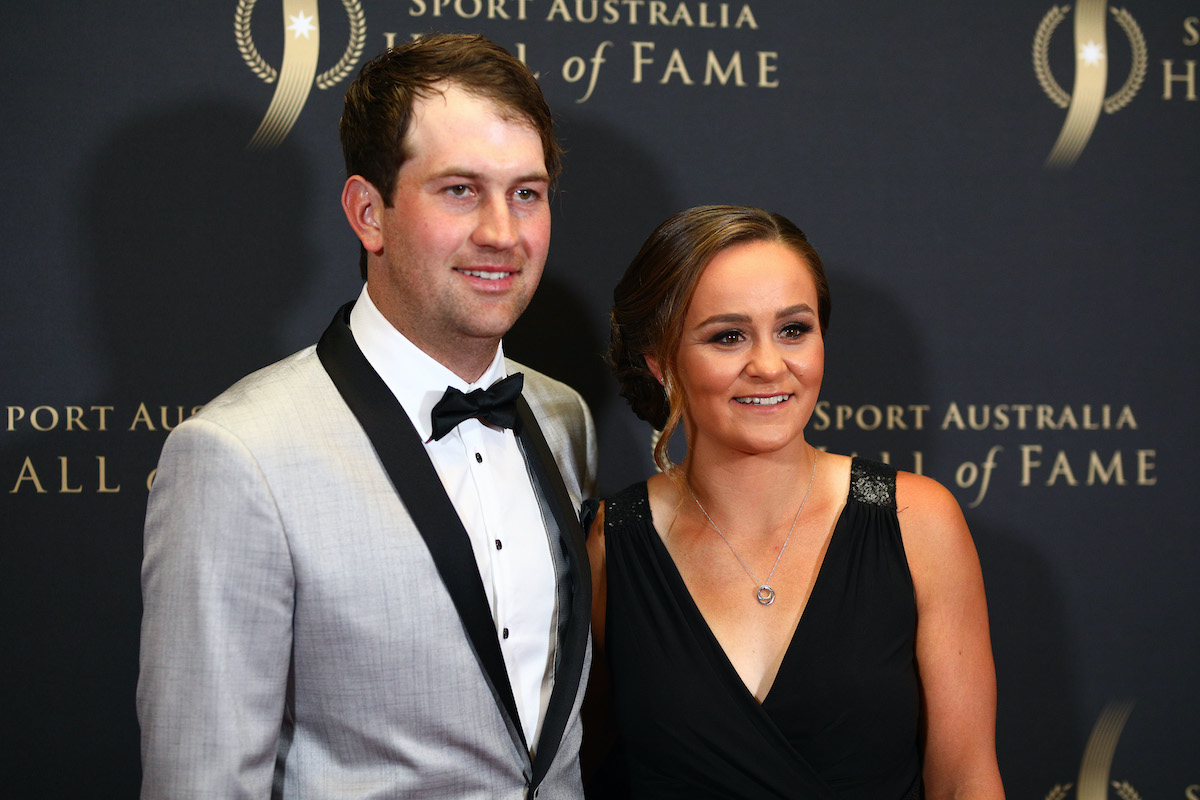 Gary Kissick likely isn't a household name past those in his circle, according to Who Australia. In 2016, Barty met the golfer at the Brookwater Golf & Country Club in Brisbane, Australia. He's worked there since he was a child but has far greater dreams of becoming a real pro. Kissick is a part of the PGA Trainee program and works behind the scenes at the exclusive club. 
The couple, who calls each other "handsome boy" and "baby," respectively, is heavily involved in one another's career, reports The Daily Mail. Kissick isn't content merely watching his partner perform on the national stage. When Barty is training, Kissick serves as her unofficial ball boy, motivational coach, and soothing presence when necessary. 
Although Barty is the bigger international name, the couple's co-dependant relationship has made them a favorite for those in the know. Adding that to the fact that Barty is one of the most candid tennis players in the world, and it appears to be a match made in heaven.
Barty's open book
RELATED: Why Steffi Graf Still Beats Serena Williams as the Women's Tennis GOAT
Barty has always been open about her life, her struggles, and how she approaches tennis, reports The Express. Although tennis has a reputation for exclusivity, Barty is a down-to-earth athlete. Following the 2020 Australian Open, people loved watching Barty conduct her post-match press conference with her infant niece. She spoke about how much she loved being an aunt. 
One look at her social media presence, too, tells you that Barty enjoys life more akin to the average person than a tennis superstar. She enjoys traveling, eating, and bragging about her partner and family on Instagram. This has made her one of the most beloved tennis figures. Barty is the No. 1 women's tennis player, and she still has more left to give.