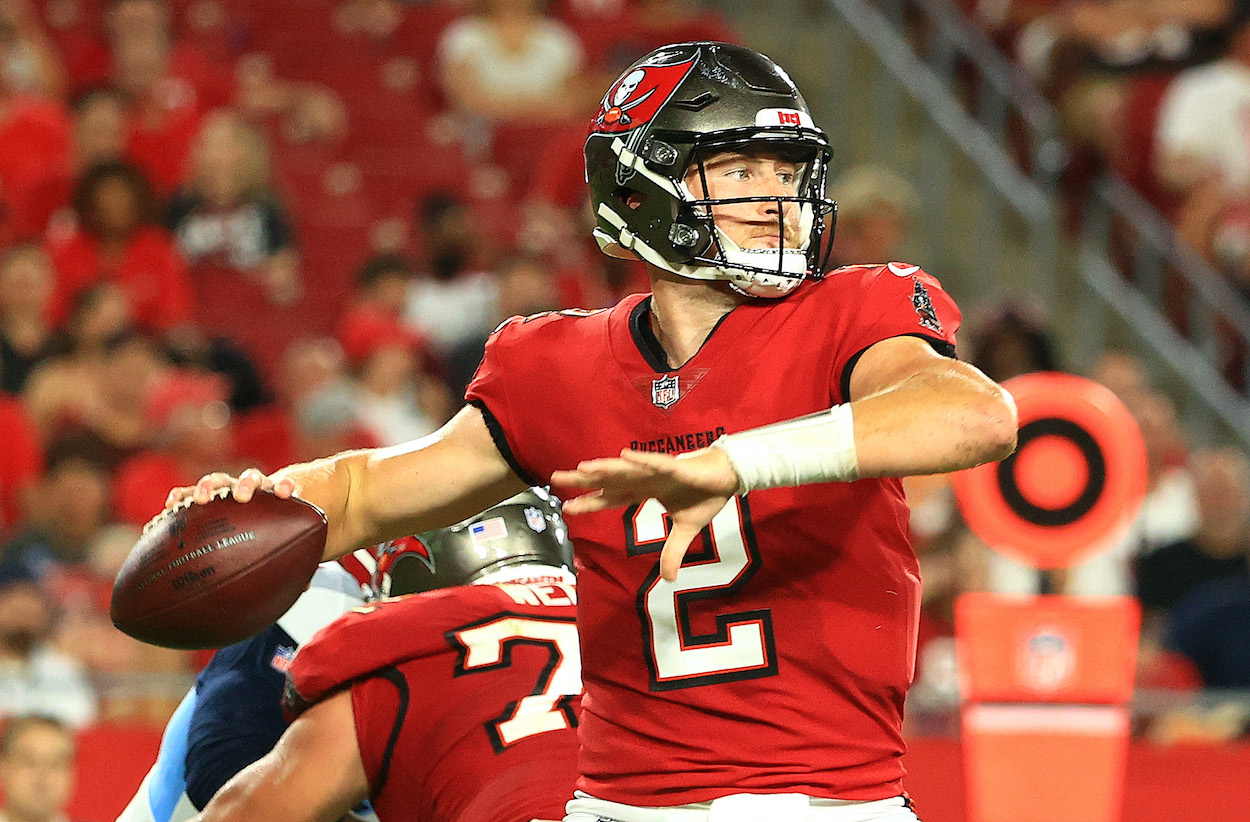 Who Is Buccaneers QB Kyle Trask and Can He Replace Tom Brady?
Tom Brady is heavily rumored to be on the brink of retirement, which means backup QB Kyle Trask could be in line for the Buccaneers' starting job in 2023.
According to Tom Brady, he hasn't made a firm decision on retirement one way or the other. According to Adam Schefter and a slew of other national NFL reporters, the Tampa Bay Buccaneers quarterback plans to hang up the cleats this offseason.
Brady is the only person who truly knows what he's planning on doing this offseason. However, with so much uncertainty surrounding his status at the moment, the Buccaneers are presumably preparing for life after TB12. Replacing Brady will be no easy task for Tampa Bay should he actually retire.
What should the Buccaneers do at quarterback if Brady retires?
The Buccaneers have two main avenues they can go this offseason if Brady retires. On the one hand, they still have the skeleton of a playoff-caliber roster intact. If Bruce Arians and Co. feel confident about their chances of winning the NFC South again, it'd make a lot of sense to target another veteran QB to replace Brady.
The Buccaneers experienced a ton of success acquiring a mid-40s Brady when they did. It'd be hard to blame them for dipping back into that well. Russell Wilson, Aaron Rodgers, Derek Carr, Deshaun Watson, and Carson Wentz are a few names who could interest Tampa Bay.
On the other hand, the Buccaneers could easily identify Brady retiring as their championship window closing. The Bucs weren't good before Brady, and it's reasonable to assume they won't be good after. Instead of attempting to lengthen their contending window by way of another veteran QB, Tampa Bay could instead look toward rebuilding and retooling in 2023.
This is where 2021 second-round pick Kyle Trask enters the conversation.
Who is Kyle Trask?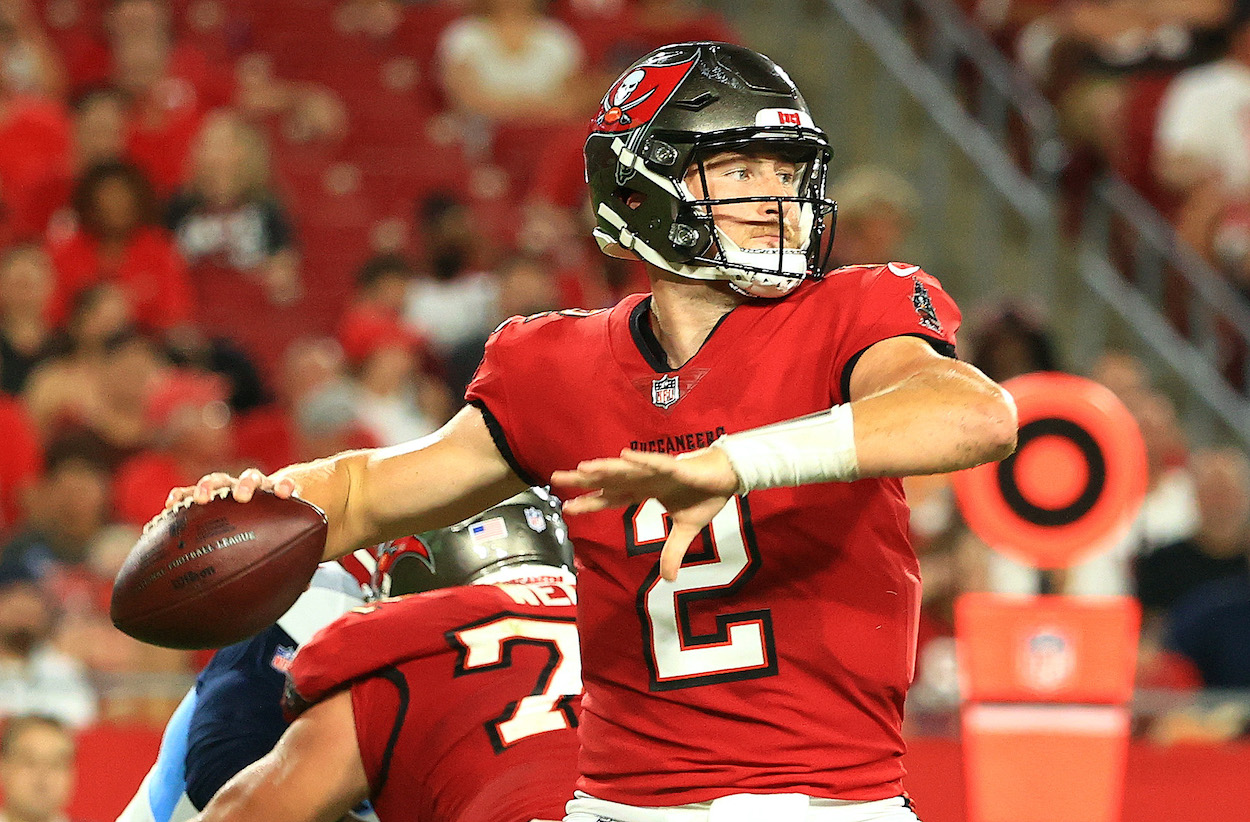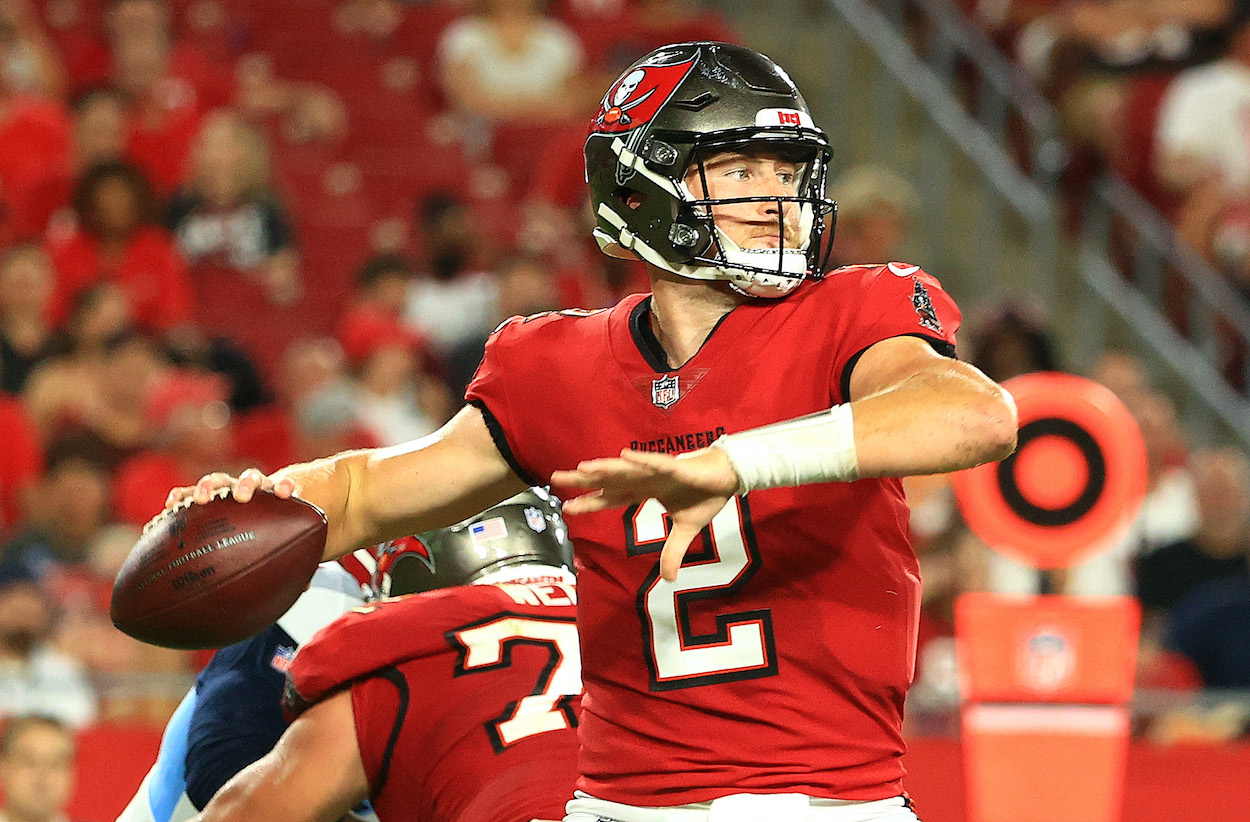 The Florida Gators' starting quarterback in 2019 and 2020, Kyle Trask was the Buccaneers' second-round pick during the 2021 NFL Draft. Trask was an under-the-radar prospect leading up to the draft due to an overall lack of elite traits. However, Tampa Bay clearly saw something in him worth taking a chance on.
The Buccaneers were in complete win-now mode this past offseason. Spending a second-round pick on Trask speaks volumes to the potential they believe he has.
Trask was never labeled a future starting QB during the pre-draft process. However, his senior year stats at Florida were still eye-popping. He passed for 4,283 yards and 43 touchdowns. Florida also finished that year as the No. 13 ranked team in the nation.
The Draft Network stated Trask "will need to have an adequate play-caller, protection, and playmakers around him" to reach his full potential. The good news for Trask is that he has all of this with Tampa Bay, should they give him the keys to the franchise next season.
Why the Buccaneers giving Trask a year under center makes sense
Look around the NFL. The postseason has been dominated by guys like Patrick Mahomes, Joe Burrow, Josh Allen, and Matthew Stafford. Elite quarterback play is extremely hard to come by.
No one is arguing that Trask can play up to this level of dominance. He's nowhere near as good as these players, and he certainly can't replicate Brady's 5,000-plus yard season. However, there's something to be said about Tampa Bay taking some time to see what it has in its second-round pick before aggressively pursuing a new franchise quarterback.
The Buccaneers don't need to tear down everything and tank because Brady retired. However, a retooling period appears in their future. It's the perfect time to see what Trask can do in an NFL offense.
All stats courtesy of Sports Reference.