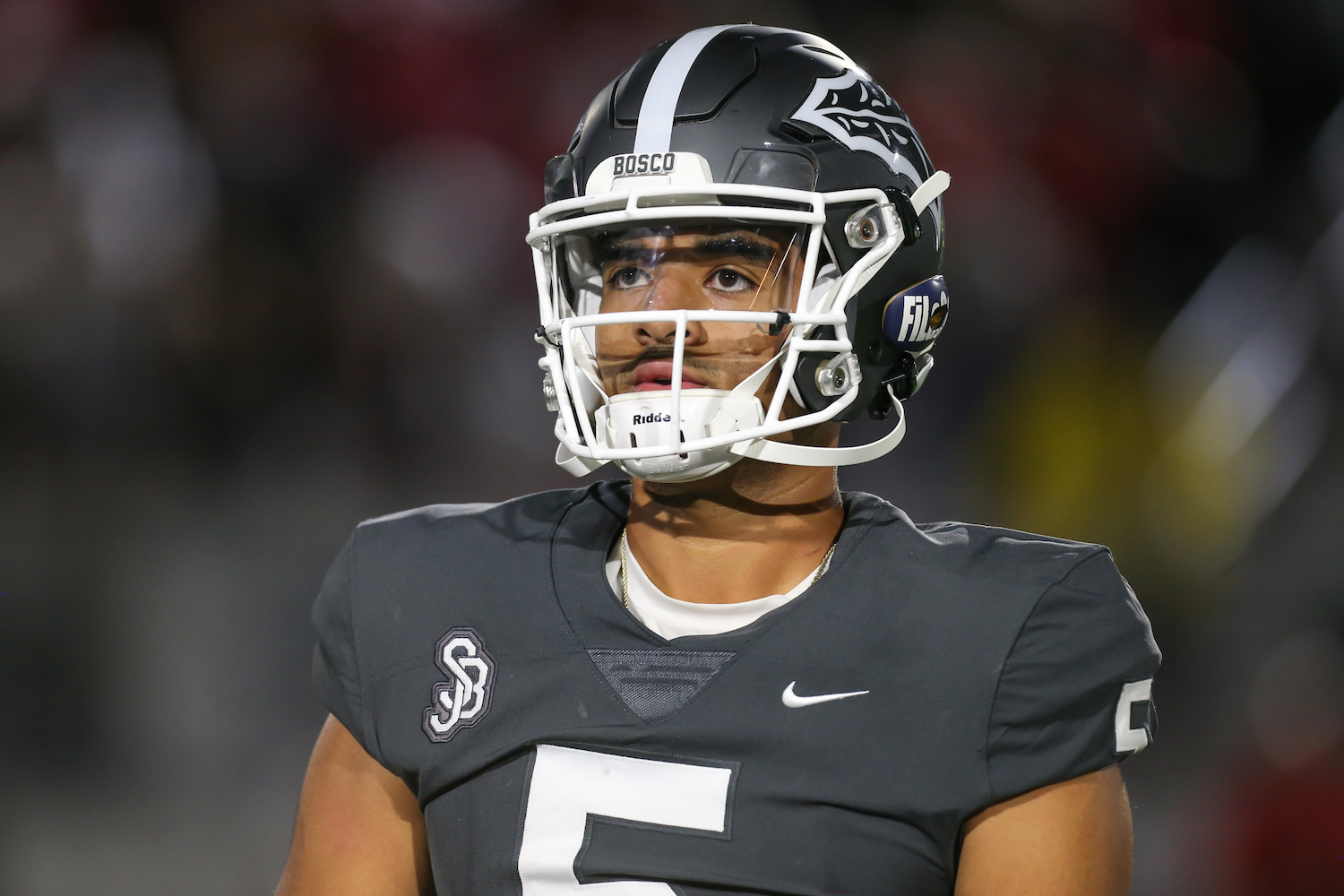 Who Is D.J. Uiagalelei's Dad 'Big Dave'?
D.J. Uiagalelei made headlines in his first start at Clemson. His father also received plenty of camera time. Who is D.J. Uiagalelei's dad, Big Dave?
For several years now, Trevor Lawrence is typically the first name that comes to mind when you hear the words Clemson Tigers or top college quarterback. Last Saturday, Lawrence was sidelined by COVID-19 and all the attention shifted to his backup, D.J. Uiagalelei. 
The freshman was impressive, leading the Tigers back from an 18-point first-half deficit to victory over Boston College. Throughout the contest, cameras panned to the stands and showed a Clemson supporter and mammoth of a man. That man was Uiagalelei's dad, Dave. Who is Dave Uiagalelei?
D.J. Uiagalelei is top high school quarterback in nation
D.J. Uiagalele was on the radar of major college football programs for years. That's what happens when you put up astronomical numbers in high school on a consistent basis. 
It started during Uiagalelei's junior season in 2018 at St. John Bosco High School in Bellflower, California. That year he threw for 3,366 yards and 48 touchdowns. He was named the USA Today High School Offensive Player of the Year. 
After such an impressive junior season, many were wondering if D.J. Uiagalelei could replicate his efforts as a senior. He did that and much more. The five-star recruit finished his senior season throwing for 4,225 yards and 48 touchdowns. He led his team to a 13-1 record and a state title. 
In May 2019, Uiagalelei committed to play for Dabo Swinney and Clemson University.
D.J. Uiagalele's dad gets camera time
With Trevor Lawrence sidelined due to COVID-19, D.J. Uiagalelei made his first college start last Saturday against Boston College. Clemson came out sluggish on both sides of the ball and trailed by 18 points in the first half. 
Unfazed by the deficit or the big stage, Uiagalelei methodically brought the Tigers back. He finished the game completing 30-of-41 passes for 342 yards and a pair of touchdowns. Clemson eventually prevailed by a close 34-28 margin.
During the game, fans watching on television were introduced to Uiagalelei's dad, Dave. The broadcast showed the giant man and his 6-foot-4, 380-pound frame celebrating every time his son made another highlight play on the field.
Uiagalelei's dad served as bodyguard for celebs 
While D.J. is the main attraction when he takes the field, Uiagalelei's dad, Dave, doesn't shy away from the attention. He admitted as much after last Saturday's game. 
"It was cool. I got about 400 text messages after the game," he told the Greenville News, after the cameras repeatedly showed him on the screen. 
Uiagalelei, who is nicknamed "Big Dave," knows a thing or two about fame. He served as the bodyguard for Rihanna, Chris Brown, Nick, Cannon, and Meek Mill. In fact, he enjoys the attention as much if not more than his own son.
"I know he's a happy dad, but sometimes he can be over the top," D.J. said. "He likes the spotlight. I'm more like my mom; I'd rather be low-key." 
Dave said he's just a proud dad and knows not to cross the line like some other athlete's dads have done in the past.
"I'm no LaVar Ball. I'm just grateful and thankful to have a great kid. I just want everybody to know that he is as advertised. I always knew this would happen. It was just a matter of time until the rest of the world found out."
The college football world has indeed found out about D.J. Uiagalelei. And they've also discovered Uiagalelei's larger-than-life dad, Big Dave. He's hard to miss.