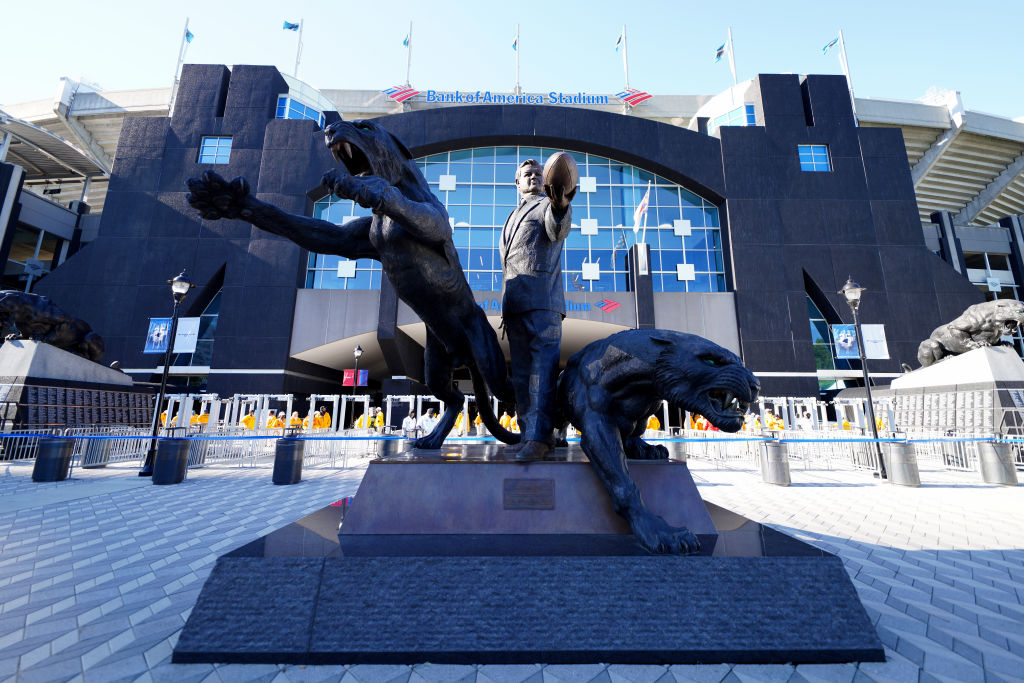 Who Is Jerry Richardson and Why Did the Carolina Panthers Remove His Statue?
On Wednesday, the Carolina Panthers removed a statue of Jerry Richardson from outside their stadium. Who was Richardson and why was his statue removed?
As any sports fan can tell you, franchises love statues, plaques, and other ways to commemorate their history. The Carolina Panthers, it seems, are no exception. If you ever visited Bank of America Stadium, you couldn't miss a statue of Jerry Richardson, holding a football and standing between two snarling (Carolina) Panthers, standing outside the front gates.
On Wednesday, however, that statue was removed by a construction crew and a crane. Who is Jerry Richardson, and why did the Carolina Panthers get rid of his statue?
Jerry Richardson started out as a football player
While he would later make his name as a businessman and NFL executive, Jerry Richardson started out as a football player.
After his high school career came to a close, Richardson headed to Wofford College and joined the football team. According to the school's official athletics website, he arrived on campus as an "unheralded pass receiver" but developed into a star receiver. He made the Associated Press Little All-America team twice and still holds the school record for single-game receiving yards, single-season touchdown receptions, and career touchdown receptions.
Despite that success, Richardson didn't have much of an NFL career. After being selected in the 13th round of the 1959 draft, he joined the Baltimore Colts. He spent two seasons with the club, catching 15 passes for 171 touchdowns and four touchdowns, before leaving pro football behind.
Breaking into the business world and owning the Carolina Panthers
While Jerry Richardson didn't have an illustrious football career, that wasn't the end of his professional ambitions. If anything, he found significantly more success away from the gridiron.
As explained by the Charlotte Agenda, Richardson and Charles Bradshaw became the first franchisees of Hardee's. While that chain might not have the clout of McDonald's, the men still managed to open hundreds of restaurants and turn a handsome profit. They formed Spartan Food Systems and eventually sold the business to Trans World; Richardson would also spend time as the CEO of Flagstar.
In 1993, however, Richardson returned to football as the initial owner of the Carolina Panthers franchise. He held that position until 2017 when he sold the team to David Tepper.
Why did the Carolina Panthers remove the statue of Jerry Richardson?
RELATED: Regardless of What His Critics Say, Colin Kaepernick Told Us Exactly What He Was Protesting
On the surface, it seems perfectly reasonable for the Carolina Panthers to have a massive, albeit cheesy, statue commemorating Jerry Richardson. While he did help bring NFL football to Charlotte, his tenure with the team did have a dark underbelly.
As detailed by Sports Illustrated, Richardson's reign featured several incidents of harassment and inappropriate behavior; according to reports, he regularly asked "women to turn around so he could admire their backsides," used racial slurs, and paid out several monetary settlements due to inappropriate workplace behavior. The Undefeated also detailed the owner's history of "incidents involving race" in a separate report.
While that legacy speaks for itself, the Panthers organization seemed stuck with the statue. According to Sports Illustrated, the team was contractually obligated to keep it in place; it seems they were able to avoid the issue, however, by citing public safety concerns.
"We were aware of the most recent conversation surrounding the Jerry Richardson statue and are concerned there may be attempts to take it down," the team said in a statement on their Twitter account. "We are moving the statue in the interest of public safety."
On Wednesday afternoon, that's exactly what happened. Thanks to a construction crew and a crane, Jerry Richardson no longer stands outside the Carolina Panthers' home stadium.
Stats courtesy of Pro-Football-Reference