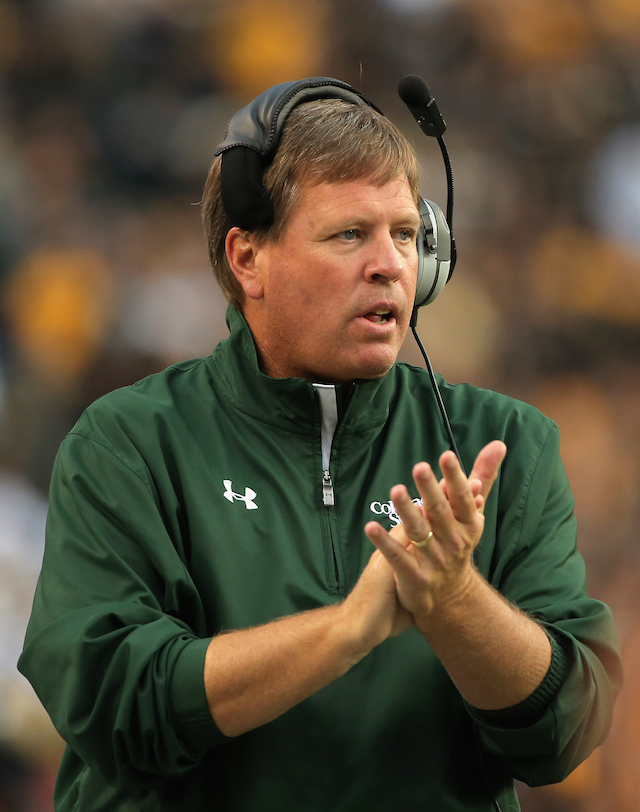 Depending on how you want to look at it, Jim McElwain is now officially the new head football coach for the University of Florida or the former head football coach of Colorado State University. McElwain led CSU to a 10-2 record en route to winning Mountain West Coach of the Year award in 2014 and has built an impressive resume in his 28-year coaching career that he will take with him to Gainesville. After truckloads of speculation, countless rumors, and a contract buyout that simply delayed the inevitable, Jim McElwain is back in the SEC as the 24th head coach in the history of the tradition-rich Florida Gators football program.
So, who exactly is this Jim McElwain character that seemingly became one of the hottest names in college football overnight? Here is an in-depth look at McElwain's coaching resume and coaching philosophy.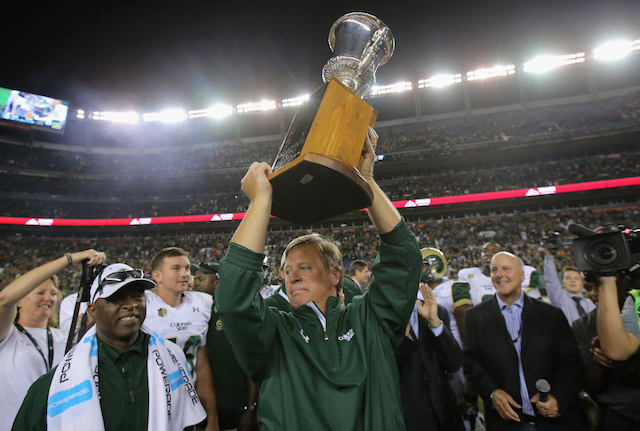 Jim McElwain's coaching resume
McElwain's career began in 1987 when he was named the quarterbacks and wide receivers coach at his alma mater, Eastern Washington. From there, he has had stints at schools in Conference USA, the Big Ten, the WAC, the SEC, and the Mountain West Conference in addition to a brief stop in the NFL. Here is a rundown on McElwain's jobs throughout his career:
1987-1994: Eastern Washington (Quarterbacks/Wide Receivers coach)
1995-1999: Montana State (Offensive Coordinator/Wide Receivers/Special Teams)
2000-2002: Louisville (Wide Receivers/Special Teams)
2003-2005: Michigan State (Asst. Head Coach/Wide Receivers/Special Teams)
2006: Oakland Raiders (Quarterbacks)
2007: Fresno State (Offensive Coordinator/Quarterbacks)
2008-2011: Alabama (Offensive Coordinator/Quarterbacks)
2012-2014: Colorado State (Head Coach)
McElwain compiled a 22-16 record as the head coach at Colorado State and won the Mountain West Coach of the Year award in 2014, won two national titles with Alabama, coached in 10 bowl game and has enjoyed a great deal of success with every program he has coached for.
Like most coaches with long and successful coaching resumes, McElwain has an impressive list of players he has coached along the way. Here is a look at some of the more notable players the 52-year old Montana-native has recently coached:
Garrett Grayson, quarterback, Colorado State – 2014 MWC Offensive Player of the Year
Rashard Higgins, wide receiver, Colorado State – 2014 Biletnikoff Award Finalist
Weston Richburg, center, Colorado State/New York Giants
Crockett Gilmore, tight end, Colorado State/Baltimore Ravens
Greg McElroy, quarterback, Alabama/New York Jets
Julio Jones, wide receiver, Alabama/Atlanta Falcons
Trent Richardson, running back, Alabama/Indianapolis Colts
Mark Ingram, running back, Alabama/New Orleans Saints
AJ McCarron, quarterback, Alabama/Cincinnati Bengals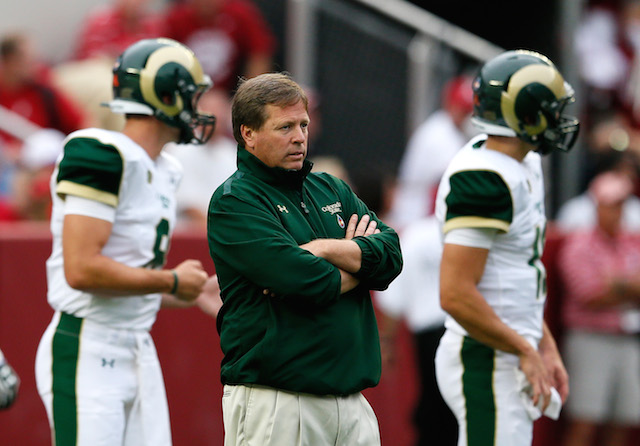 McElwain's coaching philosophy
McElwain is an aggressive, offensive-minded football coach, which is something that has been missing in Gainesville ever since the departure of Urban Meyer. His offensive philosophy is one that is hard to pinpoint, but there is no denying its success. His offenses, dating back to his time at Fresno State, have always been innovative and hard to prepare for. With a healthy run-pass balance and what seems like countless offensive formations, McElwain-directed offenses have always been hard to slow down.
At Alabama, McElwain guided an offense that produced a Heisman Trophy winner, a Doak Walker Award winner, and multiple All-Americans. In 2011, McElwain's final season in Tuscaloosa, the Crimson Tide was the only team in America to average over 200 yards rushing and 200 yards passing per game.
McElwain took over a Colorado State offense in 2012 that was one of the worst in the country. After a year of implementing his system and changing the culture at CSU, the Rams went from being ranked 100th in the country in scoring offense to 22nd, and from 100th in total offense to 24th in McElwain's second year on the job. In 2014, Colorado State has been an offensive juggernaut averaging nearly 500 yards of offense and 36 points per game. Additionally, this season the Rams have a Biletnikoff Award finalist in Rashard Higgins — Higgins leads the nation in receiving yards per game and touchdown receptions — and the second-most efficient quarterback in the country in Garrett Grayson.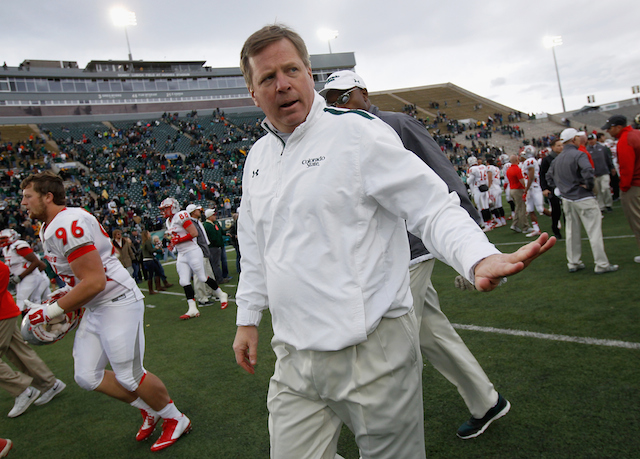 McElwain's personal background
McElwain, 52, was born and raised in Missoula, Mont., and went on to play quarterback for Eastern Washington University. He is married to Karen McElwain and is the father of three kids — daughters JoHanna and Elizabeth and son Jerrett.